Yungblud: A mouthpiece for the underrated youth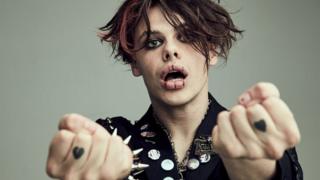 In the middle of recording his new EP, Yungblud discovered an ability he didn't know he possessed.
"I found this place in my voice where I can just scream," he says. "I don't know how I do it, but it just comes from the core of me."
You can hear it on the chorus of his new single, Original Me, as the 22-year-old purges his feelings of self-loathing: "Some days I wish I was anyone else".
The song is "about embracing the parts you hate about yourself," he explains.
"I have those days where I wake up and I've got a knot in my stomach and I look in the mirror and I hate what I see.
"But you have to remember, your biggest superpower is to be completely, unconditionally, unapologetically yourself."
And if being unapologetically yourself is a superpower, then Yungblud is an alt-rock Iron Man: Resourceful, idealistic, borderline manic and very, very loud.
We catch up with him first thing in the morning, as his tour bus makes the 436-mile journey between Kansas City and Minneapolis, where he's sold out the infamous First Avenue club, that was the focal point of Prince's Purple Rain movie.
"I'm looking out the window, freaking out," he says. "America is so big. Every state is like a different country, but it all looks the same. That's the craziest thing."
BBC Radio 1: Yunblud's journey to Reading Festival
BBC Sounds: LIsten to Yungblud's influences
It's a long, long way from the working class town of Doncaster, where Yungblud was born Dominic Harrison in 1997.
He was surrounded by music – his grandfather played with T Rex, while his dad owns a guitar shop – but as he grew up, he realised he didn't fit in.
"Six or seven years ago, Donny was a lot more toxically masculine, a lot more industrial, a lot more baggy, and people just didn't understand where my head was at," he explains.
"For example, I'd want to wear a skirt to school, or paint my nails or dye my hair. My mum would love it, but youth leaders or teachers would make me feel like I was doing something wrong.
"It made me feel really small and misunderstood and like I didn't belong in the place where I was from."
Disney career
He found kindred spirits on YouTube: Musicians like Lady Gaga, Marilyn Manson and the Arctic Monkeys, "who didn't fit a mould, and built their own world".
"I looked at myself and said, 'I wanna do something like that,' so I moved down to London and started playing music."
As luck would have it, his dad's guitar shop was based in Soho, so Dom got a job there (he had to apply like anyone else) and began taking lessons from store manager, Shane Gilliver.
"He'd just hang around, constantly playing guitar," remembers Shane. "So I showed him a few things, gave him a few lessons and he just ran with it.
"Very quickly, he was writing songs with the little that he knew. And the more he knew, the more he wrote."
Initially, Dominic was groomed for a career as a cookie cutter pop star. After scoring a role in the Disney TV series The Lodge, the singer spent "a year fluttering my eyelashes trying to be a b-rate Shawn Mendes" until his guitar tutor intervened.
"He looked at me and said, 'Screw what's going on around you, you write what you want to write, and you sing what you want to sing,'" recalls Dom.
"I just believed in him," Shane explains. "He's lived his life, hasn't he? So he understands the stuff he's writing about more than his record label or whoever."
And so Yungblud was born.
Dom's teen idol tresses were traded for an unruly shock of jet-black hair, smudges of eyeliner and figure-hugging dresses (he says he's "very fluid" about his sexuality).
Reflecting his ADHD, the music became a hyperactive mash-up of emo, rock, hip-hop and ska, while his lyrics became more direct, tackling subjects like sexual assault, corporate greed, depression and anxiety.
"I just started talking about the stuff that my friends were talking about," reasons the singer, but his honesty and vulnerability were a beacon to like-minded fans.
"His music has helped me out several times," says Kati Townsend, a 20-year-old nurse's assistant from Nashville, who's hoping to spend her next birthday watching Yungblud play live in his hometown.
"I've had pretty severe depression, and just listening to him and knowing I'm not alone, and that other people feel how I feel – it just helps me to get through what I'm feeling and start to feel better."
"He's the voice of our generation," agrees Laura Raucci, who created a fan page for Yungblud's Italian fans. "His song against harassment and sexual violence, Polygraph Eyes, changed my life and helped me get out of a bad time in my life.
"For this reason I'm grateful to him. He has a heart of gold and he doesn't create barriers between his fans and him, only love and mutual respect. We are just like a family."
Yungblud's concerts are a communion, often opening with the announcement: "We aren't alone, because we're all alone together" before descending into total mayhem.
"You're always moving, you're having fun constantly, it's incredible," says Kati. "I've made a lot of friends through Dom."
It's to fans like Laura and Kati that Yungblud has dedicated his new EP, Underrated Youth.
"If you look at my generation, the one common denominator is the drive, the passion and the fight for unity," he says. "We are not bratty kids fighting for attention. We are intelligent and understand what we want."
He looks up to environmental campaigner Greta Thunberg and gun control advocate Emma Gonzalez as the leading lights of the youth movement; and he's convinced change is coming.
The old guard has "surrounded itself with so much unjustified hate," he says, but "one day, we will be behind those desks, and we will be in those shoes and that genuinely gives me hope".
Scruff of the neck
But it's not just the youth (underrated or otherwise) that have latched onto Yungblud's raucous agit-pop.
A "turning point" came when he wrote 11 Minutes with his girlfriend, US singer Halsey, earlier this year, and Blink-182 drummer Travis Barker asked to play on the track.
"I was literally like, 'What? I used to have a poster of you in my room – and I'd hide cigarettes behind it,'" he laughs. "This is just ridiculous."
A couple of months later, Imagine Dragons' frontman Dan Reynolds called asking to be "part of what you're doing" – and ended up going toe-to-toe with Yungblud on Original Me.
"We were stood side-by-side, with two mics in the studio, just going completely off," the singer recalls. "And I was looking at him going, 'I saw you at the Leeds Festival five years ago. What on earth is going on?' And that spurred the energy on that track."
But the most surprising moment on the EP is its closing track, Waiting For The Weekend, a sombre, reflective ballad about unrequited love, that was co-written with Shane Gilliver and recorded in a single take (in an LA studio "with a mic that cost more than my rent," he observes).
"It really means a lot to me, that song," says Yungblud, "it's just a moment you can get completely lost in."
It's a tender moment that illustrates Yungblud's ambition and musical potential; hinting there's more to him than the "bratty kid" he's been portrayed as.
"People are still trying to figure me out, so I wanted this EP to grab you by the scruff of the neck and say, 'come 'ere, listen to me,'" he says.
"I wanted people to be like, 'What is this? What is going on? What is he about to do?'
"With me, I never want to be predictable. If people know what I'm going to do next, then I'm completely shafted."
Yungblud's Underrated Youth EP will be released on Friday, 18 October.
Follow us on Facebook, or on Twitter @BBCNewsEnts. If you have a story suggestion email entertainment.news@bbc.co.uk.
Coronavirus: Mission Impossible filming halted over health fears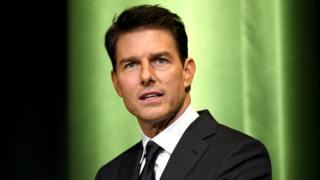 Filming on the latest Mission: Impossible movie in Italy has been paused due to concerns about the outbreak of coronavirus in the country.
Shooting on the seventh film in the series was due to take place in Venice over the coming weeks.
But Paramount has halted production after Italy recorded the worst outbreak of coronavirus in Europe.
There have been more than 200 cases in the country so far, including seven deaths.
The number of cases makes Italy the third worst-hit country in the world after China and South Korea.
Tom Cruise was not in Italy for the shoot, according to The Hollywood Reporter., but the production crew were sent home.
"Out of an abundance of caution for the safety and well-being of our cast and crew, and efforts of the local Venetian government to halt public gatherings in response to the threat of coronavirus, we are altering the production plan for our three-week shoot in Venice," Paramount said in a statement.
"During this hiatus we want to be mindful of the concerns of the crew and are allowing them to return home until production starts. We will continue to monitor this situation, and work alongside health and government officials as it evolves."
This isn't the first time the Mission: Impossible franchise has been hit by difficulties.
Mission Impossible: Delays and difficulties
During promotion for Mission: Impossible III, an advertising firm placed digital devices in 4,500 newspaper vending boxes in Los Angeles, which played the movie's theme tune aloud whenever the door was opened. But some members of the public mistook the devices for bombs and reported them to police, who in turn detonated several of the news stands. An LA hospital was even evacuated for 90 minutes because of the apparent threat.
One scene in the first movie was shot outside the Lichtenstein Palace in Prague, but it turned out to be a far more expensive location than originally thought. Authorities initially quoted the filmmakers $2,000 (£1,540) per day, but when they turned up to shoot on the day the team was told the new price would be $23,200 (£17,860) per day.
Cruise has performed many of his own stunts during filming, but he's occasionally been injured in the process. The actor cracked a couple of ribs while shooting Mission: Impossible 3, and in 2018 he broke his ankle jumping between buildings while shooting the sixth film, the footage of which was seen on The Graham Norton Show.
The third movie suffered a delay of a year after its director Joe Carnahan exited the project because of "creative differences". Cruise was able to shoot an entire film (War of the Worlds) in the time it took for a new director to be appointed.
In 2015, Disney announced the title of Rogue One: A Star Wars Story, but Paramount felt this clashed too much with their fast-approaching fifth Mission Impossible film, Rogue Nation. Disney kept their title but agreed to hold off on promoting the film until the fifth M:I had been released.
Mission: Impossible 2, which was about the outbreak of a deadly virus, came up against horrible weather, logistical problems during city shoots and the defection of cinematographer Andrew Lesnie to the Lord of the Rings franchise. "This is one of the most difficult movies I've ever made," director John Woo said at the time. "But we overcame. We kept fighting."
---
Follow us on Facebook or on Twitter @BBCNewsEnts. If you have a story suggestion email entertainment.news@bbc.co.uk.
Singer Duffy 'drugged, raped and held captive'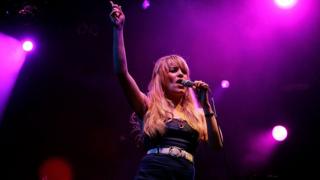 Grammy award-winning singer Duffy has revealed she was drugged and raped after being held captive by an attacker.
The 35-year-old Welsh star posted on her verified Instagram account that her "recovery took time".
The performer, who had a UK number one single Mercy in 2008, wrote to her 33,000 followers: "The truth is, and please trust me I am OK and safe now."
"I was raped and drugged and held captive over some days," she wrote.
Duffy, whose debut album Rockferry went seven times platinum as it went to number one in six countries, won three Brit Awards and a Grammy following her breakthrough.
"You can only imagine the amount of times I thought about writing this," she wrote on Instagram.
A biography of Duffy
Listen to Duffy on the BBC
"Well, not entirely sure why now is the right time, and what it is that feels exciting and liberating for me to talk.
"I cannot explain it. Many of you wonder what happened to me, where did I disappear to and why. A journalist contacted me, he found a way to reach me and I told him everything this past summer. He was kind and it felt so amazing to finally speak.
"The truth is, and please trust me I am OK and safe now, I was raped and drugged and held captive over some days. Of course I survived. The recovery took time. There's no light way to say it. But I can tell you in the last decade, the thousands and thousands of days I committed to wanting to feel the sunshine in my heart again, the sun does now shine."
'Sadness in my eyes'
Duffy – whose real name is Aimee Anne Duffy – went to number one in 12 countries with Mercy, which was the UK's third-best-selling single of 2008 with sales of more than 500,000 copies.
The singer, from Nefyn in Gwynedd, then enjoyed success with her first album Rockferry as it became the UK's biggest selling album of 2008.
"You wonder why I did not choose to use my voice to express my pain? I did not want to show the world the sadness in my eyes," she added.
"I asked myself, how can I sing from the heart if it is broken?
"And slowly it unbroke. In the following weeks I will be posting a spoken interview.
"If you have any questions I would like to answer them, in the spoken interview, if I can. I have a sacred love and sincere appreciation for your kindness over the years. You have been friends. I want to thank you for that. x Duffy.
"Please respect this is a gentle move for me to make, for myself, and I do not want any intrusion to my family. Please support me to make this a positive experience."
The BBC attempted to contact Duffy to verify her account.
'Deontay Wilder's costume didn't make an ounce of difference'
The designer of Tyson Fury's boxing outfits has told BBC Radio 5 Live that Deontay Wilder's ring-walk costume wouldn't have impacted the result of the fight.
Melissa Anglesea is the creative director of Lancashire-based Suzi Wong. The company has made Tyson Fury's shorts and robes since the start of his boxing career.
Wilder told US media that Fury didn't actually hurt him, but he lost because his costume was too heavy meaning his legs were "shot" from the beginning of the fight.
Anglesea dismissed Wilder's claim and said the costume worn by the American made "absolutely no ounce of difference".
For more reaction to the fight, listen to 5 Live Boxing with Costello & Bunce on BBC Sounds.