Why is Banksy vetting the customers of his online store?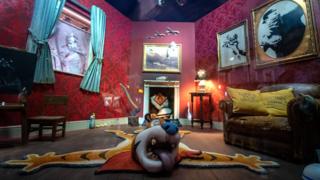 Banksy has launched his own official online shop, selling the stab vest Stormzy wore at Glastonbury, a tombstone and housebrick handbags.
But as ever with the artist, there is a twist – he's vetting potential buyers and wants to shut out art dealers.
Everyone must answer a question on the site to explain why art matters.
"An independent judge will examine the tie-breaker questions and select those applications which the judge finds to be the most apt and original," it says.
His popularity – and the fact prices are low compared with what the works could fetch on the open market – means demand is likely to far outstrip supply.
The elusive Bristolian artist's website adds: "Our judge is impartial and independent, and is a professional stand-up comedian." That comedian is Adam Bloom, a statement from Banksy said.
The artist said: "We can't ever weed out all the people who just want to flip for profit, but we can weed out the unfunny ones."
The Art Newspaper correspondent Anny Shaw told the BBC: "It's a tongue-in-cheek poke at the market while at the same time attempting to wrestle some control of it."
Many items come from an installation he set up in an empty shop in Croydon, south London, two weeks ago. The artist has been embroiled in a legal dispute with a company that he said wanted to claim his trademark because he had not used it for his own merchandise.
What's he selling?
Stormzy's stab vest, described as a traditional English waistcoat "updated for modern times", is on the Gross Domestic Product [GDP] website for £850. That's a snip considering it was valued at "somewhere north of £200,000" by Joey Syer, co-founder of MyArtBroker.com, when it was revealed to be Banksy's handiwork.
There is a T-shirt bearing his famous girl with a heart balloon – with its bottom part shredded, imitating the canvas he remotely shredded when it was sold at auction last year.
There's a baby mobile featuring 19 mini CCTV cameras pointing at the cot, and a welcome mat made from life vests abandoned on the beaches of the Mediterranean. Cheaper items include £10 mugs painted by children based on his designs, and £30 charity shop T-shirts that he has tagged.
Can he really stop people selling them on?
"Please buy an item because you like it, not because you think it is a good investment," the site pleads.
Some saw his 2018 shredding stunt – moments after that picture had sold at Sotheby's – as a response to the eye-watering sums paid for his works. Art market adviser and analyst Ivan Macquisten says it was also "a terrific marketing exercise". He adds: "Whether he intended it as such I don't know."
Banksy has "always been very controlling about his market", Macquisten says: "He's got this whole idea about the art market being exploitative… which is great for somebody who's making so much money out of it!"
The online store's small print says Banksy's team have the right not to fulfil an order if the buyer advertises the item for resale before it's dispatched, or if they suspect it will be afterwards.
"Ultimately, how are you going to tell?" asks Anny Shaw. "That's why he's having this little game with the question you have to answer in the application process. He's playing with the vetting process. But there is a serious message, he is trying to police it to an extent."
But ultimately, an artist can't control who buys and sells their works, especially if there's no dispute about the authenticity.
So he is setting up his own eBay
Intriguingly, one of the links on the site goes to "Bbay", which is described as "the approved used Banksy dealership".
It's not live yet, and just has a photo of a man with eyes blacked out, who may or may not be Banksy (it's probably not) selling Banksy pictures at a car boot sale.
It looks like he will try to persuade buyers and sellers to use Bbay in the future, giving him some control (and possibly revenue) over works that are resold.
"It looks like he is announcing an approved outlet for secondary market works, which is quite a departure and quite a bold move," Shaw says.
Is this about trademarks – or one big art stunt?
"For the past few months I've been making stuff for the sole purpose of fulfilling trademark categories under EU law," the artist said when he opened the Croydon installation. "Its not a very sexy muse."
Arts lawyer Mark Stephens, who has advised him, said at the time: "Banksy is in a difficult position because he doesn't produce his own range of shoddy merchandise and the law is quite clear – if the trademark holder is not using the mark then it can be transferred to someone who will."
But he has turned the fulfilment of EU trademark law into a typical Banksy event. "It's all very meta isn't it?" says Shaw.
"There are these very serious market messages and this trademark legal dispute – all very boring, turgid things if you look at them in isolation. But he's managed to flip it into something rather brilliant."
Macquisten says: "Damien Hirst has always said that the marketing of his art is part of the artistic process – in fact possibly the most important part. With Banksy, this whole idea about control is becoming part of the artwork itself."
And perhaps he will turn the responses to the question about why art matters in a new artwork of its own. The T&Cs on the online store point out. "You retain copyright in your response to the tiebreaker question, but you agree that we may (but shall not be obliged to) use or publish it in any media."
And the site even suggests punters may get less than they bargained for. "You are advised that GDP may prove to be a disappointing retail experience – especially if you're successful in making a purchase."
Analysis – BBC arts editor Will Gompertz
The shop, like a lot of Banksy's work, first appears as a whimsical publicity stunt: a joke to poke fun at the establishment.
But the reason his art penetrates public consciousness and endures is because there's usually more to it than first meets the eye. Art is about revealing truths – Banksy's almost always does that.
With the shop, he's trading on familiar ground – the relationship between art and commerce. Are they the same, as Andy Warhol famously said? Why does anybody want the product he's offering, which he warns might disappoint? What other shop would you go to which said its stuff might not be very good?
And yet a lot of people will. As you'll soon find out on eBay…
Follow us on Facebook, or on Twitter @BBCNewsEnts. If you have a story suggestion email entertainment.news@bbc.co.uk.
Billie Eilish lands number one with James Bond theme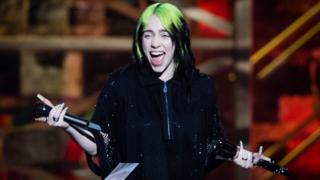 No Time To Die by Billie Eilish has become only the second-ever James Bond theme song to reach the top of the UK singles chart.
Sam Smith had the only other 007 chart success, when Writing's On The Wall from Spectre went top in 2015.
Eilish, who turned 18 in December, is the youngest artist ever to record a track for the Bond franchise.
The star performed No Time to Die live for the first time this week, at the Brit Awards in London.
She also picked up the prize for best international female at the ceremony.
Billie Eilish's Bond theme is dramatic and audacious
The Brits mark turning 40 by refusing to look back
No Time To Die racked up 90,000 equivalent chart sales in its first week; including 10.6 million streams.
That makes it the biggest track of the year so far and also the fastest-selling Bond song (Smith's shifted 70,000 in its first week).
'Insane writer's block'
Speaking to BBC Breakfast this week, Eilish said that her and brother/musical partner Finneas O'Connell had suffered an "intense amount of writer's block" as soon as they were given the nod to produce the track.
Having made an unsuccessful attempt at writing it in a traditional recording studio, they eventually came up with the goods while on the road.
"We wrote and recorded the Bond song on a tour bus in Texas," explained O'Connell.
A meeting with the Bond film boss Barbara Broccoli in Ireland, following one of their live shows, helped the writing process as she gave then "a little hint of the first scene".
Broccoli followed that up by sending the pair the script for the opening sequence.
"It was so cool to read that," said Eilish. "It was really helpful, it really wrote the song for us, I think".
The finished song is a dramatic, unsettling ballad that hints the plot will centre around the secret agent's betrayal, the BBC's Mark Savage noted last week.
The lyrics to No Time To Die reference lies and deceit, as Eilish sings: "You were never on my side."
Daniel Craig's final outing as the world's most famous British secret agent arrives in cinemas in April, and Eilish said the actor had a "big say" in who wrote the film's opening track.
She admitted they'd already seen a "half-done" version of version of the film (minus their track), which looked "amazing".
The star performed the new song alongside an orchestra, Smiths guitarist Johnny Marr and composer Han Zimmer at Tuesday's Brit Awards.
Speaking to the BBC's Colin Paterson backstage, she dedicated the performance to her fans.
"It was really nice that there were fans right up front that I could look at and smile at. I feel like that was the peak of it for me," she said.
"They always prove to me every time I doubt myself that I don't need to, because they are there."
She added: "They really make me feel better about myself and make me feel like everything I do is worth it… I'm human, man!"
Eilish also revealed that her own favourite ever Bond song is… Adele's Skyfall.
"I dunno, Adele is just Adele," she laughed. "You've gotta give it to her."
How have other Bond themes fared in the charts?
While Eilish and Smith reached the chart summit, two other official songs from the movie have taken the number two spot.
Duran Duran's A View To A Kill peaked at number two in 1985, as did Adele's Skyfall in 2012.
Despite winning an Oscar and a Golden Globe, Adele's effort was denied top spot by Swedish House Mafia's Don't You Worry Child.
Shirley Bassey's Goldfinger, in 1964, could only reach number 21 and when the Welsh singer returned in 1971 declaring Diamonds Are Forever, she went to number 38.
Sir Paul McCartney and his post-Beatles band Wings faired slightly better two years later with Live and Let Die reaching ninth place.
The worst performing Bond song was Rita Coolidge's All Time High which reached 75th place in the charts in 1983.
---
Eilish's 2019 album, When We All Fall Asleep Where Do We Go?, went to number one on its release in April last year, making her the youngest-ever female solo artist to top the album chart.
Almost a year on, the indefatigable record is still hanging around in fourth spot in the album charts, where this week Justin Bieber snatched his second number one with Changes.
Renewed interest in Lewis Capaldi following his Brits double win ensured he pushed Bieber all the way, while Tame Impala's new album The Slow Rush – the week's best-selling album on vinyl – went in at number three.
Fewer than 1,200 chart sales separated the top three.
---
Follow us on Facebook or on Twitter @BBCNewsEnts. If you have a story suggestion email entertainment.news@bbc.co.uk.
Newly-discovered Rembrandt work to go on display in Oxford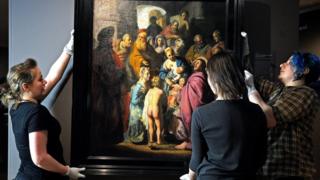 A newly-discovered Rembrandt painting will go on display for the first time, nearly 400 years since it was created.
Let The Little Children Come To Me will be shown at the Ashmolean Museum in Oxford as part of its Young Rembrandt exhibition.
The painting was discovered in 2014 by Amsterdam art dealer and historian Jan Six.
He identified a young man in the painting's background as a self-portrait by Rembrandt.
The exhibition will explore the early years of the artist's work from 1624-34.
Let The Little Children Come To Me is believed to have been painted around 1627-28.
The exhibition will feature 31 paintings by Rembrandt, 13 by his notable contemporaries and a further 90 drawings and prints from international and private collections.
Among those on display will be Rembrandt's earliest known work, The Spectacles Seller (1624-25), which is described by the museum as a "crude, garishly coloured painting by an artist struggling with his medium", as well as Jeremiah Lamenting The Destruction Of Jerusalem (1630), hailed as an "acknowledged masterpiece".
The Young Rembrandt exhibition runs from 27 February until 27 June in the John Sainsbury Exhibition Galleries.
Dot Cotton: Actress June Brown says she has left EastEnders 'for good'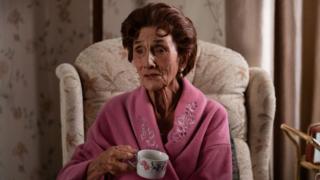 Veteran EastEnders actress June Brown has said she has left her role as much-loved character Dot Cotton after 35 years.
"I've left for good," said the 93-year-old in an interview with podcast Distinct Nostalgia.
She is one of the BBC soap's longest-running characters and has become a firm favourite with viewers.
Her character Dot has not been in an episode since January. An EastEnders spokesman said the "door remains open".
Brown joined the show in 1985, the year it was created.
In the last episode she featured in, aired last month, Dot Cotton – or Dot Branning – left a voicemail message for character Sonia Fowler saying she had moved to Ireland.
Asked by interviewer and former co-star Rani Singh whether EastEnders had put her on a retainer, Brown replied: "I don't want a retainer. I've left. I've left for good.
"I've sent myself to Ireland and that's where she'll stay. I've left EastEnders."
One of EastEnders' best-known stars, Brown was in her late 50s when she joined Albert Square.
Actor Leslie Grantham, who played Dirty Den, suggested her for the role. Until then, Brown's career had incorporated stage, film and television, with appearances in Coronation Street and Doctor Who.
"I think I got it because they thought I was a punctual actress," Brown told the podcast, which aired a special episode to celebrate 35 years of EastEnders.
"I'm not really but I became so. In fact I became so punctual I used to be in an hour before I should be."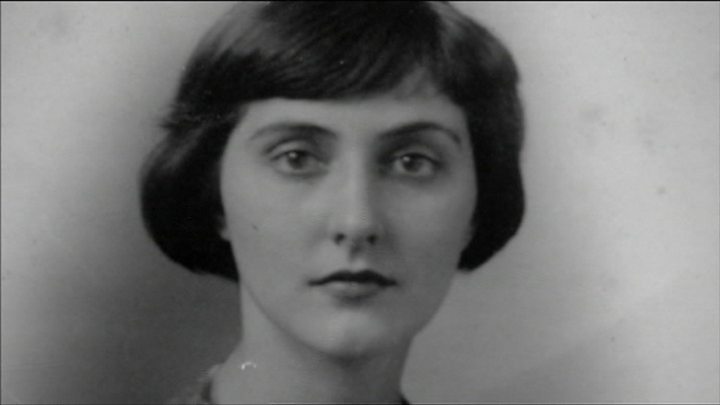 She said it "was a very strange feeling" leaving the soap.
"I was feeling rather down the other day," she said. "I thought, 'what's the matter? Why do I feel so sad?' It's almost as if I've been bereaved.
"I've played two people simultaneously for 35 years. Really Dot wasn't me, but spiritually she probably was."
Brown took a four-year break from the soap between 1993 and 1997
In 2008, Brown became the first actor in a British soap to carry an entire episode alone, with an emotional monologue dictated to a cassette for her screen husband to listen to in hospital following a stroke.
That same year she was made an MBE for services to drama and charity.
Last year, Brown revealed she was losing her sight after being diagnosed with age-related macular degeneration and could no longer recognise her friends.
An EastEnders spokesman said: "We never discuss artists' contracts, however as far as EastEnders are concerned the door remains open for June, as it always has if the story arises and if June wishes to take part."