Why international rock stars are flocking to India
More than 40,000 people attended U2's concert in India's financial capital, Mumbai, earlier this month.
The Irish band is one among many flocking to the country – Katy Perry, Justin Bieber, Ed Sheeran, Coldplay and Bryan Adams have all performed in India in recent years.
And it looks like the list may get longer as people in the music industry say that more and more artists are asking about coming to India to perform.
So why has India become a destination for rock stars?
Video by Aakriti Thapar and Jaltson AC
Brits 2020: Dave wins album of the year and calls PM 'racist'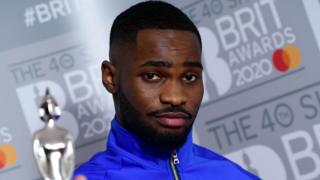 London rapper Dave won album of the year at the Brits, moments after calling the prime minister a "racist".
The star took home the night's main award for his provocative, personal album Psychodrama, which also won last year's Mercury Prize.
But it was his fiery performance of the single Black which stole the show.
In a newly-written verse, he called out the government response to Grenfell and said: "The truth is our prime minister is a real racist".
Brits 2020: Full winners list
Brit Awards: Red carpet in pictures
He also attacked tabloid coverage of the Duchess of Sussex, and made a reference to London Bridge terror attack victim Jack Merritt.
Two years after Stormzy demanded "where's the money for Grenfell?" on the Brits stage, Dave updated the lyric, saying: "Grenfell victims still need accommodation".
"And we still need support for the Windrush generation / Reparations for the time our people spent on plantations," he added.
The lyrics were added as a final verse to Black, which talks about perceptions and experiences of black people in the UK.
The 21-year-old is now only the second act to win best album at the Brits and the Mercury Prize for the same record. The first was the Arctic Monkeys for their debut, Whatever People Say I Am, That's What I'm Not.
Aside from Dave's show-stopping performance, the 2020 Brits also saw Billie Eilish give the live debut of her James Bond theme, No Time To Die, backed by a 22-piece orchestra, Smiths legend Johnny Marr and composer Hans Zimmer.
Lewis Capaldi was the main winner, taking home two prizes: best new artist and best single, for his breakout hit Someone You Loved.
"Contrary to popular belief, [a lot of] people think this song is about my ex girlfriend, who you can now see every night on Love Island," said the star, "but it's actually about my grandmother who sadly passed away a few years ago.
"I hope to God ITV don't contact her to be on a reality TV show."
Mabel won best female artist, and was congratulated by her mother, Neneh Cherry, who took home two Brits exactly 30 years ago.
Billie Eilish choked back tears as she accepted the award for best international female, having been overwhelmed by the audience's response to her performance minutes earlier.
"I felt very hated recently," said the 18-year-old, who told the BBC she had recently stopped reading comments on social media.
"And when so was on the stage and I saw all you guys smiling at me… It genuinely made me want to cry. And I want to cry right now, so thank you."
Best male artist went to Stormzy, who performed a stunning medley of songs from his second album, Heavy Is The Head, accompanied by more than 100 performers, including a gospel choir, a saxophonist, and Nigerian artist Burna Boy.
The night opened with a brief tribute to Love Island host Caroline Flack, formerly a backstage presenter at the Brits, after her death on Saturday.
"She was a kind and vibrant person with an infectious sense of fun," said the show's presenter Jack Whitehall.
"I'm sure I speak for everyone here when I say our thoughts are with her friends and family."
Earlier, Harry Styles, who briefly dated Flack while he was in One Direction, appeared to pay tribute by wearing a black ribbon on his jacket on the red carpet.
The star performed the delicate ballad Falling during the show, but made no further reference to Flack's death.
Other performances on the night came from Lizzo, whose irrepressible energy lit up the O2 as she roamed through the crowd performing the hits Cuz I Love You, Truth Hurts, Good As Hell and Juice.
Mabel opened the show with an athletic version of Don't Call Me Up, set in a call centre and featuring two dance breaks. And Rod Stewart brought proceedings to an end two hours later, reuniting with The Faces to play Stay With Me.
There were several references to the lack of female nominees at the ceremony; with Paloma Faith and Foals saying they hoped for better representation at next year's awards.
Whitehall also acknowledged the imbalance as he introduced the award for best female, saying: "Environmental issues have been a big theme of awards show this year. And in the spirit of sustainability the Brits has been recycling all the same excuses for why so few women were nominated."
Dave wasn't the only artist to make a political statement; with Tyler, The Creator referencing the fact he'd been banned from entering the UK in 2015 over some of his lyrics.
"A special thank you to someone who made it impossible for me to come to this country five years ago," said the rapper as he picked up best international male.
"I know she's at home [peed] off – thank you Theresa May."
Dave capped the night off by winning best album – a prize many had expected to go to Lewis Capaldi, whose debut album was the UK's best-selling record last year.
But voters responded instead to the rapper's candid, soul-baring reflections on his upbringing in London and what it means to be a young black Briton.
He dedicated his trophy to anyone hoping to follow in his footsteps, saying: "All my young kings and queens that are chasing their dreams, I am no different from you. You can do anything you put your mind to."
---
Follow us on Facebook or on Twitter @BBCNewsEnts. If you have a story suggestion email entertainment.news@bbc.co.uk.
Harvey Weinstein trial: Judge warns defence as verdict nears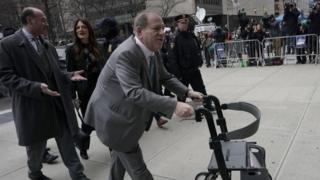 The judge in the Harvey Weinstein rape case has warned the lead defence lawyer not to talk to the press, after she penned an opinion piece on Saturday.
Writing in Newsweek, Donna Rotunno called on jurors to "do what they know is right".
But she told Justice James Burke the piece was not intended to address the jury directly.
The row came before the jury of seven men and five women were sent away to try to reach a verdict.
Mr Weinstein has pleaded not guilty to sexually assaulting former production assistant Mimi Haleyi and raping former actress Jessica Mann.
The trial began in New York last month.
Accusations of sexual misconduct against the Hollywood producer by dozens of women helped drive the #MeToo movement.
Only two of the accusers' cases, those of Mimi (Miriam) Haleyi and Jessica Mann, have led to individual criminal charges in New York, but the testimony of others is being used as supporting evidence.
What did the judge say?
Judge Burke instructed jurors on Tuesday morning before they retired to consider their verdict.
As the court session opened, prosecutors asked the judge to instruct jurors to ignore the Newsweek piece as it was "100% inappropriate".
Judge Burke refused the prosecutors' request, but restated a ban he imposed at the beginning of the trial on both defence and prosecution from giving media interviews.
"I would caution you about the tentacles of your public relations juggernaut," he told Ms Rotunno.
The defence attorney responded: "This is an op-ed about the jury system as a whole, about the criminal justice system as a whole."
In the piece, she accused her opponents of trying to influence the trial.
"The mocking of Mr Weinstein's walker, the unflattering courtroom-artist sketches of his body, the countless critical op-eds and biased stories, and the convenient timing of the politically-motivated charges in Los Angeles were all designed to pre-determine his guilt," she wrote.
"I implore the members of this jury to do what they know is right and was expected of them from the moment they were called upon to serve their civic duty in a court of law."
But Judge Burke asked the defence: "You don't think addressing the jury in the first person isn't problematic?"
Prosecutors have argued Mr Weinstein was a "seasoned" sexual predator who prayed on aspiring young actresses.
His defence team said his actions were consensual, including in one "loving" relationship. They also said prosecutors had failed to present any forensic evidence or eyewitness accounts.
The 67-year-old denies five charges, including rape and sexual assault, relating to two accusers. The jury must reach unanimous verdicts on each count.
Mr Weinstein, who never took the stand during the trial, could face life behind bars if convicted.
What are the accusations against Mr Weinstein?
Once one of Hollywood's most decorated and lauded producers, Mr Weinstein has been accused of sexual misconduct by more than 80 women.
But few of the complaints have led to criminal charges.
During the trial, one-time aspiring actress Jessica Mann detailed a catalogue of abuse by the Hollywood producer, saying he had once trapped her in a hotel bedroom and raped her. Three of the five charges against Mr Weinstein relate to Ms Mann.
Production assistant Mimi Haleyi told the court Mr Weinstein had assaulted her twice in Manhattan in 2006, after he helped her get a job on a television show he produced.
Former Sopranos actress Annabella Sciorra testified the film producer had raped her at her home in the early 90s, after forcing his way into her apartment and attacking her.
That incident happened too long ago to be pursued under New York law but prosecutors wanted to use Ms Sciorra's testimony to support their argument that the accused was a sexual predator.
To do so, they must prove Mr Weinstein committed a serious sexual offence against at least two people.
Under cross-examination, both Ms Mann and Ms Haleyi acknowledged at least one consensual sexual encounter with Weinstein after the alleged assaults.
Defence lawyers presented dozens of emails and text messages in court that appeared to show both women on friendly terms with Mr Weinstein years after the alleged attacks.
Who are the main accusers?
Mimi (Miriam) Haleyi. A former production assistant who accuses Mr Weinstein of performing a forcible sex act on her in 2006. Prosecutor Meghan Hast said Mr Weinstein had tempted Ms Haleyi with job opportunities and after having had her brought to his apartment, lunged at her, pushed her on to a bed and forced her into the sex act, leaving her "motionless like a dead fish".
Jessica Mann. An actress named for the first time. Ms Hast said Ms Mann had had encounters with Mr Weinstein over a number of years, and would testify that Mr Weinstein had raped her multiple times, once leaving her like a "rag doll" in her hotel room in March 2013.
Annabella Sciorra. The actress testified she had been "violently raped" by the defendant in the winter of 1993-94, leaving her "emotionally and physically destroyed".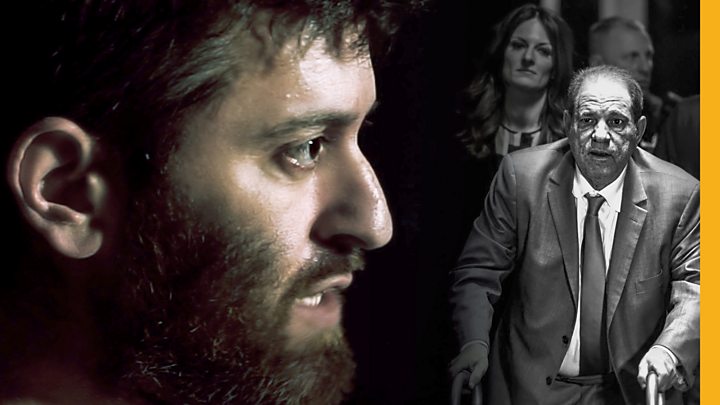 Lewis Capaldi expected to triumph at the Brits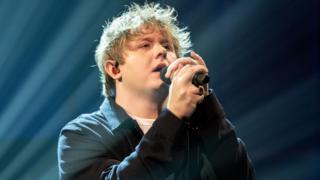 Lewis Capaldi is expected to take top honours at the Brit Awards on Tuesday, with wins predicted in major categories including best male and best single.
The Scottish star will also perform at the ceremony, after a year in which he scored the best-selling single and album in the UK.
His main competition comes from London-born rapper Dave, whose frank and confessional debut album Psychodrama won last year's Mercury Prize.
Both artists are up for four awards.
But most pundits agree Capaldi will be rewarded for the success of his breakout song, Someone You Loved, and the multi-platinum sales of his debut album, Divinely Uninspired To A Hellish Extent.
"I'm just going to turn up, watch Lewis Capaldi win everything and then go home," joked Sam Fender, who's nominated against Capaldi in the best male category.
Speaking to BBC Radio 1's Newsbeat, Fender acknowledged he'd beaten Capaldi in the Critics' Choice category last year, but said he didn't expect a repeat performance.
"I think they gave me that award last year because they could see 2020 coming," he said. "They were like 'Oh Lewis Capaldi's going to win everything next year.'
"Even I've voted for Lewis."
Capaldi does face stiff competition in almost every category, though.
Two-time Brit Award-winner Stormzy arrives at the Brits after a triumphant 2019 which saw him headline Glastonbury and enter the charts at number two with his second album, Heavy Is The Head.
Notably, his record was released in the same week as the Brits' academy cast their votes, meaning his music will have been prominent in critics' minds as they selected this year's winners.
Harry Styles' second album, Fine Line, was also released to coincide with the voting window and also makes it into the best album shortlist – making him the first member of One Direction to receive that accolade.
But Capaldi's biggest challenger is Dave – whose thought-provoking record Psychodrama was hailed as "the boldest and best British rap album in a generation" by The Guardian.
If he wins album of the year, the 21-year-old, from Brixton, will become only the second artist to win both a Brit and Mercury Prize for the same record. Arctic Monkeys previously did the double with Whatever People Say I Am, That's What I'm Not.
In the international categories, Billie Eilish could easily repeat her victory at the Grammys by taking home the best female prize.
The star is also set to give the first performance of her James Bond theme, No Time To Die, accompanied by ex-Smiths' guitarist Johnny Marr and a 22-piece orchestra.
Other performances on the night will come from Harry Styles, Lizzo, Stormzy, Mabel and Rod Stewart – who's reuniting with the surviving members of The Faces to close the show.
Soul newcomer Celeste, who won the Brits' rising star award, will also give her first live TV performance, playing the heart-rending ballad Strange – a moment that could rival Adele's career-changing performance of Someone Like You in 2011.
The ceremony takes place at London's O2 Arena, with comedian Jack Whitehall hosting for the third year running. It will be broadcast live on ITV from 20:00 GMT.
The awards have been criticised for a lack of diversity, with only four women nominated across the four categories open to both male and female artists – best group, best new artist, best song and album of the year.
Two of those nominations go to the same person, pop singer Mabel, while the remaining two, for Miley Cyrus and Normani, are guest vocalists on songs by Mark Ronson and Sam Smith.
Geoff Taylor, chief executive of the Brits, defended the choice of nominees, saying there had been "a lot of success for male acts in 2019", particularly in the male-dominated grime and hip-hop genres.
"That is different to 2018. We had a really strong showing from female [nominees] last year with the same [gender] balance in the academy. So last year it was all about Dua Lipa, Anne-Marie, Jorja Smith, Florence [+ The Machine] and Jess Glynne," he told Music Week magazine.
"This year we've got a strong set of releases from male artists. When you look at the album of the year nominees, they all released absolutely fantastic records.
"We have an academy that's made up equally of men and women, and that academy decided that these were the best releases of this particular year.
"We need to respect that. They have decided that, creatively, these were the best records. We have to respect the views of a 50-50 academy, and we have to reflect what's going on in music."
Follow us on Facebook, or on Twitter @BBCNewsEnts. If you have a story suggestion email entertainment.news@bbc.co.uk.