James Perkins X Conrad Colman Collab races across the Atlantic
American land artist James Perkins collaborates with ocean racer, Conrad Colman on an ever-shifting fabric installation on a boat sailing across the Atlantic. The seemingly different professions combine for an innovative partnership honing their crafts into science through an art project that relies on the power of nature, the weather, the wind, the sun, the ocean, and the stars. The composition affixes James Perkins' silk canvases to the boat's lifelines and sails exposing them to the natural elements and transforming them by the force of the ocean and the wind as Colman's seafaring 'studio' speeds up to 40 knots. The collaborative artwork shares the artist's and racer's common message about the beauty, strength, and fragility of humanity and nature's interdependence.

all images by Natasha Gonzalez
James Perkins' composition is dependant to nature's elements
After a thirteen-day race across the Atlantic, ocean racer Conrad Colman crosses the finish line of the 3,542 nautical miles solo-skippered Route du Rhum. On the race from Saint-Malo, France, to Pointe-à-Pitre, Guadeloupe, land artist James Perkins' silk canvases are installed on the boat flying high and taking various shapes. 'My sculptures are what I call post-totem structures, for all mankind. They symbolize that we are all in this together. Having Conrad collaborate and fly my canvasses as a flag for humanity's mutual interest in caring for and sharing the planet is moving. I am interested in capturing the energy and beauty of the ocean, the example of Conrad's passion and endurance, and through our collaboration to demonstrate the human virtue of weathering storms and pushing through to achieve a long-term goal', shares the artist.
Typically, the multimedia artist's studio is his Fire Island beach, where he allows the sea salt, ocean spray, sun, rain, and hurricane-force winds to weather his all-natural silk sculptures to unveil dynamic, layered, and utterly transformed totems. His art demonstrates the awesome power and beauty of human interdependence with the environment. In this race, nature is full speed ahead with Colman at the helm. 'Within an hour of the race start, art was happening. Not only was the race exhilarating but to be the custodian and choreographer of James' art while watching the minute-by-minute transformation of the silk- both in color and texture was amazing', the offshore skipper adds.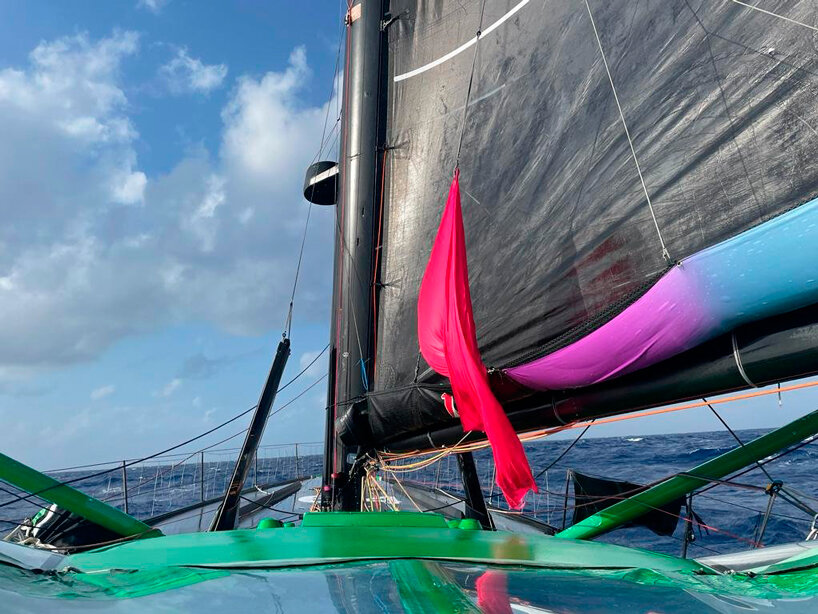 the composition affixes James Perkins' silk canvases to the boat's lifelines exposing them to the natural elements
Credit: Source link