Two Nobel literature prize committee members quit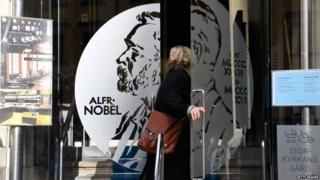 Two external members of the Nobel literature prize committee have quit after criticising the Swedish Academy.
Gun-Britt Sundstrom said the choice of Peter Handke as this year's winner had been interpreted as if literature stood above politics and she did not agree.
The choice of Handke was criticised because of his vocal support for the Serbs during the 1990s Yugoslav war.
Kristoffer Leandoer said he'd left due to Academy reforms taking too long following a sexual assault scandal.
The Academy suspended the prize in 2018 following the controversy involving the husband of a former member, the poet and writer Katarina Frostenson.
Frostenson has since quit, as have the institution's head and four other members.
Changes were subsequently made, with external members added to assist the Nobel committee in choosing prize candidates for the Academy to vote on.
But author Leandoer wrote in Swedish newspaper Svenska Dagbladet that he was leaving because he had "neither the patience nor the time" to wait for the committee to complete its reforms.
"The Academy and I have a different perspective on time, one year is far too long in my life and far too short in the life of the Academy," he wrote.
He added that his decision was not linked to the decision to award the 2019 prize to Handke.
Fellow author Sundstrom stated her case regarding Handke in another Swedish newspaper, Dagens Nyheter.
The Academy confirmed that Leandoer and Sundstrom had left the Nobel committee, which until today was comprised of four members of the Swedish Academy and five external members.
"We are grateful for the significant effort they made during the year and we are now reviewing how the work of the Nobel committee will be organised for the 2020 Nobel Prize in literature," Mats Malm, permanent secretary of the Swedish Academy, said in a statement.
Follow us on Facebook, or on Twitter @BBCNewsEnts. If you have a story suggestion email entertainment.news@bbc.co.uk.
Pop Smoke: Rapper shot dead in apparent robbery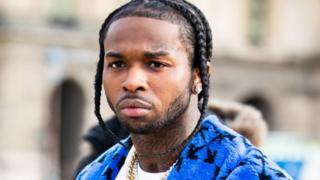 The US rapper Pop Smoke has been killed, after an apparent armed robbery.
Los Angeles Police told Radio 1 Newsbeat a man was shot at his home and later pronounced dead, although didn't confirm his identity.
But his label Republic Records says it's "devastated by the unexpected and tragic loss of Pop Smoke".
Police responded to reports of a robbery – and man was then taken to hospital and later pronounced dead.
Officers confirmed that an unknown number of suspects entered a property in West Hollywood.
They got a call about a robbery at 04:55 PST and were at the scene six minutes later.
Police say no suspects have been identified and no arrests have been made.
They also denied reports that a man was held at the scene but say one suspect is thought to have had a handgun.
Pop Smoke was signed to Republic Records which has said in a statement "our prayers and thoughts go out to his family, friends and fans, as we mourn this loss together."
When reports first appeared in the US tributes began flooding in for Pop Smoke, real name Bashar Barakah Jackson – including from friends.
Pop Smoke had a breakout hit with Welcome to the Party in 2019 – which led to him being singled out as an artist to watch this year by BBC Radio 1Xtra, on the station's Hot For 2020 list.
The station said he "possessed the air and cadence of a rapper who has been in the game for a decade or two longer than his actual age".
The track ended up being remixed by both Nicki Minaj and Skepta.
Just last week Pop Smoke was a guest on DJ Target's show on 1Xtra.
He was in the middle of several US tour dates and was due to come to the UK in April – with shows scheduled in London, Manchester and Birmingham.
50 Cent was one of many rappers, DJs and producers that paid tribute on social media, as did rapper Quavo, who Pop Smoke had collaborated with.
Last year he spoke about wanting to make music that inspires children who are growing up in poverty.
He told The Face: "I make music for that kid in the hood that's gotta share a bedroom with like four kids – the young kids growing up in poverty.
"I make music for kids like that who know they just gotta keep going, that there's a better way. That's who I really make it for."
Follow Newsbeat on Instagram, Facebook, Twitter and YouTube.
Listen to Newsbeat live at 12:45 and 17:45 weekdays – or listen back here.
Jimmy Tarbuck: Comedian reveals prostate cancer diagnosis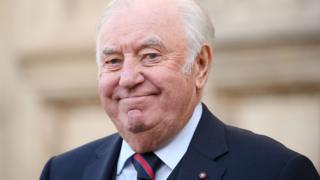 Comedian Jimmy Tarbuck has revealed he has been diagnosed with prostate cancer.
The veteran Liverpudlian comic told ITV's Good Morning Britain he would "try and beat it".
Tarbuck said he received the diagnosis the day after his 80th birthday earlier this month.
"Right now I feel great. I'm on the telly and I'm having a good time," he said, adding that the cancer had not spread.
He was inspired to get checked by Sir Rod Stewart, who announced in September that he had received treatment for prostate cancer.
"All men out there watching, and all wives, get your husbands to go for the tests. I think after 50, just have a test, let them have a look at you," Tarbuck said.
"You will be relieved and be with your families for extra years."
He said men can be too "shy" to get tested, but urged them not to put it off. "Boys, go. It is embarrassing. Especially when the fella said to me 'We're going to give you the thumbs up'. I said 'I hope not'. He roared laughing."
Speaking about his treatment, he added: "I'm having injections and taking tablets and then I take a yearly cycle."
Tarbuck, who rose to fame in the 1960s and was known for hosting variety shows including Sunday Night At The London Palladium and Live From Her Majesty's, is now planning to go on tour.
Follow us on Facebook, or on Twitter @BBCNewsEnts. If you have a story suggestion email entertainment.news@bbc.co.uk.
Brits 2020: Pop meets politics


Highlights from this year's ceremony included performances from Billie Eilish, Dave, Lizzo and Stormzy.



Source link