Toy Story: How Buzz Lightyear keeps making millions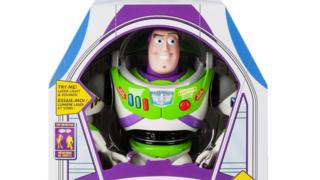 When Buzz, Woody and Jessie return to our screens on Friday with the release of Toy Story 4, it's not just cinemas that will be hoping for queues at their doors.
Retailers also hope the sequel will get their tills ringing too.
Why? Nine years ago, when Toy Story 3 was released, sales of toys, T-shirts and other merchandise in the UK were greater than takings at the box office.
The Buzz figure is already the Disney Store's best selling toy of all time.
The film – which will be released on 21 June – could provide a boost for the UK toy industry after a 7% fall in annual sales last year.
"The more successful the movies, the more likely (but not always) it will correlate with toy industry sales," says Rebecca Demming of the British Toy and Hobby Association.
Franchises are an important fuel for toy sales. Data from market research company NPD shows that 23% of toy sales in the UK last year were generated by franchises – and almost half of that was related to films.
"The good thing about toys from licenses is they that they can encourage role play and imagination and children can recreate what they've seen in films," says Ms Demming.
Toy Story is a extra special gift for retailers: a film based on toys and with an added dose of nostalgia. The children in the mid-1990s when the first film was released – 1995 in the US, 1996 in the UK – are now adults and may well have children of their own to take to the latest film.
Paul Dergarabedian, senior media analyst at Comscore, says the new film will "reinvigorate interest and excitement in the merchandise among a whole new generation of fans".
Amy Pearson, marketing director for Disney Store Europe, says Toy Story appeals to fans of all ages.
"It's not just for kids. It's for everybody," she says, adding that in the UK it "is by far the biggest franchise for us".
Are Star Wars toys holding their value?
Christmas failed to revive flagging toy market
Even before the film is released, last week a fifth of sales in the 42 UK Disney Stores and online were being generated by Toy Story.
'Woody's a great leader'
Andre Taylor was born in 1996 – the year that the first Toy Story film was released in the UK.
Browsing in the Disney Store on London's Oxford Street, he says he is a "big fan".
He has fond memories of playing with the toys with his brother when he was younger.
"It's just been something I hold on to for a very long time. I've always identified with Woody and I've liked his character development from the first film… They really do put detail into the stories they are making," he says.
"[Woody's] a great leader. When times get tough, he never ever gives up," he says.
A toy collector, he keeps the toys in their boxes and intends to get characters such as Bo Peep and Bullseye after payday.
New toys were added to the range in April, including those based on the new character, Forky – a spork given a makeover who does not want to believe he is now a toy.
But Ms Pearson says that an updated version of the original Buzz Lightyear figure launched almost 25 years ago is still the main attraction. "He's the best selling toy of all time," she says.
'The year of the movie'
Alice Enders, director of research at Enders Analysis, says expectations are high that the latest Toy Story release will do well for Disney – and not just in the UK.
"It's a family movie… the timing is for the 4th of July [independence day holiday] in the US," she says.
Analysts had already expected 2019 to be a good year for Disney because of the slate of films being released. The sequel to Frozen is due before Christmas, while Avengers: End Game – based on the Marvel superheros – has already been released.
Rivals have major releases too: Lego Movie 2 and How to Train Your Dragon; the Hidden World have already hit our screens.
Frederique Tutt, global industry analyst of toys at NPD, describes 2019 as "the year of the movie".
It is one of the reasons she is hesitant to predict that Toy Story 4 can smash records like is predecessor did.
Her data shows that toy sales from Toy Story 3 generated of £104m of sales in 2010 – breaking the then-record for franchised-related toy says in the UK.
Data provided by Disney shows that box office receipts in the UK for Toy Story 3 were £74m, which it says still makes it the UK's highest grossing animated film.
It also says that more than a million Buzz Lightyear action figures were sold that year.
Ms Tutt reckons £80m of toy-related sales in the UK would be a very good figure for this year's Toy Story release.
While the week after the release of the film will be crucial indicator for sales, she points out that there is not always an immediate correlation.
Frozen was released in 2013 but its biggest year in retail was 2015, when it grabbed Toy Story's 3's crown for the most film franchise-related toy sales in the UK. (That has since been broken again by Star Wars).
And while Avatar from James Cameron has been the best-selling film at the box office worldwide up to now, it has no sales in toys. "This was a miss. I'm sure this will be different when Avatar 2 comes out," says Ms Tutt.
She says sales of the new Toy Story toys were already making up 1.2% of the UK's toy market in the week ending 8 June. Compare that with 2010, during the record year, when Toy Story made up 3.7% of total toy sales in the UK.
For now, toy retailers will be hoping their sales catch a bit of that famous Buzz catchphrase: "To infinity and beyond."
Love Island: Tributes paid to Caroline Flack as winners are crowned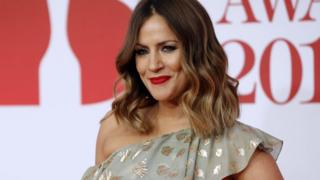 Love Island paid tribute to Caroline Flack as its first winter series drew to a close on Sunday night.
The former host of the show was found dead in her London flat last weekend.
"The past week has been extremely difficult, coming to terms with the loss of our friend and colleague, Caroline," presenter Laura Whitmore told viewers of the ITV2 programme.
"Caroline loved Love Island. She loved love, and that's why tonight's final is dedicated to her."
She added: "We're thinking of her family and everyone who knew her at this time."
The programme then showed a montage of some of Flack's memorable moments from the series in recent years.
The islanders were told about Flack's death off-camera on Saturday, an ITV spokesman confirmed.
Finley Tapp and Paige Turley were crowned the winners of the series as the finale drew to a close.
Two episodes of this series were pulled from the schedules last weekend after Flack was found dead.
The show returned the following Monday with a tribute to Flack from the show's narrator Iain Stirling.
This has been the first series of the show to take place in winter and be filmed in South Africa.
Previous seasons have been filmed on the Spanish island of Mallorca over the summer.
Overall, the winter series has been a ratings hit for ITV2, albeit not as successful as previous summer series.
This series has been attracting around three million viewers per episode, including via catch-up services, compared with the 4.5 million the last summer series generally attracted.
Laura Whitmore is the show's current presenter. She joined the show after Flack was charged with assaulting her boyfriend.
Tapp and Turley were crowned the winners of this series on Sunday night, winning the £50,000 prize, which they chose to share between them.
In a twist that occurs in every series, Turley was given the chance to "steal" the full prize money before she decided to split it evenly.
"It's been such an amazing experience," Turley said earlier in the episode. "It's been filled with challenges, but it's been amazing."
Asked what first attracted him to Turley, Tapp said: "I loved how outgoing she was. I wasn't wrong in picking her because I thought she'd make me laugh and smile all day long. She's made me very happy."
Earlier this series, they became the first pair to become an official couple in the villa.
Turley attracted headlines when the series launched in January because she is the ex-girlfriend of singer Lewis Capaldi.
The Scottish star referred to her while accepting the Brit Award for best single earlier this month, for his song Someone You Loved.
"A lot of people think this song is about my ex-girlfriend, who you can now see every night on Love Island," he said.
"But it's actually about my grandmother, who sadly passed away a few years ago. I hope ITV don't contact her to be a on a reality dating show."
During the finale, Whitmore confirmed the show would return to Mallorca for a new series this summer.
---
Follow us on Facebook or on Twitter @BBCNewsEnts. If you have a story suggestion email entertainment.news@bbc.co.uk.
Earth Harp: The man behind the unique instruments 'epic' sound
William Close is the inventor behind the Earth Harp – the world's longest string instrument which uses architecture and landscapes to create a unique sound.
Mr Close, who has performed the giant harp all over the world, says the audiences are often left feeling like they are "inside the instrument" during his performances.
Verdi opera: Conductor stops performance over 'phone miscreants'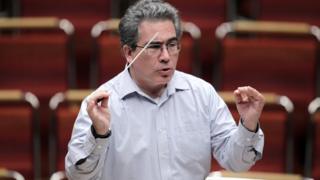 A conductor has twice stopped an opera in Cardiff after mobile phones rang in the audience.
Carlo Rizzi was conducting Welsh National Opera's new production of Verdi's Les Vêpres Sicilienes, at Donald Gordon Theatre at the Wales Millennium Centre on Saturday night.
Audience members said Rizzi twice stopped and spoke to the audience about the distraction it caused.
Verdi's opera is based around true events in Sicily in 1282.
'Phone miscreants'
David Jackson, a BBC employee who was in the audience, said Rizzi was applauded after bemoaning the interruption caused by mobile phones.
He said: "I spoke to Carlo afterwards and congratulated him on the performance, but also on tackling the phone miscreants.
"He got a warm round of applause after he stopped and ticked off the audience member. Both incidents were right at the beginning of the show and all was well after that."
The opera is sung by WNO in French in its new production directed by Sir David Pountney.
Another audience member confirmed the two instances of disruption caused by mobile phones.
It is not the first time a mobile phone has drawn irritation during a high-profile live performance, with the devices falling foul of numerous artists in the past.
Pianist Krystian Zimerman stormed out of a concert in 2013 because a fan was filming with his phone.
And film and stage actors Daniel Craig, Hugh Jackman and Benedict Cumberbatch have all voiced their anger at the use of mobiles while treading the boards in London.
Last year, singer Madonna said she would ban mobile phones from future gigs.
Jackson said his enjoyment of the opera in Cardiff was not affected by the interruptions.
"It was a wonderful performance of a comparatively rarely done piece of Verdi – the mobile phone business didn't detract," he said.
WNO confirmed there were "short pauses" and that Rizzi addressed the audience following the second interruption.