The singer protesting against Spotify… on Spotify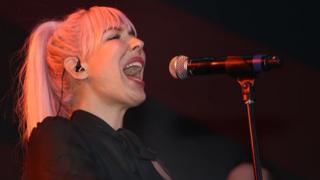 Fans streaming the new single by pop singer Esthero have discovered it's been deliberately doctored to protest against Spotify's royalty rates.
Ninety seconds into Gimme Some Time, the music dips, and Esthero explains the full version of the song will only be available on her website.
The money Spotify generates is "really not a liveable income," she explains.
"I really hope you enjoy my music enough to actually go and support and buy the song from me."
Speaking to BBC 5 Live, Esthero said the protest "came from a general sense of frustration and powerlessness," at the payments offered by services like Spotify, Apple Music and Tidal, which can be as little as $0.003 per stream.
"I would like to just make a living," she said. "I can't give something away for free and expect you to purchase it as well."
'I got angry'
The Canadian singer has been writing and recording music since the 1990s, working with the likes of Outkast, the Black Eyed Peas and Kanye West (she played the voice of a robot on his Glow In The Dark Tour).
She grew disillusioned with streaming services last year, after her song Black Mermaid was featured in the Netflix film Nappily Ever After.
"It was like a dream placement," she said. "It was written into the script of the film, so the lead character was talking about it and saying the lyrics. You really couldn't ask for any better."
Thanks to the exposure, Black Mermaid quickly became her most-streamed song, generating 1.3m plays on Spotify alone.
But Esthero says it generated less than $5,000 (£4,031) in royalties. When she compared that to the potential income of a million downloads, "I just sort of got angry".
Initially, she considered pulling her music down altogether, but then she came up with a cunning plan: Edit the streaming version, so it acts like a "trailer" for the full song, and use it to expose "the fact that the pay is so little" on streaming sites.
"I thought, 'I should have a little V for Vendetta moment and tell people what's going on,'" she said.
The protest has already picked up support from artists like Nitin Sawhney and chairman of the Ivors Academy Crispin Hunt, who encouraged people to "smash [the song] into the charts".
"I'm really glad that she's brought attention to this," said Helienne Lindval, who chairs the British Songwriters Committee.
"To make the same amount of money you make from a download, the person who's listening to the track would have to listen to it 200 or 300 times, sometimes even more than that.
"It's something that's affected us so much that people are leaving the industry and artists are finding it hard to survive [even if] they have a lot of fans."
Generic music
Lindval added that the financial situation had had a detrimental effect on creativity.
"Because of the streaming economy, it is better to make music that is very broad, that is liked by as many people as possible," she explained. "So what you get is a more generic and streamlined output of music."
Esthero said fans had been "extremely supportive" and "understanding" about her protest.
"I think we underestimate the empathy of the audience. If you give people an opportunity to support [you], they will do it."
She was unsure whether Spotify had noticed her protest, but "I'm assuming they're going to catch me and take it down" eventually.
The BBC contacted Spotify, which declined to comment on this story.
Follow us on Facebook, or on Twitter @BBCNewsEnts. If you have a story suggestion email entertainment.news@bbc.co.uk.
Caroline Flack: Met refers itself to watchdog over contact with star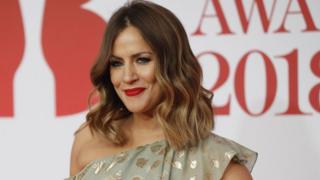 The Metropolitan Police has referred itself to the police watchdog following the death of TV star Caroline Flack.
Scotland Yard's directorate of professional standards (DPS) reviewed all previous contact with Ms Flack, 40, before it made Wednesday's referral.
It was standard practice for a referral to be made when a person who had recent contact with police died, the Met said.
Ms Flack was found dead at her London flat on Saturday as she awaited trial for allegedly assaulting her boyfriend.
An inquest into the former Love Island host's death was opened and adjourned on Wednesday.
A statement from the Met said: "No notice of investigation has been served on any officer and no conduct issues have been identified by the DPS. No officer is on restricted duties or suspended."
An Independent Office for Police Conduct spokesman said: "We will make a decision on the level of our involvement after carefully assessing the information we have received.
"Receipt of a referral does not mean an investigation will necessarily follow."
Ms Flack left her role presenting the ITV2 dating show after being charged with assaulting her partner Lewis Burton in December and was due to stand trial next month.
In an unpublished Instagram post shared by her family, she said her "whole world and future was swept from under my feet" following her arrest.
Ms Flack pleaded not guilty to assault by beating at a court appearance in December, when it was heard her partner did not support the prosecution.
She was released on bail but was ordered to stop any contact with Mr Burton ahead of the trial.
Love Island did not air on Saturday or Sunday but returned on Monday with a tribute to the former X Factor presenter and Strictly Come Dancing winner, who started hosting the programme in 2015.
Caroline Flack death: Hairdressers bin gossip magazines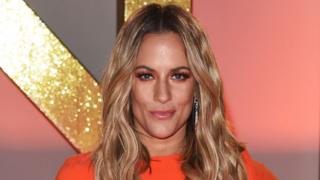 Hair salons have said they have stopped stocking celebrity gossip magazines after the death of Caroline Flack.
Some hairdressers posted the decision on social media after the former Love Island host was found dead.
Among them was salon owner Anita Donoghue whose Facebook post about binning "pages of fat shaming, slut shaming, celebs without make-up" was shared thousands of times.
A press regulator said it had received complaints over headlines about Caroline Flack following her death.
The Independent Press Standards Organisation (IPSO) said it was investigating a number of complaints in line with its normal procedure.
Ms Flack was found dead weeks before she was due to stand trial for assaulting her boyfriend – a prosecution he did not support.
She wrote in an unpublished Instagram post: "I am suddenly on a different kind of stage and everyone is watching it happen."
Ms Donoghue, salon director of Hair Cafe in Dublin, said hairdressers had been posting about their dislike of gossip magazines for years.
"I'm by no means the first to do this," she said. "But I think I was one of the first to react in this way to the sad news about Caroline," said the 41-year-old.
"I was unconsciously going out and buying these magazines because it was the norm to see them in salons, cafes, dentists' waiting rooms.
"When I thought about Caroline and the impact these magazines have had on her life I wanted to make a change."
Ms Donoghue's post has been liked and shared thousands of times and other hairdressers have composed similar messages.
"It's unbelievable how it's been picked up," she said. "It's the right thing to do. I want to cry I'm so proud," she said.
Josie Kent, salon owner of Caribou Hair Ltd in Par Cornwall, said the star's death made her rethink celebrity gossip culture.
"We came back into the salon after the news over the weekend and the first thing I did was go through our magazines," said the 28-year-old.
"Every one had horrible things across the front about what Caroline was going through. These were stories written about her private life prior to her passing.
"It seemed wrong to have them in the salon and when I thought about it that's exactly what drove her to do it."
Ms Kent said she swapped the magazines for health and fashion publications.
"Our clients absolutely loved having something refreshing to read instead of pointless rubbish always putting other people down," she said.
---
How are magazines regulated?
The Independent Press Standards Organisation (IPSO) regulates newspapers and magazines under a set of rules called the Editors' Code of Practice.
All members of IPSO follow the same code whether they are a national newspaper, local paper or magazine.
Anyone can make a complaint to IPSO over a potential breach of the code.
If after investigation, IPSO's complaints committee finds that the code has been breached it can order a correction or a longer form ruling to be published.
IPSO publishes its list of members here and its rulings here.
---
Social media has also come under scrutiny in the search for explanations and blame since Ms Flack took her life – as have the mainstream media, and the Crown Prosecution Service for pressing ahead with a trial.
An inquest will be held in August to investigate the causes behind Ms Flack's death but the Samaritans maintain the reasons for any suicide are usually numerous and complex.
'Be kind'
Amelia Herbert at Watkins Wright in Great Ayton, North Yorkshire, joined in after seeing other salons sharing similar statements.
"This weekend I felt really sad," she said. "I felt like I needed a break from social media so I deleted my apps on my phone.
"I didn't want to see magazines tearing celebrities down.
"If we can learn anything from this it's that you've got to be nice to other people," she said.
"It's so important in the hair and beauty industry to promote wellbeing.
"It's all well and good having your hair and make-up done but our ethos here is to make you feel good on the inside too."
Jennie Galligan, owner of Jennifer Ashley Hair in Reddish, Stockport, said she wanted to be part of a shift in culture.
"I've never been one for gossip magazines but within hairdressers they're just a given," said the 28-year-old.
"My salon ethos is all about empowering women so actually we don't want them," she said.
"Lots of our clients have said we would rather look at home and wedding magazines.
"Half of them don't even know who most of the reality TV stars in these magazines are."
Information and support
If you or someone you know needs support for issues about emotional distress, these organisations may be able to help.
Lana Del Rey cancels tour due to losing her voice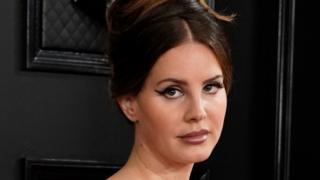 Lana Del Rey has cancelled her forthcoming UK and European tour dates due to illness.
The US singer had been due to perform in London, Manchester, Glasgow and Birmingham next week.
"Sorry to let everyone down so last minute but this illness has taken me by surprise and have totally lost my singing voice," she said in a statement.
"The doctor has advised four weeks off for the moment."
The 34-year-old added: "I hate to let everyone down but I need to get well. Love Lana."
Song of the decade
Del Rey's haunting ballad Video Games was named song of the decade at the Q Awards in November.
Released in 2011, Video Games was initially rejected by dozens of record labels, who said it was too long, too moody, and lacked the drums it needed to get played on the radio.
But it became the singer's breakthrough hit, reaching number nine in the UK.
"I just can't tell you how much this means," the star said in her acceptance speech. "I got my start in London so I wish I could be there, but I'm there in spirit."
It's not clear yet if and when the live tour dates are to be rescheduled.
This week Del Rey was nominated for best international female at the week's Brit Awards; an honour which went to her compatriot Billie Eilish.
Her complex and beguiling latest album, Norman Rockwell, earlier saw her nominated for two Grammy Awards, and was voted as the music critics' favourite record of last year.
---
Follow us on Facebook or on Twitter @BBCNewsEnts. If you have a story suggestion email entertainment.news@bbc.co.uk.