The 'real' Lyudmila from Chernobyl speaks for first time
The HBO/Sky series Chernobyl won three Emmys and brought the story of the 1986 nuclear disaster in Ukraine to a new audience.
But the woman at the centre of it, Lyudmila Ignatenko, the wife of one of the first firefighters to die, says she never gave HBO permission to tell her story and claims she's had to go into hiding due to media harassment.
She spoke to BBC Russian's Olga Malchevska in her first interview since the series aired.
Coronavirus: Brighton Pride 2020 cancelled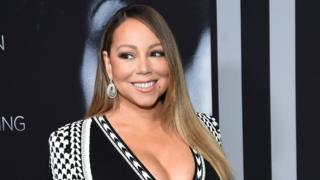 Brighton Pride has announced that "with a heavy heart" the festival has been cancelled this year due to the coronavirus pandemic.
Mariah Carey had been due to headline festival this summer, playing Pride in the Park on Saturday 1 August.
The three-day event was due to run from 31 July to 2 August. On Sunday, The Pussycat Dolls – who recently reformed – were the headline act.
Brighton Pride said the decision "had not been taken lightly"
A Pride spokesman said: "It is with a heavy heart that Brighton and Hove Pride have taken the difficult decision to postpone our landmark 30th anniversary celebrations."
He said the organisers had decided to cancel after evaluating the additional pressure the event would put on the emergency services.
Paul Kemp, director of Brighton Pride, said: "It's been inevitable.
"We are postponing the anniversary celebration to next year and [for] anyone who has got a ticket for the park we'll roll that ticket over.
"Pride is a celebration for the whole city and brings lots of people in, and of course the emergency services, the police, the NHS and all the other key workers who are often part of that parade," he said.
"Our focus is on supporting them and supporting people who are going through tough times."
Alan Robbins, chairman of Brighton and Hove City Council's tourism, equalities, communities and culture committee, said: "It's a great shame.
"The message is going out 'Don't come to Brighton' and we very much want to make sure when this is over everybody does come back to Brighton.
"We're doing everything we can to make sure these things go ahead next year."
Last year, Kylie Minogue headlined the festival, and in 2018 Britney Spears wowed a crowd of 57,000 with the more than 250,000 people visiting the city.
Follow BBC South East on Facebook, on Twitter, and on Instagram. Send your story ideas to southeasttoday@bbc.co.uk.
Coronavirus: Christopher Eccleston reads a poetic tribute to the NHS
Matthew Kelly from Salford has written a poem paying tribute to the staff of the NHS fighting the coronavirus.
Mr Kelly said he was inspired to write after hearing the challenges his partner faces as a district nurse.
BBC Radio 5 Live asked actor Christopher Eccleston, a fellow Salfordian, to read Matt's words.
This clip is from Chiles on Friday on 3 April 2020
The Gruffalo author Julia Donaldson shows her characters social distancing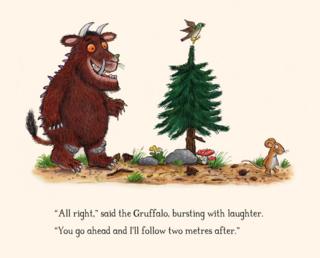 The makers of the children's book The Gruffalo have drawn their characters practising social distancing to help children understand the regulations.
Author Julia Donaldson and illustrator Axel Scheffler created the panels as a "light-hearted" way of spreading the message.
They feature The Gruffalo, Stickman and The Smeds and The Smoos – all keeping a safe distance from one another.
The characters are also seen helping the vulnerable with their shopping.
When am I allowed to go outside?
Exclusive Hockney drawings offer 'respite from news'
The Gruffalo was first published in 1999, and tells the story of a mouse taking a walk in the woods – where he out-smarts a terrifying creature with terrible teeth and a "posionous wart on the end of his nose".
It went on to sell 13 million copies, and had been turned into a stage play and an Oscar-nominated animation.
One of the new sketches shows the Gruffalo walking behind the mouse, accompanied by the couplet:
"Alright said The Gruffalo bursting with laughter / You go ahead, I'll follow two metres after."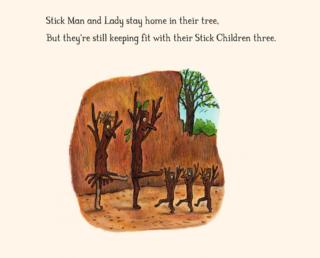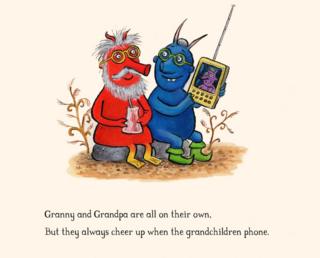 "Axel had this idea of doing some witty sketches, each based on one of our books and each kind of incorporating a tip about coronavirus," Donaldson told BBC Breakfast on Friday.
Scheffler started the process by saying to himself, "what can I do as an illustrator?" during these troubled times.
"I'm currently working on a digital, free non-fiction book about coronavirus, which is serious and informative and probably more important than this and is coming out next week," he said.
"[But] I wanted to do something light-hearted and cheer people up and I thought, 'what if I imagine our characters in corona situations?'"
"It's really more about entertainment than serious information," he added.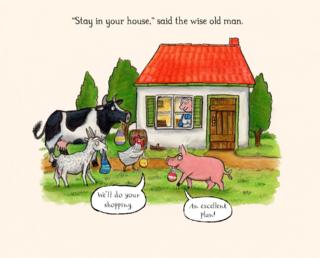 As well as social distancing, the characters stress the importance of exercise and making video calls to their family members.
Donaldson hopes the images will emphasise best practices and help with home schooling, without being seen as "preaching".
While on lockdown, the author is also producing a weekly broadcast on The Gruffalo Facebook page, reading stories, poems and singing songs.

Follow us on Facebook, or on Twitter @BBCNewsEnts. If you have a story suggestion email entertainment.news@bbc.co.uk.