The real (and fake) sex lives of Bella Thorne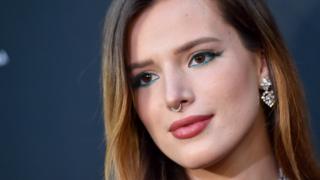 Earlier this week, actress Bella Thorne announced that she would be working with the pornography-sharing site, Pornhub, to keep it free of "revenge porn". This is the story behind that announcement.
Bella Thorne starts crying.
One of her dogs, Ma, an Australian Shepherd, scampers around her ankles to show her concern.
We've talked about slut-shaming, depression, bullying on social media, and how she has become one of the most deepfaked actresses, appearing now in thousands of faked pornographic videos.
"Just talking about the world in this way makes me so sad," she says, "It makes me hate it."
But none of this is what triggers her tears.
We're sitting on the deck of her rented waterfront home in Sudbury, Ontario. It's a quiet, maple-leaf-strewn town on the cusp of autumn, and Thorne has been here for three months filming Girl, with Mickey Rourke, in which she plays a young woman who has returned to her sleepy home town to kill her abusive father.
It's been a year in which the 22-year-old has bared her soul to the world.
She released her first book, The Life Of A Wannabe Mogul: Mental Disarray – a series of darkly personal poems that centre around despair, isolation and sexual assault.
She touches on the raw grief of losing her father in a motorbike accident at the age of nine and her career as a child model, growing up under a dazzling spotlight, and then being propelled into a Disney Channel sitcom (Shake It Up, where Zendaya was her co-star). And she contemplates her need for romantic attention and her much-written-about pansexual lifestyle.
"Was it because I was molested my whole life? / exposed to sex at such a young age that feels the most natural to offer the world?"
The anthology, in which she consciously leaves words misspelt, stayed on the Amazon best-seller list for weeks after publication.
---
100 Women
Bella Thorne is among the BBC's most inspiring and influential women of 2019 – giving us their vision of a female-led future.
---
It was during the emotionally draining press tour for the book, in June of this year, that Bella received a slew of text messages from a number she didn't recognise.
"I'm getting out of an interview and I'm already crying, talking about the book, and I look at my phone and then I just see a few nudes of me," she recalls.
Staring at the intimate photos that she had once sent a former lover, Bella was stunned. She called her manager and agent seeking advice.
Then her phone pinged again.
More topless photos. This time of some of her famous friends.
It was early in the morning and she was in bed.
In her book Bella had detailed the sexual abuse she had endured as a child – omitting the identity of her perpetrator – and explained how her fear of not being believed stopped her from reporting the crime. Looking at the topless pictures, a familiar feeling of violation washed over her.
"Here it is again," she thought. "Someone else that has my life right in their hands and is able to make these decisions for me. Here it is again. Someone again forcing my hand to do something I don't want to do when it involves sexual stuff."
So she made a decision. Using her social media platforms – seven million followers on Twitter, 22 million on Instagram and nine million on Facebook – she released the topless pictures herself, along with screenshots of the threatening text message from the hacker, and her own message.
"I'm putting this out because it's MY DECISION NOW U DON'T GET TO TAKE YET ANOTHER THING FROM ME."
It was a polarising choice.
Whoopi Goldberg, who appears on American chat show The View, reprimanded Thorne, not for for releasing the pictures but taking them in the first place.
"If you're famous, I don't care how old you are. You don't take nude pictures of yourself," Goldberg said, during a panel discussion on her programme, "Once you take that picture, it goes into the cloud and it's available to any hacker who wants it, and if you don't know that in 2019 that this is an issue, I'm sorry."
Thorne responded to Goldberg on Instagram, tearfully calling her comments, "sick and honestly disgusting".
"It hurt more coming from a woman I admire," says Thorne.
"People say, 'No no my kids never do that. Oh no.'"
Her message for these people is this: "You never choose to really look inside your own home… Every single person shares some kind of affection online."
She adds that publicly shaming young people for behaving in this way, when they are already feeling humiliated and vulnerable, could push them further towards a mental health crisis.
"If a photo had been released of a young girl or guy and it was going round their school, and they felt suicidal, they'd watch an interview like that and think, 'Oh, ok, I do deserve this,'" she says.
These photographs that she released herself were the first genuine topless pictures of Bella Thorne to appear online.
However, there are many, many sexually explicit Bella Thorne videos – none of which are actually of her. They are deepfakes, made by expertly superimposing her face on to the body of an actor engaging in sex, and manipulating the image to make Thorne appear to say whatever the creators want her to.
One particular video disturbingly takes audio from a recording of Thorne crying about her dead father, whom she misses deeply, and edits her face on to a video of a woman masturbating.
"This video is going around and everyone really is thinking that it is actually me," she tells the BBC. "And then they put the subtitles, 'Daddy, Daddy!'"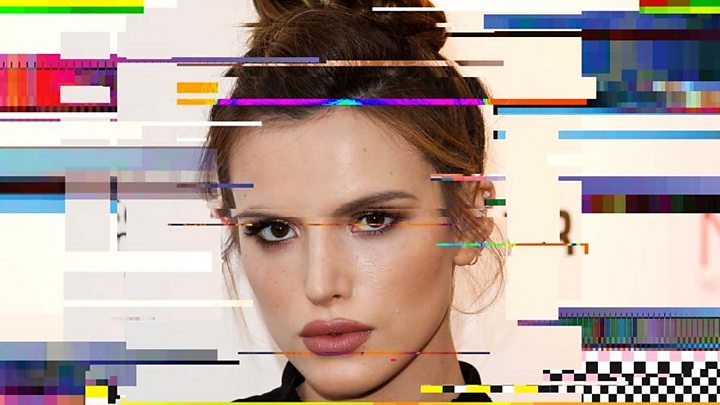 Software developers have told the BBC that the technology to make deepfake videos from just a single photograph will be available to the general public in less than a year. This worries Bella.
"It's not going to just be used on your favourite celebrity," she says. "That is a breeding ground for underage pornography."
She adds that such videos could be used as a form of revenge, blackmail or extortion against young women who, unlike her, do not have the digital platforms to expose them as fakes.
It's at this point that we start talking about Thorne's debut as a director, the award-winning adult film Him and Her – and something unexpected happens.
She says she decided to make the film because she thinks the industry needs more female directors, in order to change the type of stories told about female sexuality.
I then ask her to comment on the recent BBC investigation which found that Pornhub, the site where she released the film, has been profiting from so-called revenge porn videos.
It's evident that this is the first Thorne has heard of the BBC story and she is visibly shaken.
"I didn't know that," she says, tears suddenly falling. "You attach yourself to things and you think you're making things better. I try and help and then somewhere along the line…"
Her voice breaks off. I ask her if she wants to add anything more about Pornhub later when she's had time to research.
"I don't want to be fake, so I'd rather you keep my first answer."
This interview is over.
Mindgeek, the company that owns Pornhub, told the BBC: "We seek to provide users with a safe space to share and consume content. The last thing we want is to undermine this by allowing revenge porn on our sites."
Back at the hotel a text comes through from Thorne's assistant inviting me to an event she is attending called Make Sure Your Friends are OK to destigmatise depression. It's a cause that is particularly important to her, and one she wants her fans – particularly the vulnerable ones – to know about.
Three days later, I am at the event, a garden party in Beverly Hills.
"When I was first growing up there were only a few people you knew that were depressed, or like struggled with depression," she says. "Now it's almost every single person you know. There has to be some reasoning behind it, and my reasoning is growing up in social media."
As I'm leaving the party, a friend of Thorne's tells us that she got straight on the phone to Pornhub after our interview, and says we should look out for an announcement.
Later that week, Thorne picked up an award for her debut directorial adult film, Her & Him, at the Pornhub awards.
She thanked the adult film industry for embracing her creative vision for more women directors in pornography, and then added a pointed message condemning revenge porn videos.
"I am working with Pornhub to implement a change in their flagging system algorithm, to ensure safety for everyone and everyone in our community."
You may also be interested in: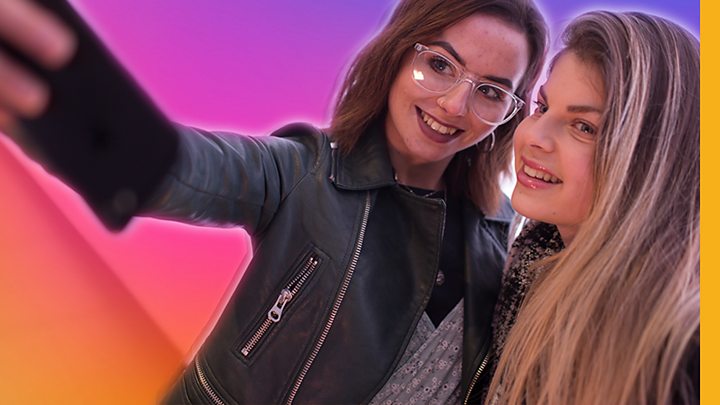 Nicole and Tali are Instagram besties. But the pressure to get more likes and followers is taking its toll. Both friends are thinking of quitting the Insta-game but is leaving it the quick fix everyone says it is?
The Gruffalo author Julia Donaldson shows her characters social distancing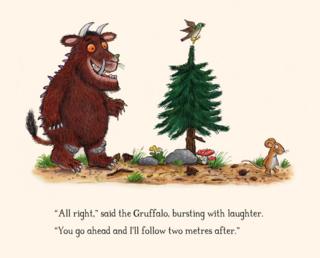 The makers of the children's book The Gruffalo have drawn their characters practising social distancing to help children understand the regulations.
Author Julia Donaldson and illustrator Axel Scheffler created the panels as a "light-hearted" way of spreading the message.
They feature The Gruffalo, Stickman and The Smeds and The Smoos – all keeping a safe distance from one another.
The characters are also seen helping the vulnerable with their shopping.
When am I allowed to go outside?
Exclusive Hockney drawings offer 'respite from news'
The Gruffalo was first published in 1999, and tells the story of a mouse taking a walk in the woods – where he out-smarts a terrifying creature with terrible teeth and a "posionous wart on the end of his nose".
It went on to sell 13 million copies, and had been turned into a stage play and an Oscar-nominated animation.
One of the new sketches shows the Gruffalo walking behind the mouse, accompanied by the couplet:
"Alright said The Gruffalo bursting with laughter / You go ahead, I'll follow two metres after."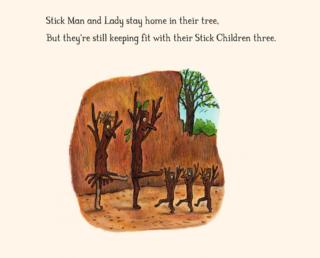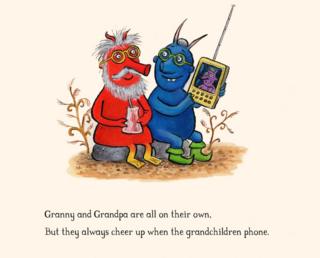 "Axel had this idea of doing some witty sketches, each based on one of our books and each kind of incorporating a tip about coronavirus," Donaldson told BBC Breakfast on Friday.
Scheffler started the process by saying to himself, "what can I do as an illustrator?" during these troubled times.
"I'm currently working on a digital, free non-fiction book about coronavirus, which is serious and informative and probably more important than this and is coming out next week," he said.
"[But] I wanted to do something light-hearted and cheer people up and I thought, 'what if I imagine our characters in corona situations?'"
"It's really more about entertainment than serious information," he added.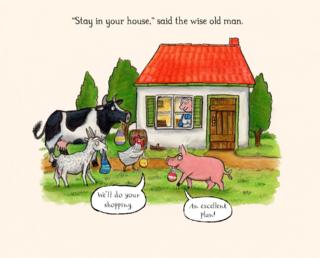 As well as social distancing, the characters stress the importance of exercise and making video calls to their family members.
Donaldson hopes the images will emphasise best practices and help with home schooling, without being seen as "preaching".
While on lockdown, the author is also producing a weekly broadcast on The Gruffalo Facebook page, reading stories, poems and singing songs.

Follow us on Facebook, or on Twitter @BBCNewsEnts. If you have a story suggestion email entertainment.news@bbc.co.uk.
Matt Lucas reveals the strange way he was hired for Bake-Off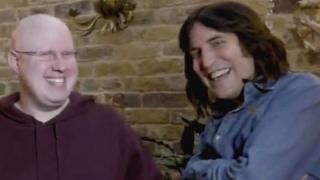 New Great British Bake-Off presenter Matt Lucas says he got the job after appearing in one of Noel Fielding's dreams.
The Little Britain star is to replace Sandi Toksvig as Fielding's co-host for the 11th series of the cooking show.
Speaking to Capital Radio on Friday, Lucas said it was a "strange" set of events that led to his appointment.
"They were looking for a new host, and Noel had a dream that I was the co-host," he told presenter Roman Kemp.
"And instead of saying to the producers, 'I dreamt Matt Lucas was the co-host', he just said, 'Matt Lucas would be a good co-host I think' and then I got an audition.
"I got a call on a Friday, I had the audition on the Tuesday and it was announced on the Thursday."
Matt Lucas to replace Sandi Toksvig on Bake Off
They had been due to start filming the programme this spring but Lucas confirmed that production has been delayed due to Covid-19.
However, he said, "it's fine" as the lockdown period "gives all of our bakers more time to practice and it means I'll have an even bigger appetite for all those cakes".
'Busy boys'
He also suggested Little Britain could return in full, after a one-off radio special in October – saying that he and fellow star David Walliams "message each other pretty much every day".
Little Britain returns for Brexit special
"We would like to do something again with Little Britain," he told Capital Radio's Roman Kemp. "We're both busy boys, for us it's about just finding the time [but] yeah, we want to do something.
"We just don't know 100% what it would be, whether it would be a TV show again or would it be a stage show, I don't know. But yeah we would like to do some more Little Britain definitely."
Lucas has had enough on his plate of late anyway, and today released the official music video for his new song, Thank You Baked Potato.
The novelty track, which is aiming to raise money for NHS workers, offers advice on how to "have a better day" during the coronavirus crisis.
How Matt Lucas' potato song is feeding NHS workers
Speaking to another radio breakfast show host on Friday, Radio 2's Dermot O'Leary, Lucas said he initially wrote the song for the TV show Shooting Stars, but he gave it a re-write after the virus began to take hold in the UK, as he was "feeling a bit anxious as someone at home with asthma".
He did not expect people to devour it in the manner they have.
"I wrote the lyrics to this baked potato song just in an idle moment thinking 'well I'll just put it on Twitter, I don't think anything will happen with that.' And I was a bit wrong!" he laughed.
Follow us on Facebook, or on Twitter @BBCNewsEnts. If you have a story suggestion email entertainment.news@bbc.co.uk.
Lean On Me singer Bill Withers dies at 81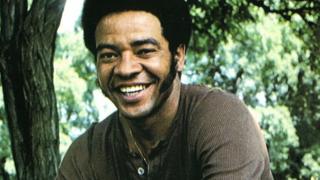 Bill Withers, the acclaimed 1970s soul singer behind hits Ain't No Sunshine and Lean On Me has died from heart complications aged 81, his family said.
The singer died on Monday in Los Angeles, the family told the Associated Press.
They described him in a statement as a "solitary man with a heart driven to connect to the world".
"He spoke honestly to people and connected them to each other," the statement said.
Known for his smooth baritone vocals and sumptuous soul arrangements, he wrote some of the 70s best-remembered songs, including Just The Two Of Us, Lovely Day and Use Me.
Although he stopped recording in 1985, his songs remained a major influence on R&B and hip-hop.
His track Grandma's Hands was sampled on Blackstreet's No Diggity, and Eminem reinterpreted Just The Two Of Us on his hit 1997 Bonnie And Clyde.
"We are devastated by the loss of our beloved, devoted husband and father," said his family.
"With his poetry and music, he spoke honestly to people and connected them to each other.
"As private a life as he lived, close to intimate family and friends, his music forever belongs to the world. In this difficult time, we pray his music offers comfort and entertainment as fans hold tight to loved ones."
The star's signature song Lean On Me has recently become associated with the Coronavirus pandemic, with many people posting their own versions to support health workers and other essential services.
Born in 1938, Withers was the youngest of six children. His father died when he was a child and he was raised by his mother and grandmother.
His entry to the music world came late – at the age of 29 – after a nine-year stint in the Navy
He taught himself to play guitar between shifts at his job making toilet seats for the Boeing aircraft company, and used his wages to pay for studio sessions in LA.
"I figured out that you didn't need to be a virtuoso to accompany yourself," he told Rolling Stone magazine in 2015.
He recorded his first album, Just As I Am, with Booker T Jones in 1970. It included the mournful ballad Ain't No Sunshine, which earned him his first Grammy award the subsequent year.
He scored another million-selling hit with Lean On Me in 1972.
Gospel-tinged and inspirational, it was based his experiences growing up in a West Virginia coal mining town. When times were hard, neighbours would lend each other help and assistance.
It was later performed at the inaugurations of both Barack Obama and Bill Clinton.
But Withers quit at the top, walking away from his career after scoring a pop hit with Just The Two of Us, although he occasionally toured with Grover Washington Jr in the 1990s.
Despite his influence on generations of musicians, he did not keep track of music after his career ended.
"These days," he said in 2015, "I wouldn't know a pop chart from a Pop-Tart."