The Gruffalo author Julia Donaldson shows her characters social distancing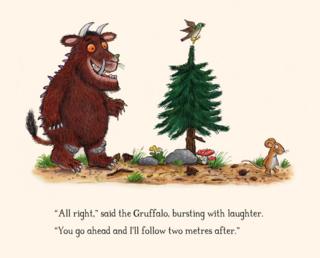 The makers of the children's book The Gruffalo have drawn their characters practising social distancing to help children understand the regulations.
Author Julia Donaldson and illustrator Axel Scheffler created the panels as a "light-hearted" way of spreading the message.
They feature The Gruffalo, Stickman and The Smeds and The Smoos – all keeping a safe distance from one another.
The characters are also seen helping the vulnerable with their shopping.
When am I allowed to go outside?
Exclusive Hockney drawings offer 'respite from news'
The Gruffalo was first published in 1999, and tells the story of a mouse taking a walk in the woods – where he out-smarts a terrifying creature with terrible teeth and a "posionous wart on the end of his nose".
It went on to sell 13 million copies, and had been turned into a stage play and an Oscar-nominated animation.
One of the new sketches shows the Gruffalo walking behind the mouse, accompanied by the couplet:
"Alright said The Gruffalo bursting with laughter / You go ahead, I'll follow two metres after."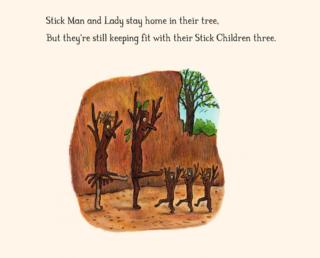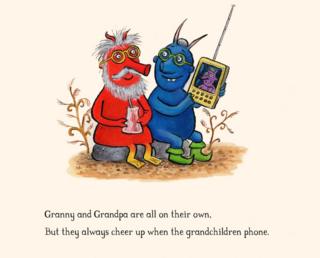 "Axel had this idea of doing some witty sketches, each based on one of our books and each kind of incorporating a tip about coronavirus," Donaldson told BBC Breakfast on Friday.
Scheffler started the process by saying to himself, "what can I do as an illustrator?" during these troubled times.
"I'm currently working on a digital, free non-fiction book about coronavirus, which is serious and informative and probably more important than this and is coming out next week," he said.
"[But] I wanted to do something light-hearted and cheer people up and I thought, 'what if I imagine our characters in corona situations?'"
"It's really more about entertainment than serious information," he added.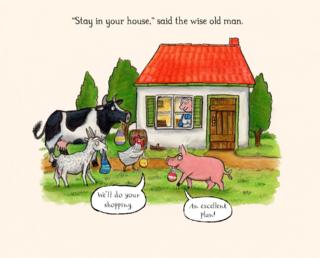 As well as social distancing, the characters stress the importance of exercise and making video calls to their family members.
Donaldson hopes the images will emphasise best practices and help with home schooling, without being seen as "preaching".
While on lockdown, the author is also producing a weekly broadcast on The Gruffalo Facebook page, reading stories, poems and singing songs.

Follow us on Facebook, or on Twitter @BBCNewsEnts. If you have a story suggestion email entertainment.news@bbc.co.uk.
Harvey Weinstein: Four more women accuse producer of assault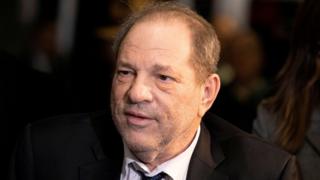 Disgraced film producer Harvey Weinstein has been accused of sexual assault by four further women as he serves a 23-year prison sentence.
Court documents filed in New York on Thursday allege several sexual offences dating from 1984 to 2013.
One of the four anonymous women was 17 at the time of an alleged attack.
Weinstein's legal representative told BBC News: "Mr Weinstein intends to defend against the claims filed anonymously against him yesterday."
The lawyer, Imran H Ansari of Aidala, Bertuna & Kamins PC, added: "Some of these claims, including those alleged to have occurred in the 1980s and 1990s, may be barred by the applicable statute of limitations, and not subject to any exceptions under the law, as these plaintiffs do not appear to be complainants in Mr Weinstein's criminal case."
Weinstein convicted of rape and sexual assault
How the Harvey Weinstein scandal unfolded
The latest legal cases allege multiple sexual offences against four women, who currently reside in Tennessee, New York, Ecuador and Hungary.
Some of the attacks allegedly took place after meetings with Weinstein at the Cannes and Venice Film Festivals.
The new allegations include:
A 43-year-old woman from Tennesee claims that in 1994, when she was 17, Weinstein "falsely imprisoned, sexually assaulted, sexually battered and raped her" in his hotel room. The plaintiff, who wanted to break into the entertainment industry, alleges Weinstein demanded she perform oral sex on him.
A 70-year-old woman from Ecuador claims that in 1984, when she was 34, Weinstein allegedly pinned her against a door and fondled her in his hotel room in Cannes, when she was looking to start a career as a documentary filmmaker.
A 38-year old woman said she met Weinstein in Manhattan in 2008 and he offered to "help take her career to the next level". He allegedly raped her in his Soho apartment a few days later, telling her he would ruin her if she told anyone.
A 35-year-old woman from Hungary claims that in 2013, when she was 26, she met Weinstein at the Venice Film Festival. A few months later, he allegedly forced her to perform oral sex on him when she met him in a hotel room.
Allegations against Weinstein began to emerge in October 2017, when The New York Times first reported incidents dating back decades.
At least 80 women have since accused him of sexual misconduct, including actresses Gwyneth Paltrow, Uma Thurman and Salma Hayek.
The allegations were at the centre of the #MeToo movement that inspired women to go public with misconduct allegations against powerful men.
Weinstein issued an apology acknowledging he had "caused a lot of pain", but denied any allegations of non-consensual sex.
In February, Weinstein was convicted in New York City of third-degree rape and first-degree criminal sexual act, and later sentenced to 23 years in jail.
Follow us on Facebook, or on Twitter @BBCNewsEnts. If you have a story suggestion email entertainment.news@bbc.co.uk.
Remi Wolf on how she makes music videos in lockdown
Music videos are often big budget affairs filmed in glamorous locations with a cast and crew to rival a movie. But what happens when a pandemic strikes and everyone is told to practise social distancing and not leave their home?
Rising star Remi Wolf told the BBC's Sophie van Brugen how she got around the problem, and what coronavirus could mean for the future of the music video.
Coronavirus: Cultural sector "first to suffer and last to come back" – Bjorn Ulvaeus
Bjorn Ulvaeus, one quarter of ABBA and President of the International Confederation of Societies of Authors and Composers (CISAC) said the cultural sector is 'extra vulnerable' due to Coronavirus and urged governments for support.
The musician told the BBC that he hopes to use technology to help creators get payments 'more efficiently and accurately'.