The Grand Tour: Jeremy Clarkson show confronts climate change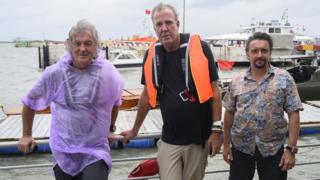 Jeremy Clarkson, Richard Hammond and James May are heading off the road and into the water for their latest special – The Grand Tour presents Seamen.
The trio are seen sailing along the Mekong river and through the treacherous conditions of monsoon season in Vietnam and Cambodia in the 90-minute film.
As you can imagine, the first obstacle at the show's press launch is trying to get past the title.
"The Grand Tour presents Seamen," repeats Clarkson with added emphasis. "Which, at our age, is quite an achievement."
The switch from seatbelts to sails is just one of several changes being made to The Grand Tour's format this time around. Here are seven other things to expect.
1. The live studio audience has gone
Having completed an initial three-season deal with Amazon, the trio is returning with a set of standalone adventure specials instead of a traditional series – Seamen being the first.
As a result, the show has done away with its huge travelling tent. Like Top Gear before it, The Grand Tour would weave various segments together with studio links which featured a live audience and celebrity guests.
"That had run its course," Clarkson tells BBC News. "We'd done studios for 17 years, and reviewing cars and talking to somebody from Cash In The Attic about their first car we felt was perhaps something we didn't need to do anymore.
"And then we could use the money we had spent on that on rather more elaborate plots."
2. They've learned from Amazon's streaming data
"The other thing," executive producer Andy Wilman adds on the subject of studios, "is Amazon know to the nano-second what viewers like and don't like.
"And it's clear that, even though the other shows are popular, the specials rise above. So we thought 'that fits where we want to go'."
Clarkson makes clear that Amazon don't interfere editorially with the show.
"But we can ask them, 'did that work?' And they'll go 'no', because they can see how many people turn off when James May talks, and how many more people watch when I talk. So that's very useful to us."
3. Clarkson explicitly acknowledges climate change
The trio's ringleader has previously had a blasé attitude to climate change and environmental campaigners dumped manure on his lawn in 2009 as part of a protest.
So perhaps the most startling thing about Seamen is hearing him acknowledge it directly.
"Climate change was very definitely rammed down our throats in Cambodia," Clarkson says of filming this special, which sees the rivers considerably shallower than they should be.
"You can say that the Chinese have dammed the rivers and caused the problem, but it also wasn't raining, and it should've been bucketing down all the time. And all the fisherman say 'the climate is changing'. So you can't sit there and say, 'there's no such thing as climate change'.
"Now, if I wanted to, I could run around the world on carbon fibre yachts, shouting and yelling and wailing," he adds – a clear reference to the actions of the Swedish climate activist Greta Thunberg.
"Or, you can just acknowledge it, and then behind the scenes start working on how we address this problem. But we don't offer any solutions, we're not scientists, only scientists can come up with solutions. Politicians can't. Weird Swedes can't. Only scientists can.
"We just go, 'look, there's hardly any water in this lake, look at all these poor starving fishermen. That's the fact, now let's get on with making the TV show'."
4. The team doesn't feel restrained by its broadcaster
After the show's third series was released, Jack Seale of The Guardian said it showed the trio were "skidding further into irrelevance".
Indeed, part of their popularity on Top Gear was down to the fact much of what they said and did was fairly close-to-the-bone for a BBC platform. Now that they have carte blanche from Amazon, misbehaving arguably doesn't feel quite as fun.
Wilman pushes back on this idea slightly and points out the BBC mostly stuck by them during their tenure. "When you think of the number of times we hit the headlines at Top Gear, that could only happen if the BBC were happy with what we were doing," he says.
"The BBC always allowed us to do whatever we liked. Until [Danny] Cohen arrived," adds Clarkson, referring to the BBC's former director of television who, among other things, objected to Clarkson naming his black dog after the Chelsea footballer Didier Drogba.
"Make no mistake, the BBC is a fantastic and fabulous organisation, and it does allow an enormous amount of creative freedom… and Amazon are exactly the same. They might occasionally go 'well actually' but only in the same way the BBC would."
5. This is their most dangerous Grand Tour adventure yet
Seamen must have been a nightmare for the health and safety department, as the trio is seen battling seriously dangerous conditions.
James May had to be rescued at one point when his boat was hit by crashing waves in the South China Sea. "Four fisherman in that area on that day were killed," Clarkson explains.
"I think it's the dodgiest we've been in since that night in Argentina," adds Wilman, referring to the time the team faced angry protests and were pelted with rocks by locals who thought their car's number plate was a deliberate reference to the Falklands war.
"I'd put it second to that, in terms of, 'we have no control over what's gonna happen next'."
6. Direct viewer feedback has replaced ratings
In line with most streaming services, Amazon Prime doesn't tell anybody how many people are watching their shows – not even the stars.
"I get it from their point of view," Wilman says. "You can't compare to a seven-day live figure or a big overnight boost. So we could be racking up millions over time, but it's never going to be in a defined window.
"So why would they put themselves out on the line and say 'it got this many' when a terrestrial show got that many? At first it was like, 'Oh please, I'd love to know what we're getting', but I'm relaxed now."
Clarkson says they've been able to monitor the show's popularity anecdotally. "We were filming in Madagascar, and everybody was saying, 'Oh Grand Tour! Grand Tour!' so you know in Madagascar they're all watching it," he says. "And when we were in France, they were all saying 'Grand Tour'. Otherwise you'd be saying, 'Who's watching this?' but they obviously are."
7. There's no bad blood with Top Gear
Since the last series aired, Top Gear has hired new presenters Paddy McGuinness and Andrew Flintoff, who have proved popular with viewers.
Clarkson says: "I've never seen [Top Gear], not since I left. If you give a baby up for adoption, you don't go and peer through the window. And it's been taken away, they're doing what they're doing with it. I wish them the very best of luck, but I don't want to see what they're doing."
Instead, Clarkson says he'd like to continue with The Grand Tour for "as long as I continue to function as a human being".
Where would they like to go next?
"I think there's only six or seven countries I haven't been to now," Clarkson says, "and Zimbabwe is one I'd really like to go to. The BBC were banned from it so we could never go. Iran was another one, the BBC was banned so we couldn't go to either of those two.
"Even Ski Sunday wasn't allowed to film in Iran," he adds.
"And they've got a great theme tune," points out James May. "And they still weren't allowed."
The Grand Tour presents: Seamen is available on Amazon Prime Video from Friday 13 December.
Pop Smoke: Rapper shot dead in apparent robbery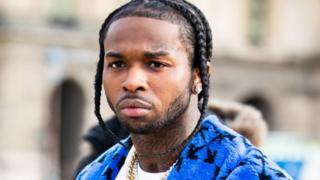 The US rapper Pop Smoke has been killed, after an apparent armed robbery.
Los Angeles Police told Radio 1 Newsbeat a man was shot at his home and later pronounced dead, although didn't confirm his identity.
But his label Republic Records says it's "devastated by the unexpected and tragic loss of Pop Smoke".
Police responded to reports of a robbery – and man was then taken to hospital and later pronounced dead.
Officers confirmed that an unknown number of suspects entered a property in West Hollywood.
They got a call about a robbery at 04:55 PST and were at the scene six minutes later.
Police say no suspects have been identified and no arrests have been made.
They also denied reports that a man was held at the scene but say one suspect is thought to have had a handgun.
Pop Smoke was signed to Republic Records which has said in a statement "our prayers and thoughts go out to his family, friends and fans, as we mourn this loss together."
When reports first appeared in the US tributes began flooding in for Pop Smoke, real name Bashar Barakah Jackson – including from friends.
Pop Smoke had a breakout hit with Welcome to the Party in 2019 – which led to him being singled out as an artist to watch this year by BBC Radio 1Xtra, on the station's Hot For 2020 list.
The station said he "possessed the air and cadence of a rapper who has been in the game for a decade or two longer than his actual age".
The track ended up being remixed by both Nicki Minaj and Skepta.
Just last week Pop Smoke was a guest on DJ Target's show on 1Xtra.
He was in the middle of several US tour dates and was due to come to the UK in April – with shows scheduled in London, Manchester and Birmingham.
50 Cent was one of many rappers, DJs and producers that paid tribute on social media, as did rapper Quavo, who Pop Smoke had collaborated with.
Last year he spoke about wanting to make music that inspires children who are growing up in poverty.
He told The Face: "I make music for that kid in the hood that's gotta share a bedroom with like four kids – the young kids growing up in poverty.
"I make music for kids like that who know they just gotta keep going, that there's a better way. That's who I really make it for."
Follow Newsbeat on Instagram, Facebook, Twitter and YouTube.
Listen to Newsbeat live at 12:45 and 17:45 weekdays – or listen back here.
Jimmy Tarbuck: Comedian reveals prostate cancer diagnosis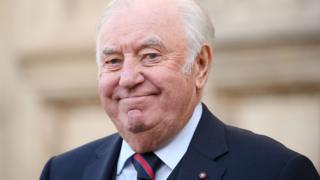 Comedian Jimmy Tarbuck has revealed he has been diagnosed with prostate cancer.
The veteran Liverpudlian comic told ITV's Good Morning Britain he would "try and beat it".
Tarbuck said he received the diagnosis the day after his 80th birthday earlier this month.
"Right now I feel great. I'm on the telly and I'm having a good time," he said, adding that the cancer had not spread.
He was inspired to get checked by Sir Rod Stewart, who announced in September that he had received treatment for prostate cancer.
"All men out there watching, and all wives, get your husbands to go for the tests. I think after 50, just have a test, let them have a look at you," Tarbuck said.
"You will be relieved and be with your families for extra years."
He said men can be too "shy" to get tested, but urged them not to put it off. "Boys, go. It is embarrassing. Especially when the fella said to me 'We're going to give you the thumbs up'. I said 'I hope not'. He roared laughing."
Speaking about his treatment, he added: "I'm having injections and taking tablets and then I take a yearly cycle."
Tarbuck, who rose to fame in the 1960s and was known for hosting variety shows including Sunday Night At The London Palladium and Live From Her Majesty's, is now planning to go on tour.
Follow us on Facebook, or on Twitter @BBCNewsEnts. If you have a story suggestion email entertainment.news@bbc.co.uk.
Brits 2020: Pop meets politics


Highlights from this year's ceremony included performances from Billie Eilish, Dave, Lizzo and Stormzy.



Source link