The Apprentice: Lottie Lion comments 'unacceptable', BBC says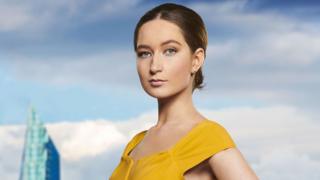 The BBC has told Apprentice candidate Lottie Lion that comments she made to a fellow candidate on a WhatsApp group were "unacceptable".
It follows reports that Lion said "shut up Gandhi" to Lubna Farhan.
The production company reported back to the BBC after looking into the issue, which took place after filming had concluded.
Lion has previously told the Press Assocation her comments were "taken out of context".
In a statement, the BBC said: "While this happened on a private messenger service once filming had concluded, the BBC nevertheless still expects the candidates to behave appropriately.
"The production company have looked into the issue and reported back, Lottie has been informed that her comments were wholly unacceptable and is in no doubt about our view on this."
Mahatma Gandhi led the fight for India's independence from the British Empire in 1947.
In her previous statement, Lion said her use of the word Gandhi was "misinterpreted".
How can The Apprentice stay fresh after 15 years?
"It is not true that I would ever be racist," she said. "My use of the word Gandhi was misinterpreted, it was as candidates in the group chat had been quoting Gandhi previously.
"The comments were taken out of context, and I ask the public not to make judgment without knowing the full context."
Farhan told The Independent earlier this week that there was "truth" to the "rumours" about friction between the two candidates, adding: "There's no point me talking about it because it has already been spoken about."
The BBC One show, which pits aspiring candidates against each other in business challenges, has been running on the BBC for 15 years, with Lord Sugar investing £250,000 in the winning candidate's business idea.
Follow us on Facebook, on Twitter @BBCNewsEnts, or on Instagram at bbcnewsents. If you have a story suggestion email entertainment.news@bbc.co.uk.
BBC's George Alagiah on living with coronavirus and cancer
BBC newsreader George Alagiah, who is being treated for bowel cancer, has revealed he's had a mild case of coronavirus.
As a cancer patient, he underwent tests after developing a fever – and a few days later his oncologist rang to say he had tested positive for the virus.
The News at Six on BBC One presenter was first diagnosed with cancer in 2014 but revealed in 2017 that the disease had returned.
"In some ways, I think that those of us living with cancer are stronger because we kind of know what it is like to go into something where the outcomes are uncertain," he told colleague Sophie Raworth.
Antony Gormley and Grayson Perry share lockdown ideas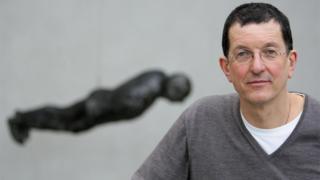 Artists including Sir Antony Gormley, Grayson Perry and Jeremy Deller have shared ideas for activities during the coronavirus lockdown.
The ideas are being put together by art gallery Firstsite in Colchester, Essex, so people can join make art at home.
Activities include paper chain designs from Sir Antony and a toilet paper poetry competition from Jeremy Deller.
The first pack, called Art is Where the Home is, should be available online from Wednesday.
Coronavirus live page: Updates from across the East of England
Sally Shaw, director of Firstsite, said the idea had been inspired by an activity book her mother gave her when she was a child.
"All the ideas were things you could do with paper, some string or glue if you were lucky – it was an amazing thing and would keep me occupied for hours and hours," she said.
"We are an art gallery so I asked the artists we had worked with in the past and have relationships to suggest ideas.
"The first person I asked was Antony [Gormley] and he wrote straight back in half an hour."
Other activities include a series of drawings from Annie Morris for people to colour in at home and a challenge to draw your own hand and display it in order to wave to others, suggested by Mark Wallinger.
Mrs Shaw said 4,000 people had expressed an interested in getting a pack.
She said: "We want to show people that being creative is important and that it can be just as necessary as eating a good meal or going to the gym at times like this."
It is hoped further packs will be created with more artists invited to contribute their ideas.
Find BBC News: East of England on Facebook, Instagram and Twitter. If you have a story suggestion email eastofenglandnews@bbc.co.uk
Van Gogh painting Spring Garden stolen from Dutch museum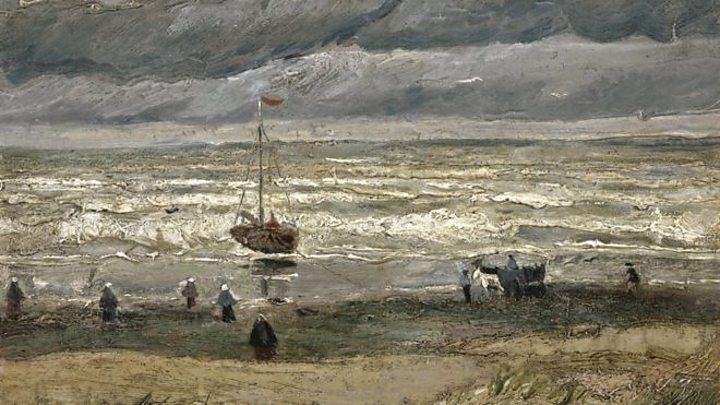 A Van Gogh painting has been stolen from a museum in the Dutch town of Laren.
Police said on Monday there had been a break in at the Singer Laren Museum at 03:15 local time (02:15 GMT).
The museum later announced that Van Gogh's Spring Garden, on loan from the Groninger Museum, was missing.
The Singer Laren Museum is closed due to the coronavirus. Its director, Jan Rudolph de Lorm, told reporters he was "incredibly pissed off" over the theft.
The value of the painting is not currently known.
The museum was created in the 1950s to host the collection of US artist William Henry Singer and his wife Anna.
On Monday the Dutch health ministry reported 11,750 confirmed cases of coronavirus in the country, and a total of 864 deaths.