The Aeronauts: Facts about fiction in Eddie Redmayne's new film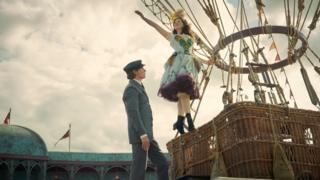 A new film tells the story of a record-breaking balloon flight. It's based on a real-life ascent, but how accurate is it – and does it matter?
Eddie Redmayne is riding high – whether it's as a celebrated leading man, or as his character in new film, The Aeronauts.
It's based on the story of a gas balloon adventure in which scientist James Glaisher and pilot Henry Coxwell took to the skies to further knowledge of meteorology – and in doing so, literally reached new heights, setting a record as they soared.
"Based on" is always a phrase to suggest there may be poetic licence, although Glaisher – played by Redmayne – remains in the movie about the 1862 feat. But it was apparent as soon as casting news broke that pilot Coxwell had effectively blown away.
A fictional character played by Felicity Jones takes his place as Glaisher's basket partner, and in that sense, history, at least on the silver screen, is rewritten. If, that is, an acutely historical account was ever the film's purpose.
Either way, it has been clear for a while that the shift to a glamorous, female and widowed daredevil pilot has ruffled some feathers. In the run-up to the film's release, one of Mr Glaisher's relatives told the BBC some of the family had been left "horrified" by the changes.
Now, as audiences see the movie, another critic has stepped forward, accusing filmmakers of "airbrushing" history by not making clear the balloon launched from Wolverhampton, a fact that gives the area a slice of the aeronautic past. After all, before NASA launch pads, there was the Midlands city.
But Wolverhampton, do we really have a problem?
According to local historian and writer Jefny Ashcroft, we do.
The name of the vessel – The Mammoth – remains intact. As does its then-record breaking achievement of reaching 37,000ft. But have things otherwise got a bit too Mary Poppins? Filmmakers say the balloon "glides above the streets" of Victorian London. Chim-chim-ch-what?
"I don't think history should be airbrushed and Wolverhampton should get the credit for being the site of this important event," Ms Ashcroft said.
"The reason the journey began in Wolverhampton was that they were also concerned that if they had begun in London and gone off course, they could have landed in the river and drowned.
"So picking a location like Wolverhampton was vital for their safety."
Talking of safety, Glaisher and Coxwell's ride came to a relatively tidy end in a farmer's field at Cold Weston, seven-and-a-half miles from Ludlow, according to a relative of Mr Glaisher.
The pair then walked to the railway station only to find there were no trains. So they went to a hotel nearby where the only available dinner, they were disappointed to find, was chops.
Mr Glaisher telegraphed their location that night and the report of the flight was written over breakfast the next day and sent to the newspapers. It was reported in The Times of 11 September 1862 as a leading article.
But the adventure was not without risk. And perhaps while not as romantic as the movie synopsis of "an unlikely pair finding their place in the world" at "the very edge of existence", things were nevertheless dicey.
That was because they traversed the thin air without the aid of bottled oxygen. The altitude record would, of course, go on to be beaten. But reaching literally dizzying heights without such support is a feat which, the filmmakers say, stands to this day.
According to Ms Ashcroft, though, the record-breaking was simply a happy accident of the quest for meteorological knowledge. And perhaps, the least of the men's concerns.
"Mr Coxwell's hands were black with frostbite," she said, "so he used his teeth to release the gas valve to lower the balloon after Mr Glaisher had passed out."
And what of the science bit?
"I'll be interested to see how much science is actually in the film," said Ali Glaisher, the great-great-great niece of James Glaisher, who explained he had wanted to push the understanding of temperature and humidity.
That said, she does not have too much problem with narrative flights of fancy.
"To replace Mr Coxwell, who was a balloon expert, with an attractive widow character, I can understand why they've done it."
But she had a caveat – her great-great-great uncle was a married man. "I don't think he'd be going off with any widow," she said.
All in all, though, she admits to being "sanguine" about the changes. Others are less so. "Some of the family," she said, "are absolutely horrified."
So, what do the filmmakers have to say about massaging details?
"[Glashier and Coxwell's] accomplishments are monumental and while we never intended to create a documentary, we are thankful to them as well as all the other ground-breakers of that time for their bravery and unshakable need for answers," said director Tom Harper.
"We pulled from so many different flights to create the narrative of the film and hope that those collections of achievements serve as a basis for inspiration to all genders and all ages."
Coronavirus lockdown: Clubbers go online for music


With the coronavirus lockdown bringing normal nightlife to an end, some enterprising DJs are going online.



Source link
You'll Never Walk Alone tops coronavirus 'lockdown chart'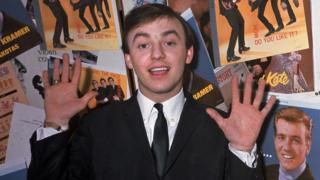 You'll Never Walk Alone by Gerry and the Pacemakers has topped a chart of classic songs that are enjoying renewed popularity amid the coronavirus crisis.
The Official Charts Company's "lockdown listening list" is based on the tunes that have seen the biggest increases in plays on streaming services this week.
You'll Never Walk Alone was up 150% after dozens of radio stations came together to play it last Friday.
Tracks by Akon, Frank Ocean and The Police also featured in the top five.
The UK is tuning in to a mixture of "uplifting classics, 'apocalyptic' isolation songs and kids' favourites", the OCC said.
Akon takes two spots in the top five with with his newly relevant hits Locked Up and Lonely.
The Police's Don't Stand So Close To Me is in third place, while Frank Ocean's Lost is at number four.
Elsewhere, REM's It's the End of the World as We Know It is at eight, just behind John Lennon's Imagine, which recently inspired Wonder Woman actress Gal Gadot to co-ordinate a star-studded sing-along.
Official UK Charts Company's Lockdown List
1.
You'll Never Walk Alone
Gerry and the Pacemakers
2.
Locked Up
Akon
3.
Don't Stand So Close To Me
The Police
4.
Lost
Frank Ocean
5.
Lonely
Akon
6.
Move Your Feet
Junior Senior
7.
Imagine
John Lennon
8.
It's the End of the World as We Know It
REM
9.
Reach
S Club 7
10.
Everybody Hurts
REM
The Official Charts Company used Spotify, Apple Music, YouTube and other services to track the fastest-growing catalogue songs this week.
You'll Never Walk Alone originally featured in the 1945 stage musical Carousel, before Gerry and the Pacemakers' Merseybeat cover version topped the UK chart in 1963.
This week's popular children's songs include I Am Your Gummy Bear by German cartoon character Gummy Bear, and Disney soundtrack songs like Under the Sea and Hakuna Matata, from The Little Mermaid and The Lion King respectively.
Official Charts Company chief executive Martin Talbot said: "The music that we are listening to reflects how we are all coping in different ways – using it to lift our spirits, give us a laugh or bring us together with our families."
However, figures released earlier this week suggested use of music-streaming apps had declined during the pandemic while radio listening has increased, as fewer people commute and more stay at home.
8 new TV shows for life on lockdown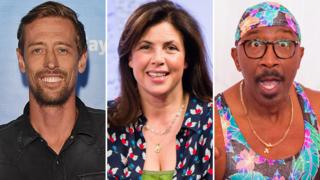 In light of our current predicament, UK broadcasters have been hastily coming up with ideas for new TV shows to make life indoors a bit more bearable.
After some lengthy Zoom brainstorms, TV executives have dreamed up new formats (or rehashed those already in the pipeline) to respond to the coronavirus pandemic.
They have lined up Peter Crouch to Save Our Summer, Kirstie Allsopp to make do and mend, and Gareth Malone to assemble socially-distanced singers – among other ideas.
1. Peter Crouch: Save Our Summer – BBC One
Not for the first time, Peter Crouch has been called upon to serve his country. This time it's not on the football field, but as host of a new primetime entertainment show.
The former England international and newfound podcaster has been given the unenviable task of saving a summer that we might have to spend largely behind closed doors, and which no longer includes Euro 2020, the Olympics, or Glastonbury.
Crouch will be joined by BBC Radio 1 presenter Maya Jama and comedian Alex Horne for a series that is billed as "an entertainment show like no other for a time like no other".
It promises to "remotely bring audiences live music, replacement sports action, exclusive comedy, celebrity guests, interactive audience fun".
2. Kirstie's House of Craft – Channel 4
Cometh the hour, cometh the woman and her Lockdown Craft Club.
Kirstie Allsopp will, according to a press release, "be helping the nation get through lockdown by offering creative ideas and crafty projects for the whole family".
Her daily show will give us tips, tricks and skills for making stuff with simple materials that are lying around the house.
3. Lockdown Wedding Live – Channel 4
Like a bouquet thrown by the bride, many people's summer wedding plans are up in the air.
One bride and groom whose nuptials were in doubt will go ahead with their big day – except with the nation watching live and with Fred Sirieix (pictured) overseeing proceedings.
4. Museums In Quarantine – BBC Four
With museums and galleries having shut their doors, this four-part series promises a glimpse at what you could have seen.
There will be episodes on the Andy Warhol exhibition at Tate Modern (pictured) – which lasted less than a week before being shut – as well as Young Rembrandt at the Ashmolean in Oxford and tours of the British Museum and Tate Britain treasures.
5. Breakfast At Garraway's – ITV
Kate Garraway, the Good Morning Britain and Smooth Radio host and self-styled wellbeing guru, is hoping to bring a ray of sunshine to our Saturday mornings.
The show was actually announced a month ago, but like the rest of us it has had to adapt.
With "her trademark warmth", she now promises to "bring cooped up viewers top tips from what to cook and eat, what to watch, read and exercise".
6. Grayson's Art Club – Channel 4
Grayson Perry will soon be on hand to teach you how to sculpt, draw and create.
The Turner Prize winner will be speaking to other famous artists and encouraging the nation to get creative while in quarantine.
A collection of "visual representations of the unique time we are living through as a community" will then be displayed in an exhibition.
7. HealthCheck UK Live – BBC One
From Monday on BBC One, Michelle Ackerley, Dr Xand van Tulleken, Angela Rippon and Mr Motivator (pictured) will bring "much needed advice and companionship during the coronavirus crisis".
Rippon will appear live from her home self-isolation. Together, they promise to give tips on how to boost immunity, beat boredom and stay active.
In a statement, Mr Motivator explained: "Now more than ever it is important to keep our bodies and minds healthy. Everybody say yeah, let's get happy and be wicked at home!"
8. The Choir: Britain In Lockdown – BBC Two
Choirmaster Gareth Malone has made a success of getting people singing in schools, prisons, workplaces and military barracks.
Now he's putting together The Great British Home Chorus, uniting the nation's best shower singers to bring "uplifting joy amidst these uncertain times".
More than 160,000 people joined the first YouTube rehearsal on Tuesday.
Follow us on Facebook, or on Twitter @BBCNewsEnts. If you have a story suggestion email entertainment.news@bbc.co.uk.