Taylor Swift says AMAs performance in doubt amid music feud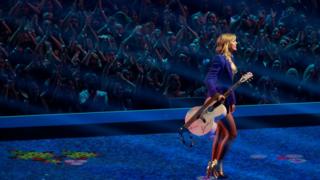 Taylor Swift has said her performance at the upcoming American Music Awards (AMAs) is in doubt because she is being barred from performing her own songs.
In a message to fans on social media, the singer said music managers Scooter Braun and Scott Borchetta would not let her perform songs from her past albums, which they own the rights to.
She said a Netflix documentary about her life had also been put in jeopardy.
Braun and Borchetta have not yet responded.
Swift made the allegations in a statement posted to Twitter with the caption: "Don't know what else to do".
"Right now my performance at the AMAs, the Netflix documentary and any other recorded events I am planning to play until November 2020 are a question mark," she wrote.
Why is there a feud?
In June, Swift revealed that the masters of her early music had been sold to Braun by her former record label, run by Borchetta, and alleged that she was not told about it.
At the time the singer accused Braun, who also manages Ariana Grande, Justin Bieber and Demi Lovato, of "incessant, manipulative bullying".
Swift v Braun: Personal or strictly business?
Taylor Swift 'bullied' by man who now owns her music
Swift also accused Braun of attempting to "dismantle" her "musical legacy". While he did not respond to her comments, he was supported by Lovato and Bieber, who claimed Swift was just out "to get sympathy".
The singer confirmed in August that she planned to re-record music from her first six albums so she could own the rights to the new versions.
What about the AMAs and Netflix documentary?
Swift is set to be named Artist of the Decade at the AMAs later this month and said she had been planning to perform a medley of her hits.
But in her statement on Thursday, she said the two men had blocked her from performing her old songs on television, claiming that this would be re-recording her music before she is allowed to next year.
They also blocked the use of her older music or performance footage in the upcoming Netflix film, she claimed.
Swift alleged that Borchetta told her team she would only be allowed to use the music if she agreed "not to re-record copycat versions" next year and stopped talking about the two men.
"The message being sent to me is very clear. Basically, be a good little girl and shut up. Or you'll be punished," she wrote.
She went on to ask her fans to help to pressure Braun and Borchetta into changing their minds and to appeal to the artists they manage for help. She also asked for help from the private equity firm The Carlyle Group, which she said financed the sale.
Fans responded instantly, with the hashtags "IStandWithTaylor" and "FreeTaylor" trending on Twitter.
Caroline Flack: Laura Whitmore attacks trolls over friend's death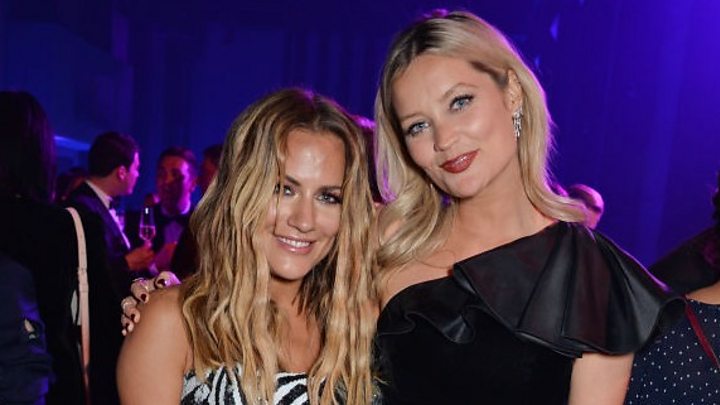 Presenter Laura Whitmore has paid tribute to her "vivacious" and "loving" friend Caroline Flack, who was found dead in her London flat on Saturday.
Fighting back tears on her BBC Radio 5 Live show, she said the former Love Island host "loved to love".
She also appealed to listeners to "be kind" to others and said she wanted to use her platform to "call people out".
"To paparazzi and tabloids looking for a cheap sell, to trolls hiding behind a keyboard – enough," she said.
A lawyer for Flack's family said on Saturday that she had taken her own life.
The 40-year-old had been "under huge pressure" since she was accused of assaulting her boyfriend Lewis Burton in December, her management company said.
---
Information and support
If you or someone you know needs support for issues about emotional distress, these organisations may be able to help.
---
Burton, who did not support the ongoing case against Flack, wrote an emotional tribute to the presenter on Instagram on Sunday, promising the star he would "be your voice baby", and that he would "try [to] make you proud everyday".
"I am so lost for words I am in so much pain I miss you so much I know you felt safe with me you always said I don't think about anything else when I am with you and I was not allowed to be there this time I kept asking and asking," the 27-year-old tennis player wrote.
He concluded: "I love you with all my heart."
Bail conditions had stopped Flack having any contact with Burton ahead of her trial next month.
ITV cancelled the scheduled broadcasts of Love Island on Saturday and Sunday but said that the show would return on Monday night with a tribute to its former presenter "who will be forever in our hearts".
Whitmore, who took over presenting Love Island following Flack's arrest, said her friend "loved to laugh" and had the "most infectious chuckle".
"I'm not going to pretend she was perfect, but is anyone? She lived every mistake publicly, under the scrutiny of the media.
"Caroline loved to love. That's all she wanted. Which is why a show like Love Island was important to her, because the show is about finding love, friendship, having a laugh. The problem wasn't the show. The show… is loving and caring and safe and protected.
"The problem is, the outside world is not. Anyone who has ever compared one woman against another on Twitter, knocked someone because of their appearance, invaded someone else's privacy, who have made mean, unnecessary comments on an online forum – they need to look at themselves," she said.
Whitmore said she had been debating whether she "should, would or could come on air today" but she wanted to talk about her friend "to give her the respect she deserves".
She said she had also been harassed for "just doing her job" and "words affect people".
"So to listeners – be kind. Only you are responsible for how you treat others and what you put out in the world," she said.
She then played Angels by Robbie Williams, saying her friend, who she met at V-festival about 10 years ago, loved music and loved to dance, and the song always reminded her of Flack because she "danced so beautifully to it on Strictly".
"Caroline, I'm so sad for you, for your family. I'm angry that you saw this as your only option as I know how much love and support you had. I'm sorry you didn't know that," she said just before she played the song.
"I am not sure when, but I know I'll see you on the dance floor again and I hope you are at peace and know that you are loved."
Flack had co-hosted The X Factor and won Strictly Come Dancing in 2014, as well as presenting ITV's Love Island.
Following her death, an ITV spokeswoman said she was a "much-loved member of the Love Island team". The show did not air on Saturday night.
The presenter stood down from the dating show after she was charged with assault in December. She denied the charges.
'Finger of blame'
Her management company has criticised the Crown Prosecution Service for refusing to drop charges, even though Burton said he did not want the case to go ahead.
The CPS said it would not comment on the specifics of the case "given the tragic circumstances".
Former chief prosecutor Nazir Afzal said his impression was that the case had been determined to be a serious case, and one which the CPS felt they should proceed with "regardless of what the victim thought".
Responding to reports that the ambulance service was called to the star's address the day before she was found dead, a London Ambulance spokesperson said: "We were called shortly after 22:30 on 14 February to a residential property in north London.
"Crews attended and, following a clinical assessment, the person was not taken to hospital. Due to patient confidentiality we cannot comment further."
A petition on the online site 38 Degrees, dubbed "Caroline's Law", which calls for new laws around media regulation in the wake of the presenter's death, has attracted more than 110,000 signatures.
Honey Lancaster-James, a TV psychologist who worked with celebrity contestants on an early series of Love Island, said it was important not to "point the finger of blame".
"There are often a number of factors, and a number of things that have led to a deterioration in mental health," she said.
Other celebrities and ex-Love Island stars have also paid tribute to Flack, describing her death as "heartbreaking".
Her co-presenter on The X Factor and The Xtra Factor, Olly Murs, said he "always knew how fragile" she was and his heart was "forever broken" because she was "like a sister" and they were "friends for life".
"This will hurt forever, love you cazza, Your Ols," he said.
Queen reprise 22-minute Live Aid set at Fire Fight Australia concert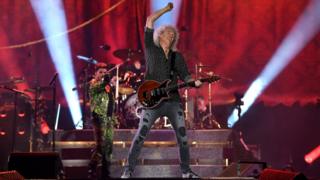 US singer Adam Lambert has joined Queen to reprise the band's legendary 1985 Live Aid set for 75,000 people at a huge benefit concert in Sydney.
The 22-minute set was part of a 10-hour fundraising event organised to raise A$10m (£5.15m; $6.71m) for communities devastated by bushfires.
"As Aussies we bear together… because it turns out the people at the top don't," the host Celeste Barber said.
Recent fires have killed at least 33 people, destroying thousands of homes.
In New South Wales, the worst-hit state, heavy rains have brought blazes under control. But in the last few months more than 11 million hectares of land – an area comparable to the size of England – has been affected across all of Australia's states and territories.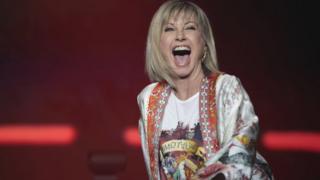 On Sunday, Olivia Newton-John and Alice Cooper joined local stars 5 Seconds of Summer, Tina Arena and Delta Goodrem for the Fire Fight Australia gig.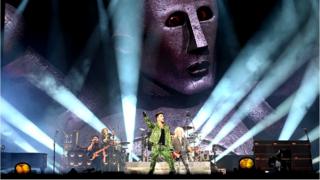 Joining Queen's Brian May and Roger Taylor on stage, Lambert filled in for the late Freddie Mercury as the band performed hits such as Bohemian Rhapsody, Radio Ga Ga, We Will Rock You and We Are The Champions.
How much rain did it take to put out the NSW fires?
'Urgent help' needed for 113 species after fires
Lambert, a former American Idol contestant who has previously toured with Queen, said it was a "real honour" to perform the band's full Live Aid set for the victims of Australia's bushfires.
The set at the 1985 fundraising concert at London's Wembley Stadium for famine relief is seen as one of the greatest performances by any rock band. It was recreated for the 2018 film Bohemian Rhapsody.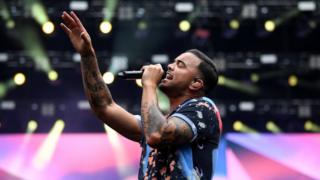 Australia has always had a fire season, with naturally occurring blazes sparked during the dry summer, but this year's has been unprecedented in the scale and intensity of the fires.
Prime Minister Scott Morrison's government has come in for harsh criticism for its response to the disaster.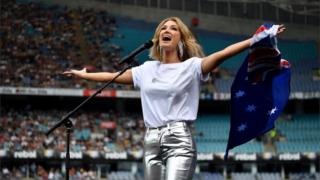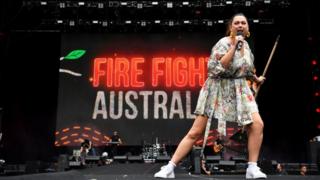 Profits from the event will be passed on to rural fire services, communities affected by bushfires and animal welfare groups.
A visual guide to Australia's bushfire crisis
Bushfires bring 'apocalypse' to Kangaroo Island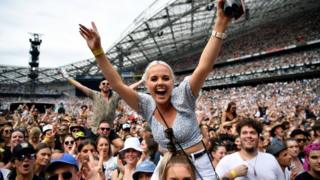 Among those attending was Dalene George, a teacher from Bateman's Bay, who told Reuters news agency: "[I want to be] part of the people who helped to try and bring things back together and bring smiles. Yeah be part of that healing stuff that happens with community."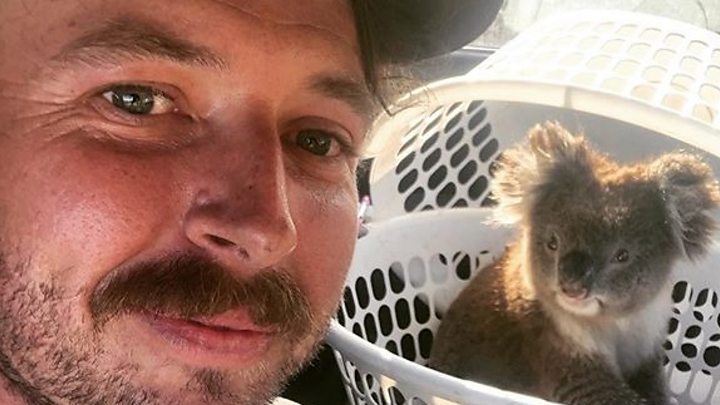 Another concert-goer, bank worker Karen Adams, said: "We're in Sydney so we couldn't even get down there to help, which was heartbreaking. And I work in a bank and so many families have lost everything so we're here to support them all."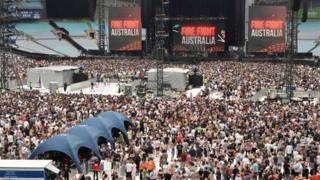 All pictures copyrighted.
Caroline Flack: Love Island episode taken off air after ex-host's death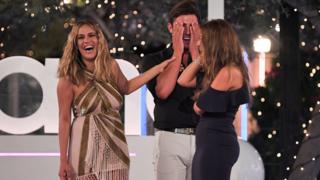 ITV have pulled Saturday's edition of Love Island following the death of the show's former host Caroline Flack.
An episode of unseen bits from the week in the villa was due to have been aired at 21:00 GMT.
Flack's death shocked fans on Saturday. It came two months after she was replaced as host of the show after being charged with assault.
An ITV statement said: "Everybody at Love Island and ITV is shocked and saddened by this desperately sad news."
It continued: "Caroline was a much loved member of the Love Island team and our sincere thoughts and condolences are with her family and friends."
ITV2's programme announcer said: "In light of today's sad news we're replacing tonight's episode of Love Island: Unseen Bits with a double bill of You've Been Framed."
Love Island's first winter series, which is being filmed in South Africa, is due to end on Sunday, 23 February.
TV presenter Caroline Flack dies at 40
Looking back at Caroline Flack's career
Meanwhile, Channel 4 said its series The Surjury, which was to have been hosted by Flack, will not air.
A Channel 4 spokeswoman said: "We are shocked and saddened to hear the tragic news about Caroline Flack. Our deepest sympathies go out to Caroline's family and friends.
"Under the circumstances, we have decided not to broadcast The Surjury."
When the show was announced in October, the channel said it would feature a 12-strong jury of the public who would decide if people got the cosmetic surgery they dreamed of.
Follow us on Facebook, or on Twitter @BBCNewsEnts. If you have a story suggestion email entertainment.news@bbc.co.uk.