Stormzy's Glastonbury performance 'will be iconic' but he won't be dancing
When he strides onstage on Friday night, Stormzy will make history as the first British rapper to headline Glastonbury Festival.
His ascension to the top of the bill has been rapid – he's only released one album – but the sense of anticipation is immense.
"I think it's going to be amazing," says fellow grime star Ghetts. "I think it's going to be a shut-down.
"It's probably the most energy that Glastonbury has ever seen. I know that sounds like a big statement but, trust me, it's going to be crazy."
"It's like a moment in history," agrees Stefflon Don, who plays the John Peel tent on Sunday.
"Stormzy always brings it with his live shows and I can't wait to see what he brings to the Pyramid stage.
"I think and hope it will go down as one of the most memorable, iconic Glasto performances."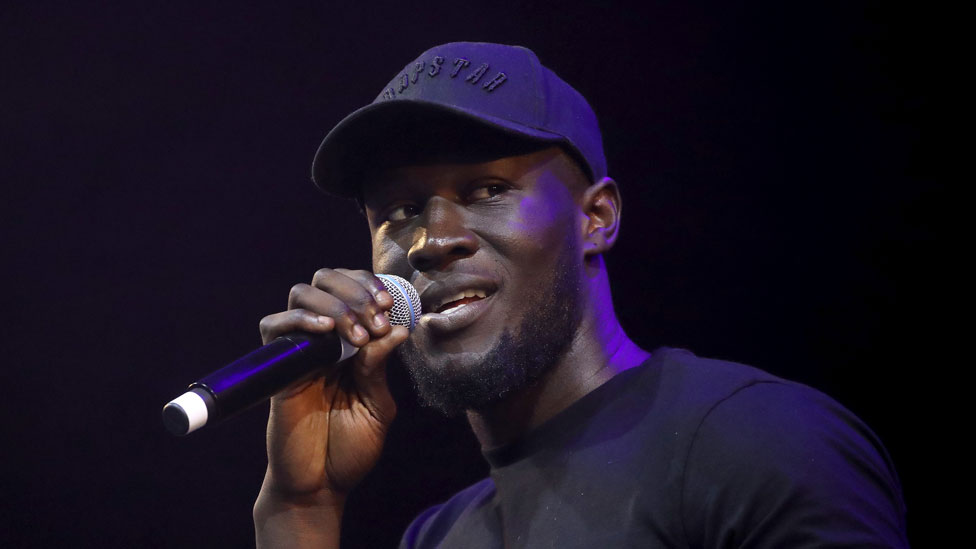 Getty Images
We are going to show the world exactly why I managed to get here.
Stormzy, real name is Michael Omari, comes to Glastonbury off the back of his first number one hit, Vossi Bop, and a new, gospel-influenced single, Crown.
The track is a heartfelt reflection on his achievements, and the pressures of being seen as "the voice of the young black youth".
It's a label he's embraced with typical thoughtfulness, launching a book imprint for new young writers, and establishing a scholarship at Cambridge University.
"I think Stormzy has done a fantastic job of finding the balance between representing his own truth, as well as the reality of black Britain and working class Britain," says Julie Adenuga, from Apple Music's Beats 1 Radio.
"It's an extremely hard weight to carry, because we're not all the same and on countless occasions he is often used as the poster boy for an entire community.
"To be able to stay true to his own goals and dreams but still fly the flag for his generation is commendable. It can't be easy."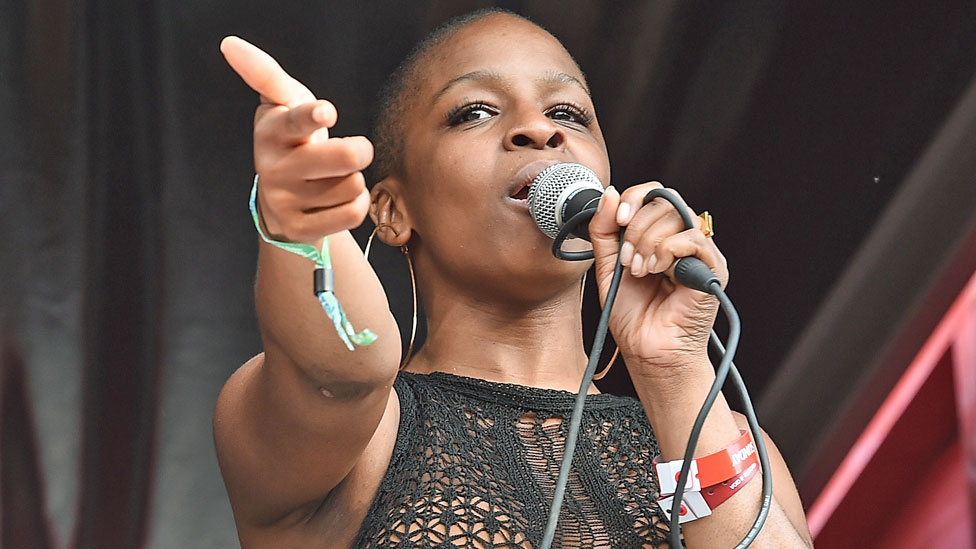 Getty Images
He told me he doesn't like dancing because he's too tall.
The 25-year-old hasn't shied away from controversy, speaking out on institutionalised racism and police brutality. On stage at the 2018 Brits, where he won best male and best album, he called Theresa May a "criminal" for her response to the Grenfell disaster.
Vossi Bop, a song that's ostensibly about a dance move his friend made up, also contains a pointed attack on Tory leadership candidate Boris Johnson.
So will he use his Glastonbury platform – broadcast live around the world – to make a big political statement?
"You never know with Stormzy," says BBC 1Xtra's DJ Target, who was one of the star's early champions.
"If he does say anything outside of his music, it'll be something that's been very well thought-through. It won't just be an off the cuff statement.
"He's a great spokesperson for the people he represents, the people he knows are underserved, and not listened to.
"There are other artists in the world that have outbursts, who speak out of turn, but with Stormzy it never feels like an outburst, it feels like this is something he really wants to address, and I guess if he decides he wants to address something on Friday night it'll have a huge impact."
Stormzy isn't the first British rapper to play the Pyramid Stage – Skepta, Tinie Tempah and Dizzee Rascal all paved the way, and grime has had a presence at the festival ever since DJ Cameo brought a whole crew of key London MCs including Trim and JME to the Roots Tent back in 2005.
There have been some lean times since then, but 2016 was a watershed year, with a day-long line up on the Sonic Stage featuring Kano, J-Hus, Nadia Rose and Novelist, which prompted a slew of articles about Glastonbury's Grime Takeover.
This year, though, grime can be found in every corner of Worthy Farm, whether its Dave and Loyle Carner on the Other Stage, Octavian and Stefflon Don in the John Peel tent or AJ Tracey and Lady Leshurr in the Silver Hayes area.
Door 'booted open'
"I remember doing Glastonbury as part of Roll Deep in 2010," says DJ Target. "Tinie Tempah was on before us, then Bashy and Giggs. We were all on the East Dance stage and it kind of felt like that was our area within Glastonbury.
"And now – I just flipped through the line-up, and I'm literally going to be having 20-minute treks across Glastonbury to see everyone I want to see. They're sprinkled throughout the whole festival, and in some stages they're top or second-to-top billing. It's going to be hard work to catch them all – but that's a great problem to have."
"What we've seen over the last few years, each milestone that's been reached, you go, 'Wow, is this as high as it can go, or is this another massive door that's been booted open?' and it's mostly been the latter.
"Every time something like Stormzy headlining happens, it inspires the next artist to believe it's achievable."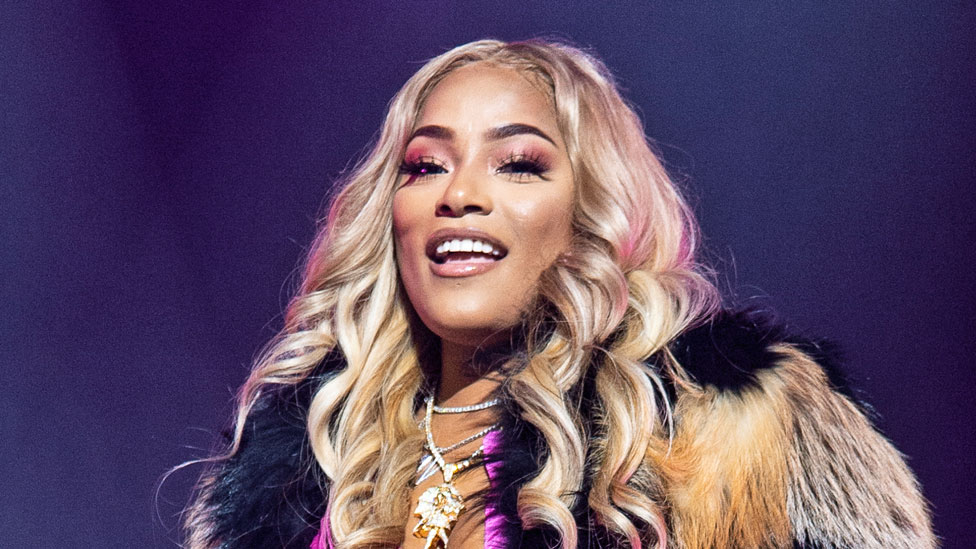 Getty Images
I think and hope it will go down as one of the most memorable, iconic Glasto performances.
All eyes will inevitably be on the musician as he takes to the stage at 22:15 BST on Friday night.
Nobody knows quite what to expect – and the Croydon-born rapper hasn't shared any clues about his performance, other than revealing it'll feature a spectacular light show from Tim Routledge, who was behind Beyonce's Formation tour and the Spice Girls' recent stadium gigs.
But speaking to 1Xtra earlier this year, the star said: "We are going to show the world exactly why I managed to get here".
"There were so many doubters being like, 'Oh he hasn't got no number one song' or, 'Oh he's got one album out, he's not ready'," he added.
"If you think you're going to give me that Glastonbury 2019 headline slot and I'm not going to give you an incredible performance you've gone mad – you've gone crazy."
Festival organiser Emily Eavis, who booked him for the slot, has no doubts about his readiness.
"When I saw him play the 2017 festival on the Other Stage, I knew straight away that the next time he played he would be headlining the Pyramid," she said.
"The reaction in the field was unbelievable. He's got such a presence and the energy is incredible."
According to Julie Adenuga, though, there's one thing his performance will be missing.
"He told me he doesn't like dancing because he's too tall," she laughs.
"I think he's just too shy, but there's no space for shy when you're headlining Glastonbury!"
Follow us on Facebook, on Twitter @BBCNewsEnts, or on Instagram at bbcnewsents. If you have a story suggestion email entertainment.news@bbc.co.uk.
Emilia Clarke and Emma Thompson on Last Christmas and reading reviews
One thing we definitely aren't going to do in this article is give away any spoilers about Last Christmas. Apart from anything else, we're quite scared of Dame Emma Thompson.
"The correct spoiler etiquette is: don't spoil it!" the actress and writer tells BBC News after a week of critics' reviews that have revealed the ending.
"It's easy isn't it? It's like 'don't punch strangers'. Just don't spoil it. Easy. Easy rule. Not complex."
Luckily, Game of Thrones star Emilia Clarke, who plays the lead character Kate in the movie, has plenty of experience in keeping plot lines secret.
"I've never done a job that didn't involve a spoiler," she points out. "Literally, there is no job I've done. And some of them are bigger than others. But with this particular twist, there are ways about talking about our characters and the premise without going anywhere near it."
One thing that definitely isn't a secret is that the movie is based on the music of George Michael. His (and Wham's) best-known songs make up the soundtrack, and in a few cases are sung by the characters.
Arguably, the most recent Christmas-themed movie to have become an annual audience favourite is 2003's Love Actually – which also starred Dame Emma. But she says trying to make the next great festive film "wasn't her prime motivation" for co-writing Last Christmas.
"Love Actually, of course, was made by one of my best mates," she says, referring to writer-director Richard Curtis. "And I'm so happy that people are still fond of it. So we certainly weren't thinking we were in competition with anything. I just wanted to try to make a good film, which has Christmas in it. And a bit of love, a bit of drama, and just everything we could throw at it."
Some reviews so far have been positive. The Mirror gave it five stars, while The Wrap said it "provides enough of a warm, fuzzy glow to light up a bleak midwinter".
It's fair to say, however, that many critics have been less enthusiastic.
"Last Christmas is the worst festive film I have ever seen," wrote Dan Wootton in The Sun. "It's a woke, remoaning, overly politically correct mess of a movie that manages to suck every inch of fun, joy and togetherness out of the season where we should be jolly."
'We couldn't avoid Brexit'
His comments refer to the film's Brexit references, along with fact the central family are immigrants. Dame Emma's character (Kate's mother) comments that the EU referendum result makes her feel unwelcome, while one scene on a London bus shows someone telling off passengers who aren't speaking English.
But Dame Emma argues: "I think [the political references] are very lightly brushed in. Because our main character is the daughter of immigrants, it would be very difficult to tell this story without mentioning, at least, the fear that people have who are immigrants with Brexit.
"Because it's set in a very particular time as well, it's set in 2016, we couldn't avoid it. Having it not there would've been slightly psychotic. And I think what's more important about what's under the fun of the movie is a message about kindness."
Clarke has her own policy when it comes to reading reviews. "I don't look at them at all. It's partly drama school training, and then you do a bit of theatre, and it's just not helpful," she says.
"The way I see it, right, is that I stopped Googling myself within a year of Game of Thrones happening. Because I was like, 'I don't need to know what people think about the size of my bottom, thank you so much.'
"And then when you stop Googling yourself, you then stop reading reviews. If someone says something really good, if you get a 15 million-star review, someone will tell you, and if you get a 'one-star coal in the rectum', someone's going to tell you!" She laughs while glaring at her co-star Henry Golding.
(She's referring to the rather graphic way Rolling Stone described the experience of watching the film, which Clarke says Golding drew to her attention "right before we stepped on live TV!")
George Michael's 'poetry'
Last Christmas is the latest in a string of movies that have been based on the back catalogues of a particular musical act. Queen, Bruce Springsteen and Elton John have all had the Hollywood treatment recently. "Maybe Mamma Mia put that idea on the map," Dame Emma says.
Golding, who is best known for starring in Crazy Rich Asians, says the benefit of such films is that they "spark joy, memory, nostalgia".
"Especially with Freddie Mercury and Elton John," he continues. "It's music we all grew up with, and to see what was actually happening, a glimpse of their biography, it kind of invigorates us, and makes us fall in love with that artist over and over again.
"And hopefully that's what happens with George, and a broader market gets to listen to George for the first time, which I think is going to happen."
Dame Emma met Michael before his death in 2016. The singer gave the movie is blessing, and his family and management have been involved in the production since, even gifting a previously unheard recording to the soundtrack.
"The songs just kind of slid in naturally," Dame Emma says. "I didn't realise how his poetry describes so much of the acts of self-care and kindness that this film really speaks about."
The fact that Dame Emma, along with husband Greg Wise, co-wrote the film's screenplay meant she could personally monitor how the movie was taking shape.
Phoebe Waller-Bridge, who both wrote and starred in Fleabag, was known for rewriting scenes while shooting. Was that a luxury Dame Emma enjoyed as well?
"Deffo. Absolutely," she says. "You go, 'Oh I don't think that's quite right'. Or, 'That could be funnier'. And then we make stuff up as we go. We riff a bit. So yes, it's useful to be on set, because if someone says, 'Oh that doesn't really work', you can think about something else."
This is our first interview with Dame Emma since she personally phoned the manager of Mayfair restaurant Brown's to ask them to reinstate a waiter who was sacked for asking for a selfie with her. Has she heard whether he eventually got his job back?
"Oh yes, of course he did!" she replies. "Taking a selfie is not a sacking offence. I mean, well done Brown's for bringing it up. But the selfie thing is something we all need to talk about and think about a little bit, face-to-face."
Coffee cup culprit
We also have one final question for Clarke before we go, regarding the Game of Thrones coffee cup saga, which has been rumbling on for several months.
After the continuity error in the eighth season, Clarke revealed her co-star Conleth Hill had privately confessed he was the one responsible for leaving it in shot.
The day before our interview, however, he jokingly told Sunday Brunch that his guilt could not be proved.
"THAT LITTLE CHEEKY… NO!" Clarke explodes while we're only a few words into the question. "STOP! I'm not having it!"
He has, we try to continue through the laughter, playfully threatened legal action against Clarke for dobbing him in. Has she heard from his lawyer?
"No I haven't heard from his lawyer, he's going to hear from mine in a minute though!" she laughs.
And with that, we wrap up, wishing Clarke and Golding well with that evening's premiere.
"Thank you," Clarke smiles, before adding: "Let us know if Rolling Stone are going to be there…"
Last Christmas is released on Friday.
Follow us on Facebook, or on Twitter @BBCNewsEnts. If you have a story suggestion email entertainment.news@bbc.co.uk.
Leonardo da Vinci goes 'immersive' at London's National Gallery
London's National Gallery is running a digital show of Leonardo da Vinci's masterpiece, The Virgin of the Rocks.
The show is an "immersive" exhibition that allows visitors to walk through multi-sensory rooms and explore different aspects of the painting.
This exhibition is a commemoration of the 500th anniversary of da Vinci's death.
Kodak Black: Rapper sentenced to nearly four years in prison
US rapper Kodak Black has been sentenced to 46 months in prison after pleading guilty to weapons charges.
The 22-year-old, who had a US number one album last December, admitted falsifying information on background forms to buy four guns.
He was arrested before his set at Miami's Rolling Loud festival in May.
One of the guns he bought was used in an attempted shooting in March. Prosecutors said "a rival rap artist was the intended target".
However, he has not been charged in relation to that shooting.
Real name Bill K Kapri, the hip-hop star faced a maximum of 10 years in prison, and prosecutors had pushed for a sentence of eight years. The court heard he was alleged to have beaten up a prison guard while awaiting sentencing.
US District Judge Federico Moreno acknowledged that Black had made anonymous donations to charity in the past.
Black's lawyer Bradford Cohen told BBC News: "After the court was apprised of all the facts and circumstances of this case and the good charitable work that Bill has done over the years, the court rejected the government's request of 96 months and sentenced Bill to 46 months."
The MC has had a number of legal charges and spells in prison in recent years, and is known for his violent lyrics.
His debut studio album Painting Pictures went to number three in the US in 2017.
The follow-up went to number two, and a third album, Dying to Live, reached number one last December. Two hit singles – Zeze and Tunnel Vision – have reached the Billboard top 10.
Follow us on Facebook, or on Twitter @BBCNewsEnts. If you have a story suggestion email entertainment.news@bbc.co.uk.