Stevie Wonder tells fans he will have kidney transplant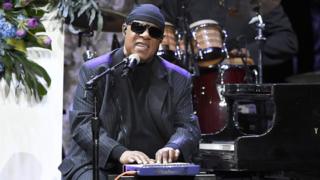 Stevie Wonder will have a kidney transplant later this year, he has announced.
The singer told the crowd about his medical condition as he finished his set at British Summer Time Hyde Park.
He said he had found a donor and would perform three more shows before the operation in September, saying: "I'm all good, I'm all good."
Fans greeted the news with a loud, supportive cheer, applauding the singer as he left the stage.
He had just finished playing the song Superstition when he told the crowd he wanted to prevent "rumours" spreading about his health.
The 69-year-old said: "I'm all good, I'm all good, all good, I have a donor and it's all good.
"I want you to know, I came here to give you my love and thank you for your love. I love you and God bless you."
Love Island: Tributes paid to Caroline Flack as winners are crowned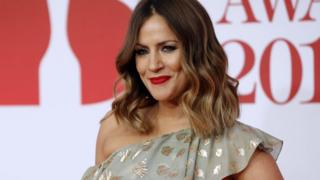 Love Island paid tribute to Caroline Flack as its first winter series drew to a close on Sunday night.
The former host of the show was found dead in her London flat last weekend.
"The past week has been extremely difficult, coming to terms with the loss of our friend and colleague, Caroline," presenter Laura Whitmore told viewers of the ITV2 programme.
"Caroline loved Love Island. She loved love, and that's why tonight's final is dedicated to her."
She added: "We're thinking of her family and everyone who knew her at this time."
The programme then showed a montage of some of Flack's memorable moments from the series in recent years.
The islanders were told about Flack's death off-camera on Saturday, an ITV spokesman confirmed.
Finley Tapp and Paige Turley were crowned the winners of the series as the finale drew to a close.
Two episodes of this series were pulled from the schedules last weekend after Flack was found dead.
The show returned the following Monday with a tribute to Flack from the show's narrator Iain Stirling.
This has been the first series of the show to take place in winter and be filmed in South Africa.
Previous seasons have been filmed on the Spanish island of Mallorca over the summer.
Overall, the winter series has been a ratings hit for ITV2, albeit not as successful as previous summer series.
This series has been attracting around three million viewers per episode, including via catch-up services, compared with the 4.5 million the last summer series generally attracted.
Laura Whitmore is the show's current presenter. She joined the show after Flack was charged with assaulting her boyfriend.
Tapp and Turley were crowned the winners of this series on Sunday night, winning the £50,000 prize, which they chose to share between them.
In a twist that occurs in every series, Turley was given the chance to "steal" the full prize money before she decided to split it evenly.
"It's been such an amazing experience," Turley said earlier in the episode. "It's been filled with challenges, but it's been amazing."
Asked what first attracted him to Turley, Tapp said: "I loved how outgoing she was. I wasn't wrong in picking her because I thought she'd make me laugh and smile all day long. She's made me very happy."
Earlier this series, they became the first pair to become an official couple in the villa.
Turley attracted headlines when the series launched in January because she is the ex-girlfriend of singer Lewis Capaldi.
The Scottish star referred to her while accepting the Brit Award for best single earlier this month, for his song Someone You Loved.
"A lot of people think this song is about my ex-girlfriend, who you can now see every night on Love Island," he said.
"But it's actually about my grandmother, who sadly passed away a few years ago. I hope ITV don't contact her to be a on a reality dating show."
During the finale, Whitmore confirmed the show would return to Mallorca for a new series this summer.
---
Follow us on Facebook or on Twitter @BBCNewsEnts. If you have a story suggestion email entertainment.news@bbc.co.uk.
Earth Harp: The man behind the unique instruments 'epic' sound
William Close is the inventor behind the Earth Harp – the world's longest string instrument which uses architecture and landscapes to create a unique sound.
Mr Close, who has performed the giant harp all over the world, says the audiences are often left feeling like they are "inside the instrument" during his performances.
Verdi opera: Conductor stops performance over 'phone miscreants'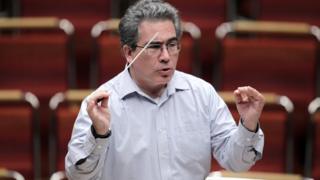 A conductor has twice stopped an opera in Cardiff after mobile phones rang in the audience.
Carlo Rizzi was conducting Welsh National Opera's new production of Verdi's Les Vêpres Sicilienes, at Donald Gordon Theatre at the Wales Millennium Centre on Saturday night.
Audience members said Rizzi twice stopped and spoke to the audience about the distraction it caused.
Verdi's opera is based around true events in Sicily in 1282.
'Phone miscreants'
David Jackson, a BBC employee who was in the audience, said Rizzi was applauded after bemoaning the interruption caused by mobile phones.
He said: "I spoke to Carlo afterwards and congratulated him on the performance, but also on tackling the phone miscreants.
"He got a warm round of applause after he stopped and ticked off the audience member. Both incidents were right at the beginning of the show and all was well after that."
The opera is sung by WNO in French in its new production directed by Sir David Pountney.
Another audience member confirmed the two instances of disruption caused by mobile phones.
It is not the first time a mobile phone has drawn irritation during a high-profile live performance, with the devices falling foul of numerous artists in the past.
Pianist Krystian Zimerman stormed out of a concert in 2013 because a fan was filming with his phone.
And film and stage actors Daniel Craig, Hugh Jackman and Benedict Cumberbatch have all voiced their anger at the use of mobiles while treading the boards in London.
Last year, singer Madonna said she would ban mobile phones from future gigs.
Jackson said his enjoyment of the opera in Cardiff was not affected by the interruptions.
"It was a wonderful performance of a comparatively rarely done piece of Verdi – the mobile phone business didn't detract," he said.
WNO confirmed there were "short pauses" and that Rizzi addressed the audience following the second interruption.