Stephen Graham: Actor tells Desert Island Discs 'I didn't know how to cope'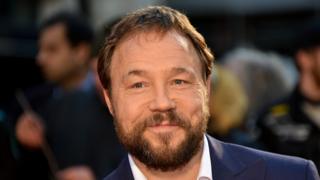 Actor Stephen Graham has opened up about the time he attempted to take his own life, after suffering a breakdown.
Speaking on BBC Radio 4's Desert Island Discs, the star of Line of Duty, The Irishman and This Is England said he "didn't know how to cope" at the time.
The ordeal came about after he had left home to go to drama school in London.
The 46-year-old said a series of traumatic family events that occurred before he moved away from home for the first time contributed to his collapse.
In the space of a few years, his beloved grandmother died and his mother gave birth to a stillborn child. "I'd been through these few traumatic things and never really grieved," said the Liverpudlian actor.
His mother later became pregnant again and a baby brother arrived the day before Graham, then 20, went to start his new life in the capital.
"This beautiful joyous occasion of this little boy coming into my life and mum and pop's life and then me having to leave was kind of a bit difficult," he told host Lauren Laverne. "But when you're 20 you have the world in front of you haven't you, so you try not to focus on that stuff."
He added: "I had a breakdown with all of these things that had happened traumatically from my late teens that I hadn't really dealt with or I hadn't come to terms with."
The star recalled how he returned home and tried to explain his feelings to his parents, who tried to help him, but in vain.
He went on to attempt to hang himself in his room. "It was very calculated," he said.
"I heard my nanna's voice – and I know it sounds strange and weird… and she shouted 'Stephen' and I thought I'd gone, because I'd tried to do that. And I just came to, I opened my eyes and the rope had snapped, thankfully.
"And then I put a high neck jumper on, one of them zip-up jumpers, and my ma and da came back and then my mum kind of saw it and she went, 'What's that?' And she seen it properly and then the three of us… I really opened up then, everything just came out and I just [said], 'I don't know how to cope.'
If you or someone you know are feeling emotionally distressed, these organisations offer advice and support. In addition, you can call the Samaritans free on 116 123 (UK and Ireland). Mind also has a confidential telephone helpline- 0300 123 339 (Monday-Friday, 9am-6pm).
His best friends Lee and Jamie were "magnificent", he said. "They were really supportive and my mum and dad and slowly built me back, slowly come around to the understanding it was OK. Life was worth living, thankfully."
Graham also spoke about how he first attended a youth theatre group at Liverpool's Everyman theatre as a teenager on the advice of local actor Andrew Schofield, who lived over the road from his grandmother.
One of Graham's grandfathers was Jamaican, and he told Laverne that at times in his youth he didn't know where he "belonged".
"There were times there growing up when I was slightly unsure where I fitted in," he said, referencing his white and black cousins. He stressed that his parents encouraged him "to find my own way within it".
He can now be seen playing mobster Anthony Provenzano in Martin Scorsese's film The Irishman. The director had previously cast him in Gangs of New York and as Al Capone in HBO's Boardwalk Empire.
Martin Scorsese's The Irishman review ★★★★☆
Graham admitted he was "really nervous" to meet Robert De Niro, his co-star in The Irishman, because movies like The Godfather, Taxi Driver and The Deer Hunter were "the films that I grew up on".
His dad showed them to him on video straight after he confessed to having a proper interest in acting. "That weekend we watched those three films, and I think we watched The Godfather twice actually. It was amazing," he recalled.
"But that was that kind of a moment where he went to me, 'If you're serious, this is how it's done, seriously and brilliantly.' That began my love affair with films."
Desert Island Discs is on BBC Radio 4 at 11:15 GMT on Sunday and then online.
Follow us on Facebook, or on Twitter @BBCNewsEnts. If you have a story suggestion email entertainment.news@bbc.co.uk.
BBC director general Tony Hall: 'Nicholas Parsons was a legend'
The BBC's director general Tony Hall has paid tribute to the broadcaster Nicholas Parsons who has died at the age of 96.
Parsons, who hosted Radio 4's Just A Minute since its inception in 1967, died after a short illness.
Speaking to BBC Media Editor Amol Rajan, Mr Hall said he was "immensely saddened" at the loss of Parsons, who he described as a "wonderful, charming, witty, warm man".
Read more: 'Broadcasting legend' dies aged 96 after short illness
Neville Buswell: Coronation Street pays tribute to former soap star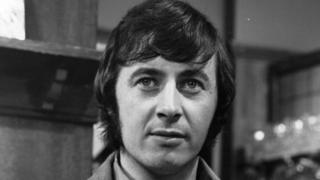 Coronation Street has paid tribute to actor Neville Buswell, who played womaniser Ray Langton in the ITV soap in the 1960s and 70s.
Buswell, who has died at the age of 77, starred as Deirdre Barlow's first husband and the father of her troubled daughter Tracy.
He joined Corrie in 1966 and was a regular on the cast before being written out in 1978.
A statement from the show said they were "saddened" to hear of his death.
The news was first reported in an obituary by a funeral home in Las Vegas. He had moved to the US city after leaving the cobbles.
Buswell made a cameo appearance as Ray in the one-off Coronation Street special Viva Las Vegas in 1997.
He then returned for a six-week stint in 2005, which ended with his character dying of lung cancer at Deirdre and Ken's second wedding.
A Coronation Street spokeswoman said: "His portrayal of Deirdre's first husband Ray Langton in the 1970s made him a part of Coronation Street history.
"We were delighted when he returned to the role in 1997 for a special DVD set in Vegas and again back in 2005 when Ray turned up on the cobbles to visit Deirdre and his daughter Tracy.
"We would like to extend our sympathies to his family and friends at this sad time."
According to the Palm Eastern Mortuary & Cemetery, he died on Christmas Day and the funeral was held on 3 January. The cause of death is unknown.
Buswell was first seen in Corrie in 1966 and began a 10-year run on the soap from 1968.
His character had many affairs during his time on the Street, but it was his fling with waitress Janice Stubbs that finally killed his marriage.
Ray wanted to start afresh in Amsterdam with his wife and daughter, but Deirdre decided to stay in Weatherfield.
In 2012, in real life, Buswell faced allegations of sexually assaulting a 12-year-old girl in his dressing room in the 1960s.
Buswell denied the claims as "not true" and said he had never met or heard of the woman behind them.
Buswell was born in 1943 in Chapel-en-le-Frith, Derbyshire, and began his acting career on the stage, performing in Gilbert and Sullivan operettas and plays.
After leaving Coronation Street, he moved to the US, where he worked in the casino business before becoming a mortgage broker.
Follow us on Facebook, or on Twitter @BBCNewsEnts. If you have a story suggestion email entertainment.news@bbc.co.uk.
Sir Philip Pullman calls for 50p boycott over Oxford comma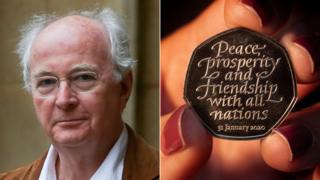 Author Sir Philip Pullman has declared war on the new Brexit 50p – but it's nothing to do with politics.
Sir Philip has taken umbrage because the Oxford comma is missing from the coin's wording: "Peace, prosperity and friendship with all nations."
The Oxford comma is included before the final "and" in lists but it is not used universally and is often a topic of debate for grammar enthusiasts.
The coin will come into circulation on 31 January, when the UK leaves the EU.
Stig Abell, editor of the Times Literary Supplement, agreed with Pullman, tweeting: "The lack of a comma after 'prosperity' is killing me."
But Susie Dent, from Countdown's Dictionary Corner, said the Oxford comma was optional.
"Yes it is optional: it clarifies things quite often though, and I just find it easier and more consistent to use it all the time," she tweeted.
And broadcaster Joan Bakewell tweeted that she was taught that it was wrong to use the comma in such circumstances.
The new coin was unveiled by Chancellor Sajid Javid at the weekend.
Mr Javid had first ordered production of the coins in advance of the UK's original 31 October departure date from the EU.
But the Brexit delay meant about a million coins had to be melted down and the metal put aside until a new exit date was confirmed.
On Sunday, Tony Blair's former spin doctor Alastair Campbell said he would be asking shopkeepers for "two 20p pieces and a 10" rather than accept the new 50p coin.
Follow us on Facebook, or on Twitter @BBCNewsEnts. If you have a story suggestion email entertainment.news@bbc.co.uk.