Spassky vs Fischer: How the chess battle became a theatre event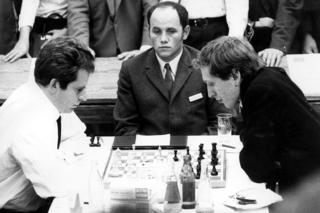 When the American Bobby Fischer challenged the Russian Boris Spassky for the World Chess Championship in 1972 the media looked on in fascination. It seemed the Cold War was being played out in Iceland on a chessboard. Now a new play reconstructs the historic match.
It was pre-internet, pre-mobile phone, pre-online comment, pre-news channels, pre-streaming. The match was happening in a place inconvenient for the world's media. TV satellite space was at a premium: on US networks the updates were sometimes just talking to a reporter in Reykjavik on the phone.
No one had seriously considered chess as prime-time material. But then along came the unique and deeply troubled Bobby Fischer.
Fischer was born in 1943 and grew up in New York. From his early teens the game of chess obsessed him. At 14 he was the youngest ever US chess champion.
But since World War II world championships had been almost entirely dominated by the USSR. Could Fischer be the man to bring the prize back to Brooklyn?
Ravens: Spassky vs Fischer is an attempt to delve into the psychologies of two remarkable men. Spassky, who's now 82, was usually regarded as the more stable of the two. Fischer died in 2008 after years of bizarre behaviour and extreme statements – he praised the 9/11 attacks for instance.
Robert Emms has made his name as an actor in TV series, including Atlantis and Chernobyl. Now he has to make sense of playing Fischer.
"Bobby is packed full of contradictions. He was Jewish but he could be anti-Semitic. He was American but he seems to have felt no real patriotism. He was undoubtedly unstable and I think you need to go back to questions of paternity and the family he grew up in. His relationship with his mother was tense.
"However all that came about, he ended up with a vulnerability which shaped him. Bobby Fischer was a brilliant but self-destructive character and – though this is mainly after the period of the play – eventually he spiralled out of control. There's real tragedy there.
"As an actor that gives a huge amount to play with but you're always dealing with what's in the text: Tom Morton-Smith (the playwright) is always pointing the audience in a certain direction. Bobby probably was never happy and I'm not sure he had real friends. But he was larger than life, which is a gift to play."
Irish actor Ronan Raftery, currently appearing in the TV mini-series The Rook, plays Spassky. "He always came over on the surface as a much calmer and more focused player. But I think we now know more about how thrown and upset he was by Fischer's behaviour and we use that.
"Boris genuinely hated the fact that this game he loved so much had somehow taken on an aspect of superpower politics. As the reigning world champion he just wanted to play the match and win."
Emms thinks that in 1972 Fischer too was essentially apolitical. "It's interesting that neither man felt a strong affiliation to his country – what they were passionate about was playing chess and we communicate that on stage."
Which raises the question of how exactly do you stage chess for the theatre? Two people leaning over a small table holding their foreheads in silent contemplation doesn't promise great drama.
Director Annabelle Comyn says when she met with Morton-Smith the question of staging the games was high on the agenda. "In the text Tom reproduces them in standard form so chess fans can digest the moves if they want to. But deliberately there was no guidance as to how and to what extent we'd represent that on stage.
"The games soon take on a meaning which goes beyond the game itself. The match is being used both by the Soviets and the Americans for certain ends. So we start with a literal meaning for the moves but then we grow into a language of paranoia and politics and the language of control. That's a large part of what the play is about.
"So whether it's with music or with something more physical, we're staging the games to dramatise what was happening underneath. They're very choreographed pieces – you don't need to understand every single move in detail to see what the story is."
Comyn says the play is also character driven. "One of the fantastic scenes is when we see Bobby with his mother. That relationship was maybe controlling, volatile and insecure. We see the lack of trust that Bobby has in the world about him and I think the play helps us understand how that translated to his fear of Soviet mind games during the time in Iceland.
"Bobby's essential mindset was that everything he'd ever achieved in life had been on his own and without assistance. He definitely felt he was fighting against the Soviets – but I think inside he was fighting against the whole world."
As challenger, Fischer did poorly in the early stages and only later pulled ahead. His complaints against the organisers included that TV cameras were giving off noises which put him off his game (but which no one else could hear).
Comyn says one of the themes is how the relationship between Fischer and Spassky grew. "It would be wrong to say they became great pals. They did not. And maybe that would have been beyond Bobby in any circumstance. But they are in proximity for two months and inevitably something does develop."
After the match Fischer all but disappeared for 20 years. In Yugoslavia in 1992 he played and won an unofficial rematch against Spassky, which had a total purse of $5m (£3.8m in current money). He lived in Hungary and finally in Iceland, where he died and is buried.
Emms thinks the prospect of taking the world title was vital to Fischer.
"It was the one thing he craved though I wonder if he ever truly believed it would bring contentment. After Reykjavik Bobby virtually gave up the game for years. You could say the whole experience helped define him but also to destroy him. He was a hugely closed personality and everything he tried to achieve was through the chess board.
"Bobby felt victory was rightly his. But would that complete him as a human being? I think probably not."
Ravens: Spassky vs Fischer is at the Hampstead Theatre in London until 18 January.
---
Follow us on Facebook, on Twitter @BBCNewsEnts, or at bbcnewsents. If you have a story suggestion email entertainment.news@bbc.co.uk.
Sir Philip Pullman calls for 50p boycott over Oxford comma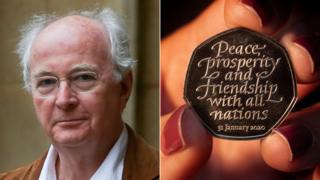 Author Sir Philip Pullman has declared war on the new Brexit 50p – but it's nothing to do with politics.
Sir Philip has taken umbrage because the Oxford comma is missing from the coin's wording: "Peace, prosperity and friendship with all nations."
The Oxford comma is included before the final "and" in lists but it is not used universally and is often a topic of debate for grammar enthusiasts.
The coin will come into circulation on 31 January, when the UK leaves the EU.
Stig Abell, editor of the Times Literary Supplement, agreed with Pullman, tweeting: "The lack of a comma after 'prosperity' is killing me."
But Susie Dent, from Countdown's Dictionary Corner, said the Oxford comma was optional.
"Yes it is optional: it clarifies things quite often though, and I just find it easier and more consistent to use it all the time," she tweeted.
And broadcaster Joan Bakewell tweeted that she was taught that it was wrong to use the comma in such circumstances.
The new coin was unveiled by Chancellor Sajid Javid at the weekend.
Mr Javid had first ordered production of the coins in advance of the UK's original 31 October departure date from the EU.
But the Brexit delay meant about a million coins had to be melted down and the metal put aside until a new exit date was confirmed.
On Sunday, Tony Blair's former spin doctor Alastair Campbell said he would be asking shopkeepers for "two 20p pieces and a 10" rather than accept the new 50p coin.
Follow us on Facebook, or on Twitter @BBCNewsEnts. If you have a story suggestion email entertainment.news@bbc.co.uk.
Gary Lineker calls for 'voluntary' licence fee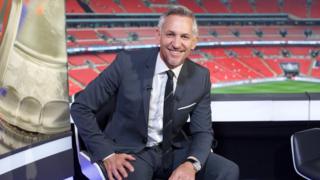 Gary Lineker, one of the BBC's highest paid presenters, has called for the TV licence fee to be voluntary.
In an interview with The Guardian, the former footballer and Match of the Day presenter said the annual charge was the BBC's "fundamental problem".
"You're forced to pay it if you want a TV, and therefore it's a tax," he is quoted as saying. "The public pay our salaries, so everyone is a target."
His comments come amid mounting debate on the future of the licence fee.
Last week culture secretary Baroness Morgan told the BBC the subject was "coming up more and more on the doorstep".
Morgan warns BBC over licence fee 'concern'
Lineker said he had "always said for a long time" the £154.50 annual charge should be voluntary while admitting he did not know "the logistics of how it would work".
"You would lose some people, but at the same time you'd up the price a bit", said the presenter, whose BBC salary was between £1,750,000 and £1,754,999 in 2018-19.
"[The licence fee] is the price of a cup of coffee a week at the moment," he continued. "If you put it up you could help older people, or those that can't afford it."
Last year the BBC said it was scrapping free TV licences for all over-75s and would limit the provision to low-income households where one person receives the pension credit benefit.
The online publication of The Guardian's interview saw Lineker receive praise from ITV presenter Piers Morgan, usually Lineker's sparring partner, for making "a sensible point".
The drip, drip, drip of smaller events…
It's September 2020. The new director-general is in No 10 for her or his first meeting with Boris Johnson since getting the job.
"Look, prime minister," the BBC's new DG says. "I know this seems radical. I believe there is a case not only for keeping the compulsory licence fee – but raising it".
A door slams open. Dominic Cummings bursts in.
"What?!" says Mr Cummings. "But how can you argue that, when even your highest-paid star – your most famous face – agrees with us it should be voluntary?!"
Gary Lineker may or may not be right. The fact is, his intervention has weakened the negotiating position of the next DG, even if just marginally.
Big social and political changes never happen suddenly. They follow the drip, drip, drip of smaller events that made the final change inevitable.
Right now, the idea that the BBC should become a subscription service is mainstream Conservative thinking. A prominent Remainer at the BBC has just reinforced it.
Many of the BBC's most loyal audiences are about to lose a benefit – in free TV licences for the over-75s – that they want.
Decriminalisation of the licence fee looks likely, which could cost the BBC a couple of hundred million pounds.
A huge re-organisation of BBC News will cost many jobs, demoralising some staff, and leading to sharp cuts in some programme budgets.
Every day, streaming giants pour more dollars into high-value productions that lure eyeballs away from the BBC.
Every day, the bond between the BBC and young audiences weakens – to the point that it is becoming close to non-existent for many.
Then Gary Lineker says the licence fee should go.
Anybody fancy being DG?
Follow us on Facebook, or on Twitter @BBCNewsEnts. If you have a story suggestion email entertainment.news@bbc.co.uk.
Lord Hall to step down as BBC's director general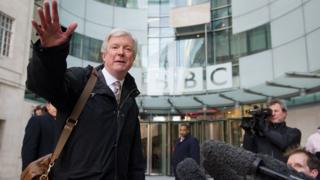 Tony Hall is to step down as director general of the BBC in the summer, after seven years in the role.
Lord Hall said the decision had been hard, adding: "If I followed my heart I would genuinely never want to leave."
But he said he felt it was important the BBC had the same leader for the BBC's mid-term review in 2022 and the renewal of its charter in 2027.
The National Gallery subsequently announced he had been appointed chair of its board of trustees.
The BBC's chairman, Sir David Clementi, said the search for the BBC's next leader would begin "within the next few weeks".
He added that the BBC was "committed to selecting the best-qualified person for the job".
BBC Newsnight understands Lord Hall had wanted to stay until the BBC's centenary in 2022, but after "big discussions with the board" it was decided he would go earlier.
The programme's political editor Nicholas Watt said the timing was being interpreted in government circles as "something of a masterstroke" by Sir David, whose term as chairman ends in 2021.
"Had Tony Hall waited until 2022 it would have been a new chairman of the BBC making the appointment, and that new chairman would have been appointed by Boris Johnson's government," said the correspondent.
Potential successors
James Purnell, the former Labour politician who became the BBC's director of radio and education in 2016, is currently the bookmakers' favourite to take on the role.
Fran Unsworth, the BBC's director of news and current affairs, is another contender, as is Anne Bulford, the BBC's first female deputy director general, who left the corporation last year.
Media commentators are also speculating, with The Independent's Adam Sherwin suggesting Channel 4's chief executive Alex Mahon might be in the frame, along with Apple's Jay Hunt and Charlotte Moore, the BBC's director of content.
The Guardian also points to these female candidates but also suggests former Ofcom chief Sharon White and Gail Rebuck, chair of Penguin Random House UK, might be in contention.
Newsnight's Nicholas Watt said he was hearing that the cabinet "are expecting the BBC to sound them out on this appointment", and there was "no appetite" in the government for "a BBC lifer" who is not interested in reform.
Speaking of Lord Hall, Sir David said the corporation had been "lucky to have him".
He described him as "an inspirational creative leader" who had "led the BBC with integrity and a passion for our values".
Culture secretary Nicky Morgan thanked Lord Hall for his service, saying he had made "a huge contribution to public service broadcasting in his career".
"In this ever changing broadcast landscape the next DG will need to build on Lord Hall's success," she wrote on Twitter.
'Change has been tough'
In a letter to staff, Lord Hall said he believed he would be "leaving the BBC in a much stronger place than when I joined".
His appointment in 2012 followed the resignation of George Entwistle in the wake of the Newsnight Lord McAlpine row.
Lord Hall said the BBC felt "a very different organisation" that was "more innovative, more open, more inclusive, more efficient [and] more commercially aware".
What does the director general do?
The director general, or DG, is the chief executive officer of the BBC, its editor-in-chief.
The person in the post is the editorial, operational and creative leader of the corporation, with responsibility for a worldwide workforce running services across television, radio and online.
The DG and the BBC board are responsible for the effective running of the BBC, delivering its public service and commercial services – including BBC Studios – both at home and abroad.
The DG is appointed by the BBC board. As of April 2019, the holder of the post is paid £450,000 a year.
"Change has been tough at times," he wrote. "But I believe our recent record of transformation stands comparison with virtually any other creative organisation in the world."
Lord Hall takes over at the National Gallery in London from interim chair Sir John Kingman, who has been in the post since Hannah Rothschild's departure in September 2019.
He said: "I am proud to take on the role of its chair. The National Gallery isn't just about serving those who already love art, but reaching a wider audience and future generations."
His appointment was welcomed by Baroness Morgan, who said he would bring "a wealth of experience" to the role.
Analysis – BBC media editor Amol Rajan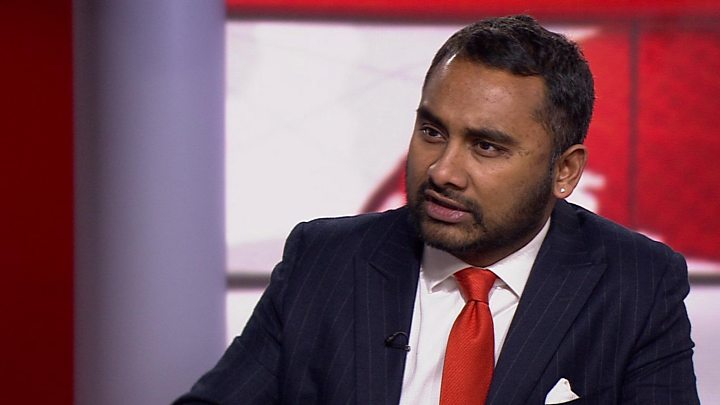 Director general of the BBC is one of the most privileged, but also one of the most relentless and tough jobs in Britain – and it gets tougher every day, because of the technological context.
His successor will need to combine world-class political, commercial, editorial and managerial talent, while coming under a relentless barrage of criticism from all fronts.
The question of who gets it will depend on where the BBC Board and its chairman, Sir David Clementi, want to place their emphasis. Someone with commercial nous, or someone who can charm Boris Johnson and Dominic Cummings? Someone with a track record at managing talent – or someone who can make a brave, correct call on a Panorama investigation?
The perfect candidate will be able to do all this – and therefore doesn't exist.
Read more from Amol here
Lord Hall's departure from the BBC comes amid another turbulent time for the broadcaster, with issues around equal pay disputes, political bias, diversity and TV licences at the top of its agenda.
Earlier this month presenter Samira Ahmed won an employment tribunal in a dispute over equal pay, while radio presenter Sarah Montague has confirmed she won a settlement and an apology from the BBC after being treated "unequally".
Samira Ahmed wins BBC equal pay tribunal
Montague confirms £400k BBC equal pay settlement
The BBC has also faced criticism over its reporting on the recent general election, presenter pay, star salaries and a lack of diversity both on and off screen.
It also found itself in the spotlight back in 2018 when Sir Cliff Richard won a High Court case against the broadcaster over its coverage of a police raid on his home.
Last year TV presenter and campaigner June Sarpong was appointed the BBC's first director of creative diversity in a bid to improve the BBC's "on-air talent portrayal".
June Sarpong appointed BBC diversity director
Sarpong said it had been a "great pleasure and honour" to work under Lord Hall's "visionary leadership".
"I cannot overstate the support he has shown me in helping to start the process of inclusive change," she wrote on Twitter. "He will be sincerely missed."
Other developments during Lord Hall's tenure include the growth of BBC iPlayer, the increasing success of BBC Studios. and the launches of BBC Sounds and streaming service Britbox.
It was also announced last year that free TV licences for all over 75s would be scrapped and replaced by a scheme based on pension credit benefit.
Last week Lord Hall outlined a plan that will see at least two thirds of the corporation's staff based outside London by 2027.
Lord Hall – a mini biography
Lord Hall, 68, joined the corporation as a trainee in the Belfast newsroom in 1973.
He became editor of the Nine O'Clock News at the age of 34 and was appointed chief executive of BBC News in 1996.
While there, he launched BBC Radio 5 Live, the news channel, the BBC News website and the parliament channel.
He left in 2001 to become the chief executive of the the Royal Opera House until 2013, and was also deputy chairman of Channel 4.
He was also on the board of the London organising committee for the Olympic Games before returning to the BBC in the top job.
Lord Hall, whose official title is The Lord Hall of Birkenhead, was made a cross-bench peer in 2010.
Reaction to news
Bonnie Greer, who served alongside Lord Hall on the Royal Opera House board, noted that the BBC had been going through a difficult period.
"I think it's been a lot of pressure for the organisation and a lot of pressure for him," the playwright and critic said on The Victoria Derbyshire Show.
Talent agent Jonathan Shalit said Lord Hall had been "fantastic" in the director general role and that it was "normal" for someone in his position to move on after seven years.
"He was going to be moving on soon," he told the same BBC programme. "I think the point he makes about making sure one person oversees the midway point of the licence fee is important."
Philippa Childs, head of broadcast trade union Bectu, said Lord Hall had been "a strong advocate for the BBC, its staff [and] the licence fee".
She said the outgoing director general had always "acted with integrity and transparency" during their "extremely positive and productive working relationship".
Veteran presenter David Dimbleby said Lord Hall "revived the place" because of his passion for broadcasting.
On the future of the BBC, Dimbleby added: "It's always worth remembering, I think in the end, people trust the BBC more than the politicians who try to diminish it.
"I'm not saying there aren't major, major problems with the BBC at the moment; I think there are."
Former BBC chairman Michael Grade said he did not believe that Sir David, or the BBC board, would allow the government to interfere with the appointment of the director general.
Follow us on Facebook, or on Twitter @BBCNewsEnts. If you have a story suggestion email entertainment.news@bbc.co.uk.