Sir David Attenborough: 'People thought we were cranks'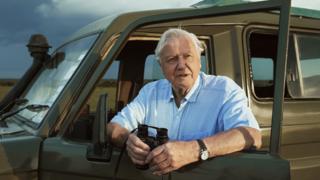 Ahead of the launch of his most ambitious series yet, broadcaster Sir David Attenborough talks to the BBC about his cult status, a lifetime protecting the planet and finally finding its most elusive animal.
This year's Glastonbury Festival was headlined by Stormzy, The Killers, Kylie and The Cure, but the highlight for many was the surprise appearance of a 93-year-old knight of the realm.
Sir David Attenborough, who was there to promote his new series Seven Worlds, One Planet, walked out on to the Pyramid Stage to rapturous applause, thanked everybody on Worthy Farm for not drinking out of plastic bottles and urged them to keep looking out for all creatures great and small.
Several months on, he admits he finds his growing influence on the environmentally woke youth of today a bit bizarre.
"It's very odd," he laughs. "But the fact remains I've been at it 60 years. You can say nobody under the age of 75 can have been without my voice coming from the corner of the room at various times and that must have an effect.
Glastonbury: Sir David Attenborough hails plastic ban
"It's a huge advantage for me because you go there with some sort of reputation and people are aware of you, and in a sense you've been part of the family for quite a long time, which is an extraordinary obligation really and a privilege.
"I'm sure there's a hell of a lot of young people saying 'for God's sake why don't they move over, give the others a chance,'" he modestly adds.
In truth, no-one is saying that.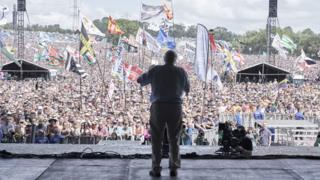 The broadcaster, who recently had a boat named in his honour, was listed as one of the 100 Greatest Britons in a BBC poll in 2002.
Since then, his stock has risen exponentially due to natural history shows like Planet Earth, Dynasties and Blue Planet II – which brought the issue of plastic waste to the public's attention and bumped climate change up the government's agenda.
Last week, more than 80,000 people applied for just 300 tickets for an early screening of his new documentary, which arrives at what Sir David calls "the most critical moment on earth since the continents formed".
'Tragic, desperate mess'
The series, narrated by the "rock star" – as BBC boss Tony Hall introduced him earlier in the day – focuses on the human impact on climate change, animal diversity, poaching and deforestation across all seven continents.
The latest scientific research revealed the effects of climate change are speeding up, as world leaders met to discuss it in New York last month.
"At last nations are coming together and recognising we all live on the same planet," Sir David acknowledges. "All these seven worlds are actually one and we are dependent on it for every mouthful of food we eat and every breath of air we take.
"We have it in our hands and we've made a tragic, desperate mess of it so far."

By sheer coincidence, the press launch for the show occurs on the same day environmental pressure group Extinction Rebellion begin their two-week global protest.
And while the presenter won't really be drawn on their methods, or that of political activists like Greta Thunberg ("they are young people and their voices will be heard"), he does admit his shows may have helped viewers the world over to open their eyes to "the facts".
"I don't think I've made a series in the last 40 years where I haven't made the end an appeal about caring for the natural world," he says.
"Its an extraordinary thing. At the time I daresay people thought we were sort of cranks or something.
"But as it's gone on and on and on and we've repeated it on and on and on – 'not wasting things, not polluting things' and so on – suddenly you hit the right note."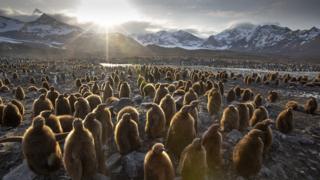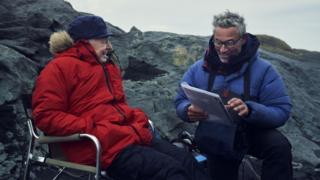 "With Blue Planet II," he goes on, "suddenly the world was electrified about the crime of chucking plastic into the ocean that can throttle and poison creatures, including ourselves.
"Quite what it is that makes the messages we all care for ring the bell, is very difficult to say. I dare say if we knew exactly how to do it we'd do it more frequently."
Hope is important
The BBC Natural History unit's biggest project to date, which features music by Sia and Hans Zimmer, involved more than 1,500 people globe-trotting to 41 countries, over several years.
Cutting edge technology – including portable drones capable of shooting in 4K – enabled them to delve inside caves, volcanoes, forests, swamps, jungles and blizzards, to capture animals that are new to science and new patterns of behaviour.
For director/executive producer Jonny Keeling, it was vitally important to place conservation stories at the heart of the series, so viewers can understand why certain animals are in decline. Such as the tale of the grey-headed albatross and its increasing struggle to recognise its own chicks once they are blown off the nest.
There are positive stories in there too though, notably how whales have come back from the brink of extinction since whaling was banned in 1986. His team were relieved to capture them on camera on just the final day of a seven-week shoot.
"That's really important as you need to show people the hope and actually when we do something we can make a massive difference," says Keeling.
"In a matter of two decades we can turn things around – we can stop the whales disappearing or we can save sharks."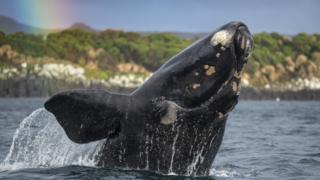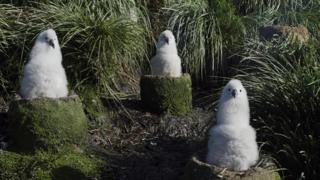 "I think there's some key species," he adds, "If they're looked after you can bring back a whole eco-system and its richness.
"The best solution to climate change is preserving the natural world, preserving forests and oceans and looking after the animals.
"It's a huge cliché but there are seven billion people on earth and if seven billion all start doing the right thing…"
'Don't waste'
Such is the global interest in any show connected to Sir David that schools in India and South Africa are dialled into the Q&A session following its London world premiere.
A boy in Mumbai enthusiastically asks the man himself what he can do to help the planet.
"The best motto to think about is to not waste things," replies TV's favourite teacher (sorry Walter White fans).
"Don't waste electricity, paper, food. Live the way you want to live but just don't waste. Look after the natural world and the animals in it and the plants in it too, this is their planet as well as ours."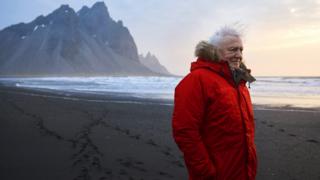 Finally, after more than 50 years of searching, Seven Worlds also sees Sir David catch up with his most evasive animal yet – "a wonderful creature" called the golden haired blue-faced snub-nosed snow monkey.
"I read about them in a scientific paper in the 60s," he recalls. "I always had it in the back of my mind, and blow me, if this lot found it!
"In the Asia programme I think it's one of the stars."
And another name fit to grace the Pyramid Stage.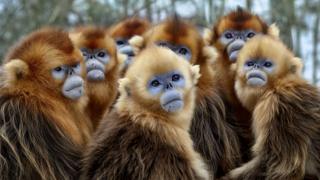 Seven Worlds, One Planet begins on BBC One at 18:15 GMT on Sunday 27 October.
Arts go interactive during coronavirus lockdown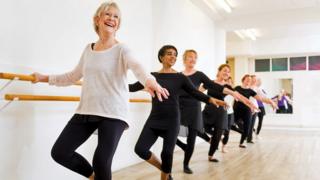 As Britain begins its second week under strict conditions restricting movements and gatherings, arts organisations are getting creative in their attempts to interact with patrons.
The Getty Museum in the US, for example, has found a novel way for art lovers to engage with its collection.
Later this week the Royal Academy of Dance is launching a weekly series of online ballet classes, specifically tailored for the over-55s.
Theatres are now closed all across the country. But that doesn't mean theatre lovers are being denied the joys of the communal experience.
Choirmaster Gareth Malone, meanwhile, is assembling a Great British Home Chorus to get us singing together even while we are apart.
Art imitating life
Based in Los Angeles, the J Paul Getty Museum is home to works by Rembrandt, Cezanne and hundreds of other world-renowned artists.
When the museum closed to the public on 14 March, its social media team started looking for ways to keep its audience entertained.
The answer lay in a Dutch Instagram account featuring elaborate recreations of works by Frida Kahlo, Rene Magritte and others.
The Getty put its own spin on the idea, inviting its followers to recreate artworks using three things lying around their houses.
Art fans jumped at the challenge, deploying everyday items, relatives and even pets to emulate works by Monet, Warhol and others.
One participant used coffee filters to make a mock-up of a ruff worn by one of El Greco's subjects.
Another employed a shower cap and her own baby bump to replicate Raphael's La donna gravida.
Bread, jam and a biscuit, meanwhile, were used to fashion an edible version of The Scream that certainly puts the munch into Edvard Munch.
"We are loving all your creative recreations," the museum tweeted, exhorting its followers to "keep sharing".
Keep dancing
Millions know Angela Rippon for the glamorous dance routine she performed with Eric Morecambe and Ernie Wise in 1976.
Forty-four years on, the former newsreader is still championing the terpsichorean arts in her role as Royal Academy of Dance ambassador.
Since 2017, the HealthCheck UK presenter has been raising awareness for the RAD's Silver Swans project, branded ballet classes aimed at the over-55s.
This week the RAD is putting those classes online in the hope they will encourage older audiences to "unleash their inner dancer".
"It's a series of exercises that anyone can do at any level, that you can do at home in a small personal space," Rippon told BBC News.
"You're not going to be flying across the room like Carlos Acosta – you can do most of them holding on to something solid."
According to Rippon, though, it's not just the body that gets a workout.
"You're having to use your brain as well so it's a mental as well as a physical exercise," she explained.
"It makes you feel good physically, but it makes you feel good psychologically too."
The first online tutorial goes online on Wednesday, with new classes released weekly over the next nine weeks.
All the world's a stage
The closure of the UK's theatres and performing arts venues has left the industry mired in turmoil and uncertainty.
With its base shuttered indefinitely, though, the National Theatre has decided to make some of its older productions accessible to a wider audience.
From 2 April, some productions previously screened in cinemas will be put on YouTube for theatre lovers to watch free of charge.
They include the comedy One Man, Two Guvnors starring James Corden; adaptations of the novels Jane Eyre and Treasure Island; and a production of Shakespeare's Twelfth Night starring Tamsin Greig.
The Hampstead Theatre in north London is also putting some of its plays online, starting this week with its 2016 staging of Mike Bartlett's Wild.
If recent TV dramas Belgravia and The English Game haven't sated your Julian Fellowes cravings, meanwhile, a 2017 recording of his musical version of The Wind in the Willows can also be streamed for free.
Lisa Burger, the National's executive director, said its "varied" programme meant there would be "something for everyone to enjoy from their own homes".
"We will be streaming each production at the same time each week in order to recreate, where possible, the communal viewing experience," she added.
Roxana Silbert, the Hampstead's artistic director, said its own offerings over the next three weeks would give audiences "entertainment, connection and nourishment in a time of uncertainty and isolation".
The show, they say, must go on – something that producer Robert Myles has taken to heart.
He and a group of actors are gathering every Thursday to live stream performed readings of Shakespeare's Complete Works.
So far they have tackled The Two Gentlemen of Verona and The Taming of the Shrew, with the first part of Henry VI to follow later this week.
Sing for your supper
Self-isolation is proving no hindrance to Gareth Malone's new project, an online response to the nationwide closure of communal rehearsal places.
More than 160,000 people took part in the first rehearsal last week on YouTube.
"It is amazing how many people have signed up," said Malone, promising to create something "really wonderful and inspiring".
Those who have got involved have extolled the virtues of being part of what is now a globe-spanning venture.
"Amazing how a bit of singing lifts my spirits," wrote one participant, while another said they were "absolutely loving the choir".
"This is a wonderful idea," wrote another choir member. "Thank you so much Gareth and everyone who is making this possible."
For Angela Rippon, organisations and initiatives like the ones above are in an ideal position to appeal to a largely housebound populace.
"This is a great opportunity to reach a wider audience than they ever have before," she said.
"Millions of us are in lockdown in our own homes and have the chance to do things we never felt we could."
Elton John hosts star-studded iHeart Living Room coronavirus benefit concert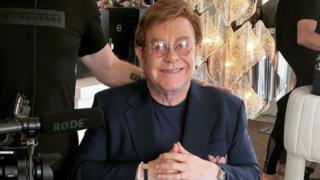 Sir Elton John enjoyed a less than quiet night in on Sunday as he was digitally joined by quarantined stars from around the music world for a virtual coronavirus benefit concert.
The British pop legend hosted the iHeart Living Room Concert For America from his home in Los Angeles.
The online festival featured performances from the likes of Billie Eilish, Dave Grohl and Mariah Carey from their sofas and home studios.
It raised funds for two US charities.
Broadcasting from what he claimed was his only house without a piano, the Rocketman dug out his son's keyboard for a rendition of Don't Let the Sun Go Down on Me, and also serenaded a delighted Lizzo with an a capella snippet of her track Juice.
"Not long ago, there was another infectious disease that was ignored," said Sir Elton.
"Day in and day out, the disease got worse, because we did nothing. Too many forgot about compassion and decency, and so millions and millions of people perished from Aids.
"But this time, we aren't going to let that happen. So, stay home for the ones you love."
The star was criticised online by some afterwards, however, for comparing the Covid-19 pandemic with the spread of Aids in the 1980s and 90s.
'The host with the biggest heart'
Lady Gaga, who did not sing but did wear sunglasses indoors, described him as "the host with the biggest heart" during the one-hour televised special and told viewers to "find joy however you can" during this period of isolation, and to help their "local communities".
Grammy winner Billie Eilish and her brother and musical partner Finneas O'Connell delivered a chilled out version of her breakout hit Bad Guy – precisely one year after its release.
Eilish, who was relaxing on the couch underneath a baseball cap, sang the track's signature electronic synth line.
Just like opening act Alicia Keys before him, Foo Fighter Dave Grohl dedicated his song to the first responders and healthcare professionals who are treating people with coronavirus, which has taken 2,503 lives in the US so far and killed 1,228 people in the UK.
"I'd like to dedicate this song to all the people out there who are on the frontlines," he said when introducing My Hero. "That are doing their best to get us through all of this.
"If you sing that last chorus every time you wash your hands, I think you might be in good shape," joked Grohl.
Fellow rocker Billie Joe Armstrong of Green Day said it was "an honour" to offer up an acoustic rendition of Boulevard of Broken Dreams.
Camila Cabello and boyfriend singer Shawn Mendes are self-isolating together and gave fans a domestic dose of her recent hit My Oh My.
The US-Cuban singer even sang the DaBaby part – in the rapper's absence – after briefly checking the lyrics on her phone.
Manband Backstreet Boys rolled back the years with a performance of their 1999 hit I Want It That Way.
Unlike in the glory days, however, the guys were singing separately, from their respective family homes (with kids popping in and out), and joined together in a WhatsApp/Zoom-style grid – essentially a retro pop version of your post-coronavirus work meetings, but with added Los Angeles swimming pool, courtesy of Nick Carter.
Aside from the host, the UK was represented by Sam Smith, who sang their ballad How Do You Sleep, snapping their fingers for added percussion.
"I don't play an instrument," admitted Smith, adding. "So this is just my voice… I hope that's OK?"
Mariah Carey thanked her twins – aka "Dem Babies" – for "staying patient with me at home and not complaining too much".
She also belted out her 1996 track Always Be My Baby alongside a keyboard player and some remotely placed backing singers, who were beamed in.
The show, which was broadcast on Fox TV and iHeart Radio in the US, raised funds for Feeding America and the First Responders Children's Foundation.
The amount raised was not immediately revealed, but household goods giant Procter & Gamble gave $500,000 (£400,000), which was matched by Fox.
The event filled the gap in the schedule that was left when the iHeart Radio Music Awards were cancelled.
Meanwhile, James Corden is hosting a similar fundraiser from his garage on Monday, with Eilish, Dua Lipa and BTS among those due to join him remotely.
Follow us on Facebook, or on Twitter @BBCNewsEnts. If you have a story suggestion email entertainment.news@bbc.co.uk.
Jack Monroe: Coronavirus cookery for the culinary clueless
Do not be afraid to mix up your ingredients – that is the advice of food writer Jack Monroe, as we all make the most of our store cupboards during the coronavirus lockdown.
The cook, from Southend, Essex, has been sharing some top tips to help people who lack confidence in the kitchen.
The author is well-known for making the most of basic ingredients and says swapping around pulses and vegetables will still lead to a delicious meal.