Simon Cheng: UK media watchdog receives 'China forced confession' complaint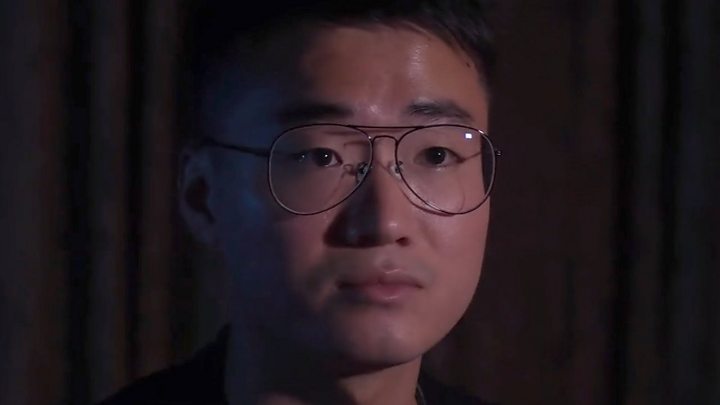 A former employee of the UK's consulate in Hong Kong has filed an official complaint about the broadcast by China's state-run CGTN of a confession he says he was forced to make.
Simon Cheng, a Hong Kong citizen who worked for the UK government for almost two years, was detained for 15 days on a trip to mainland China in August.
Mr Cheng says he was forced to "confess" to soliciting prostitution.
He has complained to the UK broadcasting regulator, Ofcom.
CGTN aired the confession in the UK as evidence of his alleged guilt.
The channel is the international arm of China Central Television (CCTV) and airs on UK platforms including Sky.
Simon Cheng: Former UK consulate worker says he was tortured in China
Mr Cheng denies China's accusation that he was soliciting prostitutes and says police had in fact questioned him about the UK's role in the Hong Kong pro-democracy protests.
What happened?
Mr Cheng says the confession was extracted after he was tortured at a secret location in solitary confinement.
The segment was broadcast on 21 November. A newsreader told viewers he had "acknowledged his violation of the law".
Mr Cheng also told the BBC that he was accused by the Chinese of inciting political unrest in the city.
What's in the complaint?
Mr Cheng, whose current whereabouts is being kept secret, accused the state broadcaster of breaching various sections of Ofcom's rules in relation to privacy, crime and disorder, and impartiality among others.
Section seven of the code states "broadcasters must avoid unjust or unfair treatment of individuals or organisations in programmes".
The next section says "people in a state of distress should not be put under pressure to take part in a programme or provide interviews, unless it is warranted".
"I was under extreme distress and did not voluntarily make the recording," Mr Cheng says in the complaint.
"I was not asked in any way about this news production or broadcast. It was made by police and released by CGTN to exert pressure on me, without any prior contact with me at all."
Ofcom told the BBC: "We have received a complaint about a programme broadcast on CGTN which we are assessing as a priority."
Have there been other cases?
In September, the media regulator said it was investigating whether CGTN broke impartiality rules in its coverage of the Hong Kong demonstrations.
In May, it launched an investigation into a "confession" aired by CGTN of a British investigator.
Press TV, the Iranian state broadcaster's English-language outlet, was fined £100,000 ($129,000) in 2011 for airing an interview with Maziar Bahari, an imprisoned Newsweek journalist, which had been conducted under coercion.
The station had its UK license revoked in 2012 for breaching several broadcasting licence rules over editorial control of the channel.
Newly-discovered Rembrandt work to go on display in Oxford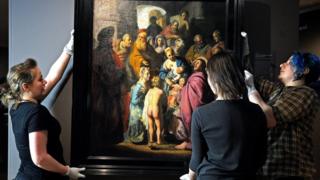 A newly-discovered Rembrandt painting will go on display for the first time, nearly 400 years since it was created.
Let The Little Children Come To Me will be shown at the Ashmolean Museum in Oxford as part of its Young Rembrandt exhibition.
The painting was discovered in 2014 by Amsterdam art dealer and historian Jan Six.
He identified a young man in the painting's background as a self-portrait by Rembrandt.
The exhibition will explore the early years of the artist's work from 1624-34.
Let The Little Children Come To Me is believed to have been painted around 1627-28.
The exhibition will feature 31 paintings by Rembrandt, 13 by his notable contemporaries and a further 90 drawings and prints from international and private collections.
Among those on display will be Rembrandt's earliest known work, The Spectacles Seller (1624-25), which is described by the museum as a "crude, garishly coloured painting by an artist struggling with his medium", as well as Jeremiah Lamenting The Destruction Of Jerusalem (1630), hailed as an "acknowledged masterpiece".
The Young Rembrandt exhibition runs from 27 February until 27 June in the John Sainsbury Exhibition Galleries.
Dot Cotton: Actress June Brown says she has left EastEnders 'for good'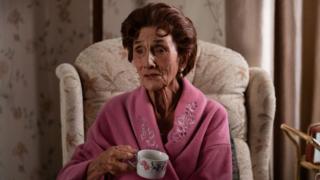 Veteran EastEnders actress June Brown has said she has left her role as much-loved character Dot Cotton after 35 years.
"I've left for good," said the 93-year-old in an interview with podcast Distinct Nostalgia.
She is one of the BBC soap's longest-running characters and has become a firm favourite with viewers.
Her character Dot has not been in an episode since January. An EastEnders spokesman said the "door remains open".
Brown joined the show in 1985, the year it was created.
In the last episode she featured in, aired last month, Dot Cotton – or Dot Branning – left a voicemail message for character Sonia Fowler saying she had moved to Ireland.
Asked by interviewer and former co-star Rani Singh whether EastEnders had put her on a retainer, Brown replied: "I don't want a retainer. I've left. I've left for good.
"I've sent myself to Ireland and that's where she'll stay. I've left EastEnders."
One of EastEnders' best-known stars, Brown was in her late 50s when she joined Albert Square.
Actor Leslie Grantham, who played Dirty Den, suggested her for the role. Until then, Brown's career had incorporated stage, film and television, with appearances in Coronation Street and Doctor Who.
"I think I got it because they thought I was a punctual actress," Brown told the podcast, which aired a special episode to celebrate 35 years of EastEnders.
"I'm not really but I became so. In fact I became so punctual I used to be in an hour before I should be."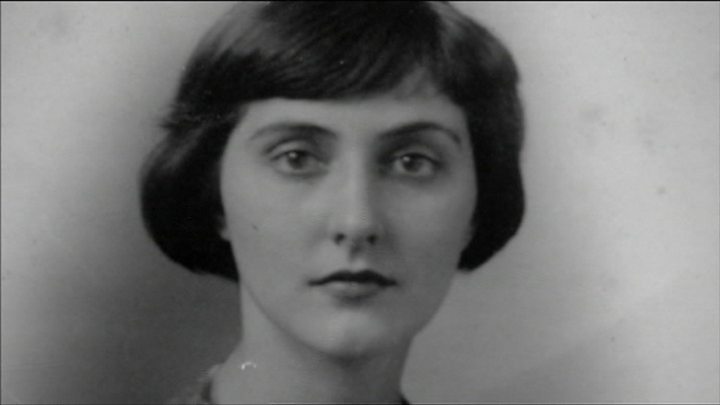 She said it "was a very strange feeling" leaving the soap.
"I was feeling rather down the other day," she said. "I thought, 'what's the matter? Why do I feel so sad?' It's almost as if I've been bereaved.
"I've played two people simultaneously for 35 years. Really Dot wasn't me, but spiritually she probably was."
Brown took a four-year break from the soap between 1993 and 1997
In 2008, Brown became the first actor in a British soap to carry an entire episode alone, with an emotional monologue dictated to a cassette for her screen husband to listen to in hospital following a stroke.
That same year she was made an MBE for services to drama and charity.
Last year, Brown revealed she was losing her sight after being diagnosed with age-related macular degeneration and could no longer recognise her friends.
An EastEnders spokesman said: "We never discuss artists' contracts, however as far as EastEnders are concerned the door remains open for June, as it always has if the story arises and if June wishes to take part."
Caroline Flack: Met refers itself to watchdog over contact with star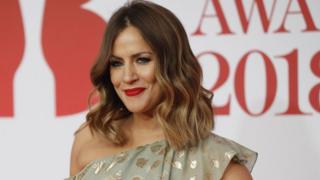 The Metropolitan Police has referred itself to the police watchdog following the death of TV star Caroline Flack.
Scotland Yard's directorate of professional standards (DPS) reviewed all previous contact with Ms Flack, 40, before it made Wednesday's referral.
It was standard practice for a referral to be made when a person who had recent contact with police died, the Met said.
Ms Flack was found dead at her London flat on Saturday as she awaited trial for allegedly assaulting her boyfriend.
An inquest into the former Love Island host's death was opened and adjourned on Wednesday.
A statement from the Met said: "No notice of investigation has been served on any officer and no conduct issues have been identified by the DPS. No officer is on restricted duties or suspended."
An Independent Office for Police Conduct spokesman said: "We will make a decision on the level of our involvement after carefully assessing the information we have received.
"Receipt of a referral does not mean an investigation will necessarily follow."
Ms Flack left her role presenting the ITV2 dating show after being charged with assaulting her partner Lewis Burton in December and was due to stand trial next month.
In an unpublished Instagram post shared by her family, she said her "whole world and future was swept from under my feet" following her arrest.
Ms Flack pleaded not guilty to assault by beating at a court appearance in December, when it was heard her partner did not support the prosecution.
She was released on bail but was ordered to stop any contact with Mr Burton ahead of the trial.
Love Island did not air on Saturday or Sunday but returned on Monday with a tribute to the former X Factor presenter and Strictly Come Dancing winner, who started hosting the programme in 2015.