Sandy Ratcliff: Lung condition and excess morphine killed ex-EastEnders actress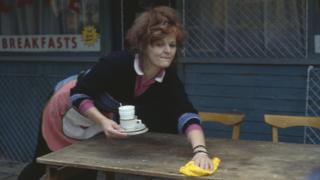 Former EastEnders actress Sandy Ratcliff died after taking an excessive amount of morphine while suffering from two terminal lung conditions, an inquest has heard.
She was one of the BBC soap's original cast members, appearing as cafe owner Sue Osman from 1985 to 1989.
Off-screen she battled a heroin addiction for 20 years, an inquest at Poplar Coroner's Court was told.
Ratcliff died aged 70 in April, in sheltered housing in north-east London.
The actress's first major role was in Ken Loach's Family Life in 1971, in which she played a schizophrenic teenager.
Her EastEnders character Sue Osman contended with cot death and her husband's infidelity before she was sectioned and written out of the BBC soap.
Ratcliff's other TV appearances after EastEnders included an episode of Maigret in 1992, opposite Michael Gambon.
The inquest heard Ratcliff had been discharged from hospital the day before she died and given morphine for pain relief.
Her son, William Palmer, said his mother suffered three strokes in the years leading up to her death – the first taking place shortly after her partner died in 2013.
Giving evidence, he said the stroke had left her with pain in her left arm, for which she was prescribed codeine, but the inquest heard Ratcliff would take more than her prescribed amount for both pain management and "recreational use".
Giving her conclusion, coroner Mary Hassell said Ratcliff was "near to the end" when she was admitted to hospital.
"I don't think the morphine was used to end her life," she said. "She was using it as she had used drugs for many years."
"She died from a combination of two naturally occurring terminal conditions and an excess of morphine."
Follow us on Facebook, on Twitter @BBCNewsEnts, or on Instagram at bbcnewsents. If you have a story suggestion email entertainment.news@bbc.co.uk.
Coronavirus: Singer Niamh McAllister says 'keep your passion alive' in lockdown
A young singer and publican has urged people to keep their "passion alive" to protect their mental health in lockdown, after dealing with the loss of her two sources of income.
Niamh McAllister said she had only just been able to pick up her guitar again after feeling "quite low" with her gigs drying up and her pub and music venue – the Banham Barrel in Norfolk – having to shut.
The 21-year-old, who has struggled with her mental health since she was a young teenager, said she was worried about the impact the coronavirus crisis was having on people in similar situations.
She said: "Try to remember that you're not in this alone. Just try to find new hobbies or things that distract you. Just something to interest you and keep your passion alive."
Lord Hall: People have turned to BBC 'in their droves' during pandemic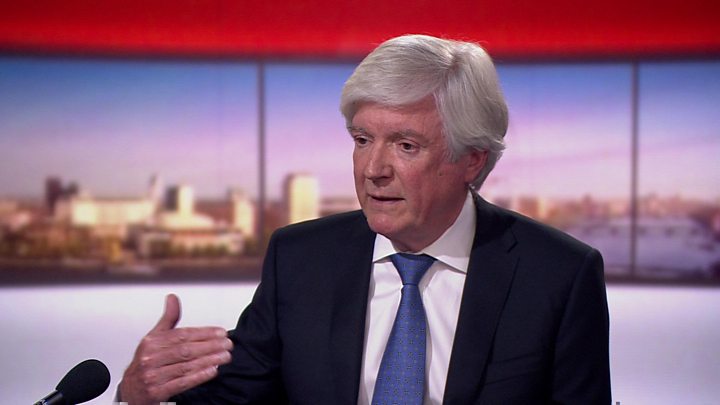 People have "turned to the BBC in their droves" in recent weeks, according to the BBC's director general.
Speaking to the BBC's Andrew Marr, Tony Hall said 94% of the UK accessed the BBC for "information, entertainment or education" during the pandemic.
He said he "took his hat off" to staff who had created "excellent" content, even though 92% of the workforce were now working from home.
The BBC could lose £125m in revenue because of coronavirus, he added.
Lord Hall also said he recognised the need for a "big debate" about the future of the BBC and the way it is funded.
The director general, who is set to leave his role in the summer, said younger audiences had been coming back to the BBC during the lockdown, with shows such as Normal People becoming huge hits.
The corporation said that 94% of the British public used the BBC in the third week of March when social distancing began in the UK – with 86% of younger people between the ages of 16-34 also accessing BBC content.
Lord Hall also credited this success to its "biggest ever educational programme", as well the launch of Culture in Quarantine – an arts and culture service which Lord Hall says keeps "the arts alive in people's homes and support the arts sector during challenging times".
He was pressed on plans to bring back BBC Three as a regular TV channel, four years after it was taken off air and moved online to save costs.
Lord Hall said the initial plans had been a "fantastic, creative success" and showed "the importance of developing our iPlayer, developing our sounds and making sure that our new services are in tip top position for young audiences to come to".
However, he acknowledged that the broadcaster could potentially lose £125m as a result of coronavirus, meaning it would have to spend "wisely" in future.
The BBC is facing financial pressure after being forced to delay the end of the free TV licence scheme for all over-75s.
It also had to postpone plans to cut 450 jobs, and said there was uncertainty around commercial revenues.
Lord Hall said that he hopes in future, there will be a "big debate" about how the BBC should be funded post 2027, when the current charter comes to an end.
He said: "The question is, what's the best way of funding that universally so that everybody, this great democratic idea, gets something we can all share.
"I hope even when I've left I can take part in that debate and we should look at the easiest way to pay, learn from what happens in other countries, are there fairer ways to pay, but the underpinning for all that is the idea of a BBC which is providing something for everyone."
It comes after a public consultation was launched by the government on whether failure to pay for a TV licence should stop being a criminal offence, with the BBC warning it would cost the corporation more than £1bn over five years.
Tony Hall: The BBC should have roots across the nation
The BBC's Director General Tony Hall has said that a greater proportion of what the corporation does should come from outside London.
During an interview on the Andrew Marr show, Lord Hall also highlighted the role the BBC has played in supporting and providing information to the public during the Covid-19 crisis – in particular local radio stations which have been helping communities across the country.