Samira Ahmed wins BBC equal pay tribunal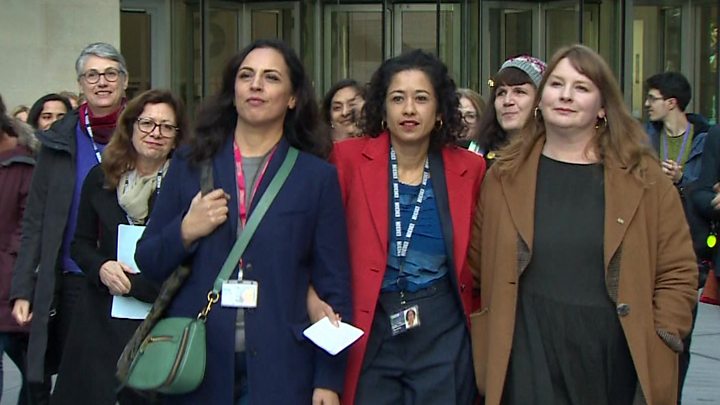 Presenter Samira Ahmed has won the employment tribunal she brought against the BBC in a dispute over equal pay.
Ahmed claimed she was underpaid by £700,000 for hosting audience feedback show Newswatch compared with Jeremy Vine's salary for Points of View.
The unanimous judgement said her work was like that done by Vine, and the BBC had failed to prove the pay gap wasn't because of sex discrimination.
Ahmed said she was "glad it's been resolved".
"No woman wants to have to take action against their own employer," she said, adding: "I love working for the BBC."
In response, the BBC insisted the pay for Ahmed and Vine "was not determined by their gender".
How to know if you're getting equal pay
Describing Ahmed as "an excellent journalist and presenter", the corporation added: "We regret that this case ever had to go to tribunal."
The BBC said it would "work together with Samira to move on in a positive way".
Ahmed thanked the National Union of Journalists (NUJ), her legal team and "everyone – all the men and women who've supported me and the issue of equal pay". She added: "I'm now looking forward to continuing to do my job, to report on stories and not being one".
Ahmed had told the tribunal, which ended in November, that she "could not understand how pay for me, a woman, could be so much lower than Jeremy Vine, a man, for presenting very similar programmes and doing very similar work".
Vine got £3,000 per episode for BBC One's Points of View between 2008 and 2018. Ahmed was paid £440 for Newswatch, which is shown on the BBC News Channel and BBC Breakfast.
'Glint in the eye'
The tribunal judgement said: "The difference in pay in this case is striking. Jeremy Vine was paid more than six times what the claimant was paid for doing the same work as her."
The BBC had argued that Ahmed and Vine performed "very different roles". But the judgement said the corporation did not produce evidence to prove the different levels of pay were based on differences in the presenters' roles, programmes and profiles.
The judgement did not say whether Ahmed will receive the compensation she said she was owed.
The judgement stated: "We do not accept that the lighter tone of Points of View meant that the claimant's work and that of Mr Vine were not broadly similar."
It added that despite the BBC saying the presenter of Points of View "needed to have 'a glint in the eye' and to be cheeky, we had difficulty in understanding what the respondent meant and how that translated into a 'skill' or 'experience' to do a job.
"The attempts at humour came from the script. Jeremy Vine read the script from the autocue. He read it in the tone in which it was written. If it told him to roll his eyes he did. It did not require any particular skill or experience to do that."
The BBC's legal team said Ahmed was paid the same as her Newswatch predecessor Ray Snoddy, who they said was her pay comparator, rather than Vine.
But Ahmed's closing submissions criticised the corporation's witnesses and evidence.
She also said BBC witnesses were prepared to give evidence "about matters that they had little knowledge of" and that the corporation had "repeatedly sought to make other unfair comments" about her credibility.
'Huge implications'
Analysis by Amol Rajan, BBC media editor
This is a complex judgement with potentially huge implications.
The position of the Tribunal is that all the arguments brought by the BBC to justify the difference in pay between Samira Ahmed and Jeremy Vine were insufficient.
In other words, the claim that Vine had greater profile, that Entertainment requires different skills to News, and that Points of View reaches more people didn't persuade the Tribunal that the difference is pay was justified.
The burden of proof fell on the BBC to show that that difference did not amount to sex discrimination. It failed.
The BBC and broadcasters across the globe have long thought it a common sense assertion that profile, fame, or stardust – call it what you will – justifies different pay rates for presenters who do similar work.
This case has exploded that proposition. It will encourage many other women to bring similar cases.
The BBC has made significant progress in recent years on both the gender pay gap across the organisation and some cases of equal pay.
But its journey on this issue, where it has sought to set a national example, is only just beginning.
National Union of Journalists (NUJ) general secretary Michelle Stanistreet said the union would seek the full back pay for Ahmed.
"We will be meeting with the BBC next week and hopefully common sense will prevail, this will be resolved, Samira gets her settlement and she can move on," she said.
It was "an incredibly brave decision on Samira's part" to bring the case to tribunal, Stanistreet told reporters. "You couldn't get a more emphatic win, a resounding victory," she said.
Around 20 similar cases are "in the pipeline of the actual tribunal system", with "as many as 70" unresolved at the time of the hearing, she added.
The BBC said it has been working hard to resolve these, adding the number of cases is significantly lower now.
"Some of them have already been satisfactorily resolved. But there are still more to sort out," she said.
Figures from broadcasting and beyond tweeted their support after the judgement was released.
Stressing its commitment to equality and equal pay, the BBC said presenters – both female and male – had always been paid more for Points of View than Newswatch.
The corporation said: "We're sorry the tribunal didn't think the BBC provided enough evidence about specific decisions – we weren't able to call people who made decisions as far back as 2008 and have long since left the BBC."
It added that in the past its pay framework "was not transparent and fair enough" and that "we have made significant changes to address that".
"We're glad this satisfied the tribunal that there was sufficient evidence to explain her pay now."
In addition to Newswatch, Ahmed also co-hosts BBC Radio 4 arts show Front Row.
Follow us on Facebook, or on Twitter @BBCNewsEnts. If you have a story suggestion email entertainment.news@bbc.co.uk.
Pop Smoke: Rapper shot dead in apparent robbery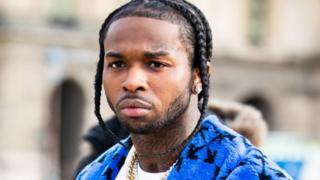 The US rapper Pop Smoke has been killed, after an apparent armed robbery.
Los Angeles Police told Radio 1 Newsbeat a man was shot at his home and later pronounced dead, although didn't confirm his identity.
But his label Republic Records says it's "devastated by the unexpected and tragic loss of Pop Smoke".
Police responded to reports of a robbery – and man was then taken to hospital and later pronounced dead.
Officers confirmed that an unknown number of suspects entered a property in West Hollywood.
They got a call about a robbery at 04:55 PST and were at the scene six minutes later.
Police say no suspects have been identified and no arrests have been made.
They also denied reports that a man was held at the scene but say one suspect is thought to have had a handgun.
Pop Smoke was signed to Republic Records which has said in a statement "our prayers and thoughts go out to his family, friends and fans, as we mourn this loss together."
When reports first appeared in the US tributes began flooding in for Pop Smoke, real name Bashar Barakah Jackson – including from friends.
Pop Smoke had a breakout hit with Welcome to the Party in 2019 – which led to him being singled out as an artist to watch this year by BBC Radio 1Xtra, on the station's Hot For 2020 list.
The station said he "possessed the air and cadence of a rapper who has been in the game for a decade or two longer than his actual age".
The track ended up being remixed by both Nicki Minaj and Skepta.
Just last week Pop Smoke was a guest on DJ Target's show on 1Xtra.
He was in the middle of several US tour dates and was due to come to the UK in April – with shows scheduled in London, Manchester and Birmingham.
50 Cent was one of many rappers, DJs and producers that paid tribute on social media, as did rapper Quavo, who Pop Smoke had collaborated with.
Last year he spoke about wanting to make music that inspires children who are growing up in poverty.
He told The Face: "I make music for that kid in the hood that's gotta share a bedroom with like four kids – the young kids growing up in poverty.
"I make music for kids like that who know they just gotta keep going, that there's a better way. That's who I really make it for."
Follow Newsbeat on Instagram, Facebook, Twitter and YouTube.
Listen to Newsbeat live at 12:45 and 17:45 weekdays – or listen back here.
Jimmy Tarbuck: Comedian reveals prostate cancer diagnosis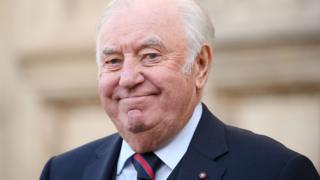 Comedian Jimmy Tarbuck has revealed he has been diagnosed with prostate cancer.
The veteran Liverpudlian comic told ITV's Good Morning Britain he would "try and beat it".
Tarbuck said he received the diagnosis the day after his 80th birthday earlier this month.
"Right now I feel great. I'm on the telly and I'm having a good time," he said, adding that the cancer had not spread.
He was inspired to get checked by Sir Rod Stewart, who announced in September that he had received treatment for prostate cancer.
"All men out there watching, and all wives, get your husbands to go for the tests. I think after 50, just have a test, let them have a look at you," Tarbuck said.
"You will be relieved and be with your families for extra years."
He said men can be too "shy" to get tested, but urged them not to put it off. "Boys, go. It is embarrassing. Especially when the fella said to me 'We're going to give you the thumbs up'. I said 'I hope not'. He roared laughing."
Speaking about his treatment, he added: "I'm having injections and taking tablets and then I take a yearly cycle."
Tarbuck, who rose to fame in the 1960s and was known for hosting variety shows including Sunday Night At The London Palladium and Live From Her Majesty's, is now planning to go on tour.
Follow us on Facebook, or on Twitter @BBCNewsEnts. If you have a story suggestion email entertainment.news@bbc.co.uk.
Brits 2020: Pop meets politics


Highlights from this year's ceremony included performances from Billie Eilish, Dave, Lizzo and Stormzy.



Source link