Rhys Ifans takes to stage in Wales for 'special' homecoming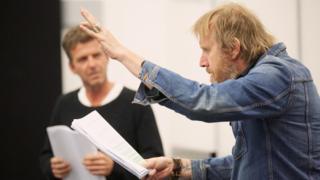 Rhys Ifans is back on the stage in Wales for the first time in more than 20 years and says he is "loving being home".
Ifans stars in On Bear Ridge, a co-production between National Theatre Wales and the Royal Court theatre.
It is being staged at the Sherman in Cardiff before transferring to London next month.
Notting Hill and Twin Town star Ifans said it was "special" to be back in Wales.
It is his first appearance on stage at the Sherman, a theatre he knows very well from the stalls.
"I've performed in the bar a few times, back in the day" he jokes. "I've seen many, many plays here. It's great to be back on stage in Wales, the last time was at Theatr Clwyd more than 20 years ago – I can't lie, I'm loving being home."
Ifans plays butcher John Daniel in a shop in an imagined village in Wales, deserted by war. He shares his remote existence with Noni, played by Cardiff-born actress Rakie Ayola.
Characters in On Bear Ridge include a slaughterman who lives with the family and a captain who has lost his battalion "and all sense of what it is to be a human being".
"When I first read it, I described it as a 'quantum play' – it happens simultaneously in the past, present and future," said Ifans.
"It's about how we engage with memory, utilise memory to sooth, stimulate or to sedate and what a frail entity memory is, how undependable it is often, how we use it to tell stories and continue trauma.
"But it's also very vivid, vital, emotional and very funny, human and very relatable".
Ayola said she fell in love with the play a few pages in and her return to the Sherman will also mark her 30th year as an actor, in her home city.
"I'm getting waves of nostalgia that almost knock me off my feet, it's lovely."
Writer Ed Thomas – co-creator of BBC Wales TV crime drama Hinterland – based the play – a "tragic farce" on memories of his childhood and family at Penwyllt in the upper Swansea valley.
"The play is a narrative based on themes I've been obsessed with – identity, memory, absurdist humour, resilience and joy," he says.
"Theatre's where I started and theatre's the most fertile place to mess around with shape. Hinterland was a police genre, and you stray away from those genre rules at your peril, but with a play you can be far more playful…it doesn't have to follow the accepted rules, it's freer.
"And also the world is pretty bonkers at the moment so it felt if I didn't write it now, I'd always find an excuse not to."
Ifans, 52, said he was very affected by the writing and knew he wanted to do it.
"It feels special to me because I grew up with Ed's writing – The House of America – I would have watched his plays in this theatre," he said.
"So it's amazing he's had such a long sabbatical – I believe he had to buy a shed to write this play!"
Thomas confirms the shed – and that the play was written in long-hand "because it still feels like me". "There's a lot of paper in my shed, I may have to burn some of the early drafts."
Ifans believes it speaks beyond Wales.
"To take this play, which has a Welsh voice but international eyes on a dawn raid over the border is a wonderful feeling," he said. "Although the voices in this play are Welsh, the themes are human."
On Bear Ridge is at the Sherman in Cardiff until 5 October and then at the Royal Court Theatre, London from 24 October to 23 November.
Pop Smoke: Rapper shot dead in apparent robbery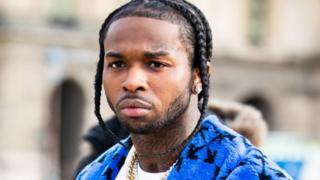 The US rapper Pop Smoke has been killed, after an apparent armed robbery.
Los Angeles Police told Radio 1 Newsbeat a man was shot at his home and later pronounced dead, although didn't confirm his identity.
But his label Republic Records says it's "devastated by the unexpected and tragic loss of Pop Smoke".
Police responded to reports of a robbery – and man was then taken to hospital and later pronounced dead.
Officers confirmed that an unknown number of suspects entered a property in West Hollywood.
They got a call about a robbery at 04:55 PST and were at the scene six minutes later.
Police say no suspects have been identified and no arrests have been made.
They also denied reports that a man was held at the scene but say one suspect is thought to have had a handgun.
Pop Smoke was signed to Republic Records which has said in a statement "our prayers and thoughts go out to his family, friends and fans, as we mourn this loss together."
When reports first appeared in the US tributes began flooding in for Pop Smoke, real name Bashar Barakah Jackson – including from friends.
Pop Smoke had a breakout hit with Welcome to the Party in 2019 – which led to him being singled out as an artist to watch this year by BBC Radio 1Xtra, on the station's Hot For 2020 list.
The station said he "possessed the air and cadence of a rapper who has been in the game for a decade or two longer than his actual age".
The track ended up being remixed by both Nicki Minaj and Skepta.
Just last week Pop Smoke was a guest on DJ Target's show on 1Xtra.
He was in the middle of several US tour dates and was due to come to the UK in April – with shows scheduled in London, Manchester and Birmingham.
50 Cent was one of many rappers, DJs and producers that paid tribute on social media, as did rapper Quavo, who Pop Smoke had collaborated with.
Last year he spoke about wanting to make music that inspires children who are growing up in poverty.
He told The Face: "I make music for that kid in the hood that's gotta share a bedroom with like four kids – the young kids growing up in poverty.
"I make music for kids like that who know they just gotta keep going, that there's a better way. That's who I really make it for."
Follow Newsbeat on Instagram, Facebook, Twitter and YouTube.
Listen to Newsbeat live at 12:45 and 17:45 weekdays – or listen back here.
Jimmy Tarbuck: Comedian reveals prostate cancer diagnosis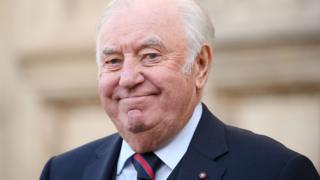 Comedian Jimmy Tarbuck has revealed he has been diagnosed with prostate cancer.
The veteran Liverpudlian comic told ITV's Good Morning Britain he would "try and beat it".
Tarbuck said he received the diagnosis the day after his 80th birthday earlier this month.
"Right now I feel great. I'm on the telly and I'm having a good time," he said, adding that the cancer had not spread.
He was inspired to get checked by Sir Rod Stewart, who announced in September that he had received treatment for prostate cancer.
"All men out there watching, and all wives, get your husbands to go for the tests. I think after 50, just have a test, let them have a look at you," Tarbuck said.
"You will be relieved and be with your families for extra years."
He said men can be too "shy" to get tested, but urged them not to put it off. "Boys, go. It is embarrassing. Especially when the fella said to me 'We're going to give you the thumbs up'. I said 'I hope not'. He roared laughing."
Speaking about his treatment, he added: "I'm having injections and taking tablets and then I take a yearly cycle."
Tarbuck, who rose to fame in the 1960s and was known for hosting variety shows including Sunday Night At The London Palladium and Live From Her Majesty's, is now planning to go on tour.
Follow us on Facebook, or on Twitter @BBCNewsEnts. If you have a story suggestion email entertainment.news@bbc.co.uk.
Brits 2020: Pop meets politics


Highlights from this year's ceremony included performances from Billie Eilish, Dave, Lizzo and Stormzy.



Source link