Remoulade Sauce is a creamy, tangy, and spicy Southern condiment. It is a favorite for salad dressing, the perfect dab on baked or fried goodies, and a dipping sauce for party appetizers! This remoulade recipe is super easy and enjoys the simplest ingredients.
This tasty condiment with mayonnaise, mustard, and garlic is even more delectable after Immafying it with some relish and Creole seasoning. So if you've been looking for a holiday party or weekend game day sauce to go with your appetizers, this is it!
My version of this sauce has fewer and simpler ingredients, yet it definitely hits the spot. Creole mustard and Creole seasoning give it an authentic Southern flavor. And even better? No blender required! Just mix it all in a bowl, and you're good to go.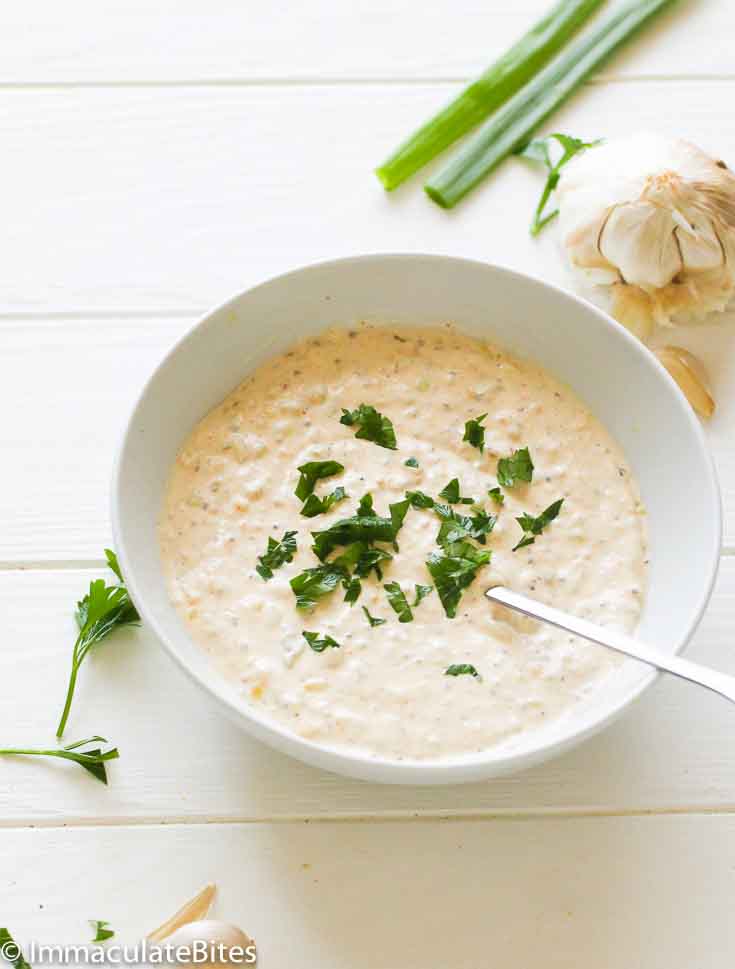 What Is Remoulade Sauce?
Remoulade has its roots in French cuisine. But it was later adopted by Americans, spiced up a bit, and turned into a household condiment, especially in the Southern US. French remoulade is mayo-based with herbs, pickles, and anchovies, closely resembling tartar sauce.
On the other hand, the Southern version is spicier than the French version. Additionally, the Louisiana style has a few variations, including basic ingredients: mayo, celery, horseradish, and hard-boiled eggs.
Recipe Ingredients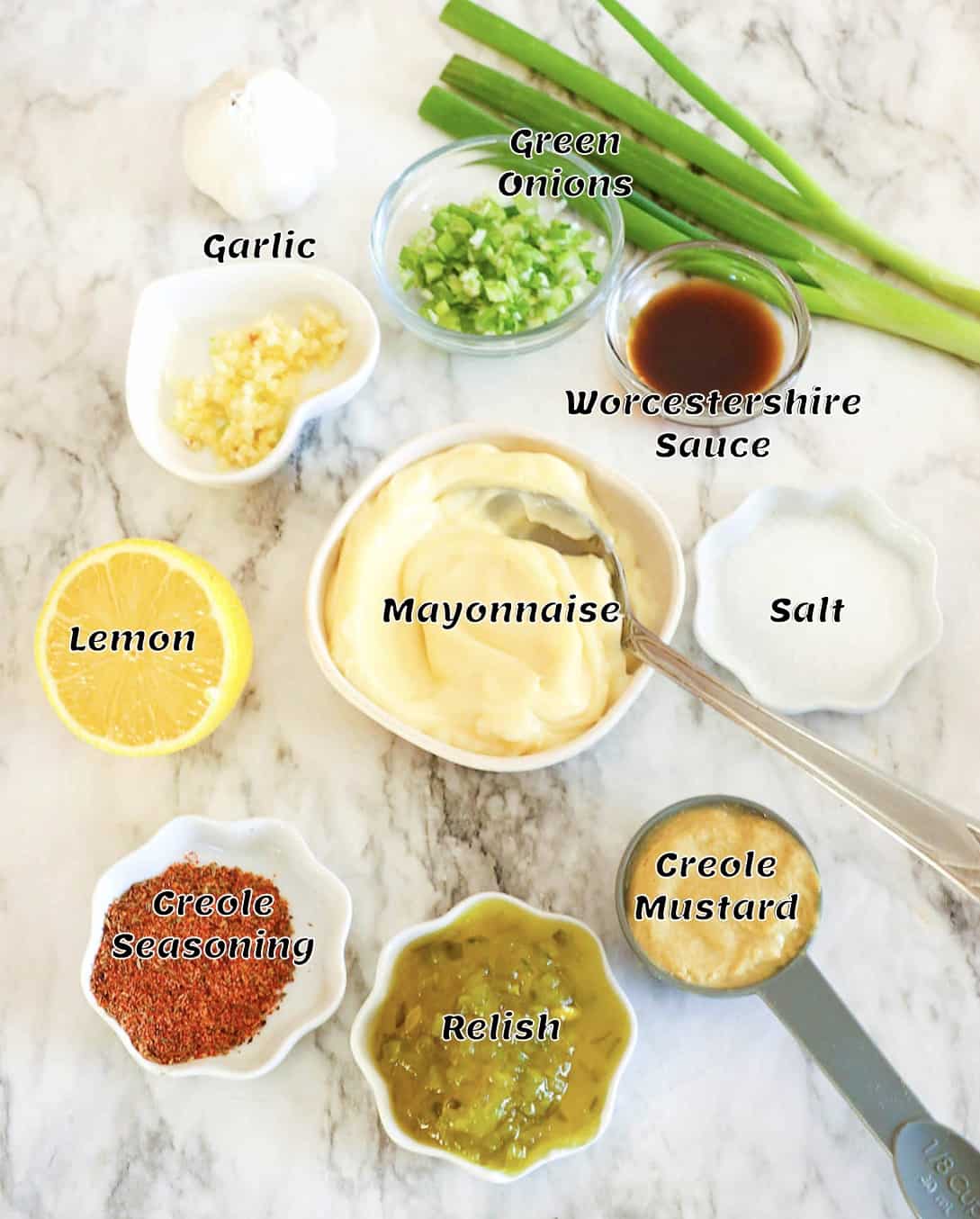 Mayonnaise – For best results, make sure to choose high-quality mayo. However, you can make it even better with homemade mayo. 😉 If you need a mayonnaise substitute, I've got you covered.
Garlic – Fresh minced garlic in this Louisiana-style remoulade gives it a more intense flavor than garlic powder. However, if that's what you have, garlic powder will do the trick.
Lemon Juice – It adds a refreshing citrusy zing to our homemade remoulade. But for quick substitutes, pickle juice or white wine vinegar works well. 😉
Creole Mustard – I opted for this spicy mustard to capture the authentic flavor of remoulade dressing. But don't worry if all you have is regular yellow mustard because it will be fine.
Hot Sauce – It gives the right amount of heat to tickle your taste buds. Tobasco, Texas Pete, Tapatío, and store-brand hot sauces all work fine. You can even use sriracha or your favorite homemade hot sauce.
Relish – Ramp up the flavor factor with the perfect balance of sweet and tart. If you don't have relish on hand, you can swap it out with pickles, capers, or even green olives (dice them, and no one will know 😉).
Green Onion – This beautiful garnish adds a mild oniony flavor to your dipping sauce.
Worcestershire Sauce – It's an all-purpose flavor enhancer with soy sauce, tamarind, and anchovies, making it great for sauces and marinades.
Creole Seasoning – Southern remoulade sauce wouldn't be complete without this classic seasoning. You can use a store-bought blend or make your own Creole seasoning.
How to Make Remoulade Sauce

Mix and Chill
Mix Well – Mix all the ingredients in a medium bowl until everything is fully incorporated. (Photos 1-2)
Refrigerate – Store it in a sealed container and refrigerate until you're ready to party.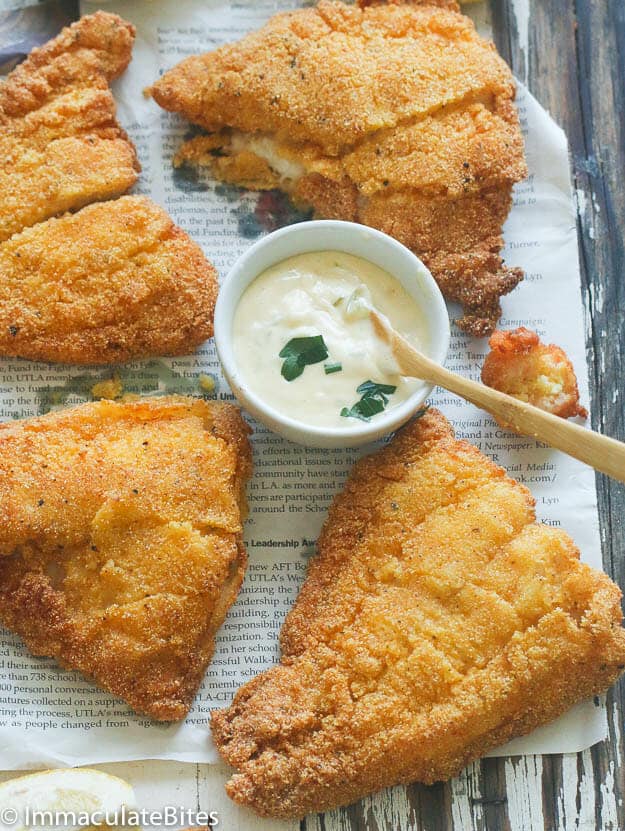 Recipe Variation
Sweet and Spicy – Too spicy for you? A few sprinkles of sugar or a tablespoon of honey is all you need to enjoy our sauce with a bit of sweetness without leaving out the spiciness altogether.
Savory – Fresh chives, tarragon, parsley, and dill are some of my favorite herb additions that give this recipe a French twist.
Vegan Version – Swap Worcestershire out with soy sauce, and you'll have a vegetarian delight. Replace the mayo with hummus for an easy vegan twist.
Tips and Tricks
If you're a fan of horseradish, you can always add about a teaspoon of it.
Chill your remoulade before serving so it has time to thicken.
Serving and Storage Instructions
This sauce is out-of-this-world and gets a thumbs-up from everyone. Therefore, doubling the recipe makes it a convenient condiment to have on hand when the need arises. You'll thank me later. 😉
Store – You can store our remoulade sauce in a clean and dry sealed jar or any airtight container.
Refrigerate – It will stay fresh in the fridge for two weeks. 
Note: I don't recommend freezing Remoulade Sauce because of the mayo. It tends to separate once frozen and may become too watery and yucky after thawing.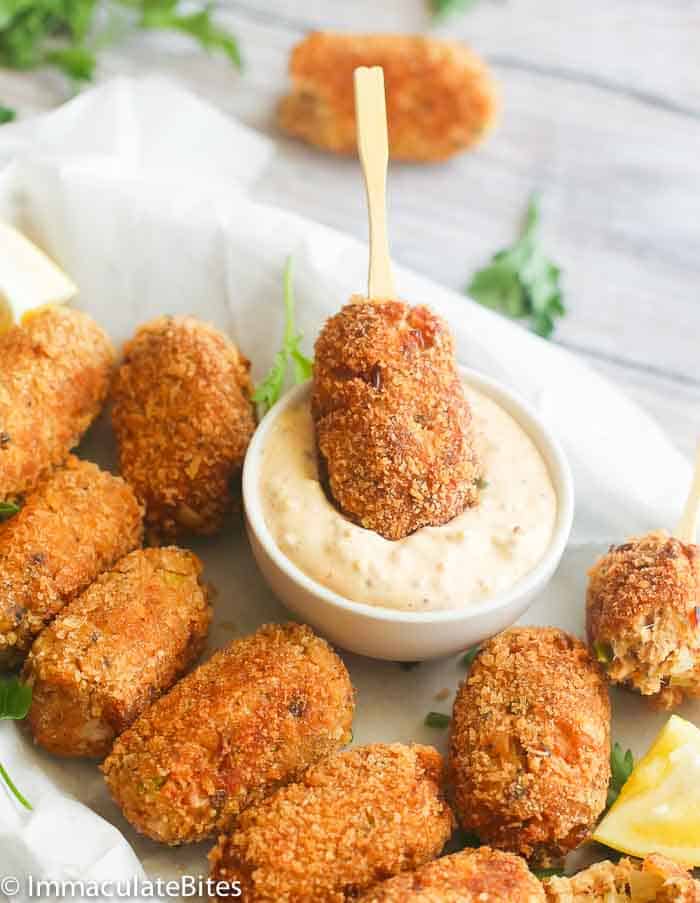 FAQs
What do you eat with remoulade sauce?
This sauce is pretty versatile; you can use it as a dipping sauce or dressing. It goes well with fried or baked goodies like baked chicken tenders, salmon croquettes, and even steamed veggies like carrots and broccoli.
How do you describe remoulade sauce?
It's a creamy, spicy, and tangy sauce similar to tartar sauce. But this one is more savory and a little spicier because of the Creole Seasoning and hot sauce.
What's the difference between aioli and remoulade?
Aoili is mayo with garlic. But you can use aoli to make remoulade sauce. Yum!
What to Serve With Remoulade Sauce
It's the ultimate sauce or dip for fried veggie treats such as fried pickles and fried okra, as well as meaty goodies like Southern fried catfish and baked crispy chicken wings.
You can even drizzle it on a salad or slather it on sandwiches like Shrimp Po' Boy and chicken sandwiches. Oh yes!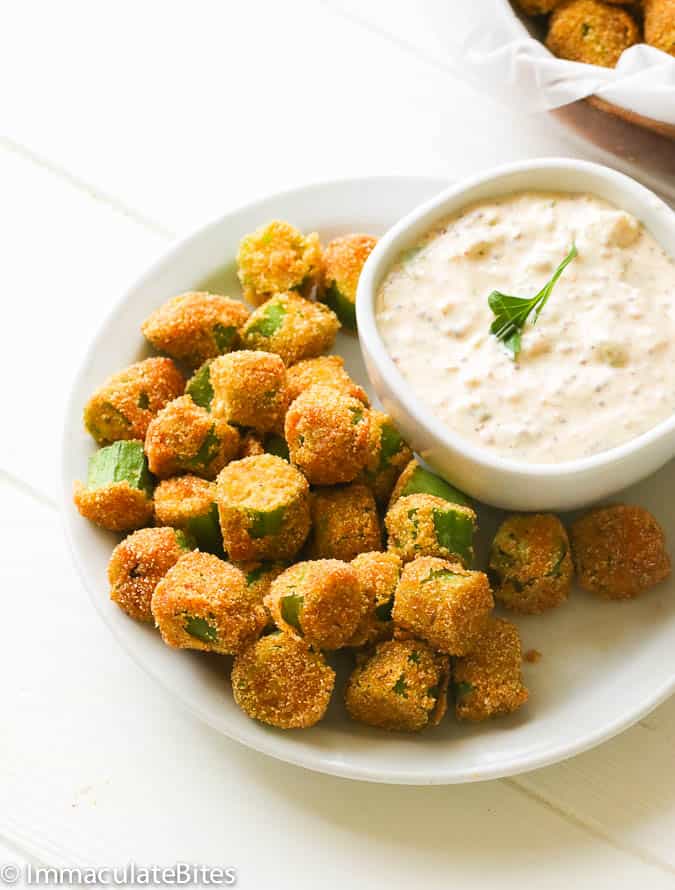 More Drool-Worthy Sauce Recipes to Try
Homemade Tartar Sauce
Tzatziki Sauce
Chimichurri Sauce
Homemade Buffalo Sauce
Caribbean Pepper Sauce
Cranberry Sauce
Watch How To Make It
This blog post was first published in February 2018 and has been updated with additional tips, new photos, and a video.
Remoulade Sauce
A creamy, tangy, and spicy Southern condiment that's a favorite for salad dressing, the perfect dab on baked or fried goodies, and a dipping sauce for party appetizers! This remoulade recipe is super easy and enjoys the simplest ingredients.
Makes one cup of remoulade sauce
Prep: 10 mins
Cook: 5 mins
Total: 15 mins
Southern
Tips & Notes:
If you're a fan of horseradish, you can always add about a teaspoon of it.

You may substitute Creole mustard

 

with any whole-grain mustard.

You can always process all the ingredients in a food processor if you prefer a smoother consistency.

Chill for a few hours or overnight before serving them up.

Please keep in mind that nutritional information is a rough estimate and can vary greatly based on products used in the recipe.
Nutrition Information:
Serving: 1tablespoon| Calories: 7kcal| Carbohydrates: 2g (1%)| Protein: 1g (2%)| Fat: 1g (2%)| Saturated Fat: 1g (6%)| Polyunsaturated Fat: 1g| Sodium: 2mg| Potassium: 49mg (1%)| Fiber: 1g (4%)| Sugar: 1g (1%)| Vitamin A: 121IU (2%)| Vitamin C: 8mg (10%)| Calcium: 10mg (1%)| Iron: 1mg (6%)
Reader Interactions

Credit: Source link