Remembrance Sunday: Actors to 'wage peace' in 24-hour theatre marathon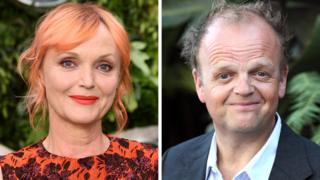 A non-stop 24-hour performance will see actors including Toby Jones and Miranda Richardson speak the words of 100 peace workers for Remembrance Sunday.
24 Hours of Peace has been created from interviews with community and charity workers, ex-Armed Forces personnel, religious leaders and former neo-Nazis.
It will be staged at the Royal Exchange theatre in Manchester from 11:02 GMT on Sunday.
The 24 professional actors also include Julie Hesmondhalgh and Liz Carr.
Hesmondhalgh is known for Broadchurch and Coronation Street, while Carr stars in Silent Witness. Don Warrington (Death In Paradise), Mina Anwar (The Thin Blue Line), Maggie Steed (EastEnders), Adjoa Andoh (Casualty) and Steffan Rhodri (Gavin & Stacey) will also take part, joined by a 24-strong community ensemble.
The marathon show has been put together by Neil Bartlett, former artistic director of the Lyric Hammersmith theatre, who has spent three years interviewing people involved in working towards peace.
"I asked them all the simple question – what does this day, when we're supposed to be reflecting on war and peace, what does this day mean to you?
"And out of those 100 completely different answers, I've created the text of this show."
Bartlett travelled the UK interviewing figures including Nigel Bromage, who joined the far right at 15 and now helps people who want to leave; three-time Nobel Peace Prize nominee Scilla Elworthy; Jonathan Powell, Tony Blair's chief negotiator in Northern Ireland; and "honour" abuse campaigner Jasvinder Sanghera.
He spoke to 16 former members of the Armed Forces; ex-IRA member Patrick Magee and Jo Berry, the daughter of one of his victims; an imam in Rochdale and a priest in Salford; an aid worker with experience in Somalia, South Sudan and Syria; and a community safety officer in Blackpool.
His 100 interviewees represent the 100 years since the first Armistice Day.
"I've come out of it with hope," he says. "If we want to choose peace – by which I mean reconciliation, de-escalation, negotiation – we already have all the tools and all the expertise in this country.
"If we want to know how to start solving the problems we face – whether that's catastrophic rises in hate crime figures to foreign policy questions to disarmament questions – we have the thinking, we have the thinkers, we have a century of experience. There is every reason for hope, if only we would ask the right people."
The performance will begin after Sunday's two minutes' silence. It will be free to watch live, with people invited to pop in during their shopping, on the way back from a night out or on their way to work on Monday. It will also be broadcast live on the radio on Resonance FM.
Most of the performers will make a few appearances throughout the 24 hours. Hesmondhalgh, for example, is scheduled for two stints on Sunday evening before doing the 05:30 slot and then returning at 10:00.
Groundhog Day?
Bartlett has put himself in for 03:30-04:30. "I felt if I was going to call on both some of my very distinguished friends in the business, I had to be able to say to them, I'm doing the graveyard shift," he says.
While his 237,000-word script is all about peace, he says he is not trying to shift the focus of Remembrance Day and the two minutes' silence from the commemoration of those who have died in conflicts.
He says he wants to ask whether it is "meant to be like Groundhog Day, that we always return to the same point". The silence was "always conceived of as a hinge moment", he believes.
"Some people say that's why it's two minutes – one minute to look back and one minute to look forward.
"Life stops. We reflect. Do we then go back to where we were and pretend those two minutes never happened, or do those two minutes change us in some way? Do they charge us to do something different?"
Follow us on Facebook, or on Twitter @BBCNewsEnts. If you have a story suggestion email entertainment.news@bbc.co.uk.
Coronavirus: The Archers to reflect global outbreak in May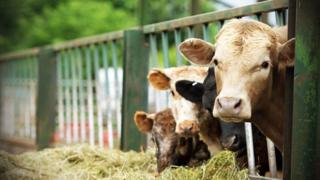 The BBC has revealed that its long-running BBC Radio 4 soap The Archers will have its first coronavirus-related storyline in early May.
Recording is typically done weeks in advance of broadcast, meaning writers have so far been unable to reflect the rapidly evolving pandemic on the show.
Producers said they wanted listeners to be able "to go to Ambridge in the usual way for as long as possible" .
Episodes from 4 May will reflect the coronavirus outbreak in Ambridge.
Producers said the soap will feature fewer interacting characters "sharing more of their private thoughts with the listener" – a reflection of the social distancing taking place across the UK.
Tough measures to tackle the spread of coronavirus across the UK, including a ban on public gatherings of more than two people and the closure of shops selling non-essential goods, were introduced last week.
The number of people who have died with the virus in the UK has reached 1,228 – an increase of 209 since Saturday.
Temporary changes to The Archers will see the show cut back to four episodes a week and a shorter weekend omnibus.
Voice actors will record the forthcoming episodes from their homes, rather than busy studios, in order to protect the numerous cast and crew.
Jeremy Howe, editor of The Archers – which has been running for 70 years – said the production team had "worked tirelessly" to keep the show on air and reflect the current global crisis.
He added: "Whilst coronavirus might be coming to Borsetshire, listeners can still expect The Archers to be an escape, and the residents to be bickering and as playful and witty as ever.
"The Archers will sound different and will be simpler, but I think keeping the show running and giving us all an opportunity to hear from beloved characters will be a treat loyal listeners will want and need."
Coronavirus: YouTube stars urge fans to stay at home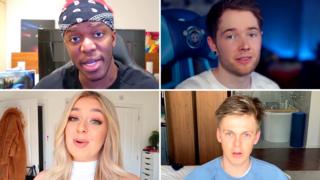 More than 100 YouTube stars have recorded a video message urging their fans to "stay home" during the coronavirus outbreak.
The video is introduced by entertainer JJ Olatunji, known online as KSI, who has more than 21 million subscribers on the video clip platform.
"We're here looking to spread awareness on the UK government's current advice to stay at home," he says.
The 20-minute video will be posted on YouTube at 16:00 BST.
As well as YouTube stars, footballer Rio Ferdinand, singer Jess Glynne, and Love Island narrator Iain Stirling are among well-known faces to appear.
The idea for the montage came from the Sidemen, a group of British video-makers, which KSI is part of.
Their joint channel has 7.6 million subscribers on YouTube.
The group says any advertising revenue earned from the video will be "donated to the NHS".
'Memes should be archived in a museum'
Internet memes are being widely circulated as people around the world are staying indoors.
Memes, a type of media that spreads and goes viral online, are often amusing but could they have broader cultural significance?
Should an image of a woman shouting at a cat or a hefty sheep be archived in a museum? Arran Rees from the University of Leeds thinks so.
Produced and edited: Ian Casey
Camera: James Wignall