Remembering the entertainment and arts figures we lost in 2019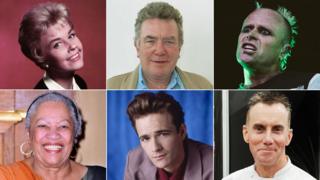 As the year draws to a close, it is time to remember the figures from the worlds of arts and entertainment who died in 2019. Here is a look back at some of those to whom we said farewell.
January
The year was still young when we said goodbye to Broadway star Carol Channing, It Ain't Half Hot Mum actor Windsor Davies and BBC presenter Dianne Oxberry. We also lost:
Author and editor Diana Athill
Sitcom writer Kevin Barnett
Captain & Tennille singer Daryl Dragon
Curb Your Enthusiasm actor Bob Einstein
Marmalade singer Dean Ford
Transgender 'pioneer' Julia Grant
Original Hollies bass player Eric Haydock
R&B singer James Ingram
Composer John Joubert
Composer Michel Legrand
Actor Dick Miller
Wrestling interviewer Gene Okerlund
Producer Andrew G Vajna
Theatre producer Duncan Weldon
February
In February the curtain fell on acclaimed actor Albert Finney, much-loved comedian Jeremy Hardy and fashion designer Karl Lagerfeld. We also lost:
Creature from the Black Lagoon star Julie Adams
British grime rapper Cadet
Director Stanley Donen
Swiss actor Bruno Ganz
Soap star Katherine Helmond
Talk Talk singer Mark Hollis
Small Island author Andrea Levy
Author Rosamunde Pilcher
Composer Andre Previn
Reality TV star Miriam Rivera
Keeping Up Appearances' Clive Swift
Monkees musician Peter Tork
Airwolf star Jan-Michael Vincent
March
March was the month we bid a sad farewell to Keith Flint of The Prodigy, Beverly Hills 90210 actor Luke Perry and rock enigma Scott Walker. We also lost:
Director Larry Cohen
Guitarist Dick Dale
TV presenter Magenta Devine
Rapper Nipsey Hussle
Goldfinger actress Tania Mallet
The Beat singer Ranking Roger
Thunderbirds actor Shane Rimmer
Studio executive Sidney Sheinberg
Director Agnes Varda
April
Star Wars actor Peter Mayhew, EastEnders actress Sandy Ratcliff and film-maker John Singleton were among those who left us in April. We also lost:
Swedish actress Bibi Andersson
Character actor Seymour Cassel
Comedian Ian Cognito
Level 42 member Rowland 'Boon' Gould
Dallas actor Ken Kercheval
Actor John McEnery
CBBC actress Mya-Lecia Naylor
Studio executive David V Picker
Bond actress Nadja Regin
May
May saw actress and singer Doris Day, comedian Freddie Starr and newsreader Nan Winton depart at the ages of 97, 76 and 93 respectively. We also lost:
Actor Tim Conway
Online feline Grumpy Cat
Coronation Street actor Andrew Hall
Author Judith Kerr
Twin Peaks actress Peggy Lipton
American Gangster inspiration Frank Lucas
Spider-Man screenwriter Alvin Sargent
Broadcaster Brian Walden
Author Herman Wouk
June
Blake's 7 actor Paul Darrow, fashion icon Gloria Vanderbilt and Italian director Franco Zeffirelli were among those who took their leave in June. We also lost:
French DJ Philippe Cerboneschi
US actor Billy Drago
Telenovela actress Edith González
Musician Dr John
YouTube celebrity Etika
Z Cars actor Douglas Fielding
Actor Glyn Houston
Author Judith Krantz
Indian magician Chanchal Lahiri
Actor Bryan Marshall
US actress Sylvia Miles
Heartbeat actor William Simons
ALF actor Max Wright
July
The sudden death of Disney star Cameron Boyce at the age of 20 was one of a number of sad farewells in a month which also saw Blade Runner actor Rutger Hauer and Broadway producer Hal Prince depart. We also lost:
Journalist Christopher Booker
Inspector Montalbano author Andrea Camilleri
Annie writer Martin Charnin
South African musician Johnny Clegg
Italian actress Valentina Cortese
Irish comedian Brendan Grace
TV presenter Emily Hartridge
James Bond actor David Hedison
Emmerdale actor Freddie Jones
British actor Jeremy Kemp
Japanese boy band mogul Johnny Kitagawa
Racing pundit John McCririck
Actress Danika McGuigan
Former child actress Denise Nickerson
Composer Barrington Pheloung
Irish actor Karl Shiels
This Country actor Michael Sleggs
Minnie Mouse voice actress Russi Taylor
Men in Black star Rip Torn
August
Easy Rider actor Peter Fonda, author Toni Morrison and Home and Away actor Ben Unwin were among those who departed in August. We also lost:
Village People co-creator Henri Belolo
Doctor Who writer Terrance Dicks
Kinks keyboardist Ian Gibbons
Composer Jonathan Goldstein
US actress Valerie Harper
Australian actress Ningali Lawford-Wolf
Entertainer Joe Longthorne
Film-maker DA Pennebaker
Actress Anna Quayle
Actress Sheila Steafel
Animator Richard Williams
September
September saw the lights go down on playwright Peter Nichols, opera singer Jessye Norman and The Cars' Ric Ocasek. We also lost:
Star Trek actor Aron Eisenberg
Songwriter LaShawn Daniels
Grateful Dead lyricist Robert Hunter
Porn star Jessica Jaymes
Cult musician Daniel Johnston
Photographer Peter Lindbergh
US singer Eddie Money
BBC journalist Hanna Yusuf
October
Emmerdale actress Leah Bracknell, Chinatown producer Robert Evans and newsreader Peter Sissons were among October's dearly departed. We also lost:
Ballet dancer Alicia Alonso
Cream drummer Ginger Baker
Literary critic Harold Bloom
Saved by the Bell creator Sam Bobrick
US actress Diahann Carroll
Sax player Malcolm 'Molly' Duncan
Jackie Brown actor Robert Forster
Czech singer Karel Gott
Last of the Summer Wine actress Juliette Kaplan
BBC World Service presenter Julian Keane
Eddie and the Hot Rods singer Barrie Masters
Hitchhiker's Guide actor Stephen Moore
Journalist Deborah Orr
South Korean pop star Sulli
Neighbours creator Reg Watson
US actor-comedian John Witherspoon
November
On a single day in November, it was confirmed that Australian broadcaster Clive James, theatre director Jonathan Miller and celebrity chef Gary Rhodes had died. We also lost:
News presenter Tazeen Ahmad
US composer Irving Burgie
Irish broadcaster Gay Byrne
Last of the Summer Wine actress Jean Fergusson
Glee actress Jane Galloway Heitz
Model and actor Godfrey Gao
Child star Laurel Griggs
K-Pop artist Goo Hara
Gladiator producer Branko Lustig
Photographer Terry O'Neill
Film producer Nik Powell
The Archers actor Colin Skipp
Singer-songwriter Iain Sutherland
Irish actor Niall Tóibín
Hedd Wyn director Paul Turner
December
In the last month of 2019, we said goodbye to nature broadcaster David Bellamy, actor Tony Britton and singer Kenny Lynch. We also lost:
Do The Right Thing actor Danny Aiello
Star Trek actor Rene Auberjonois
James Bond actress Claudine Auger
Rev David Coles, Rev Richard Coles's civil partner
Star Trek writer DC Fontana
Roxette singer Marie Fredriksson
Giffords Circus co-founder Nell Gifford
Scottish artist Norman Gilbert
TV producer Leonard Goldberg
TV actor Nicky Henson
Composer Jerry Herman
South Korean actor Cha In-ha
Monty Python songwriter Neil Innes
Latvian conductor Mariss Jansons
US rapper Juice Wrld
French actress Anna Karina
Screenwriter Barrie Keeffe
Emmerdale actress Sheila Mercier
Will and Grace actress Shelley Morrison
Singer Andrew 'Greedy' Smith
Sesame Street puppeteer Caroll Spinney
Follow us on Facebook, or on Twitter @BBCNewsEnts. If you have a story suggestion email entertainment.news@bbc.co.uk.
Keith Lemon star hits out at fake Caroline Flack t-shirts being sold online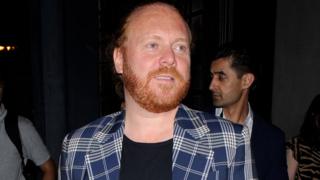 Comedian Leigh Francis says fake versions of the charity t-shirt he made following the death of his friend Caroline Flack are being sold online.
The actor – better known as Keith Lemon – accuses other people of "ripping off" his design, which he made to support The Samaritans.
And he's urging websites remove the fakes to make sure as much money as possible goes to charity.
So far, more than 11,000 of his original Be Kind tees have been sold.
Caroline took her own life earlier this month and Keith had known her for years.
Launching his t-shirt, he said he wanted to spread her #BeKind message – and said all the profits would go to charity.
But fakes have started springing up online.
Radio 1 Newsbeat's found a number of sites selling the fakes – originals can only be purchased through Keith Lemon's own pages.
And the comedian's put out a number of messages on Instagram, urging people not to buy the copies.
"Thanks so much to everyone who's bought a t-shirt for Be Kind. Unfortunately, there's a website called Teespring.com that's ripped off the design and unless they're going to give that money to The Samaritans, then they've stolen my design and taken that money that would've gone to The Samaritans," he said.
He then posted another message to say the company had removed the fakes.
Teespring has since apologised, saying all designs are created by "independent individuals". It also says the user's account has been "disabled" and that it "doesn't support this behaviour".
The company hasn't said whether it'll be handing over any profits to charity – but fakes are turning up on a number of other sites too.
Newsbeat has contacted several of the sites selling fakes but so far, there has been no comment.
---
If you are affected by any of the issues raised in this article and want help or information you can visit BBC Advice.
Follow Newsbeat on Instagram, Facebook, Twitter and YouTube.
Listen to Newsbeat live at 12:45 and 17:45 weekdays – or listen back here.
Harvey Weinstein accusers welcome rape and sexual assault conviction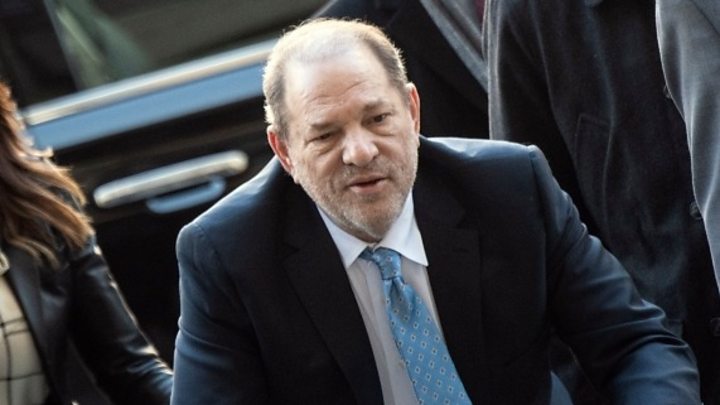 Accusers of Harvey Weinstein have welcomed the guilty verdicts in the rape and sexual assault case against the former Hollywood mogul.
Actress Rose McGowan told the BBC "this is a great day", while others said the ruling brought hope to victims that their voices would be heard.
Weinstein, 67, was convicted in New York City of third-degree rape and a first-degree criminal sexual act.
He was cleared of the most serious count of predatory sexual assault.
Weinstein faces up to 25 years in prison over the guilty verdicts relating to two women. His lawyers say he will appeal.
"I'm innocent. How can this happen in America?" Weinstein's lawyer Arthur Aidala quoted his client as saying.
The former movie executive still faces charges in Los Angeles of assaulting two women in 2013.
In all, at least 80 women had accused him of sexual misconduct stretching back decades, including actresses Gwyneth Paltrow, Uma Thurman and Salma Hayek.
The allegations were at the centre of the #MeToo movement that prompted women to go public with misconduct allegations against powerful men.
Weinstein once enjoyed phenomenal success with Oscar winners such Pulp Fiction, Good Will Hunting, The King's Speech and Shakespeare in Love.
He was taken to New York's Bellevue Hospital reportedly suffering from chest pains after the verdict was announced.
He had been due to be moved to prison on Riker's Island to await sentencing.
What happened in the New York court?
The jury of seven men and five women reached their verdict on Monday morning, the fifth day of deliberations.
Weinstein – who denied all charges – was convicted of sexually assaulting former production assistant Mimi Haleyi in 2006 and raping Jessica Mann, a former aspiring actress, in 2013. The judge ordered him to be sent to jail immediately.
But the jury acquitted him on two counts of predatory sexual assault, which carried a potential life sentence, and first-degree rape of Mann.
In the minutes after the verdict, Weinstein showed no emotion as he talked to his lead lawyer Donna Rotunno.
A third-degree rape charge in New York is defined as engaging in sexual intercourse with a person who is incapable of consent, or under age 17, or who has not given consent for a reason other than the inability to consent.
Prosecutors portrayed Weinstein as a serial predator who used his position of power in Hollywood to manipulate and attack women.
The defence team said sex between the movie executive and the accusers was consensual, and that the accusers used it to advance their careers.
The allegations amounted to "regret renamed as rape", the defence said. Two of the accusers kept in contact with Weinstein and had sex with him after the alleged attacks, they pointed out.
How did we get here?
Allegations against Weinstein began to emerge in October 2017, when the New York Times first reported incidents dating back decades
Weinstein issued an apology acknowledging he had "caused a lot of pain", but disputed the allegations
As dozens more accusations emerged, Weinstein was sacked by the board of his company and all but banished from Hollywood
A criminal investigation was launched in New York in late 2017, but Weinstein was not charged until May 2018, when he turned himself in to police.
How the Harvey Weinstein scandal unfolded
What were the allegations in this case?
Ms Haleyi, who had worked on one of Weinstein's television productions, said she was assaulted by the producer after he invited her to his Lower Manhattan home.
She testified that he backed her into a bedroom, held her down on the bed and forced himself on her.
Ms Mann said that she found herself in an "extremely degrading" relationship with him that did not involve intercourse until he raped her in a New York City hotel room in 2013.
She said he was a "Jekyll and Hyde" figure who could be charming in public but showed his dark side when they were alone.
Another one of Weinstein's accusers, Sopranos actress Annabella Sciorra, told jurors he raped her in her apartment one night in the mid-1990s.
Weinstein accuser: 'No' was a trigger for him
Her allegation was too old to be charged as a separate crime, but prosecutors used it in an attempt to demonstrate that the accused was a repeat sexual offender.
Following the verdict, Ms Sciorra said: "I spoke for myself and with the strength of the 80-plus victims of Harvey Weinstein in my heart."
Three other also women testified they were lured to apparent work meetings with Weinstein, then sexually assaulted.
What more reaction has there been?
Rose McGowan told the BBC's Newshour programme: "The little girl I was when I was hurt, she's ecstatic…This is a great day. The trash has been taken out."
The actress, who was an early Weinstein accuser, added: "The fact that we are white women and attractive and of some means and it still took this many of us to even get him to have one day in court – just tells you…how almost impossible it is to even be heard, period, let alone [get] any kind of conviction."
In a joint letter, actresses Ashley Judd, Lucia Evans and Rosanna Arquette and 19 other Weinstein accusers called it "disappointing that today's outcome does not deliver the true, full justice that so many women deserve," but expressed gratitude towards all the women who came forward to speak out against him.
Meanwhile, Ms Rotunno said that "the fight is not over".
"Harvey is unbelievably strong. He took it like a man and he knows we will continue to fight for him and he knows that this is not over."
Ms Rotunno said her client was disappointed, but "mentally tough".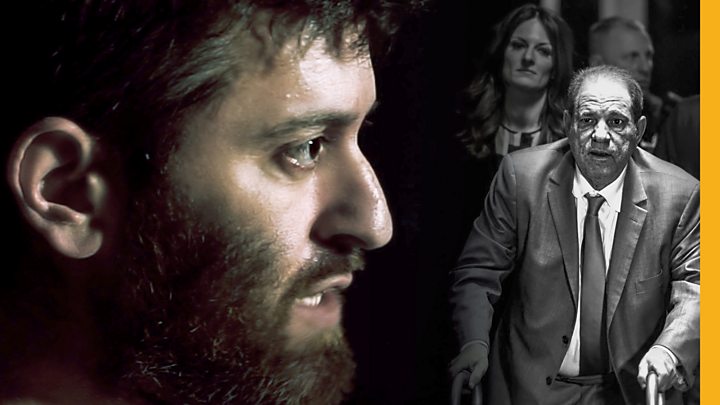 What happens next?
Weinstein will be sentenced on 11 March
He still faces charges of rape and sexual assault in Los Angeles, and there are other cases under review, according to the county district attorney
Civil complaints against Weinstein continue to be fought
In December 2019, lawyers said they reached a tentative $25m (£19m) deal with some accusers
Luke Evans praises Swansea hospital after dad's accident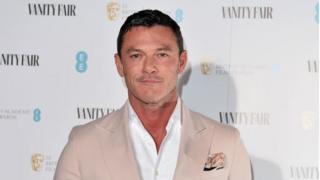 Actor Luke Evans has praised hospital staff who saved his father's hand after an accident with a circular saw.
In an Instagram video Evans described how his father, David Evans, had "sliced his hand open" with the tool.
He praised the "amazing" staff at Morriston Hospital in Swansea who operated on his father.
Beauty and the Beast star Evans, who was brought up in Aberbargoed, said the incident happened on Friday in the garden of his parents' home.
In the video, posted on Monday evening, he said: "Three days ago my dad had an accident in his garden, chopping, slicing wood on a circular saw. It was very bad, he sliced his hand open.
"It was a terrible accident and he almost lost his fingers."
He added: "It took five hours of microsurgery by one of the most incredible people I have ever met.
"What he did to my dad's hand is extraordinary."
The star said his family were looked after by "very kind people" from "the second we got there".
"Nurses, carers, porters, surgeons, anaesthetists, all of which had already worked a very long day when we arrived," he said.
Evans said the surgeon finished after midnight and "came out with a smile on his face and time to give me and my mum all the time to explain what had happened to my dad".
"My dad has been looked after so well by everybody in that hospital and I just wanted to say how lucky I feel and how grateful I am to have a health service that allows my dad to be treated for all these things, and it hasn't needed health insurance or anything, it is just there for us.
"We are a very lucky nation," he said.