Radiohead's Thom Yorke tells of 'hard time' after ex-partner's death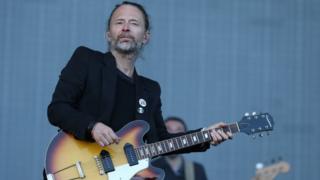 Radiohead singer Thom Yorke has told of the "hard time" his family went through after the death of his ex-partner.
Rachel Owen died aged 48 in 2016 from cancer, and Yorke told Desert Island Discs his ambition is to "make sure that we have come out of it alright".
The couple were partners for 23 years and had two children, Noah and Agnes, before they split up in 2015.
Yorke also said he is a "hypocrite" for flying around the world on tour while campaigning against climate change.
Thom Yorke 'nearly walked off stage' during Glastonbury performance
Radiohead foil attempted blackmail
The musician told the BBC Radio 4 programme: "The thing I've always struggled somewhat with, is if I'm campaigning on climate change, I'm someone who has to fly for my work so….
"I totally agree I'm a hypocrite but… what do you want to do about it?"
He added: "You can do stuff but the real stuff has to happen in Parliament and the UN, and has to happen now, we're out of time."
'Really proud'
Speaking about his relationship with his children, Yorke, 50, said: "I can't hope to be their mum but we're alright.
"I'm just really proud of them both. It stuns me most days. I can't believe they're anything to do with me. They're just such great people."
He said: "When the kids' mum died, it was a very difficult period and we went through a lot.
"It was very hard. She suffered a great deal and my ambition is to make sure that we have come out of it alright, and I hope that's what's happening."
Yorke told the show: "I'm lucky now because I have a new partner who has come and brought a light into all of it, which has taken a great deal of strength.
"And really if all that's OK… If I'm able to make some music that expresses all that and is still important to people, that's more than I can ask for."
Yorke also spoke of how he found it difficult to cope with Radiohead's success initially.
"I got angry," he said. "I'm an extremely angry person.
"I put my hands on the steering wheel and I white-knuckled, and I didn't care who I hurt or what I said.
"Years later I sat down with the guys and apologised."
Desert Island Discs is on BBC Radio 4 at 11:15 BST and is also available on BBC sounds
Glastonbury: BBC to air classic sets in festival's absence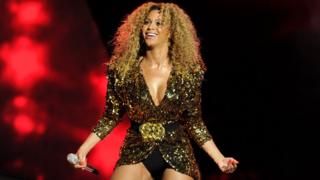 The BBC is to broadcast classic Glastonbury performances this year in the music festival's absence.
Previous headline sets from Beyoncé, Adele, Coldplay, David Bowie and Jay-Z will be shown on BBC Two and BBC Four.
A new pop-up channel will also appear on BBC iPlayer, which will feature more than 60 historic sets.
This year's festival, which was due to feature Taylor Swift, Kendrick Lamar and Sir Paul McCartney, was cancelled amid the coronavirus pandemic.
More than 200,000 people, including 135,000 ticket-holders, would have descended on Worthy Farm in Somerset if the festival had gone ahead from 25 to 28 June.
Clara Amfo, Edith Bowman, Jo Whiley, Lauren Laverne and Mark Radcliffe will host four days of programming across the BBC.
At the centre of the BBC coverage will be three 90-minute programmes on BBC Two, broadcast on Friday 26, Saturday 27 and Sunday 28 June.
They will feature performances from Amy Winehouse, Arctic Monkeys, Blur, Dizzee Rascal, Lady Gaga, PJ Harvey, R.E.M. and The Rolling Stones.
Additional programming on BBC Four will feature some of the most memorable acoustic performances filmed in the BBC compound at previous festivals – including Ed Sheeran, Dua Lipa, Kano, Leon Bridges, Patti Smith, Richie Havens and Youssou N'Dour.
Archive performances will also be played across BBC radio stations and available on the BBC Sounds app.
Organiser Emily Eavis will be interviewed by Lauren Laverne on her BBC 6 Music show on Friday 26 June.
Lorna Clarke, the controller of BBC Pop said: "Even though Worthy Farm can't be full of thousands of music lovers this year, the BBC will celebrate with four days of memories and archive footage to give our audience a taste of the festival in their own homes."
Eavis added: "There are so many memorable sets being played across the BBC over what would have been our 50th anniversary weekend.
"Personally, I'm looking forward to a weekend of reflecting on the history of our festival and going back to some classic performances from David Bowie, Adele, REM, Beyoncé, The Rolling Stones, Jay-Z, Billie Eilish and lots more.
"Me and my dad will definitely be watching!"
Follow us on Facebook, or on Twitter @BBCNewsEnts. If you have a story suggestion email entertainment.news@bbc.co.uk.
JK Rowling unveils The Ickabog, her first non-Harry Potter children's book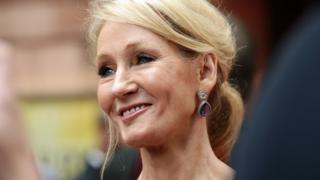 JK Rowling has surprised fans with the announcement of a brand new children's book, which she is publishing in daily instalments on her website for free.
The Ickabog is a fairytale, and is Rowling's first children's story not to be connected to Harry Potter.
She wrote it more than a decade ago for her own children, and has decided to dust it off during the pandemic.
It's for "children on lockdown, or even those back at school during these strange, unsettling times", she said.
Chapters of The Ickabog will be published daily between 15:00 BST on Tuesday and 10 July on The Ickabog website.
The author said she originally intended to release it after the seventh and final Harry Potter novel came out in 2007.
But she decided to take a break from publishing, and put the manuscript in her attic.
"Over time I came to think of it as a story that belonged to my two younger children, because I'd read it to them in the evenings when they were little, which has always been a happy family memory," she wrote on her website.
'Extraordinary experience'
A few weeks ago, she suggested to her children that she might retrieve it from her loft.
"My now teenagers were touchingly enthusiastic, so downstairs came the very dusty box, and for the last few weeks I've been immersed in a fictional world I thought I'd never enter again.
"As I worked to finish the book, I started reading chapters nightly to the family again.
"This was one of the most extraordinary experiences of my writing life, as The Ickabog's first two readers told me what they remember from when they were tiny, and demanded the reinstatement of bits they'd particularly liked (I obeyed)."
Snippets of pages she posted on Twitter revealed the names of characters called Bertram and King Fred.
It was written to be read aloud, but is suitable to be read alone by children between seven and nine, she said.
The story is about truth and the abuse of power, she explained.
"To forestall one obvious question: the idea came to me well over a decade ago, so it isn't intended to be read as a response to anything that's happening in the world right now.
"The themes are timeless and could apply to any era or any country."
Illustration competition
It will be published as an actual book in English in November, with all author royalties going "to help groups who've been particularly impacted by the pandemic".
She has also asked young readers to draw their own illustrations, with the best pictures to be included in the published books.
"I want to see imaginations run wild!" she wrote. "Creativity, inventiveness and effort are the most important things: we aren't necessarily looking for the most technical skill!"
Follow us on Facebook, or on Twitter @BBCNewsEnts. If you have a story suggestion email entertainment.news@bbc.co.uk.
Coronavirus: Artist adds Queen in face mask to collection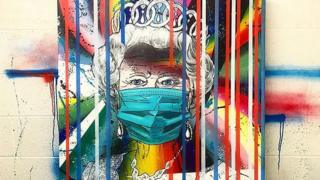 An artist who started making colourful, pop-art inspired works to deal with post-natal depression has added a painting of the Queen wearing a face mask to her series during lockdown.
Emelie Hryhoruk said the picture, called We Will Meet Again, "highlights vulnerabilities alongside powerful traits" and "shows everyone is vulnerable no matter who they are".
She is offering free paints and other art materials to families living near her studio in Corsham, Wiltshire, to help them deal with feeling scared during the coronavirus pandemic.
"When I paint, I am fully absorbed in the moment and the feelings this promotes. On reflection, the process is what brought me out of my depression.
"No matter how dark your life is, the colour will always come back – the radiance of the colours I choose to work with lift me and instil positive feelings and calm."
Hryhoruk said she knew things were "not right" after the birth of her first son, Charlie, in 2009, and the feelings worsened after her second, Isaac, arrived in 2013. She said she "resented him" and fell into "dark times straight away".
She said having post-natal depression left her feeling "lost, scared and angry" and led her to "throw down the brightest colours" to escape the "black cloud that was smothering me".
When she drew a portrait of Wonder Woman after seeing the film, she saw her creation as "a reflection of my inner self – strong yet broken".
"On that day I realised something had happened to me and that the black cloud had lifted enough to shed some light."
You might also be interested in:
Banksy mural given face mask in pandemic nod
Spectacular street art thanks the NHS
The protesters running a campaign from home
Over the next few years she sought counselling and help from Mind and the Samaritans, while creating The Empowered Collection.
The works, done using spray paint, have been exhibited at the home of Pink Floyd's Nick Mason for his Open Garden Event, the Peacock Arts Trail, and the Saatchi Art Gallery.
She has printed the series, which is a departure from the seascapes and yacht portraits she used to produce, on to T-shirts to raise money and awareness for charities including Mind and Wiltshire Hospice Dorothy House. Profits will also be donated to NHS Charities Together.
"I hope the [images] help people tap into their own inner superhero to find their strength," she said.