Quentin Vlamynck fully confident about the Route du Rhum – Destination Guadeloupe race
by Arkema Sport 19 Sep 06:50 PDT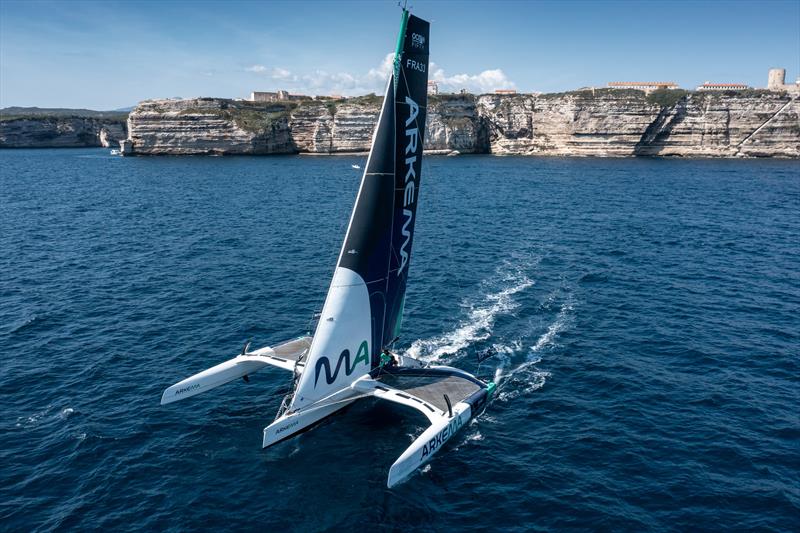 The Ocean Fifty Arkema sailing in front of Bonifacio on the 1st episode of the Pro Sailing Tour © Vincent Olivaud / Arkema Sport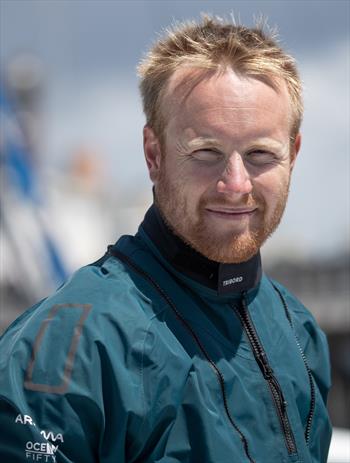 Quentin Vlamynck, skipper of the Ocean Fifty Arkema © Vincent Olivaud / Arkema Sport

With the start of this transatlantic race at Saint-Malo just six weeks away, the young skipper of the Ocean Fifty Arkema is no longer in any doubt about the great potential of his trimaran.

"The boat works very well, I have a real affinity for it. It's very reassuring in the run-up to a solo transatlantic race!"

With three wins out of four episodes under their belt, this very fine victory for Quentin and the entire Arkema team in the Pro Sailing Tour 2022, means that they can look ahead with quiet confidence to the Route du Rhum-Destination Guadeloupe. And the press conference on Wednesday 21 September will serve to ring out the beginning of the countdown to the start of the race on 6 November…

Confident and unassuming: this sums up the state of mind of Quentin Vlamynck, who on Tuesday 20 September will be presented with the Pro Sailing Tour winner's cup at the Yacht Club de France in Paris, surrounded by the big Arkema "family". An event that makes the skipper raring to go.

"Looking back, I reckon that my apprenticeship has spanned 10 years, and this year, the work has paid off. I'm very lucky to be in good hands. And again, I would like to say thank you to Lalou (Roucayrol) for passing on to me his passion and his know-how, and to my sponsor for their confidence and support. Now, it's all down to me", Quentin says.

A top playing field

The following day, on Wednesday 21 September, an extended offshore racing family will get together at the Mogador Theater in Paris! No fewer than 138 skippers will attend the official launch of the famous and legendary Route du Rhum-Destination Guadeloupe race. In the Ocean Fifty category, the line-up, with 8 highly seasoned skippers at the helm of their trimaran, and the level of preparation of each, promise a great fight between Saint-Malo and Pointe à Pitre.

"The Drheam Cup solo race was great training. I also had plenty of outings offshore, and have prepared the boat well technically speaking. I'm getting more confident because racing solo on one of these highly demanding machines is far from obvious. With Erwan Le Roux (Koesio), who won the Route du Rhum in 2014, we also set up a few training sessions and that was great," Quentin Vlamynck explains.

Renowned for its great aerodynamic qualities, the Arkema multihull is therefore thoroughly ready to go.

"We're very proud as we put a lot of work into it. Quentin now stands on his own two feet, and the boat is safe and efficient," Lalou Roucayrol is happy to say. Together with Alex Pella and Éric Mas, Lalou will be on land to help with routing for Quentin throughout this transat race.

"My goal is to do everything I can, stay in contact with the others, and, if possible, stay ahead of them!" concludes the Arkema skipper.




Credit: Source link