Past winners of the La Route du Rhum – Destination Guadeloupe highlight their love for the race
by Route du Rhum-Destination Guadeloupe 6 May 03:34 PDT
6 November 2022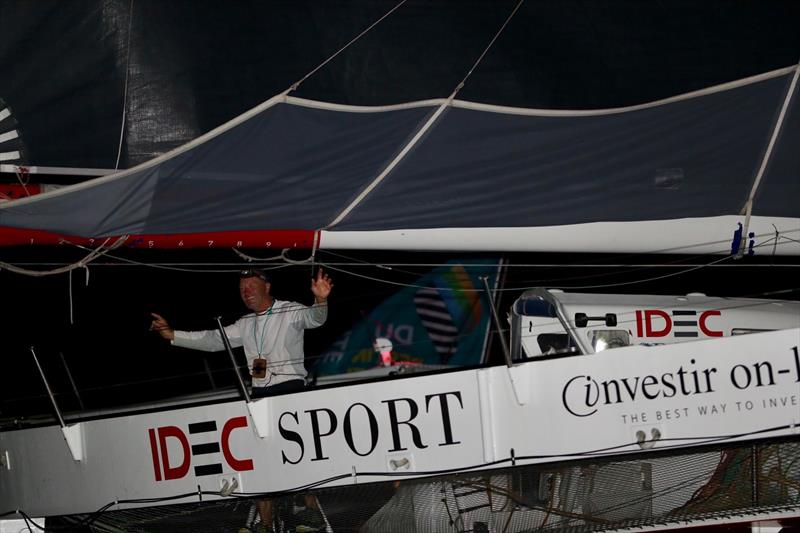 Francis Joyon (IDEC Sport) after crossing the line in Guadeloupe in first place in the Route du Rhum-Destination Guadeloupe © Alexis Courcoux

In exactly six months, 138 sailors will line up off Saint Malo at the start of the twelfth edition of the Route du Rhum – Destination Guadeloupe. Already the 2022 edition has broken records for the size of the entry, attracting the biggest number of single-handed Transatlantic racers ever gathered for a race. And, as ever, the emotions are already starting to build as the intrepid solo racers contemplate their date with destiny, the start of the legendary race from Saint Malo to Guadeloupe. Among them, seven past class winners express their enduring passion for the Route du Rhum Destination Guadeloupe.

It is actually on Friday May 6 that the 'six months to the start' timeline is passed. In many respects it is a key marker for solo racers and their teams. On the one hand there is a certain impatience to be returning to the Corsair City and to be enjoying the build up before the race start but on the other this date is a salutary reminder that preparation time is running out and the clock is ticking down fast.

And while any participation in the Route du Rhum Destination Guadeloupe, especially the first one, is a career milestone, winning a division is usually life altering, for the better. On this upcoming edition there will be four class winners back to defend their titles: Francis Joyon (IDEC Sport) in the Ultim 32/23, Paul Meilhat (Biotherm) in the Imoca, Armel Tripon (Les P'tits Doudous) in the Ocean Fifty fleet and Yoann Richomme (Paprec Arkea) in Class40. And then also there are three other past winners in Erwan Le Roux (Koesio) winner in 2014 in Ocean Fifty, Roland Jourdain (We Explore) winner in both 2006 and 2010 in the Imoca and Philippe Poupon (Flo) winner in 1986. All will be on the start line on Sunday 6 November 2022.

Joyon, Meilhat, Tripon, Richomme, Poupon, Jourdain and Gavignet all are addicted to the Rhum.

Whether they have already won it once and in some rare, rare cases twice, all these winners have their own special history with the "Rhum". At six months before the start of the 2022 edition seven former winners describe what makes this race unique.

Francis Joyon (IDEC Sport), winner in Ultim 32/23 in 2018, is putting his title on the line this year at the helm of the same boat as 4 years ago; an Ultim maxi-trimaran which has the unique record of having already won 3 editions of La Route du Rhum – Destination Guadeloupe (2010 – 2014 – 2018): "The Route du Rhum is the most beautiful of transats, a dream for any multihull sailor. No two editions are the same. We always head off into the unknown, and I like this whole element of uncertainty. I am aware that it is becoming more and more difficult to win this race. In all of the divisions all the classes have become more professional. With my little team we err on the amateur side but the Rhum allows me to rub shoulders with some unusual sailors in the Rhum Class in particular. This race has enough unknown and challenging aspects to retain a really adventurous aspect. In multihulls all these races are dangerous and from that point of view in my opinion this race still holds a big element of suspense. The Route du Rhum is unique in being tough, the autumn depressions kick up big seas but overall the route towards the trade winds is always enjoyable on these multihulls. I am not satisfied. I still have a huge appetite for this incredible game. I feel good, I still want to do it and I believe in my luck. "

Paul Meilhat (Biotherm), winner of the 2018 edition in the Imoca after that incredible finish when he overhauled the penalised Alex Thomson. Meilhat returns this year with a brand new boat, eager to get out there: "La Route du Rum is a big part of my childhood memories and particularly the wins of Philippe Poupon and Laurent Bourgnon. Then there was (Roland Jourdain) Bilou's double in the Imoca, a little later, at the age when I was starting to compete in dinghies. Personally, I have a special relationship with La Route du Rhum because when I saw the Imoca "Macif" leave at the start of François Gabart's victory in this class in 2014. I knew then that I would pick up this boat after it finished for a four year programme that led me to victory in 2018. Since then, I have been looking for partners for 4 years and my story starts again with this race."

Armel Tripon (Le P'tits Doudous), title holder in Ocean Fifty is back this year to defend his title after an unforgettable victory in 2018: " Winning the Rhum is above all the success of a team and of a sponsor who believed in you. When I won in 2018 it was magical to feel this huge element of positive energy that it all generated. I had the feeling of having been able to execute this race thanks to a serene and well-managed preparation. I will always remember the passage around the island and the completely crazy finish. It was my first big win! And, so, yes I would like to win it again, but it's always harder to win once again. This is what makes the challenges exciting, what makes us surpass ourselves and what makes the alchemy work".

Yoann Richomme, winner of the 2018 edition in Class40, is back in the running for this year in the same category aboard "Paprec Arkea" before the launching of his new Imoca built for him due to be launched next season: "Beyond the mythical event that everyone knows, La Route du Rhum – Destination Guadeloupe is a race that motivated me to move on to circuits other than La Solitaire du Figaro. It is also an event that changed my career as a sailor when I won it four years ago. It gave me a different twist to my sports project. It is an exceptional event, one of those that made me dream big. I'm really looking forward to going back. It really was just unthinkable for me not to participate in this 2022 edition. I am delighted to be back to defend my title".

Philippe Poupon (Flo) is one of those pioneering sailors who have marked the history of ocean racing and paved the way for generations of offshore racers. For this 2022 edition, the legendary solo racer who won in 1986 returns with a legendary boat, in the Rhum Multi category: Florence Arthaud's Pierre 1er, whose images of victory in 1990 are etched forever in people's minds: "Winning the Route du Rhum is a great moment. Winning a race that only takes place every four years makes victory even more important. After four participations, a victory and a second place, here I am coming back 32 years later. This time it is a bit about the making of a film on Florence Arthaud by my wife Géraldine Danon and the purchase of the boat Pierre 1er. It is a great opportunity to pay homage to Florence".

Roland Jourdain (We Explore) is one of the very rare double winners of La Route du Rhum – Destination Guadeloupe. Triumphant in the Imoca in 2006 and in 2010, "Bilou" looks back on this race. On November 6 he will be at the helm of a catamaran built in flax fibers and registered in Rhum Multi, which he will take the start: "My first victory was a real emotional whirlwind, on the one hand because it was a dream that was coming true, but also because this first place was all the more beautiful because 'it was the end point of a very good fight with my competitors. I had lost my keel a few months earlier in the Vendée Globe and this arrival in Guadeloupe, as the winner, was a great way to exorcise those memories. For my second victory, the race was also very intense. I remember a complete state of grace, which happens very rarely. Everything happened as if I was in suspended animation. I was 14 years old at the start of the first Route du Rhum. The finish of Mike Birch was a very strong moment, an image that still remains with me. This race is a postcard of the evolution of boats over time and that's why I really wanted to come back this year, with my linen boat! ".

Sidney Gavignet took victory in Rhum Mono aboard "Café Joyeux" in 2018. Gavignet is not on the list of entrants this year but the navigator turned coach will nevertheless be present in Saint-Malo, alongside Alberto Bona (Ibsa), of which he will be the replacement skipper, and of Oren Nataf (Rayon Vert) supporting both in their preparation: "For a sailor, winning the Route du Rhum – Destination Guadeloupe is a great opportunity a landmark event a bit like rounding Cape Horn for the first time! I am deeply grateful for the event itself. What I like the most about this race are the ten days before the start. I think I could do it again just for that! There is something unique about this period; a pressure that takes hold of everyone, starting with your loved ones, your partners and your team. If we manage to master it, to do this work on ourselves which allows us to live it without it getting on top of you whilst all the time remaining a 'fan' it's a delight ".

See you in 6 months… and a few days, to find out the names of the sailors who will also mark the history of La Route du Rhum – Destination Guadeloupe with their victory!

Find out more at www.routedurhum.com




Credit: Source link