The Ministry of Housing has announced that it has surpassed its house-lot allocation target for 2022 by distributing more than 10,000 house-lots.
Minister of Housing and Water, Collin Croal made the disclosure today during the Central Housing and Planning Authority's (CH&PA's) Dream Realized Housing Drive at the Arthur Chung Conference Centre.  
"We at the Ministry has been able to establish about 16 new housing areas or start the process of establishing 16 new housing schemes across Regions 3, 4, 5 and 6, and seven of which are on the East Coast, and to date, we have allocated more than 10,000 [house-lots] in this calendar year, which means that by the time we are finished, December 31, we are hoping to end the year with a total allocation of close to 20,500," Minister Croal said.
He said the move to allocate more than 10,000 house-lots in 2022 is in keeping with the Government's commitment to reduce the huge backlog of applications for residential land.
Minister Croal said to meet the high demand, the Government injected $10 Billion to develop residential lands along the East Coast Demerara in villages such as La Bonne Intention, Mon Repos, Annandale, Vigilance, Strathspey, and Cummings Lodge.
In 2023, the House Minister said another $10B will be spent to develop housing areas in Hope, Hope Low Land, and Good Hope among other communities.
Today's housing drive – the final one for 2022 – saw the distribution of 600 house-lots for Plantation De Endragt – a new housing scheme located within the Mon Repos – La Reconnaissance Neighbourhood Demerara Council (NDC).
The Housing Minister said the new housing scheme is located approximately 9 miles from the capital city – Georgetown, and is in line for major developments in 2023 and beyond.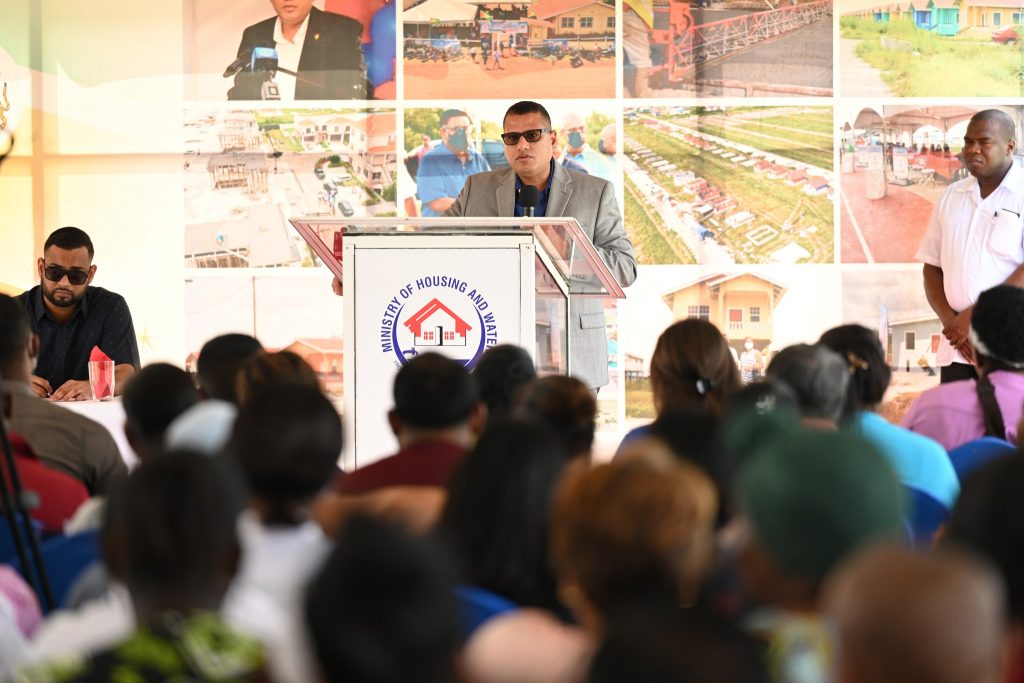 CH&PA Chief Executive Officer (CEO), Sherwyn Greaves said Plantation De Endragt will also feature educational, religious, social and commercial facilities.
"The area will house close to 1000 residential lots. It will also have areas put aside for worship, area put aside for schools, commercial and industrial lots for businesses will be in the area. The scheme will be linked to the new highway that will be running from Ogle; it will also be linked to a new road that will be running from the Aubrey Barker Road that will come all the way down to Enmore," Mr Greaves explained.
According to him, De Endragt will be a model community.
Minister within the Ministry of Housing, Susan Rodrigues said Government has made good on its commitment to make housing affordable by implementing a number of measures to ensure there is access to finance, and construction materials at reasonable rates.
However, she said the weather remains a challenge in the developmental process. 
"The weather is challenging for us. We have had contracts signed and we have contractors who are mobilized and willing to do the infrastructural work, ready to go but a lot of times we are set back by the weather. But if a project is not delivered on time, it is not or lack of effort because we have done what we were supposed to do," Minister Rodrigues explained.
She said the Housing and Water Ministry will nonetheless persevere and continues with its housing drive. Scores of persons have complained about being allocated lands and paying for lands in areas that are still to be developed.

Credit: Source link