NikkieTutorials: Beauty YouTuber reveals she is transgender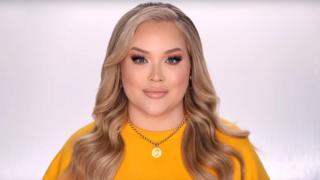 Nikkie de Jager, an influential YouTuber with millions of fans, has revealed she is transgender in an emotional video.
On Monday, the 25-year-old, who is from the Netherlands, shared a video entitled "I'm coming out."
In it, she explains her decision was forced by someone attempting to "blackmail" and publicly out her.
Known as NikkieTutorials, she is one of the most influential names in the platform's beauty community.
She has been sharing make-up tutorials and reviews for 11 years and has almost 13 million subscribers. Her success has seen her collaborate with celebrities including Lady Gaga, and last year she was named a global artistry adviser for Marc Jacobs beauty.
'Good to finally do it'
De Jager opens the 17-minute video by saying she had always wanted to share her story on her own terms, but having had the opportunity "taken away" wished to reclaim her own "power".
"I can't believe I'm saying this today to all of you for the entire world to see. But damn, it feels good to finally do it. It is time to let go and be truly free," she says in the introduction.
"When I was younger, I was born in the wrong body, which means that I am transgender now."
In the video, de Jager reveals she was born male but had always identified as female growing up.
She said that by age six – with her parents' support – she began growing her hair out and by age seven or eight wore only female clothing.
She then started taking hormones and growth suppressors at age 14 and was "fully transitioned" by 19, she explains in the clip.
"Oh my god this is so liberating. You had no idea that for 11 years that I've had my channel, this has been with me, and I always wanted to share this with you," she tells her fans.
"But I cannot believe that after today, the world will know. But there's one thing that I really, really want to make so clear to all of you. I am me. I am still Nikki. Nothing changes about that."
At one point she addresses the people she says are threatening her and makes a middle-finger gesture, telling them: "This one's for you"
She also expresses her hope that her video may help and inspire others.
"If you feel like you're trapped and there's no way out, know that it gets better. Trust me, it gets better," she says towards the end of the clip.
The video has been met with an overwhelmingly supportive response from fans, other YouTubers and members of the LGBT community.
"I think she is an incredible woman, and I am so proud of her for sharing her story," UK-based YouTuber SophDoesLife, who has one million subscribers, told the BBC.
"She is an inspiration to so many people, and I am so happy that she can now live her truth and feel free. She definitely has all our support in the beauty community."
Jinkx Monsoon, an American drag queen and former winner of Ru Paul's Drag Race, was among those who congratulated the beauty guru for "reclaiming" her story.
"NO ONE has the right to out anybody else. Period. Coming out is a personal thing, and you do not get to decide that for someone else," she wrote on Twitter. "I'm so sorry, Nikkie, that you went through that, but I applaud how you handled it."
At one point in the video, referencing a common segment on her channel, de Jager announced that her "Dutch Word of the Day" was vrouw – meaning woman.
A number of Dutch politicians have praised the YouTube star. Ingrid van Engelshoven, the minister of education, culture and science, described her as "brave" and a "role model".
"You're truly free if you can be who you are. Role models are of great importance for emancipation," she wrote (in Dutch) in a tweet.
Advocacy group GLAAD spoke out in support of de Jager.
"Every LGBTQ person deserves to come out on their own terms. Unfortunately, NikkiTutorials wasn't afforded this opportunity, however she has shown incredible bravery in sharing her truth with the world," said Anthony Ramos, the group's head of talent.
After expressing her concern in the video that her followers may see her differently, de Jager's follower counts on YouTube and Instagram actually grew by 300,000 in the 24 hours following its release.
She responded to the influx of support with a series of emotional Instagram stories on Tuesday morning.
"What happened last night is something I never, ever would dare to dream about," she said, in tears. "The incredible amount of love and support and warmth means so much to me."
Lady Gaga's Chromatica is the fastest-selling album of 2020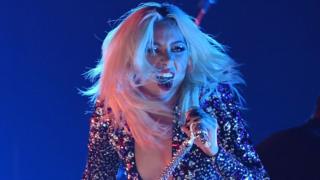 Lady Gaga's new album, Chromatica, has entered the UK charts at number one, after outselling the rest of the top 10 combined.
The record, which sees Gaga return to the rocket-powered pop of her debut, sold 53,000 copies, the biggest opening week of the year so far.
It is also the star's fastest-selling album since 2013's Artpop.
The album follows Gaga's performance in A Star Is Born, for which she won an Oscar for best song in 2019.
Critics have called the record a return to form, after the country-leaning acoustics of her fifth album Joanne and the misfiring experiments of her Artpop project.
"Song for song, it's her best yet," wrote Variety magazine, adding: "She sounds like she knows exactly who she is, what she wants to say and how she wants to say it."
"Her pop renaissance couldn't come at a better time," agreed Rolling Stone, while The Independent praised the star's "anthems of self-doubt, self-reflection, self-destruction and self-reclamation".
Gaga, who has suffered with chronic illness and depression, said the record was intended to be an antidote to hard times.
"I'm making a dance record again and this dance floor… it's mine, I earned it, and all that stuff that I went through," she told Zane Lowe in a recent interview.
"The beginning of the album really symbolises, for me, what I would call the beginning of my journey to healing," she added, "and what I would hope would be an inspiration for people that are in need of healing through happiness, through dance."
Top 5 albums – 5 June 2020
According to the Official Charts Company, Chromatica was the week's most popular album in every format – physical, streaming and downloads – as well as the year's fastest-seller on vinyl, with 8,500 copies sold.
Three of the tracks also made it into the singles chart, led by the Ariana Grande duet Rain On Me at number two.
Sour Candy, a collaboration with K-pop band Blackpink, debuted at 17; while Alice, inspired by Lewis Carroll's Alice In Wonderland, was at 29.
Gaga is also expected to top the US Billboard charts next week, with projected sales of 250,000.
Top 5 Singles – 5 June 2020
Follow us on Facebook, or on Twitter @BBCNewsEnts. If you have a story suggestion email entertainment.news@bbc.co.uk.
Abbey Road Studios re-opens after 10 weeks of closure
Abbey Road Studios, the recording venue made famous by The Beatles, has re-opened.
It was forced to close ten weeks ago due to the coronavirus pandemic, the first time it has closed in its 89 year history.
Special measures were taken, to allow for a recording of an album by jazz musician Melody Gardot.
The BBC's arts editor Will Gompertz listened in.
Alan Partridge to return with podcast from Norwich shed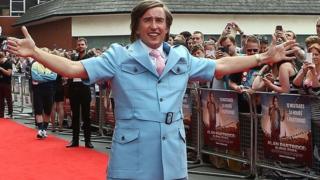 Alan Partridge is set to return with a podcast produced from his shed.
Steve Coogan will again take on the role of the Norwich-based DJ for an 18-part series titled From the Oasthouse: The Alan Partridge Podcast.
The podcast will unveil a "more reflective Alan" as he tries to attract a young and diverse audience.
"All national treasures have a podcast", Partridge said. "If David Dimbleby has one, then of course I needed to make one."
"With this series, I want to give my fans an intimate view of who I really am," said Partridge.
"You may think you know me, but trust me, you have no idea what goes on behind closed doors at my podcast innovation studio."
The Bafta award-winning character, born in King's Lynn, Norfolk, made his debut appearance in 1991 as a sports presenter on BBC Radio 4's On the Hour.
He moved on to to television with programmes including The Day Today, Knowing Me Knowing You and I'm Alan Partridge.
Partridge had his big screen break in 2013 with the film Alpha Papa before in 2019 returning to TV with This Time with Alan Partridge.
The full series will be on Audible from 3 September while a free episode will be available on Amazon Alexa between 6 and 12 June.