NHS and 'remarkable' hospital radio inspire Mystery Jets song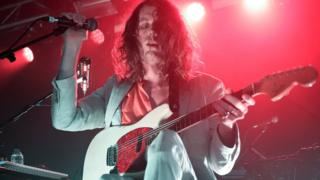 Mystery Jets singer Blaine Harrison has said his new song is shaped by the "frustrations and fears" about the future of the NHS.
"In the post-austerity era of cuts, one of the communities that have felt the most is the disabled community," said the singer, who has spina bifida.
Hospital Radio, the band's first new music since 2016, is also inspired by hundreds of hospital stations still in operation around the UK.
"It's because of volunteers," he added.
The indie band have spent the past week visiting hospital radio stations and talking about the new single.
"It's been remarkable seeing the love that goes into keeping them alive," said Harrison, 34. He was born with spina bifida, which has affected his spine and leg muscles since he was a child.
Since 2009, he also been patron of the Attitude is Everything charity, which works with UK music venues to make gigs accessible for disable people.
"I was taken ill and had to spend an extended period of time in hospital, which is a fairly regular occurrence for me due to my disability," he told BBC News.
"I didn't have an instrument with me in the hospital so I was really just writing lyrics. It [Hospital Radio] is a compound of several different failed songs which I ended up stitching together.
"The lyrics are, compared with some of our stuff, quite freeform and stream of consciousness. It could be construed as angry or pointed, but that's down to interpretation and I like to not to give too much away."
The lyrics include the lines: "When you're lying in your bed, old, soiled and screaming/Wondering when the hell it all went wrong/Wired up to keep your cold, cold heart beating/We will be the pill on the end of your tongue."
If the precise target of the lyrics is vague, the singer did say he felt a "prang of horror" during US President Donald Trump's recent state visit to the UK when he told the press the National Health Service – which celebrated its 70th anniversary in 2018 – would be part of any future trade negotiations between the two countries.
"My frustration and fears came from being wary and concerned about what the future of the NHS would hold, especially in the post-austerity era of cuts," Harrison said. "One of the communities that have felt the most is the disabled community with living incomes being cut and people being reassessed. But also the older generation.
"There's an ageing population and something that feels very personal is the threat of people falling through the cracks."
The NHS was "not perfect", Harrison admitted, adding that "people are well within their rights to complain about long waiting lists and I've been on some very long waiting lists for surgery in the past".
However, he said: "I've genuinely only ever felt incredibly fortunate and filled with gratitude towards the treatment I've had in NHS hospitals and I've spent time in most of them in London and the south-east."
The political undertones of the new track – which will be premiered on Steve Lamacq's BBC 6 Music show on Monday – chime with a new generation of songwriters bred on authenticity who aspire to write songs about issues that affect them.
From Childish Gambino's This Is America to Little Mix's Strip and grime star Stormzy's super-charged headline slot at Glastonbury last month, artists are seizing the opportunity to talk about subjects that matter to them.
"Music's currency is empathy," agreed Harrison. "And I think a great song can make you feel something for someone you've never met and draw you outside yourself, and that's the power of music.
"Grime is great example of artists engaging with very real issues. You only had to watch Stormzy at Glastonbury and see the astonishing power of his performance to see there very much is a place for that and a time for that, and it's now."
National Television Awards highlights in two minutes


The winners include Mrs Brown's Boys, Jesy Nelson, Sir Michael Palin and of course… Ant and Dec.



Source link
National Television Awards 2020: Red carpet in pictures
The 25th National Television Awards brought the biggest names in British telly together on Tuesday evening.
Here's what some of the stars looked like as they arrived at the O2 Arena in London, to mark the achievements of the small screen over the past 12 months.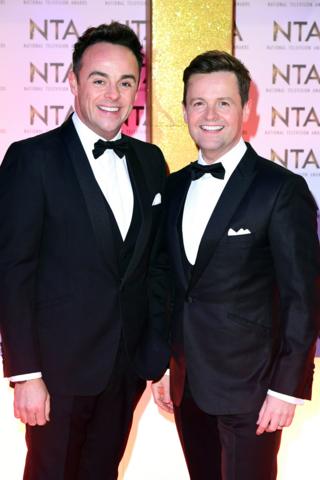 Ant and Dec have won awards 18 years in a row but new host David Walliams was quick to ensure they remained grounded.
He joked the pair were sitting on the front row, "not because they're important. Because they've forgotten their booster seats".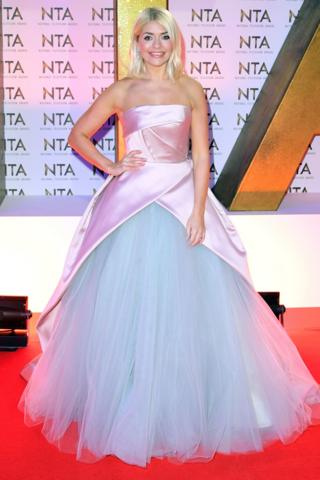 Holly Willoughby is up against her This Morning colleague Philip Schofield for best TV presenter. We hope that's not why this picture was taken on her own. Gulp!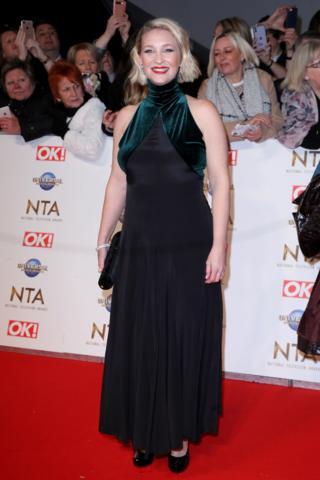 Joanna Page – aka Stacey from Gavin and Stacey – told the BBC's Colin Paterson she tuned in for the latest Christmas special, just like the rest of us.
"I had a gin and a chocolate orange and I sat down and I enjoyed it" said Page.
The show, which arrived after a decade-long hiatus, was the UK's most-watched scripted TV programme of the entire 2010s.
Page was joined on the red carpet by her co-stars Larry Lamb and Alison Steadman. Lamb said he thought the show, which "everybody loves", might return again.
"It's just a warm fun show and it was like a family being back together again" Steadman added.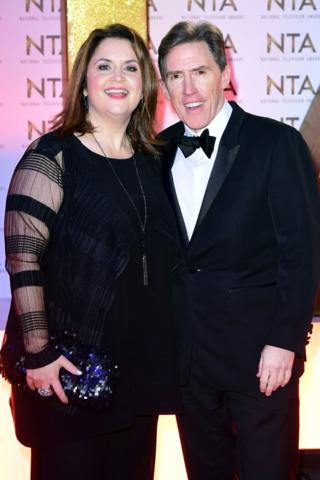 Oh [as she might say] Nessa and Uncle Bryn were there as well.
Ruth Jones said the 17 million-plus viewing figures were "unfathomable" and she watched it go out live alongside co-writer James Corden.
No spoilers but Rob Brydon thinks the show's cliff-hanger ending, involving the pair, should leave people "wondering what happens".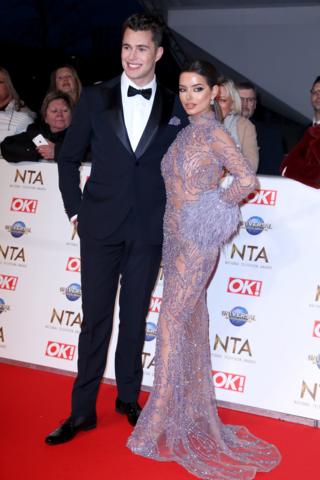 Love Island stars Curtis Pritchard and Maura Higgins were two of the first to arrive and dressed to impress.
They're up in the brand new category of best challenge show.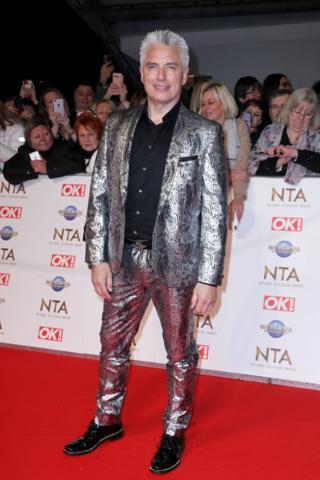 John Barrowman arrived in a shiny silver suit to match his silver hair.
The Dancing on Ice judge, who this week returned to Doctor Who too, was aiming to beat Strictly in the best talent show category.
The ITV show saw Ian H Watkins and Matt Evers enjoy the first ever in-competition same-sex dance on any UK reality dance TV show, but when asked to talk about it Barrowman dismissed it as "old news".
"They're just like everyone else and that's just how it should be," said Barrowman, who urged other channels to "represent who watches your shows".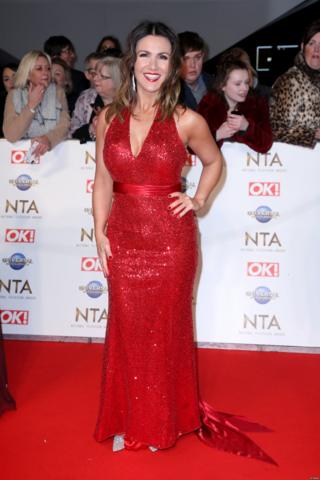 Piers Morgan boycotted the awards as the "same people always win".
He said he'd live tweet it from home, but his Good Morning Britain co-presenter Susanna Reid was there to represent in red.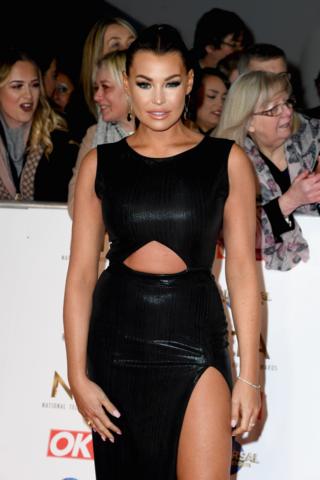 The only way was the red carpet for The Only Way is Essex star Jessica Wright.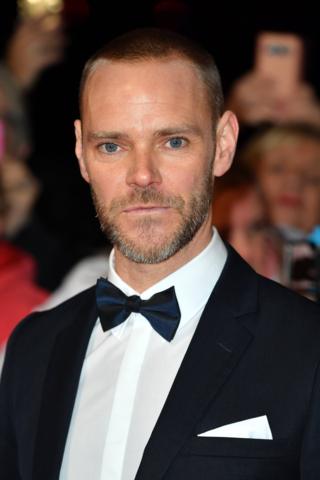 Joe Absolom played the murderer Christopher Halliwell in the ITV drama A Confession.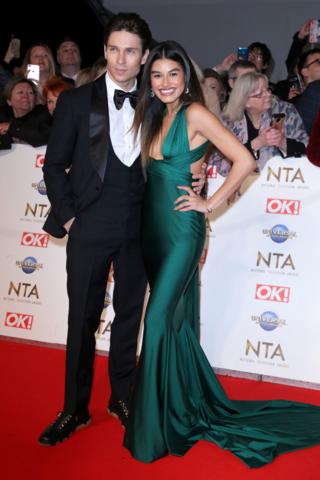 Joey Essex and Lorena Medina stepped out together and even shared a kiss, as well as the spotlight.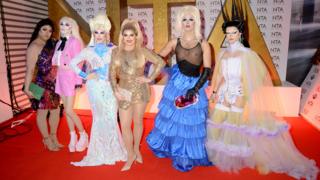 Sum Ting Wong, Scaredy Kat, Blu Hydrangea, Cheryl Hole, Crystal and Gothy Kendoll of RuPaul's Drag Race certainly caught the eye.
The first-ever winner of the UK version of the show, The Vivienne, said she thought the show had a "good chance" of winning an award.
"I've gone from performing in gay bars to performing in arenas."
Here's some more strong red carpet looks…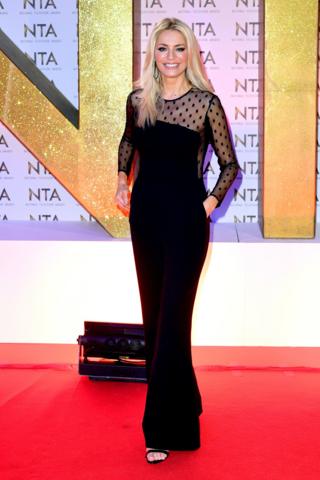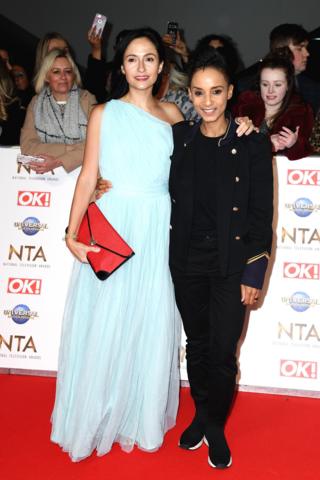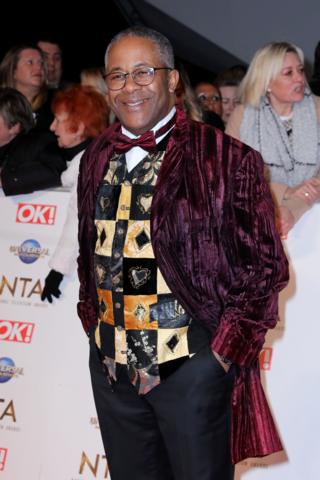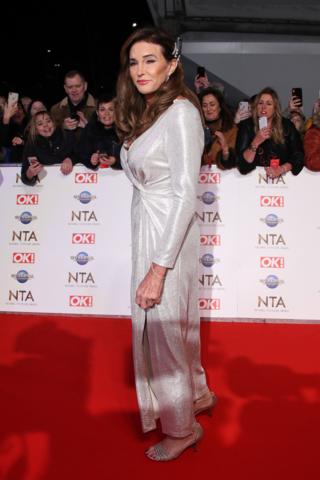 Follow us on Facebook, or on Twitter @BBCNewsEnts. If you have a story suggestion email entertainment.news@bbc.co.uk.
BBC director general Tony Hall: 'Nicholas Parsons was a legend'
The BBC's director general Tony Hall has paid tribute to the broadcaster Nicholas Parsons who has died at the age of 96.
Parsons, who hosted Radio 4's Just A Minute since its inception in 1967, died after a short illness.
Speaking to BBC Media Editor Amol Rajan, Mr Hall said he was "immensely saddened" at the loss of Parsons, who he described as a "wonderful, charming, witty, warm man".
Read more: 'Broadcasting legend' dies aged 96 after short illness