N'Faly Kouyate says BA responsible for broken kora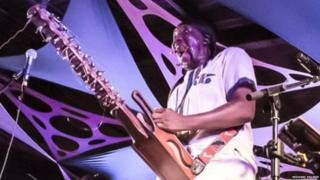 A musician says his specially made instrument was badly damaged after he was forced to put it in a plane's hold.
N'Faly Kouyate says his electric kora, also known as an African harp, was designed so that it could be taken as hand luggage and stored in overhead lockers on flights.
He says the instrument can no longer be played – and he wants British Airways to pay for its repair or replacement.
BA says it is investigating what happened.
Kouyate was flying home to Brussels with BA from London's Heathrow Airport on 18 August after performing with his band, the Afro Celt Sound System, in Dorset.
He said that staff at the check-in desk had agreed the wooden instrument was hand luggage, and he was given a label for it confirming this.
The instrument measures about 80cm x 20cm x 20cm (31in x 8in x 8in) and weighs about 6kg (13lb).
But Kouyate said that when he got to the departure gate, he was told by a member of staff there that the instrument had to go in the hold.
He said he repeatedly explained how fragile the 22-string instrument was – but to no avail.
"I told her I had been allowed to take it as hand luggage two days earlier on the BA flight from Brussels to London.
"I said that it was the first time since I'd got the instrument about 18 months ago that an airline had refused to allow me to take it as hand luggage, but she said the law had changed.
"She said that if I refused to hand it over, I could be prevented from boarding the flight," Kouyate told the BBC.
He said he eventually agreed because he had to travel two days later to his native Guinea, in West Africa, where his parents' graves were being moved to make way for a new road.
Kouyate comes from a line of kora players and is widely acknowledged as a master of the instrument.
He said he was told his instrument would be handled with care as hold luggage and corresponding labels were put on its soft case.
But he said that when he collected the kora at Brussels airport, its bridge and saddle were broken and the body had been damaged.
Kouyate's colleague from the Afro Celt Sound System, Simon Emmerson said they were awaiting the opinion of the instrument's maker in France, but they believed it could not be repaired. He said it had cost about £4,500.
The Musicians' Union said: "We regularly hear from musicians who have encountered problems at the check-in desk or when carrying instruments onto a plane. Airline staff often seem to apply their own discretion, regardless of an airline's official policy."
BA said: "Our colleagues take great care with our customers' luggage, so we're very sorry to hear about this. We are investigating this as a matter of urgency, and our customer relations team will be in contact with Mr Kouyate to help resolve the issue."
Strictly judge Shirley Ballas opens up about online abuse
Shirley Ballas has told BBC Breakfast she has received more online bullying this year than any other.
Most of the abuse comes from younger fans who get disgruntled if she sends their favourite dancer home on Strictly Come Dancing, she said.
The BBC One show's head judge added that she was concerned about what else those viewers were doing online and offline.
Kylie Jenner sells stake in cosmetics company for $600m
Kylie Jenner will sell the majority of her cosmetics company for $600 million (£463 million).
The 22-year-old's brand, including Kylie Cosmetics and Kylie Skin, will be controlled by beauty giant Coty.
Kylie says she is building the brand into an "international beauty powerhouse".
Forbes reported that she made $360 million in sales in 2018, making her the youngest self-made billionaire ever.
The chairman of Coty's board called Kylie a "modern-day icon, with an incredible sense of the beauty consumer".
Her online influence is so powerful that she reduced Snapchat's stock market value by $1.3bn (£1bn) when she tweeted that she does not use the app anymore.
The reality TV star launched her brand in 2015 with a line of lipsticks, and has since then branched out into face make-up and skincare.
Although she's the youngest, Kylie is the highest earner in the Kardashian family.
She faced backlash after being named a "self-made" billionaire, but defended herself saying that none of her money has come from inheritance.
She has more than 151 million followers on her personal Instagram account, as well as 22 million on her Kylie cosmetics account.
Coty, which owns brands like Burberry and Hugo Boss, will have a 51% stake in the company.
It said the deal will be completed in 2020.
Follow Newsbeat on Instagram, Facebook, Twitter and YouTube.
Listen to Newsbeat live at 12:45 and 17:45 weekdays – or listen back here.
Rare Charlotte Bronte book coming home after museum's auction success
A book written by Charlotte Bronte at the age of 14 will return "home" after being bought by the Bronte Society at auction in Paris.
The miniature work, called The Young Men's Magazine, will go to the Parsonage Museum in the Brontes' old home in Haworth, West Yorkshire.
It was bought for €780,000 (£666,000) after a fundraising campaign by the Bronte Society, which runs the museum.
The museum lost out on the book when it last went under the hammer in 2011.
The work is one of six "little books" written by Charlotte, the eldest of the three sisters, in 1830. Five are known to survive, and the Bronte Parsonage Museum already holds the other four.
The works were created for Charlotte's toy soldiers and document an imaginary world created by the family called Glass Town.
Charlotte is best known for her 1847 classic novel Jane Eyre.
The existence of the book that went up for sale – measuring 35mm x 61mm and consisting of 20 pages – came to light in 2011 when it was auctioned at Sotheby's.
The Bronte society was outbid by a discredited investment scheme that is no longer operational.
Before the auction, Kitty Wright of the Bronte Society said: "This extraordinary manuscript slipped through our fingers in 2011 so we are especially determined to make the most of this second opportunity to bring it home to Haworth."
Rebecca Yorke, also from the society, said more than 900 people had pledged money to help buy the book.
"They have also expressed how strongly they feel that this remains in Haworth, where it can be enjoyed by visitors and researched by scholars and academics," she told BBC Radio 4's Today programme.
Several celebrities, including Dame Judi Dench, Dame Jacqueline Wilson and Tracy Chevalier, backed the society's efforts to raise money.
'A magical doorway'
York-born Dame Judi, who is president of the Bronte Society, said earlier this year: "I have long been fascinated by the little books created by the Brontes when they were children.
"These tiny manuscripts are like a magical doorway into the imaginary worlds they inhabited, and also hint at their ambition to become published authors."
The Paris auction house catalogue said: "This is a unique opportunity to acquire such a precious autograph piece of the origin of this genius novelist, as well as a glance at the children's games and the imaginary world of the 'Glass Town' of the Bronte children."
Part of the Young Men's Magazine describes a murderer driven to madness after being haunted by his victims, and how "an immense fire" burning in his head causes his bed curtains to set alight.
Experts at the museum say this section of the story is "a clear precursor" of a famous scene between Bertha and Edward Rochester in Jane Eyre, which Charlotte would publish 17 years later.
Follow us on Facebook, or on Twitter @BBCNewsEnts. If you have a story suggestion email entertainment.news@bbc.co.uk.