Musicians 'face high levels of sexual harassment'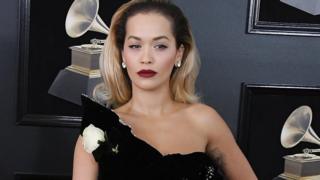 Over the last 12 months, high-profile musicians such as Ryan Adams and Placido Domingo have faced accusations of sexual harassment.
Singers Lily Allen and Aluna Francis have also come forward with their own stories of abuse in the music industry.
And R Kelly and Michael Jackson have faced both new and historic allegations of abuse in major TV documentaries.
Now, armed with further case studies, the Musicians' Union is calling for legislation to protect its members.
More than 350 people, predominantly women, have contacted the union, detailing cases of harassment, discrimination and abuse of power.
The complaints included rape and sexual abuse – but more than four in five (85%) of the victims did not report the incidents "because they think they won't be listened to or they won't be believed," said Naomi Pohl, deputy general secretary at the Musicians' Union.
One person, who asked to remain anonymous, said her complaint about being sexually harassed on tour had effectively been dismissed.
"I reported sexual harassment by a high-profile individual to a major employer in the industry," she said. "I understand I was one of 10 women making reports about the same individual and yet no action was taken, as far as I'm aware.
"I was told this was just 'lad culture' by the person investigating my complaint. No wonder such a high proportion of issues go unreported."
Her experience echoes that of Lily Allen, who recently told the BBC her record label had failed to act on accusations of sexual assault by an industry figure.
The Musicians' Union said many artists affected by harassment end up leaving the industry while the perpetrators face little recrimination.
It asked its 30,000 members whether they had experienced discrimination or abuse at work. Of the 725 who responded, nearly half (48%) said they had.
"It ranges from things like a professional musician turning up for a gig and being given hot pants to wear, to backstage facilities that are only really designed for men, to abuse and rape," said Pohl.
She added that harassment was rife in the music industry because it presented a "very informal working environment, with late nights and alcohol consumption at gigs" as well as "working one-on-one in a studio environment, and places with no windows".
"Survivors are often unable to speak out because the consequences for their career or personal life are devastating," said Pohl.
More than half of the surveyed musicians felt the culture of the industry was the greatest barrier to reporting abuse, with other factors including fear of losing work and expectations the issue would not be handled appropriately.
The Union says its members are particularly vulnerable because they tend to work on a freelance basis, meaning they have fewer protections than those in fixed employment.
It is calling on the government to extend the Equality Act's provisions on discrimination and harassment so that they cover self-employed workers; and is asking the public to sign a petition calling for freelancers to be given "an equal level of protection to those in fixed employment".
The focus of the petition, Minister for Women and Equalities Liz Truss, has been contacted for comment.
Follow us on Facebook, or on Twitter @BBCNewsEnts. If you have a story suggestion email entertainment.news@bbc.co.uk.
Queen reprise 22-minute Live Aid set at Fire Fight Australia concert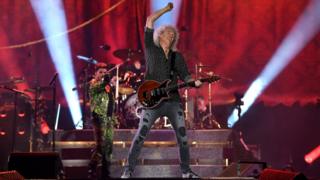 US singer Adam Lambert has joined Queen to reprise the band's legendary 1985 Live Aid set for 75,000 people at a huge benefit concert in Sydney.
The 22-minute set was part of a 10-hour fundraising event organised to raise A$10m (£5.15m; $6.71m) for communities devastated by bushfires.
"As Aussies we bear together… because it turns out the people at the top don't," the host Celeste Barber said.
Recent fires have killed at least 33 people, destroying thousands of homes.
In New South Wales, the worst-hit state, heavy rains have brought blazes under control. But in the last few months more than 11 million hectares of land – an area comparable to the size of England – has been affected across all of Australia's states and territories.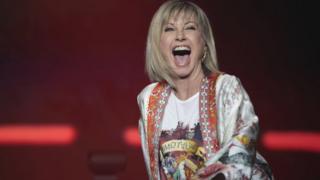 On Sunday, Olivia Newton-John and Alice Cooper joined local stars 5 Seconds of Summer, Tina Arena and Delta Goodrem for the Fire Fight Australia gig.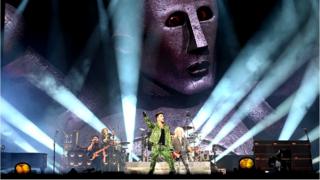 Joining Queen's Brian May and Roger Taylor on stage, Lambert filled in for the late Freddie Mercury as the band performed hits such as Bohemian Rhapsody, Radio Ga Ga, We Will Rock You and We Are The Champions.
How much rain did it take to put out the NSW fires?
'Urgent help' needed for 113 species after fires
Lambert, a former American Idol contestant who has previously toured with Queen, said it was a "real honour" to perform the band's full Live Aid set for the victims of Australia's bushfires.
The set at the 1985 fundraising concert at London's Wembley Stadium for famine relief is seen as one of the greatest performances by any rock band. It was recreated for the 2018 film Bohemian Rhapsody.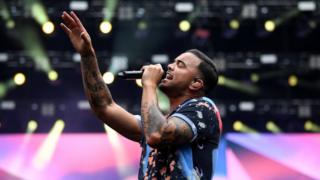 Australia has always had a fire season, with naturally occurring blazes sparked during the dry summer, but this year's has been unprecedented in the scale and intensity of the fires.
Prime Minister Scott Morrison's government has come in for harsh criticism for its response to the disaster.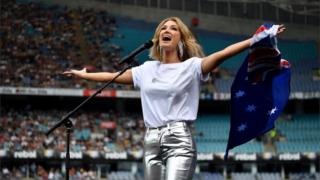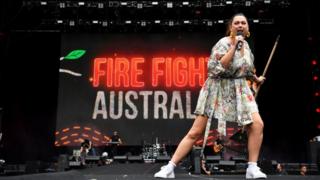 Profits from the event will be passed on to rural fire services, communities affected by bushfires and animal welfare groups.
A visual guide to Australia's bushfire crisis
Bushfires bring 'apocalypse' to Kangaroo Island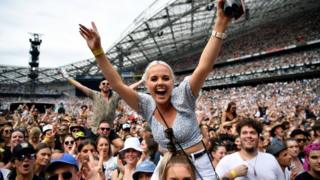 Among those attending was Dalene George, a teacher from Bateman's Bay, who told Reuters news agency: "[I want to be] part of the people who helped to try and bring things back together and bring smiles. Yeah be part of that healing stuff that happens with community."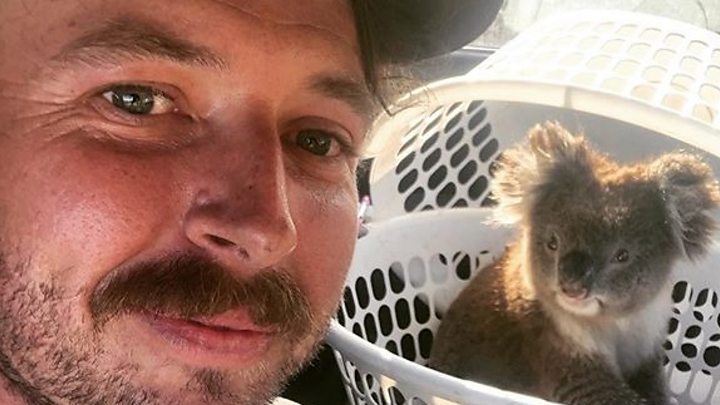 Another concert-goer, bank worker Karen Adams, said: "We're in Sydney so we couldn't even get down there to help, which was heartbreaking. And I work in a bank and so many families have lost everything so we're here to support them all."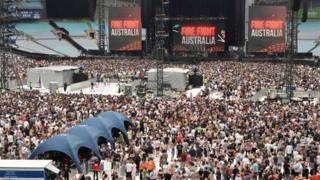 All pictures copyrighted.
Caroline Flack: Love Island episode taken off air after ex-host's death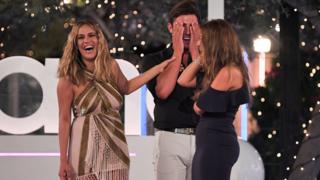 ITV have pulled Saturday's edition of Love Island following the death of the show's former host Caroline Flack.
An episode of unseen bits from the week in the villa was due to have been aired at 21:00 GMT.
Flack's death shocked fans on Saturday. It came two months after she was replaced as host of the show after being charged with assault.
An ITV statement said: "Everybody at Love Island and ITV is shocked and saddened by this desperately sad news."
It continued: "Caroline was a much loved member of the Love Island team and our sincere thoughts and condolences are with her family and friends."
ITV2's programme announcer said: "In light of today's sad news we're replacing tonight's episode of Love Island: Unseen Bits with a double bill of You've Been Framed."
Love Island's first winter series, which is being filmed in South Africa, is due to end on Sunday, 23 February.
TV presenter Caroline Flack dies at 40
Looking back at Caroline Flack's career
Meanwhile, Channel 4 said its series The Surjury, which was to have been hosted by Flack, will not air.
A Channel 4 spokeswoman said: "We are shocked and saddened to hear the tragic news about Caroline Flack. Our deepest sympathies go out to Caroline's family and friends.
"Under the circumstances, we have decided not to broadcast The Surjury."
When the show was announced in October, the channel said it would feature a 12-strong jury of the public who would decide if people got the cosmetic surgery they dreamed of.
Follow us on Facebook, or on Twitter @BBCNewsEnts. If you have a story suggestion email entertainment.news@bbc.co.uk.
Caroline Flack's career highlights in pictures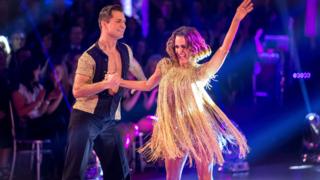 TV presenter Caroline Flack, who has died at the age of 40, starred on some of Britain's biggest television shows.
Here is a selection of photos that capture her career highlights.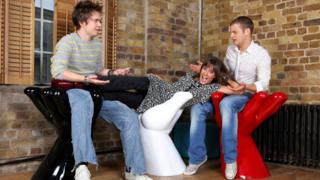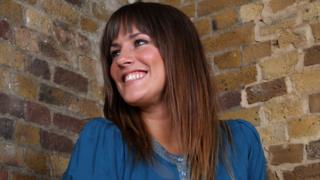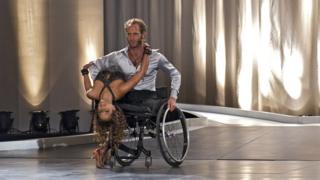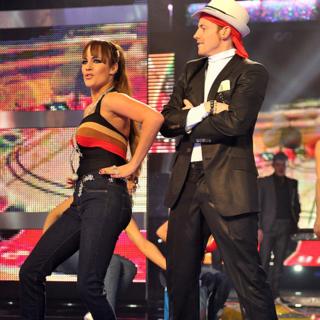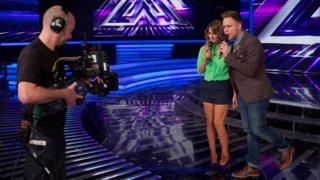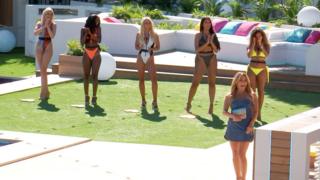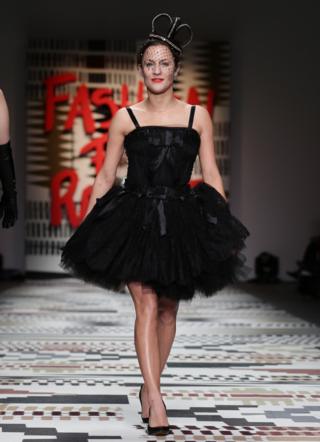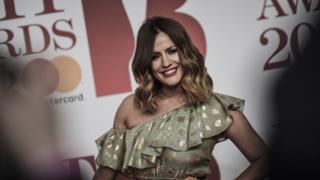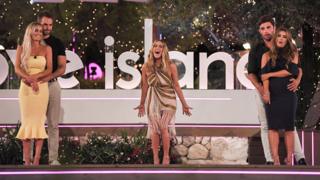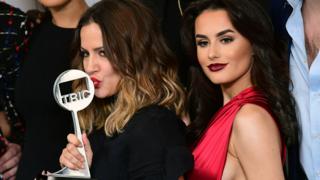 Follow us on Facebook, or on Twitter @BBCNewsEnts. If you have a story suggestion email entertainment.news@bbc.co.uk.