Music streaming market 'needs more choice'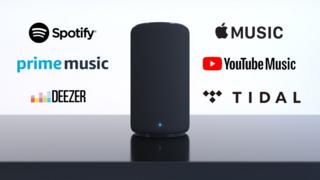 Spotify, Apple and Amazon Music have revived the fortunes of the music industry, but fans aren't getting enough choice, a new report claims.
It says streaming services are too similar, offering the same collection of songs with little price variation.
Appealing to older music fans and offering "super-premium" features could double the value of the market, from £829m this year to £1.6bn in 2023.
The findings came in a report for the Entertainment Retailers Association.
"There's a major prize at stake," said Pedro Sanches, of consultancy firm OC&C, who conducted the study.
The current "all-you-can-eat" streaming model had "enjoyed enormous success, in part because of its simplicity," he said, "but further innovation will drive more growth".
The report identified several new avenues, including premium subscriptions that offer access to exclusive content and merchandise; and expanding popular family and student plans to other demographics.
Subscription streaming services have become increasingly important to the music industry, at a time when CD sales and downloads are in sharp decline.
A total of 91 billion songs were played on Spotify, Apple Music and their competitors last year – the equivalent of 1,300 songs per person in the UK – and streaming now accounts for nearly two thirds (63.6%) of all music consumption in the UK.
The ERA's research was commissioned amid concerns that the surge in subscriptions could stagnate.
"Streaming has been the biggest news in the industry for the last 10 years," the organisation's CEO, Kim Bayley, told the BBC.
"The younger generation are very firmly in the streaming environment, and saturation point is approaching for under-25s, so we wanted to see where future growth will come from".
The report found that, left to its own devices, the UK streaming market would continue to expand by 5-7% every year, reaching £1.1bn in 2023. But finding ways to tempt non-subscribers could result in a £500m boost, generating revenues of £1.6bn.
"It's fair to say even we were surprised just how positive the results were," Bayley said. "There's lots of potential."
Lessons could also be learned from other entertainment providers, she added.
"Think about the way Sky [television] bundles things together – with different tiers for sport and movies and entertainment. That's the sort of thing you could do with music – create more channels, break it up a bit, and pay for the bits you want."
The need for a more diverse music streaming experience was recently highlighted by Warner Music CEO Mark Cooper.
"The streaming offerings in music have not been as consumer-friendly as they could have been," he said in New York last week.
"Right now, there's a 50 million-track universe and it's either free or $10 [per month], plus or minus.
"My view is that if [streaming services were] organised to allow people to choose by genre, or by number of tracks per day, hi-res sound, global [or] local, whatever it is, the music industry and the tech companies would have been ahead [of where they are now] by way of revenue optimisation."
Music industry revenues 2018
The ERA's research was released on the same day it was revealed that the UK Music industry had contributed £5.2bn to the UK economy in 2018.
The success of stars like Ed Sheeran and Dua Lipa helped exports soar to £2.7bn; while the live music sector made £1.1bn – up 10% from £991 million in 2017, despite Glastonbury taking a fallow year.
However, trade body UK Music warned that the new talent was being threatened by cuts to musical education and the continued closure of small music venues.
It added that, despite the huge financial rewards for A-list stars like Calvin Harris and Adele, the average musician earned £23,059 – well below the national average of £29,832.
Brexit also poses a danger to the industry, and touring musicians in particular, warned UK Music CEO Michael Dugher.
"We urgently need to ensure that the impact of Brexit doesn't put in jeopardy the free movement of talent, just at a time when we should be looking outwards and backing the best of British talent right across the world."
How we consumed music in 2018
Follow us on Facebook, or on Twitter @BBCNewsEnts. If you have a story suggestion email entertainment.news@bbc.co.uk.
BBC's George Alagiah on living with coronavirus and cancer
BBC newsreader George Alagiah, who is being treated for bowel cancer, has revealed he's had a mild case of coronavirus.
As a cancer patient, he underwent tests after developing a fever – and a few days later his oncologist rang to say he had tested positive for the virus.
The News at Six on BBC One presenter was first diagnosed with cancer in 2014 but revealed in 2017 that the disease had returned.
"In some ways, I think that those of us living with cancer are stronger because we kind of know what it is like to go into something where the outcomes are uncertain," he told colleague Sophie Raworth.
Antony Gormley and Grayson Perry share lockdown ideas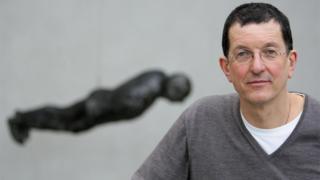 Artists including Sir Antony Gormley, Grayson Perry and Jeremy Deller have shared ideas for activities during the coronavirus lockdown.
The ideas are being put together by art gallery Firstsite in Colchester, Essex, so people can join make art at home.
Activities include paper chain designs from Sir Antony and a toilet paper poetry competition from Jeremy Deller.
The first pack, called Art is Where the Home is, should be available online from Wednesday.
Coronavirus live page: Updates from across the East of England
Sally Shaw, director of Firstsite, said the idea had been inspired by an activity book her mother gave her when she was a child.
"All the ideas were things you could do with paper, some string or glue if you were lucky – it was an amazing thing and would keep me occupied for hours and hours," she said.
"We are an art gallery so I asked the artists we had worked with in the past and have relationships to suggest ideas.
"The first person I asked was Antony [Gormley] and he wrote straight back in half an hour."
Other activities include a series of drawings from Annie Morris for people to colour in at home and a challenge to draw your own hand and display it in order to wave to others, suggested by Mark Wallinger.
Mrs Shaw said 4,000 people had expressed an interested in getting a pack.
She said: "We want to show people that being creative is important and that it can be just as necessary as eating a good meal or going to the gym at times like this."
It is hoped further packs will be created with more artists invited to contribute their ideas.
Find BBC News: East of England on Facebook, Instagram and Twitter. If you have a story suggestion email eastofenglandnews@bbc.co.uk
Van Gogh painting Spring Garden stolen from Dutch museum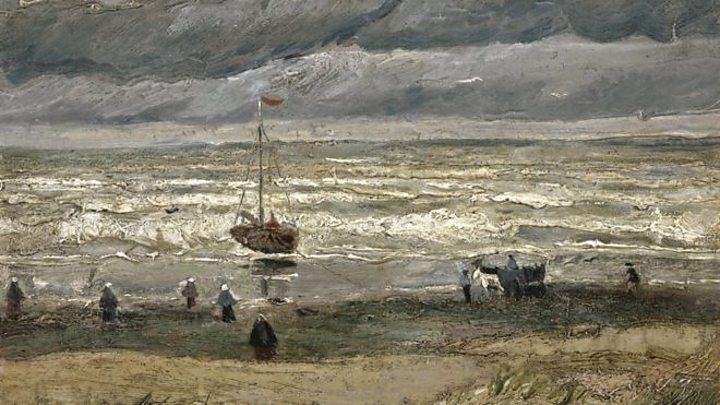 A Van Gogh painting has been stolen from a museum in the Dutch town of Laren.
Police said on Monday there had been a break in at the Singer Laren Museum at 03:15 local time (02:15 GMT).
The museum later announced that Van Gogh's Spring Garden, on loan from the Groninger Museum, was missing.
The Singer Laren Museum is closed due to the coronavirus. Its director, Jan Rudolph de Lorm, told reporters he was "incredibly pissed off" over the theft.
The value of the painting is not currently known.
The museum was created in the 1950s to host the collection of US artist William Henry Singer and his wife Anna.
On Monday the Dutch health ministry reported 11,750 confirmed cases of coronavirus in the country, and a total of 864 deaths.