Minister Stewart meets with stakeholders in Carriacou to discuss contingency plan for 2019-nCoV
Although the Caribbean region has been listed as low risk to the recent outbreak of China originated coronavirus, 2019-nCoV, Minister of Carriacou and Petite Martinique Affairs and Local Government, Hon. Kindra Maturine-Stewart, met with health professionals, immigration, police, airport and port authority representatives in Carriacou to best develop a contingency plan not only for the threats posed by the recent 2019-nCoV, but one that will safeguard the islands of Carriacou and Petite Martinique from future outbreaks. 
The plan being developed entails health declaration and probing questionnaires, the establishment of quarantine and an isolation area, heightened surveillance and the operation of handheld thermometers at the islands' ports of entry.
Minister Maturine-Stewart said that with Carriacou and Petite Martinique being directly connected to islands such as St Vincent and the Grenadines, measures must be put into place for the safety of citizens of Grenada on a whole from all places of entry.
She added that a similar meeting will take place on the island of Petite Martinique on Thursday evening to further discuss the plan with stakeholders and residents on the island.
Ministry of Carriacou and Petite Martinique Affairs
NOW Grenada is not responsible for the opinions, statements or media content presented by contributors. In case of abuse, click here to report.
Source: Source link
Letter to Grenada Bar Association re Imminent closure of Supreme Court Registry
27 February 2020
Ms Lisa Taylor
President
Grenada Bar Association
Dear Mme President,
Re: Imminent Shut Down of Supreme Court Registry
Permit me to extend to you, the Executive and members of the Grenada Bar Association greetings and best wishes. Please be advised that I write this letter in my personal, individual capacity.
Thank you for your above-referenced Press Release which alerted we the people to the "imminent shut down" of the Supreme Court Registry, which "has come about as action is required to immediately address dangerous environmental conditions at the building housing the registry". Your letter has noted the following:
Issues affecting a vital part of Grenada's legal system had been allowed to escalate to the point of crisis.
Those responsible for addressing the problems had failed to give an adequate and timely response.
Relocation had now been thrust upon the registry. Such relocation could have been planned and executed in a controlled way. Instead, there was a chaotic and haphazard reaction guaranteed to cause tremendous disruption to lawyers and the public.
What precipitated the "imminent closure" decision? To what location is the Registry being relocated? How can the Registry be closed with such scant notice to the Grenada Bar Association and the general public? And what about the security and accessibility of these precious records now in the Registry? Are our records safe? While relocation must be welcome news to the staff and other stakeholders affected by the environmental and health problems, what is the real reason for this precipitate decision?
It may be useful to recall that about one year ago, we the people became aware of the call for Expressions of Interest to undertake a Build, Own, Lease and Transfer (BOLT) arrangement re York House which was to become a Knowledge Centre and Museum, according to the advertisement. Is the "new owner" ready to take possession and build? And if there is a new owner via BOLT, what is the identity of that owner? By what process was the "new owner" selected? 
Permit me to observe, Mme President of the Bar, that this latest action re the precipitate shut down and relocation of the Supreme Court Registry – the engine of our Judicial System – is just another symptom of the new normal in Grenada with respect to the Judiciary, the third co-equal arm of Grenada's governance arrangements – a lack of consideration and respect for its proper functioning. This is UNACCEPTABLE. The Judiciary is essential to maintaining the rights and freedoms of our citizens and protecting the rule of law. Members of the legal profession are important guardians of the effective, efficient and honourable functioning of our Judiciary and I urge members of the Grenada Bar to not only be lawyers but to BE CITIZENS.
Thank you once again for bringing the matter of closure of the Supreme Court Registry to the attention of we the people. This is a VERY unsettling matter and we look forward to being kept updated about progress on this matter including the security and safety of our records and the resettling of the Registry staff in an appropriate, secure, safe and comfortable environment.
Kind regards!
Sandra C A Ferguson
NOW Grenada is not responsible for the opinions, statements or media content presented by contributors. In case of abuse, click here to report.
Source: Source link
Prime Minister reiterates COVID-19 not present in Grenada
As the coronavirus (COVID-19) continues to impact a growing number of countries around the world, Prime Minister, Dr the Right Honourable Keith Mitchell, has reiterated that the disease is not present in Grenada.
Speaking publicly Tuesday, Dr Mitchell said, "We have no coronavirus (COVID-19) in our country at this point in time. God help us that we continue to have none of it."
Having just attended the 31st Inter-Sessional Meeting of the Conference of Caricom Heads of Government where the coronavirus outbreak was a major talking point, Dr Mitchell said, "the entire Caribbean region reported that it is not present in any of the islands. Remember, if there is one incident of the virus in any country, they say the Caribbean and we can all get hurt."
According to the communique coming out of the recent Caricom meeting, leaders "recognised that the risk of transmission of the virus in the region remains relatively low but that an outbreak could reverse economic gains of Caricom States."
The continuing spread of the disease remains a concern and Dr Mitchell said, "This is an issue that we have to be prepared for in every respect, not just Grenada, but all countries in the Caribbean. At the recent Inter-Sessional Meeting of Caricom Heads of Government, this was an issue of concern for all leaders, particularly as it relates to misinformation."
He added, "Sometimes information shared gives the impression that we have the coronavirus (Covid-19) around us already, causing persons to be overly sceptical about people of Chinese origin. When we have issues like that, we do not need propaganda or misinformation because it affects every single one of us. There are some issues that should not divide us. There are enough issues for us to have differences on and to score points one way or the other, but there are others, like health issues that we should all be on one platform."
The Prime Minister urged persons to desist from spreading false information and he reiterated comments made earlier this month at independence celebrations about working together to face challenges. He said, "We have to be careful, you never know what will meet us tomorrow. Our country has faced problems in the past and we had friends regionally and internationally who supported us."
The Ministry of Health and the Grenada Airports Authority continue to strictly enforce mandatory screening and other emergency protocols to help mitigate against the potential spread of the disease.
As of 26 February 2020, the World Health Organisation is reporting the presence of COVID-19 in 37 countries, with more than 81,000 cases recorded around the world.
Office of the Prime Minister
NOW Grenada is not responsible for the opinions, statements or media content presented by contributors. In case of abuse, click here to report.
Source: Source link
Erosion of Amerindian burial site at Mt Craven
by Curlan Campbell, NOW Grenada
Amerindian burial site under siege by wave action
Remains have been undisturbed for over 1,000 years
Archaeological remains found are placed in Grenada National Museum
A struggle is being waged on two fronts to excavate the remains of an Amerindian burial site in the north of the island under siege by wave action.
Since 2018, archaeologists have been attempting to document and salvage the skeletal remains of Amerindians who once settled in the area located in Sauteurs, St Patrick. Their remains have been undisturbed for over 1,000 years but after the recent construction of the Breakwater Project which was meant to protect the town from wave action, residents have started to witness the destructive heavy sea surge pushed further down the coast, which has started to expose the burial site.
A team from Leiden University led by Professor Dr Corinne Hofman started the excavation in 2018 and found skeletal remains and artefacts. The bones collected are presently being analysed at Leiden University.
The earliest archaeological remains are carbon-dated to be around 600 AD and since then to the year 1650, there have been many Amerindian settlements in the region.
Archaeologist Jonathan Hanna, who was then a student at Penn State University, assisted in the emergency excavation back in 2018 and has since returned upon the completion of his doctorate in Anthropology to continue the fight to preserve Grenada's cultural heritage.
Dr Hanna said the excavation was meant to gather more data in order to properly assess the situation. He stated that the Amerindian burial site is much larger than anticipated and the immense damage and loss of archaeological remains is now critical; but even worse, the erosion caused over the past two years is of great concern for residents of Mt Craven.
"This is basically a catastrophe zone. I am not sure exactly how many metres have been eroded since last time but it is estimated to be about 10 metres or more. The burial site where we are at now is about 50 metres down the coast from where we were last time, and the distance between this burial and the furthest one that we know of down there is 160 metres, so it is an extremely huge cemetery basically that is at risk," Dr Hanna said.
Dr Hanna said it is important to preserve and document these findings since not only are Amerindian burial sites few in numbers in the Caribbean, but their DNA holds answers to questions about their cultivation.
"These remains are still here and they haven't been exposed for 1,000 years so even though there have been sea surges before it really hasn't been as bad as what's happening now. It speaks to climate change, threats to heritage and that is something we need to think more about in Grenada and try to protect these sites," he said.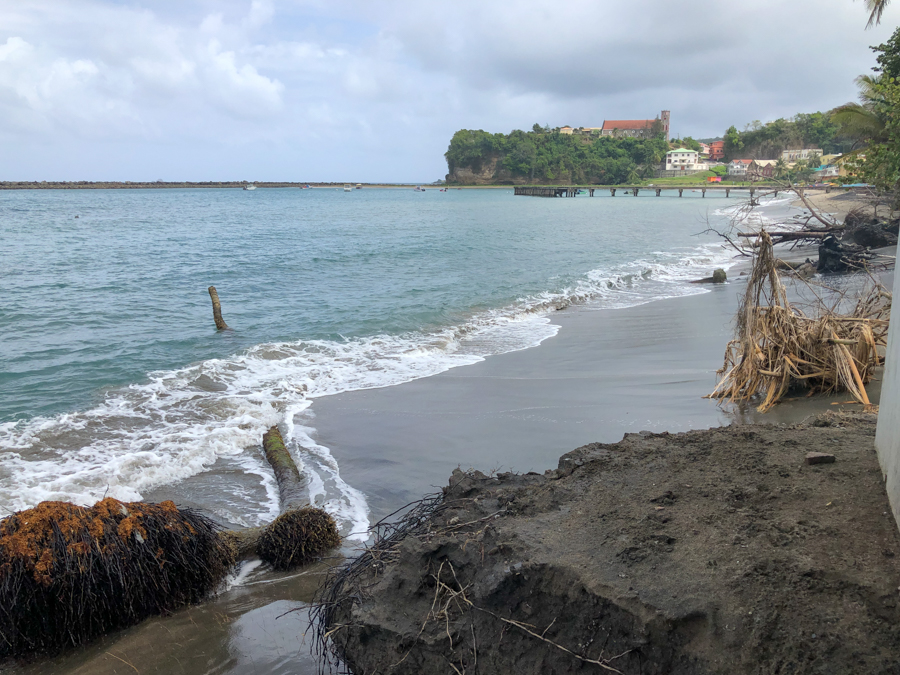 Residents have settled on what was once an Amerindian burial site, and they too are at risk since their homes are being threatened.
Nicholas Alexander, a graphic designer by trade, has shown great concern for what is happening to the coast. "I have lived in this area for over 30 years, and since I was in primary school we have been sighting these skeletal remains and at that time it had a lot. Recently I and my friends discovered another set of remains, we took pictures and we posted it on social media asking for somebody with the knowledge to come and examine the area. They did come and collected the bones, but when I followed up they threw away the bones," he said.
Alexander provided some before and after pictures which clearly show the degradation of the coast over a short period. This he said needs urgent attention. "This erosion is a serious problem now. A lot of people have a different view on what is causing the problem, however, yes although it has been happening for years it was never that bad," he said.
As it relates to the archaeological remains, Dr Hanna said the those found are placed in the Grenada National Museum.
NOW Grenada is not responsible for the opinions, statements or media content presented by contributors. In case of abuse, click here to report.
Source: Source link