Lost Lives: Neeson, Branagh and Rea narrate Troubles 'requiem'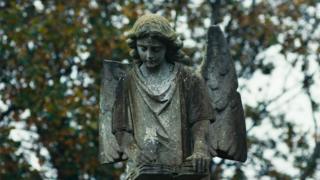 In 1991, four men sat down in Belfast to write a book of the dead.
They resolved to put on record the stories of what happened to every man, woman and child killed during Northern Ireland's Troubles.
Their testament to suffering would take eight years of painstaking research. They detailed 3,700 lives shattered. Their book was Lost Lives.
Now, two film makers and a host of Irish actors have followed in those writers' footsteps.
Taking Lost Lives as their inspiration, they have created a requiem for the Troubles dead.
Liam Neeson, Ciarán Hinds, Kenneth Branagh, Adrian Dunbar and Bronagh Waugh are among a long list of acting talent from Northern Ireland who have given their voices to the film.
The book was written by veteran NI journalist David McKittrick, BBC journalists Chris Thornton and the late Seamus Kelters, and political commentator Brian Feeney. At a later stage, David McVea joined in.
First published in 1999, it was an act of remembrance, lest a single life be forgotten.
It is considered the go-to reference book and an authority on the Troubles.
In the Irish Times in 2006, journalist Susan McKay wrote: "A Tyrone man bought five copies. Five members of his family, all in the security forces, had been killed.
"A Donegal man found out from the book that it was the UVF, and not the IRA, that had killed his brother – as his family had supposed for 30 years.
"It has been read out in churches, Protestant and Catholic. A woman wept so much over the book in a shop she left mascara stains on the page at which she'd opened it."
'War is Hell'
The new film, which had its premiere in London on Thursday night, tells individual stories from the book, using archive footage, music and the book's words spoken by actors to bring them to life.
Dermot Lavery and Michael Hewitt of DoubleBand film say theirs is not a documentary, but rather a "creative response" to the book.
They found their inspiration between the pages of the stout volume where each victim's name and age are listed along with the date and the details of their death.
Their film melds strikingly beautiful images with the crackle of gunfire and the ugly thud of bombs.
"It is a reminder that war is Hell," said Lavery.
"For us, it is a cinematic event that addresses the past, but looks to the future."
Wrap my country up in cotton wool
Bronagh Waugh, actress
I felt deeply honoured to take part. I was born in Coleraine in 1982 and I knew friends whose parents had been killed in the Troubles.
I didn't know that the book, Lost Lives, existed. When I held it in my hands, what struck me was the sheer volume of it. I wanted to read all of it.
How personal the stories were. People can become statistics. But here were the stories of real people. There were so many ordinary lives and what would those lives have been, if they had not been killed?
At the recording, I was reading the story of a mother and my voice kept breaking. It was so visceral and real.
What Lost Lives shows is how fragile peace is and how we must never take it for granted.
I want to wrap my country up in cotton wool.
Lost Lives – a production commissioned by BBC Northern Ireland with funding from NI Screen – is a film about humanity and inhumanity, about innocence and experience during the Troubles – a local story that played out for more than 30 years on a worldwide stage.
It marries the beauty of the natural world with old footage from past atrocities.
The camera holds the face of a toddler in a knitted bonnet sitting in her pram at a street corner, watching her world collapse.
A woman stares out from behind lace curtains as violence unfolds on her street.
A man is filmed abandoning his home, loading his worldly possessions on to a trailer with an air of resignation, lumping a huge statue of the Virgin Mary on the top.
The film is an elegy that flicks from children playing with toy guns to the crackle of real gunfire.
The viewer is brought back again and again to the fluttering pages of the Lost Lives book and to story after story of heartbreak.
We hear about the parents who left Belfast after their child was shot dead… but they had to come back.
"I wasn't content knowing that Patrick was buried here, I wanted to be near him," said Patrick Rooney's mother.
We hear the words of Mary Isobel Thompson's widower: "She was a happy wee woman, the world's best.
"There was just the two of us, we had no family, so we always went everywhere together. Now I am by myself. Sometimes I do not realise, I think I hear her calling for me…"
And there is Philip Rafferty, just 14, abducted, hooded and shot dead. He had been on his way to a music lesson.
His Jewish uncle wrote a letter to a newspaper. He said he had lost a cousin to Hitler's gas chambers and now, more than 30 years later, another child had died needlessly.
He said Philip was a small frail boy who suffered from asthma. He was his parents pride and joy. He was barely 14.
"That's all the years Philip Rafferty had… Why did he die?"
'Nobody needed persuading'
Michael Hewitt, film maker
We started making the film three years ago, but we were having conversations about it long before that.
Lost Lives is a reference book, but it represents much more than that. The challenge was how do you make a film from a book like that?
We made a commitment that every name in the book should be listed in the film.
Then we found extracts where there was a quote from a family member that reflected the hurt felt by those left behind. We were very much drawn to that.
The actors all came on board so readily. There was something of real value in the fact that they were lending their support and their voices to the film.
We felt enormously honoured. Nobody needed persuading or to be asked a second time.
We are very clear that we are living in troubled times. We need to remember the cost when things are settled through violence.
When you hold that book in your hand, you can feel the weight of all that was lost, all the lives.
You have to ask why.
Lost Lives, the film, is being released to mark 50 years since the Troubles began.
It received its world premiere at the BFI London Film Festival on Thursday, followed by a question-and-answer session with the film makers and narrators which will feature at UK screenings on 23 October.
Actors Stephen Rea, Brid Brennan, Roma Downey, Michelle Fairley, Brendan Gleeson, Dan Gordon, James Nesbitt, Conleth Hill, Susan Lynch, Emer O'Connor, Stephen Rea, Judith Roddy, Michael Smiley, Bronagh Waugh, Des McAleer, Martin McCann, Ian McElhinney and Sean McGinley also lend their voices.
The film is also being shown at Belfast's QFT cinema from Friday 11 October. It will be shown on BBC television later this year.
George Floyd: Music industry calls for 'blackout' over death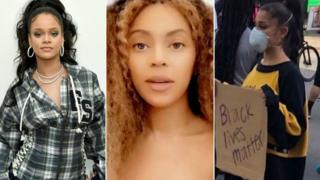 The music industry is to observe a day-long "blackout" on Tuesday, in response to George Floyd's death last week.
All three major record labels have shared a message on social media promising "a day to disconnect from work and reconnect with our community".
Employees have been given Tuesday off as "a day of action," intended to "provoke accountability and change".
Interscope vowed not to release new music this week, while Apple Music's Ebro Darden cancelled his radio shows.
Floyd, a 46-year-old African-American man, died last week after a white police officer knelt on his neck for several minutes.
Minneapolis policeman Derek Chauvin has been sacked and charged with third-degree murder. He is due to appear in court on Monday, amid ongoing protests in the US and UK.
Many of music's biggest stars have spoken out about the father-of-two's death.
Taking to Instagram on Sunday, Rihanna spoke of the "devastation, anger [and] sadness" she has experienced over the last week.
"Watching my people get murdered and lynched day after day pushed me to a heavy place in my heart," she wrote.
Beyoncé filmed an Instagram video urging fans to sign a petition seeking "justice for George Floyd".
"We all witnessed his murder in broad daylight…We're broken and we're disgusted. We cannot normalise this pain".
Dr Dre also called for action, saying his "heart is still aching".
"It felt like that cop had his knee on all of our necks, meaning black men," he said on Apple Music's Young Money Radio.
"It's extremely painful because it keeps going on. It continues to go on and it's like, 'What can we do? Or what do we need to do to make this thing stop?'"
Other pop stars, including Ariana Grande, J Cole, Tinashe, Nick Cannon, Yungblud, Camila Cabello and Shawn Mendes, joined protestors across the US over the weekend.
Halsey, who took to the streets in Los Angeles, told fans that she and other protestors had been fired upon by police.
"We were peaceful, hands up, not moving, not breaching the line," she captioned a photograph of police in protective gear.
"They opened fire of rubber bullets and tear gas multiple times on us. citizens who were not provoking them."
As anger spread through the music community, a message spread on social media calling on the industry to "take an urgent step of action to provoke accountability and change".
"As gatekeepers of the culture, it's our responsibility to not only come together to celebrate the wins, but also hold each other up during loss," reads the statement, which circulated under the hashtag #TheShowMustBePaused.
Among those reposting the message were Warner Music Group, Sony/ATV, Universal Music, Motown, Capitol Records, British label Dirty Hit, Eminem's Shady Records and legendary producer Quincy Jones.
"All of my shows are cancelled," wrote Apple's Ebro Darden on his Instagram feed. "I will air replays of conversations with community activists, politicians and revolutionary music."
Task force
"We stand together with the black community against all forms of racism, bigotry, and violence," said Columbia Records, which is home to Beyoncé, Pharrell Williams, Lil Nas X, Bob Dylan, Bruce Springsteen and Adele.
"Now, more than ever, we must use our voices to speak up and challenge the injustices all around us."
"In the words of Dr King, 'There comes a time when silence is betrayal.' When you have a responsibility to raise your voice for change. That time has come," added Universal Music Group on social media.
Universal's chairman, Sir Lucian Grainge, also issued a memo to staff laying out plans for a task force, headed by chief counsel Jeff Harleston, to "accelerate our efforts in areas such as inclusion and social justice".
"We must do more and now is the time to do it – and to do it with an unprecedented sense of urgency," he wrote.
"Even more importantly, we must commit ourselves not merely for this week, but we must continue that commitment – without let-up – in the months and years ahead."
The British record industry's trade body, the BPI, also confirmed it would participate in the "Blackout Tuesday".
"Like many of our members, we will suspend normal business tomorrow," it said in a statement.
"Our staff will share in this moment to reflect on the recent tragic events, stand in solidarity with all those who suffer discrimination and encourage our leaders across the world to act.
Follow us on Facebook, or on Twitter @BBCNewsEnts. If you have a story suggestion email entertainment.news@bbc.co.uk.
Ashley Banjo: 'I looked at George Floyd and I saw my dad'
Diversity's Ashley Banjo has spoken out about the death of George Floyd, saying the arrest footage made him feel "sick to my stomach".
Speaking to the BBC, he reflected on his personal experiences of growing up in a mixed race family in the UK.
"It brought up… times of being pulled over, being wrongly detained, being questioned," he said.
Obituary: Christo Javacheff, the artist who wrapped the world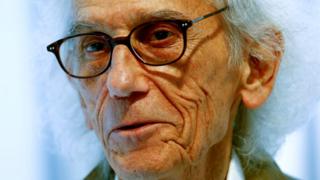 Once a penniless painter on the boulevards of Paris, nobody did art like Christo.
The charismatic Eastern European refugee became world famous for monumental installations, covering huge objects in miles of fabric and rope. Every project was preposterous in concept, taking decades to design, finance and deliver.
He wrapped enormous buildings, avenues of trees, entire coastlines and island chains. Each one cost millions with official permission almost impossible to get. Yet, when finally completed, they were gone again in a matter of weeks.
It was a life of herculean tasks. His determination to see them through never dimmed.
Christo, artist who wrapped landmarks, dies at 84
Even in his eighties, he was working on a scheme to rival the pharaohs. A vast stairway to heaven in the deserts of Abu Dhabi, made from 410,000 brightly coloured oil barrels. A final, grand statement larger than the Great Pyramid itself.
Christo Vladimirov Javacheff was born on 13 June 1935 in Gabrovo, a small town in the Bulgarian mountains.
His father Ivan was a chemist who ran a factory making fabrics. His mother, Tzeta Dimitrova, a political activist. Their social circle was one of artists and intellectuals, the household a swirl of radical ideas questioning the boundaries of contemporary culture.
A bohemian childhood, where artistic creativity was encouraged from the start, was constantly disrupted by war. As a boy, Christo saw his country first brutally uprooted; first by the Nazis and then the Russians. Politics, as well as art, shaped his early years.
In 1952, he attended the Art Academy in Sofia. There he was expected to join the Communist Youth and produce realistic, anti-capitalist work glorifying the values of socialism. He turned out the kind of populist propaganda pieces the system demanded. But he found it suffocating.
"The work of art," he would say, "is a scream of freedom."
He moved to Prague, got into theatre design and immersed himself in the works of great artists; Miro, Matisse, Kandinsky. When the Hungarian revolution broke out, he saw students and intellectuals like himself dealt with ruthlessly. So he fled.
Bribing a railway worker, he hid on a train taking medicine to Austria. He made it to Vienna but found himself officially stateless – dirt poor and unable to speak the language in a Europe awash with refugees.
Jeanne-Claude
A few years later, he washed up in Paris. He scraped a living painting portraits on the street, something he likened to prostitution. A woman saw an example at the hairdressers and liked it, inviting the struggling artist to her chateaux to paint a picture of her.
The woman's daughter was flame-haired Jeanne-Claude. She would become Christo's wife, his muse, his voice and life-long business partner and creative soul mate.
"Mother's brought home another stray," she thought at the time. Fortunately, that first impression didn't last.
He showed her his 'real work'. In 1920, Man Ray had wrapped a sewing machine with a blanket, appropriating an everyday object and making it art. Profoundly influenced, Christo's garret was stuffed floor-to-ceiling with similar pieces. "My God", she recalled thinking. "This guy is crazy!"
She got pregnant and married a more suitable man but walked out after three weeks. She and Christo were never apart again. Jeanne-Claude's father, a four-star general in the French army, didn't speak to her for years.
Art on an epic scale
What followed was an extraordinary artistic collaboration lasting more than 50 years. At first, their work was credited to Christo alone, feeling that it was easier for one person's name to become established. Only latterly did Jeanne-Claude's contribution get the equal billing it deserved.
She encouraged him away from small objects in favour of the monumental. In 1962, reacting to the building of the Berlin Wall, they blocked off the Rue Visconti in Paris with a pile of oil drums some 4m high. They begged the police to let it stand for a while but within hours it had gone.
They moved to New York, living in an illegal squat as undocumented migrants. He began producing the sketches and project plans they sold to finance their creations. She took on the logistics and gathered the necessary permissions.
In 1969, they wrapped more than 2km of coastline in Little Bay, Australia. In places, the cliffs soared to more than 26m high. It took an hour to walk from one end of the installation to the other.
Next, they created a fabric fence in California – nearly 40km long and 6m high. Nine lawyers were hired to persuade dozens of local farmers to give their blessing.
In 1983, the couple surrounded 11 islands in Miami's Biscayne Bay with more than 600,000 square metres of bright pink polypropylene. The material was individually cut to fit each shoreline. Four hundred people were needed to put everything into place.
Walkways were sewn into the fabric for the public. The 'exhibit' was up for just two weeks, then all 11km of it was taken down.
The absence of meaning
Christo and Jeanne-Claude wanted their works to be joyful and beautiful, encouraging the observer to see the familiar anew. But they refused to give these vast creations any 'meaning' past an immediate aesthetic impact.
The direct impact on the environment was controversial. The couple were careful to recycle everything they used. And none of it was built to last.
Its temporary nature was a key part of the concept. Like the rainbow, its momentary existence was what made it all so wonderful.
"They all go away when they're finished," Christo once said of his creations. "Only the preparatory drawings and collages are left, giving my works an almost legendary character. I think it takes much greater courage to create things to be gone than to create things that will remain."
Up to a point, perhaps. The site-specific creations might have been designed with a fleeting wow factor in mind, but as a body of work they spoke to important themes – impact on the environment, 20th Century human conflict, and the need for perseverance in defence of freedom of expression.
In 1984, they wrapped the Pont Neuf in Paris. It took them nine years to persuade the mayor, Jacques Chirac, to let them do it. Forty thousand metres of golden sandstone fabric was used, chosen to imitate colour of the pavements at sunset.
Next was a $26m project to erect thousands of huge umbrellas – blue ones in Japan, yellow ones in southern California. They were paid for, as always, by the sale of Christo's drawings. They never accepted sponsorship, which would have imposed unacceptable limitations on their art. Three million came to look and picnic in the shade.
Years of lobbying came to fruition in 1995, when the German parliament allowed them to spread 100,000m of fireproof material around the Reichstag. All tied down with 15km of rope.
The most difficult was the one closest to home. Its title, The Gates, Central Park, New York 1979-2005, referred to the years it had taken them to persuade the city to let them do it.
In February 2005, more than 7,000 gates made from saffron coloured fabric were finally placed along the paths that wind through the Big Apple's green lung. Together, they formed a fluttering trail 37km long. Five million came to be amazed. A week later, everything was packed away.
Legacy
Jeanne-Claude died in 2009 after complications following a brain aneurysm. For years she had been seen as little more than Christo's business partner and PR manager. In reality, they were two sides of the same creative coin, travelling in different planes so that, if one died, their artistic vision would survive.
Without her, Christo pushed on with their unfinished projects. In 2016, he installed a series of walkways on Lake Iseo near Brescia, Italy. Visitors could walk for more than 3km, just above the calm surface of the waters, from the mainland to the islands of Monte Isola and San Pedro.
"The most beautiful part," he said, "is about the people walking nowhere. It's not like going to the shop, not going to see your friends. It's really going nowhere."
Despite his claim his work was nothing more than the impact of the aesthetic on the human senses, Christo will be remembered for a body of work that pushed artistic boundaries.
He challenged the idea that sculpture has be something fixed and permanent. He deliberately blurred the line between art and its natural environment. And he did it on a truly epic scale.
His death means we will never see all his visions come to reality. There were plenty that never made it past the drawing board. Even decades of lobbying never let him wrap some of the skyscrapers in New York.
He cancelled a plan to cover the Colorado River, despite spending $14m getting permission, in protest at the election of Donald Trump.
A plan to wrap the Arc de Triomphe in Paris is still set to go ahead next year, but who knows if his scheme in the desert will ever make it from design stage to reality in his absence? It is intended to be 500ft high, with a base the size of the piazza at St Peter's in Rome.
And this one, the only one of all his projects, was designed to be permanent. A lasting tribute to an extraordinary creative partnership whose every scheme was more innovative, ambitious and dauntingly complicated than the last.