Little Mix star Perrie Edwards talks new music, panic attacks and knitting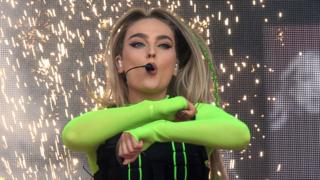 If anyone can lift us out of the gloom, it's Little Mix.
Britain's most successful girl band are breaking through the fug of self-isolation with a turbo-charged new single that goes by the self-explanatory title Break Up Song.
It was written in a flurry of creativity last year – one of seven songs the band composed in a single day with their go-to writer (and former stockbroker) Camille Purcell.
Straight away, it was earmarked as the first single on Little Mix's sixth album, which is also their first since splitting from Simon Cowell's record label, Syco, in 2018.
Plans for the album are up in the air after the coronavirus outbreak put recording sessions on hold – but they decided to release Break Up Song anyway, in an attempt to keep their fans happy in uncertain times.
Singer Perrie Edwards joined us on the phone from her house in London to explain what's going on; and how the split from Syco has given Little Mix permission to go back to their first love: pure, unfiltered, hands-in-the-air pop anthems.
Hey Perrie, how are you?
I'm great! I'm in my kitchen making a grilled sandwich.
Excellent news. What filling?
Well, have you ever heard of [swanky Danish juice bar chain] Joe and the Juice?
Yes, there's one next door to the BBC!
Well, I'm a little bit obsessed with that because my boyfriend likes it, so… there's a Tuna sandwich that you get from there, and I'm basically just making my own version of that.
Well, I'm glad we've got all the important stuff out of the way first. Shall we wrap up the interview here?
Haha, yeah.
Or maybe we should talk about the new single…
Oh, alright then.
It's immediately recognisable as a classic Little Mix song, but how did it come about?
So basically, the story goes like this…
Sometimes when we do writing sessions you're literally sat there, twiddling your thumbs, doodling on a piece of paper, pretending you're coming up with ideas while you're secretly going on Uber and ordering yourself a car home.
Then there's other days when everything is flowing and it feels amazing. And this was one of those days. We went in the studio with Camille, who's like the fifth member of Little Mix, and we wrote about six or seven songs in one day.
All completed, polished songs?
Well, it was everything from rough ideas to little tiny demos, and one of them was Break Up Song.
It was very basic at the time. The beat was all over the place and it was really, really rough – but it just had something about it. And we thought, "This has got to be the first single. Let's just bin everything we thought of doing before and roll with this."
So it wasn't always destined to be the lead single?
No, but we played the demo to our label and said, "This is going to be a smash – we just need to finish it."
And they were going, "How can you tell it's going to be a hit when it's literally just a verse and the [main] line?"
And we were like, "Trust us. Let us get a really good demo together, and we'll present it to you and see what you think". And as soon as we did that, everybody loved it. We felt really proud because it was our baby.
I've always wondered how you divide up the singing in the studio. Do you each have specific strengths you play to?
Back in the day we used to have a routine about who sang what but, since the last album, it's become almost a free-for-all.
Like, I got to the stage where I was like, "Guys, I really don't want to belt out the big notes and the ad-libs all the time. I want to sing a verse, or something lower [in pitch] because I like to sing low as well".
So we throw it all over the place now. I think it keeps it more exciting for us and the fans.
One of the lines Jesy sings in Break Up Song is: "I'll be good by myself / I'll find a way to dance without you." Obviously it was written before the lockdown, but it seems eerily appropriate this week.
Exactly! It couldn't have come at a more perfect time. I think it'll uplift everybody at home, just jamming out to it.
And, as if by magic, you've just gone viral by dancing with your boyfriend [Liverpool footballer Alex Olade-Chamberlain] on Instagram…
[Laughing] I can't believe that went viral! I don't understand what made it so good.
I think it's because you float up the stairs like you're in a 1950s Ginger Rogers film.
Aw, I love that. It actually does. But we just did it as a laugh; and then it went massive.
Is that your top tip for isolation, just dancing around the house?
Yeah, dancing, keeping yourself busy. I just keep putting fake tan on like I'm going somewhere when I'm not. And I've been knitting a little bit.
What have you made?
Well, like a grandma, I've knitted a blanket – and it's come in really handy, actually.
What does the lockdown mean for Little Mix? You had a tour, festivals, a TV show and an album all due in the next couple of months.
I honestly have no idea. I'm praying and hoping that our tour is going to happen. But I'm also putting things into perspective. It sucks for us but it's a global pandemic, so we're just going to go with the flow and do what we can to keep our fans happy whilst quarantining and figure it out after.
That's basically what everyone's doing.
This is the thing: Everybody's in the same position. We're all in it together.
And yet some people still seem to be taking unnecessary risks.
It's weird, I don't understand why people don't stay at home, it isn't that hard.
It's like people want a sick day at work all the time – but now they're being made to stay at home, they're like, "Well, I don't want to!"
So what stage is the album at right now?
To be fair, it was shaping up very nicely before the whole corona-situation happened. But there's still work to be done. If it was all finished and it was sat there, we'd say, "Do you know what? Let's get it out," but it isn't…
Your last album, LM5, came out a day after you split from Simon Cowell's record company, but it was still on their label. A lot of fans felt it didn't get the promotion it deserved… What was your perspective?
It was a weird time in our careers. There was a lot going on, but it's one of those things. We were proud of the album, we were happy with it and the fans seemed to love it.
I think, moving forward with our music, instead of trying to mature our sound and try different genres, we're just going to do what makes us happy – which is pop and feel-good music like Break Up Song.
Is that what happened with Syco? You were being pushed in a direction you weren't comfortable with?
Hmmm… I think we just wanted to try something new. It was our fifth album and you get to a point where you want to switch up your sound, switch up your look, try different things. You don't want to keep doing the same stuff every day.
You're basically in uncharted territory now. Girl groups don't usually last for three albums, let alone six.
Thank you, yeah. It is pretty unheard of to do this well for this long, so we are really grateful. I think it's just down to friendship and hard work and dedication.
Do you find people underestimate the amount of work you do?
Exactly. I think people think we get on stage, we look pretty, and then we insert a memory card into the back of our necks and the performance just happens.
I don't think they realise it takes weeks and months of preparation and rehearsal and time and effort. It's not easy being a pop star!
What was the diary like before you went on lockdown?
It was intense. It's always the same in Little Mix world. Our schedules are normally planned out two years in advance.
Wow. I don't know what I'm doing tomorrow, Perrie.
Well now neither do I!
That must be weird.
It's a bittersweet situation. It's quite refreshing but it's also quite daunting because I'm used to having my life planned out for me. But it is quite nice not to think about work for a little while.
You wrote a really powerful and brave Instagram post last year about your anxiety and panic attacks. How did that affect your ability to be part of the band?
It's weird. It affected it in a huge way, but it also didn't affect it at all, if that makes sense?
When the panic attacks got bad, I didn't want to leave the house. My mam and Sam, my manager, had to meet at my house to take me to work because I couldn't bear the idea of being in a car on my own.
And I've always been really independent. I've always loved my own space. I lived near fields with nothing around me and that was my happy place. Then all of a sudden it slipped and now that's my idea of hell. So I like to be surrounded by people now because I feel like if I was to have a panic attack, it'd be better if I had somebody with me.
So it messed up work in the day-to-day sense, but it's never affected being on stage, because performing's what I love to do. That's where I feel most comfortable and the most safe, I suppose.
It must be hard, though, to get up on that stage after going through all that stress just to get there.
It's the worst thing in the world. It's quite frustrating, 'cos if someone broke their leg, you wouldn't say, "Oh, just get on stage and perform, you're fine." But because you can't see anxiety, it's a mental illness, people don't necessarily believe in it as much.
Has it subsided at all, or have you worked out ways to cope?
Touch wood, the panic attacks have stopped, but anxiety is quite hard to shift, so you've got to try and find coping mechanisms, rather than thinking you'll get rid of it.
Therapy has helped; and so has figuring out the things that trigger my anxiety and trying to avoid those situations somehow. And if not, just try to keep calm and breathe.
In happier news, you've just passed your driving test, is that right?
Yes I did! I never thought in a million years I would pass my test but I absolutely love driving now. It's the best thing ever,
What car did you get?
It's a big truck! It's huge. It's a beast but I absolutely love it.
And do you still play guitar?
A little bit – but not as often as I should. I've got long, natural nails now and I can't play guitar with them.
Aren't they useful as guitar picks?
No! It's really hard when you're pressing the strings to make the chords because your nails get in the way. So I'm putting beauty before guitar talent here!
Have you ever considered doing an acoustic set with the girls?
I've thought about it but I don't know… I'd be really worried because I'm not that good at it. I can play the basic chords and that's about it.
Well, you only need three.
That's true! Every single song is basically only three or four chords, so you never know!
Right, well I'd better let you get back to that tuna sandwich. Thanks for chatting.
Thank you! See you when it's all over. Stay safe!
Little Mix's new single, Break Up Song, is out now Since this interview took place on Wednesday, their BBC TV show, The Search, has been postponed.
Follow us on Facebook, or on Twitter @BBCNewsEnts. If you have a story suggestion email entertainment.news@bbc.co.uk.
Basu Chatterjee: Bollywood's 'chronicler of simple romances' dies at 93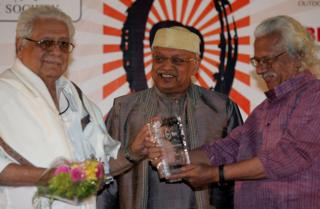 Legendary filmmaker Basu Chatterjee, who directed simple Bollywood romances and comedies, has died aged 93.
Chatterjee's films were known for telling stories of regular middle-class men and women with humour and sensitivity.
Some of his best-known films included Rajanigandha, Choti Choti Si Baat, Chitchor and Baton Baton Mein.
He also directed the gritty 1986 film Ek Ruka Hua Faisla, a Hindi adaptation of Twelve Angry Men.
His death was confirmed on Twitter by filmmaker Ashoke Pandit, president of the Indian Film and TV Directors' Association.
"I am extremely grieved to inform you all the demise of Legendary Filmmaker Basu Chatterjee ji. His last rites will be performed today at Santacruz crematorium. It's a great loss to the industry. Will miss you sir," he tweeted.
Chatterjee began his career as an illustrator and cartoonist for the Mumbai-based magazine Blitz before moving to Bollywood in the mid-1960s. His debut directorial venture, Sara Akash was critically acclaimed and also won an award.
'Brilliant and sensitive'
Popularly known as Basu-da (a Bengali term for elder brother), he wove magic on big screen through dozens of films made in the 1970s and 1980s.
At a time when action films were all the rage with the audiences, he managed to carve a niche for himself with gentle stories exploring middle-class anxieties of life and love.
He mostly worked with mid-level actors and actresses, his favourite being Amol Palekar, whom he cast as a timid young man in a number of romances.
He also directed superstar Amitabh Bachchan in Manzil, which is known for its hit song Rim Jhim Gire Sawan, an ode to the Mumbai monsoon.
He also directed several Bengali films and serials like Byomkesh Bakshi and Rajani for India's state-run TV channel, Doordarshan.
Following the news of his death, his Bollywood colleagues and fans took to social media to pay tributes to Basu-da.
"Sad to hear of the demise of Shri Basu Chatterjee. His works are brilliant and sensitive. It touched people's hearts and represented the simple and complex emotions, as well as struggles of people. Condolences to his family and innumerable fans," tweeted Prime Minister Narendra Modi.
Journalist Sayantan Ghosh described him as "the oldest chronicler of Indian middle-class anxieties, pre-liberalisation ambitions, and the uncertain relatable loves of underdogs like most of us".
The best description of his style of filmmaking though comes from a fan.
"Basu Chatterjee's movie were like cool summer breeze," writes @purvabhatt_. "Suddenly the world around you would slow down, the rush, chaos would fade, the chai would taste better. Like an old watch it would remind you of simpler times. He could present the most complex conundrums as a Choti si Baat [a small matter]."
Bafta TV Awards: Chernobyl and The Crown among nominees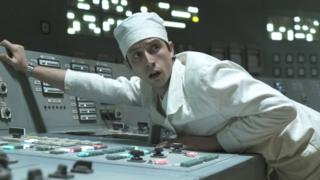 Chernobyl leads the field at this year's Bafta Television Awards, with 14 nominations.
The Sky Atlantic miniseries, which was heavily praised by critics, was based on the 1986 disaster at the Chernobyl Nuclear Power Plant.
It becomes one of the most-nominated shows in the ceremony's history, tying with the 14 nominations Killing Eve received last year.
Netflix's Royal drama The Crown has seven nominations in total.
Other nominees at this year's ceremony include Fleabag and Giri/Haji – which receive six nominations each.
The top Bafta TV nominees
Chernobyl – 14
The Crown – 7
Fleabag – 6
Giri / Haji – 6
Bafta TV Awards: The nominations in full
The Virtues, Killing Eve, Sex Education and Top Boy have also been recognised.
Chernobyl has three nominations for the main awards and 11 for Bafta's Craft Awards, which were revealed together.
Glenda Jackson is nominated for leading actress at the age of 84, for her performance in Elizabeth Is Missing.
Gentleman Jack star Suranne Jones and Killing Eve's Jodie Comer are also nominated in the category, along with Samantha Morton for her performance in I Am Kirsty.
The best actor nominees include Callum Turner, Jared Harris and Takehiro Hira, while Stephen Graham is recognised for his work in The Virtues.
BBC One's The Greatest Dancer is nominated for entertainment programme, despite being cancelled after its recent second series.
Phoebe Waller-Bridge and Jamie Demetriou are the most-nominated individuals this year, with three nods each.
Chat show host Graham Norton and Famalam star Gbemisola Ikumelo have two individual nominations each.
A Newsnight special in which Prince Andrew was interviewed by Emily Maitlis is nominated for news coverage.
Other nominees in the category include ITV News coverage of the election results, an episode of BBC Two's Victoria Derbyshire Show about knife crime, and Sky News coverage of the Hong Kong protests.
The Crown: Critics welcome 'confident' return
What was the must-see TV moment of the year?
The nominations for the Must See Moment category were announced earlier this week, with nods for Game of Thrones, Line of Duty and Love Island.
This year's ceremony will be broadcast from behind closed doors after being delayed amid the coronavirus pandemic.
Richard Ayoade will host from a closed studio and winners will give acceptance speeches virtually.
The winners will be announced on 31 July, with the ceremony broadcast on BBC One.
In a statement, actor, presenter and writer Ayoade joked: "I am as surprised as you are that this is still going ahead."
Bafta's Craft Awards, meanwhile, which celebrate behind-the-scenes achievements, will be streamed on 17 July, hosted by fellow comic actor Stephen Mangan.
Categories such as writing, sound, editing and production design will be handed out at the Craft Awards, while prizes for acting and best overall series will be announced at the Bafta TV Awards.
Follow us on Facebook, or on Twitter @BBCNewsEnts. If you have a story suggestion email entertainment.news@bbc.co.uk.
The young actors joining an industry on pause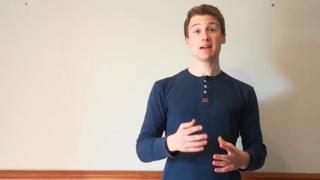 Elliot Swann caught his mum spying through the kitchen window as he practised ballet in their garden.
Despite still being physically closed, ArtsEd, the London-based acting conservatory where Elliot studies musical theatre, has powered on virtually since the start of the coronavirus lockdown.
Alongside classmates on Zoom meetings, Elliot, 21, drills voice practices and dance moves on the garden decking, and taps away in the bathroom of his parents' house in Hampshire. But will there be any work for him and his fellow students after they graduate this summer?
Normally, at this time of year, acting students around the world are making their first foray into the business, performing in person for agents, casting directors and producers, hoping to sign on with a talent agency, or even pick up their first paid work.
But with theatres still closed, and TV and movie filming on hold, the acting world is currently an industry on pause.
"All of our work has stopped," says James Calleri, who casts Broadway and regional theatre in New York as well as film and TV. "Everything has just been cleared."
Mr Calleri, who also runs the graduate acting programme at New York's Columbia University, would normally have taken graduating students on an industry tour of Los Angeles back in April.
They would have performed for some of the big showbiz decision makers. But all Columbia's acting school showcases were cancelled, indefinitely.
"We were going to push to September, but the problem is that theatres are so debilitated right now," Mr Calleri says. "They don't even know what their life is going to be like after lockdown."
Any auditions that are still taking place have moved to home recordings or "self tapes" that are emailed off.
Back in Hampshire, Elliot has made it though five rounds of recalls for a West End show.
"The good thing is you get a second chance," he says. "You can watch it back, and if you want, you can do it again."
Elliot's professors are also happy to give feedback and guidance before the videos are sent out, something that would not be possible with in-person auditions.
"The [movie and TV] businesses have been moving auditions to self tapes for some time, but I think plays and musicals will head that way too, even after the virus," says Chris Hocking, the principal of ArtsEd.
"Everyone is trying to help these graduates. We have worked hard so that the students have industry contact throughout their training."
What continues for Elliot is a waiting game. An actor almost never receives feedback unless they win the job.
"Especially now," he says, "because everything is extended. And many tours have had to cancel because of the lockdown.
"There is every chance you might be auditioning for a show, you could get cast, and then a couple of weeks later they'll say, 'I'm really sorry, it's been cancelled.'"
Elliot knows he is lucky to be getting seen. Many new graduates are not getting any industry face-time.
Racheal Owens, a teacher at Guildford School of Acting, says their graduates were due to have a final day of performance for agents and casting directors back in March. But a day before the show, the lockdown restrictions were announced, and it was cancelled.
"Some students had signed, but others had not, and would have been hoping for more opportunities, as we had two musicals left to perform,"she says.
The staff at Guilford have continued to do everything possible to get self tapes to agents. Luckily the industry in London has been receptive, in an effort to support this year's graduates, but there is very little work available.
"I really feel for these students, whose introduction to the industry is so compromised," says Ms Owens.
A missed in-person performance can make life especially difficult for young actors with an offbeat style, or unusual looks, that might not come across well in a short self tape, plus resumé (CV) and headshot.
Such performers are more likely to win over agents and casting directors in person.
But even if young actors impress, however they are able to audition, how long will it be before the industry can return to some sort of normal?
James Calleri wonders how the practical experience of going to the theatre would work with social distancing.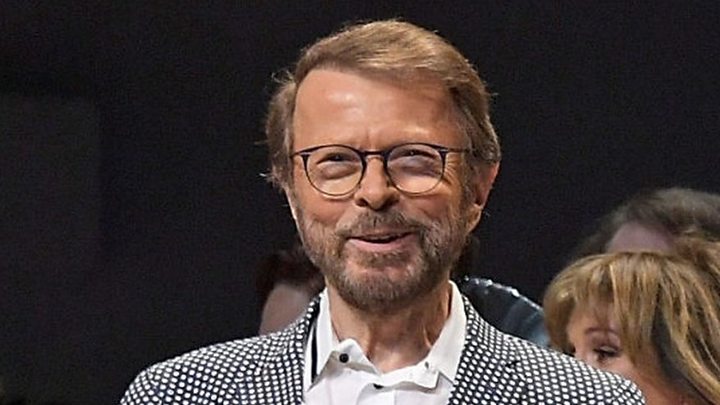 Producers might sell out a 1,200-seat Broadway theatre, but if 600 people sit in every other seat in order to socially distance, shows will fail to recoup costs, he points out. In smaller theatres, social distancing would be impossible.
"The class of 2020 is the injured party right now," he says. "I feel like the industry knows that and hopefully will try and look out for them."
Global Trade
More from the BBC's series taking an international perspective on trade:
Alex Butler, who runs the New York boutique agency Henderson Hogan, warns his recent signings that things aren't going to get better overnight.
"I told them, 'Look, if you are in this for the long haul, come to the city, get your apartment, your day job and your classes set up. Once things go back, we can gear up.'"
But it could be a long wait. Mr Butler says he would love for Broadway to reopen in September but fears curtains may not rise until next year.
Still, he thinks that sometime down the road, if young actors coming out of school this year can hold tight, there will be opportunities to audition for these shows.
"People working on Broadway might decide they are done with the business, or if they are touring, their spouses won't want them to go on the road anymore," he says.
New York casting director Alison Franck, who casts Broadway, touring and regional musical theatre shows, says that actors have always needed to be creative and resilient. Those attributes are needed now more than ever, because many will struggle to get agents straight away.
"These actors have to learn how to hustle on their own," she says. "And I think the ones who figure this out may often end up being more successful in the long run."
Elliot understands how hard the current situation is, but he is ready to dig in. He believes the industry will come back "stronger than ever".
Acting has been his dream for his whole life.
"I'm absolutely in it for the long haul," he says.