Kering fashion houses to stop hiring models under 18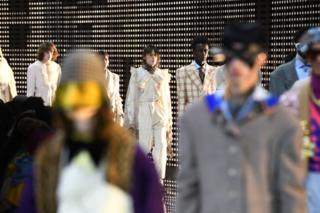 Fashion company Kering has announced that it will no longer use models who are under the age of 18.
The French luxury group owns several major fashion houses, including Gucci, Saint Laurent and Alexander McQueen.
The policy will come into effect in time for the 2020-2021 Autumn/Winter collections, Kering said.
Chief executive François Henri-Pinault said in a statement that the company was "conscious of the influence exerted on younger generations" by its images.
"We believe that we have a responsibility to put forward the best possible practices in the luxury sector, and we hope to create a movement that will encourage others to follow suit," he said.
Marie-Claire Daveu, Kering's chief sustainability officer, added: "The physiological and psychological maturity of models aged over 18 seems more appropriate to the rhythm and demands that are involved in this profession."
The companies that prey on aspiring models
Christian Dior and Gucci owners drop super-skinny models
Sara Ziff, founder of the campaign group Model Alliance, told BBC News the announcement was "a positive step towards eliminating the intense pressure models currently face to maintain an adolescent physique and to go to extremes to lose weight".
But she added that it lacks a "mechanism for actual enforcement" – and that she fears the pledge could "amount to little more than lip service to critical issues that have plagued the industry for far too long".
Kering's decision comes as fashion brands are increasingly trying to become more ethical, both in their designs and in their working practices.
In August last year Condé Nast, which publishes Vogue magazine, announced that it would not use models under the age of 18 in editorial shoots, unless they were the subject of an article.
"This is partly the result of an internal reckoning," an editorial in Vogue said at the time. "Vogue, along with a number of other publications, has played a role in making it routine for children – since that's what they are – to be dressed and marketed as glamorous adults."
It continued: "No more: it's not right for us, it's not right for our readers, and it's not right for the young models competing to appear in these pages. While we can't rewrite the past, we can commit to a better future."
The Council of Fashion Designers of America (CFDA) made a similar declaration last year. Its CEO Steven Kolb said: "Young models are still developing. There can be a lack of the confidence, strength, experience, and maturity it takes to deal with the pressures of this work."
In 2017, both Kering and a rival fashion group LVMH signed a charter agreeing to – among other things – stop hiring models who were under the age of 16.
A number of fashion designers have also pledged not to hire ultra-thin models, and not to use exotic animal skins and fur in their designs.
What's wrong with hiring young models?
It has long been common across the industry to cast models who were under 18 – and indeed, many supermodels got their start in the fashion industry at a young age.
Naomi Campbell, now 48, was just shy of 16 when she launched her career. Kate Moss, 45, was discovered at the age of 14. Brooke Shields was just 14 when she appeared on the front cover of Vogue in February 1980.
Currently, 17-year-old Kaia Gerber is a rising star, while the late Karl Lagerfeld's godson Hudson Kroenig, 11, was regularly seen on the catwalk.
But a spotlight was shone on the treatment of young models in October 2017, when 14-year-old Russian model Vlada Dzyuba collapsed backstage at Shanghai Fashion Week and later died in hospital.
Vogue, in making its decision, also cited a number of allegations of sexual harassment in the fashion industry, which were publicised as part of the #MeToo movement.
It added that in the mid-1980s, when Campbell launched her career, there were so few fashion shows a year that "a model could stay in school if she wished" – but nowadays the work is much more demanding.
BBC's George Alagiah on living with coronavirus and cancer
BBC newsreader George Alagiah, who is being treated for bowel cancer, has revealed he's had a mild case of coronavirus.
As a cancer patient, he underwent tests after developing a fever – and a few days later his oncologist rang to say he had tested positive for the virus.
The News at Six on BBC One presenter was first diagnosed with cancer in 2014 but revealed in 2017 that the disease had returned.
"In some ways, I think that those of us living with cancer are stronger because we kind of know what it is like to go into something where the outcomes are uncertain," he told colleague Sophie Raworth.
Antony Gormley and Grayson Perry share lockdown ideas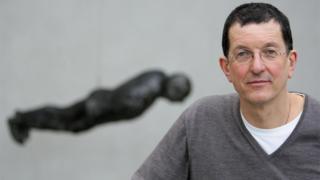 Artists including Sir Antony Gormley, Grayson Perry and Jeremy Deller have shared ideas for activities during the coronavirus lockdown.
The ideas are being put together by art gallery Firstsite in Colchester, Essex, so people can join make art at home.
Activities include paper chain designs from Sir Antony and a toilet paper poetry competition from Jeremy Deller.
The first pack, called Art is Where the Home is, should be available online from Wednesday.
Coronavirus live page: Updates from across the East of England
Sally Shaw, director of Firstsite, said the idea had been inspired by an activity book her mother gave her when she was a child.
"All the ideas were things you could do with paper, some string or glue if you were lucky – it was an amazing thing and would keep me occupied for hours and hours," she said.
"We are an art gallery so I asked the artists we had worked with in the past and have relationships to suggest ideas.
"The first person I asked was Antony [Gormley] and he wrote straight back in half an hour."
Other activities include a series of drawings from Annie Morris for people to colour in at home and a challenge to draw your own hand and display it in order to wave to others, suggested by Mark Wallinger.
Mrs Shaw said 4,000 people had expressed an interested in getting a pack.
She said: "We want to show people that being creative is important and that it can be just as necessary as eating a good meal or going to the gym at times like this."
It is hoped further packs will be created with more artists invited to contribute their ideas.
Find BBC News: East of England on Facebook, Instagram and Twitter. If you have a story suggestion email eastofenglandnews@bbc.co.uk
Van Gogh painting Spring Garden stolen from Dutch museum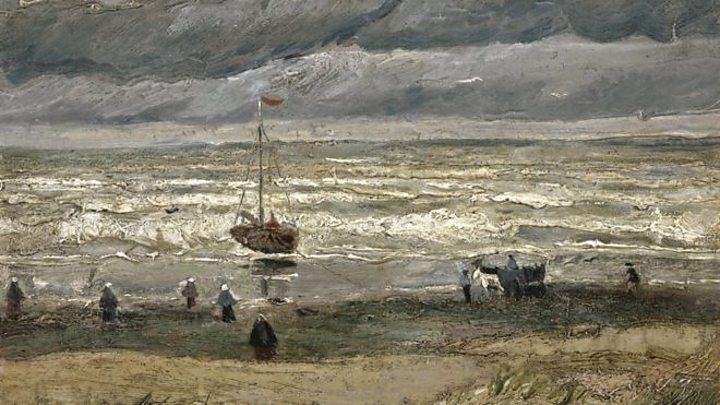 A Van Gogh painting has been stolen from a museum in the Dutch town of Laren.
Police said on Monday there had been a break in at the Singer Laren Museum at 03:15 local time (02:15 GMT).
The museum later announced that Van Gogh's Spring Garden, on loan from the Groninger Museum, was missing.
The Singer Laren Museum is closed due to the coronavirus. Its director, Jan Rudolph de Lorm, told reporters he was "incredibly pissed off" over the theft.
The value of the painting is not currently known.
The museum was created in the 1950s to host the collection of US artist William Henry Singer and his wife Anna.
On Monday the Dutch health ministry reported 11,750 confirmed cases of coronavirus in the country, and a total of 864 deaths.