Kanye West: 'I'm the greatest artist of all time'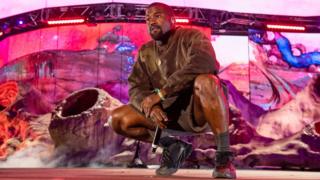 If there's one thing Kanye West has never lacked, it's confidence.
He's previously called himself a "creative genius" and said his "music is perfect", not to mention his plans to run for President.
So his latest interview, with Beats 1 presenter Zane Lowe, was on-brand for the musician.
He not only touched on porn and religion, but also said: "I'm unquestionably, undoubtedly, the greatest human artist of all time."
"It's just not even a question anymore."
Religion has often featured in Kayne's music, and he has even started his own Sunday Service – a weekly gathering, often invite-only, that features gospel-inspired remixes of classic songs of different genres and a gospel choir.
His new album – which was released on Friday – is called Jesus is King, and he has promised another, entitled Jesus is Born, will be released on Christmas.
Kanye says he asked some of his team not to have premarital sex while they worked on the album.
"Some people drown themselves in drugs, and I drown myself in my addiction, which was sex," he said, talking about how he felt addicted to pornography after finding his dad's Playboy magazine at a young age.
Other than music, one of his business ventures is clothing brand, Yeezy, which showed at Paris Fashion Week.
Kanye spoke about his plans to "bring manufacturing to America", hiring workers for his Yeezy factories through American prison reform systems.
He went on to boast, "God is using me to show off".
"Nebuchadnezzar was the king of Babylon, and he looked at his kingdom and said "I did this"
"Sounds kind of similar, right? I'm standing on the top of the mountain talking about Yeezus saying 'I did this. I am a God.'"
The mountain he's referring to is his stage design for the Yeezus tour in 2013/14, which also saw a Jesus lookalike appearing on stage.
He spoke about the costs of his creative design on tours, saying that he "didn't make any money" from his Yeezus tour, even though it was reported to have made $25 million, being the second highest grossing leg of a tour during 2013, after Paul McCartney.
Kanye also commented on his past feud with Drake, saying he wants to get back to "positive energies".
He said: "God is funny. Drake lives four blocks down the street from me. So that shows you that God has a sense of humour."
He went on to say that he sometimes walks to Drakes house, but doesn't knock on the door to disturb him, instead leaving his mobile number with Drake's security.
"You cannot be in service to God and be mad at your brother."
Follow Newsbeat on Instagram, Facebook, Twitter and YouTube.
Listen to Newsbeat live at 12:45 and 17:45 weekdays – or listen back here.
Minneapolis unrest: CNN reporter arrested live on air
A CNN correspondent and members of his crew were arrested while broadcasting about violent protests in Minneapolis.
There were demonstrations in the city for a third night following the death of George Floyd, an unarmed black man, in police custody on Monday.
The Minneapolis State Patrol confirmed the arrests and said those detained were released "once they were confirmed to be members of the media".
But CNN disputed the police's account of the incident, saying its staff had "identified themselves, on live television, immediately as journalists".
Minnesota Governor Tim Walz later apologised for the arrests.
Watch the full story on CNN YouTube channel.
Harvey Weinstein: Four more women accuse producer of assault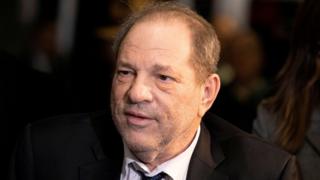 Disgraced film producer Harvey Weinstein has been accused of sexual assault by four further women as he serves a 23-year prison sentence.
Court documents filed in New York on Thursday allege several sexual offences dating from 1984 to 2013.
One of the four anonymous women was 17 at the time of an alleged attack.
Weinstein's legal representative told BBC News: "Mr Weinstein intends to defend against the claims filed anonymously against him yesterday."
The lawyer, Imran H Ansari of Aidala, Bertuna & Kamins PC, added: "Some of these claims, including those alleged to have occurred in the 1980s and 1990s, may be barred by the applicable statute of limitations, and not subject to any exceptions under the law, as these plaintiffs do not appear to be complainants in Mr Weinstein's criminal case."
Weinstein convicted of rape and sexual assault
How the Harvey Weinstein scandal unfolded
The latest legal cases allege multiple sexual offences against four women, who currently reside in Tennessee, New York, Ecuador and Hungary.
Some of the attacks allegedly took place after meetings with Weinstein at the Cannes and Venice Film Festivals.
The new allegations include:
A 43-year-old woman from Tennesee claims that in 1994, when she was 17, Weinstein "falsely imprisoned, sexually assaulted, sexually battered and raped her" in his hotel room. The plaintiff, who wanted to break into the entertainment industry, alleges Weinstein demanded she perform oral sex on him.
A 70-year-old woman from Ecuador claims that in 1984, when she was 34, Weinstein allegedly pinned her against a door and fondled her in his hotel room in Cannes, when she was looking to start a career as a documentary filmmaker.
A 38-year old woman said she met Weinstein in Manhattan in 2008 and he offered to "help take her career to the next level". He allegedly raped her in his Soho apartment a few days later, telling her he would ruin her if she told anyone.
A 35-year-old woman from Hungary claims that in 2013, when she was 26, she met Weinstein at the Venice Film Festival. A few months later, he allegedly forced her to perform oral sex on him when she met him in a hotel room.
Allegations against Weinstein began to emerge in October 2017, when The New York Times first reported incidents dating back decades.
At least 80 women have since accused him of sexual misconduct, including actresses Gwyneth Paltrow, Uma Thurman and Salma Hayek.
The allegations were at the centre of the #MeToo movement that inspired women to go public with misconduct allegations against powerful men.
Weinstein issued an apology acknowledging he had "caused a lot of pain", but denied any allegations of non-consensual sex.
In February, Weinstein was convicted in New York City of third-degree rape and first-degree criminal sexual act, and later sentenced to 23 years in jail.
Follow us on Facebook, or on Twitter @BBCNewsEnts. If you have a story suggestion email entertainment.news@bbc.co.uk.
Remi Wolf on how she makes music videos in lockdown
Music videos are often big budget affairs filmed in glamorous locations with a cast and crew to rival a movie. But what happens when a pandemic strikes and everyone is told to practise social distancing and not leave their home?
Rising star Remi Wolf told the BBC's Sophie van Brugen how she got around the problem, and what coronavirus could mean for the future of the music video.