Kamau McBarnette, member of Grenada 17 has died
by Linda Straker
Member of the Central Committee of People's Revolutionary Government (PRG)
One of Grenada 17 political prisoners convicted in 1986
Published two books, "My Mother and I" and "Operation Desert Rat"
Kamau McBarnette, one of the Grenada 17 political prisoners who were convicted in 1986 for the causing the death of Prime Minister Maurice Bishop and others, and who was released from prison in 2009 following years of legal battles, has died.
He passed away at the General Hospital in the early hours of 15 January 2020. A close family member confirmed that he had been ailing for some time.
A member of the Central Committee of the People's Revolutionary Government (PRG), he was arrested and charged by the authorities at the time for his role in the death of the government officials. While imprisoned, he was among two of the 17 whom the Conference of Churches had sent a petition to the Prerogative of Mercy Committee seeking their release on medical grounds. The other person was Phyllis Coard. The petition was rejected.
Upon his release, McBarnette published two books. "My Mother and I" is described as an extraordinary docu-novel of literature and history, in language which brings vividly to life the environment and culture of the first Grenadians, the Caribs and Arawaks, the wars of conquest and occupation of these Grenadians, and their final stand against the French at Leapers' Hill in Sauteurs.
The book also focuses on the horrors of slavery, and the several wars between the British and the French for ownership of Grenada are compellingly captured. The anti-British, anti-slavery rebellion of 1795-1796, led by Julien Fedon, is narrated in nail-biting style, as are the Grenada ex-Servicemen's riot of 1920, and the Eric Gairy-led 1951 Revolution. The1973-1974 anti-Gairy mass uprising, the 1979-1983 Grenada Revolution, and the crisis, tragedy and US military invasion, all in October 1983, are dramatically narrated.
The other book "Operation Desert Rat" capturing a slice of the life of the author and his colleagues during 26 years of incarceration.
NOW Grenada is not responsible for the opinions, statements or media content presented by contributors. In case of abuse, click here to report.
Source: Source link
Prime Minister reiterates COVID-19 not present in Grenada
As the coronavirus (COVID-19) continues to impact a growing number of countries around the world, Prime Minister, Dr the Right Honourable Keith Mitchell, has reiterated that the disease is not present in Grenada.
Speaking publicly Tuesday, Dr Mitchell said, "We have no coronavirus (COVID-19) in our country at this point in time. God help us that we continue to have none of it."
Having just attended the 31st Inter-Sessional Meeting of the Conference of Caricom Heads of Government where the coronavirus outbreak was a major talking point, Dr Mitchell said, "the entire Caribbean region reported that it is not present in any of the islands. Remember, if there is one incident of the virus in any country, they say the Caribbean and we can all get hurt."
According to the communique coming out of the recent Caricom meeting, leaders "recognised that the risk of transmission of the virus in the region remains relatively low but that an outbreak could reverse economic gains of Caricom States."
The continuing spread of the disease remains a concern and Dr Mitchell said, "This is an issue that we have to be prepared for in every respect, not just Grenada, but all countries in the Caribbean. At the recent Inter-Sessional Meeting of Caricom Heads of Government, this was an issue of concern for all leaders, particularly as it relates to misinformation."
He added, "Sometimes information shared gives the impression that we have the coronavirus (Covid-19) around us already, causing persons to be overly sceptical about people of Chinese origin. When we have issues like that, we do not need propaganda or misinformation because it affects every single one of us. There are some issues that should not divide us. There are enough issues for us to have differences on and to score points one way or the other, but there are others, like health issues that we should all be on one platform."
The Prime Minister urged persons to desist from spreading false information and he reiterated comments made earlier this month at independence celebrations about working together to face challenges. He said, "We have to be careful, you never know what will meet us tomorrow. Our country has faced problems in the past and we had friends regionally and internationally who supported us."
The Ministry of Health and the Grenada Airports Authority continue to strictly enforce mandatory screening and other emergency protocols to help mitigate against the potential spread of the disease.
As of 26 February 2020, the World Health Organisation is reporting the presence of COVID-19 in 37 countries, with more than 81,000 cases recorded around the world.
Office of the Prime Minister
NOW Grenada is not responsible for the opinions, statements or media content presented by contributors. In case of abuse, click here to report.
Source: Source link
Erosion of Amerindian burial site at Mt Craven
by Curlan Campbell, NOW Grenada
Amerindian burial site under siege by wave action
Remains have been undisturbed for over 1,000 years
Archaeological remains found are placed in Grenada National Museum
A struggle is being waged on two fronts to excavate the remains of an Amerindian burial site in the north of the island under siege by wave action.
Since 2018, archaeologists have been attempting to document and salvage the skeletal remains of Amerindians who once settled in the area located in Sauteurs, St Patrick. Their remains have been undisturbed for over 1,000 years but after the recent construction of the Breakwater Project which was meant to protect the town from wave action, residents have started to witness the destructive heavy sea surge pushed further down the coast, which has started to expose the burial site.
A team from Leiden University led by Professor Dr Corinne Hofman started the excavation in 2018 and found skeletal remains and artefacts. The bones collected are presently being analysed at Leiden University.
The earliest archaeological remains are carbon-dated to be around 600 AD and since then to the year 1650, there have been many Amerindian settlements in the region.
Archaeologist Jonathan Hanna, who was then a student at Penn State University, assisted in the emergency excavation back in 2018 and has since returned upon the completion of his doctorate in Anthropology to continue the fight to preserve Grenada's cultural heritage.
Dr Hanna said the excavation was meant to gather more data in order to properly assess the situation. He stated that the Amerindian burial site is much larger than anticipated and the immense damage and loss of archaeological remains is now critical; but even worse, the erosion caused over the past two years is of great concern for residents of Mt Craven.
"This is basically a catastrophe zone. I am not sure exactly how many metres have been eroded since last time but it is estimated to be about 10 metres or more. The burial site where we are at now is about 50 metres down the coast from where we were last time, and the distance between this burial and the furthest one that we know of down there is 160 metres, so it is an extremely huge cemetery basically that is at risk," Dr Hanna said.
Dr Hanna said it is important to preserve and document these findings since not only are Amerindian burial sites few in numbers in the Caribbean, but their DNA holds answers to questions about their cultivation.
"These remains are still here and they haven't been exposed for 1,000 years so even though there have been sea surges before it really hasn't been as bad as what's happening now. It speaks to climate change, threats to heritage and that is something we need to think more about in Grenada and try to protect these sites," he said.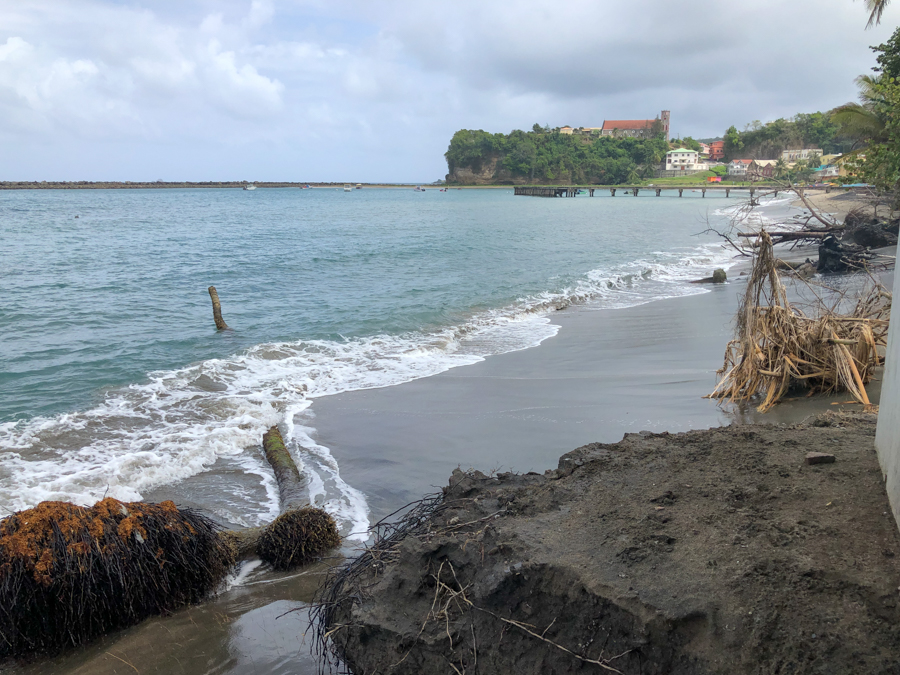 Residents have settled on what was once an Amerindian burial site, and they too are at risk since their homes are being threatened.
Nicholas Alexander, a graphic designer by trade, has shown great concern for what is happening to the coast. "I have lived in this area for over 30 years, and since I was in primary school we have been sighting these skeletal remains and at that time it had a lot. Recently I and my friends discovered another set of remains, we took pictures and we posted it on social media asking for somebody with the knowledge to come and examine the area. They did come and collected the bones, but when I followed up they threw away the bones," he said.
Alexander provided some before and after pictures which clearly show the degradation of the coast over a short period. This he said needs urgent attention. "This erosion is a serious problem now. A lot of people have a different view on what is causing the problem, however, yes although it has been happening for years it was never that bad," he said.
As it relates to the archaeological remains, Dr Hanna said the those found are placed in the Grenada National Museum.
NOW Grenada is not responsible for the opinions, statements or media content presented by contributors. In case of abuse, click here to report.
Source: Source link
Imminent shutdown of Supreme Court Registry
The Grenada Bar Association has been made aware of the imminent shutdown of the Supreme Court Registry of Grenada.
This has come about as action is required to immediately address dangerous environmental conditions at the building housing the registry. For some time now, we at the Grenada Bar have had good cause to wonder whether environmental conditions at the registry may be contributing to ill health experienced by those who are in regular contact with the registry. The closure of the registry on this account is, therefore, a matter of grave concern to us as it should be to all members of the public.
It must also be recalled that the Grenada Bar has appealed for more than 20 years for the historical problems of the registry to be fixed. These include destruction of irreplaceable records, lack of resources, lack of proper maintenance, detectable deterioration of the air quality and the obvious presence of mould. Yet again issues affecting a vital part of our legal system have been allowed to escalate to the point of crisis. And yet again those responsible to address these problems have failed to give an adequate and timely response. With the facts which have been well known to the authorities for some time, this relocation which has now been thrust upon the registry, could have been planned and executed in a controlled way. Instead, we are witnessing a chaotic and haphazard reaction guaranteed to cause tremendous disruption to lawyers and the public. This is quite simply, irresponsible and unacceptable.
The Grenada Bar calls upon the authorities to dedicate all the necessary manpower and resources necessary for the services of the registry to be relocated without interruption. We further call upon the government to expedite a long-term solution to this and the several other problems affecting the proper dispensation of justice in this country. It is time to give us our Hall of Justice!
Lisa Taylor
President, Grenada Bar Association
NOW Grenada is not responsible for the opinions, statements or media content presented by contributors. In case of abuse, click here to report.
Source: Source link