John Malkovich stars in Harvey Weinstein-inspired play Bitter Wheat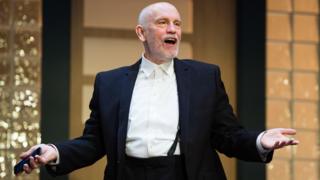 The first West End play to be inspired by the Harvey Weinstein scandal is difficult to categorise.
It essentially starts out as a comedy – with an opening scene that zips along with writer and director David Mamet's comedic and cutting fast-paced dialogue, wrong-footing the audience in the process.
The tone, however, changes very quickly.
Once the lead character, the arrogant and predatory movie mogul Barney Fein, is left alone with a rising young actress, the atmosphere becomes very uncomfortable indeed.
But John Malkovich, who portrays Fein, welcomes the platform that theatre provides to tackle difficult issues.
"Obviously it's a fairly difficult subject matter," he tells BBC News. "But people make plays or movies about all kinds of things, from mass murders to war crimes to rapists to cannibals.
"And at least in the people I know who've seen the play, it has provoked conversation and probably allowed conversation which you may not have otherwise. Pretty much everybody is going to have a different view of this topic."
Speaking about the #MeToo movement more widely, he adds: "I don't think it's going to be a topic that just sort of fades away, nor particularly should it be."
Of course, the play isn't a direct retelling of what Weinstein is alleged to have done, despite the obvious resemblance the lead character's name has to his.
"Mamet's new play, we are assured, is fiction and any resemblance to living persons is 'entirely coincidental'," wrote Michael Billington in The Guardian.
"Given that the protagonist is an overweight movie tycoon ruined by accusations of sexual misconduct, coincidence clearly has a long arm."
The #MeToo movement began in October 2017 after The New Yorker published an article which alleged repeated sexual abuse of several women over decades.
Last month, Mr Weinstein settled some of the civil lawsuits he was facing and agreed to pay compensation worth about $44m (£34.7m) to some of the alleged victims.
However, in New York he is currently facing criminal charges, including rape, brought by two women. Mr Weinstein denies all allegations of non-consensual sex.
'Theatrical clickbait'
Ioanna Kimbrook plays Yung Kim Li – a British-Korean actress who Fein patronises with racial stereotypes throughout the play.
"I do feel a lot of responsibility, she's kind of the first victim of the #MeToo movement to be put on a big stage like this," Kimbrook says. "But I think David's done a great job of portraying her with dignity. She's very calm, very assured and she deals with the situation well."
Given the nature of storylines in films, plays and TV series about sexual abuse, some studios have started employing intimacy co-ordinators to help actors get through delicate scenes.
But, Kimbrook says she "never felt awkward" during rehearsals. "[Malkovich] is so giving, and obviously I'm new to this, and he's been in the business for goodness knows how long. He never made me feel like I was new, I felt like I'd been doing this alongside him for 50 years."
Bitter Wheat – the title refers to one of Fein's suggested film names – wasn't universally welcomed by critics after its press night earlier this week.
Alice Jones in the i paper described it as "the theatrical equivalent of clickbait," adding: "Mamet doesn't even bother to give his play a proper ending; he might just as well have zoomed in on Malkovich giving us a big wink."
"Bitter Wheat would be considerably better were it more fleshed out," wrote Matt Wolf in The New York Times. "That's assuming, of course, that it had to be written at all."
Henry Hitchings of The Evening Standard said: "Despite a smattering of Mamet's famously staccato wisecracks, the play feels lazy, crude and empty."
Dominic Cavendish awarded the show just two stars in his review for the Telegraph, writing: "The truth is that Bitter Wheat is a bitter disappointment – it doesn't add enough to the subject and, while it courts controversy, there's not enough to get the town talking. It may not knock Mamet off his pedestal, but it warrants no trophy either – quite a fail."
Malkovich reveals the show has been going through regular rewrites since previews began earlier this month.
"I imagine will be at work on this for some time to come," he says. "This kind of thing, it's a new play, it's never really finished… I think David had new things pretty much every day, but then there's also, 'where do you put them? Do you get rid of this or get rid of that?'"
Before the play had even been performed, some questioned whether it was an appropriate subject to be tackling on the stage.
"Because it was a man writing it, with the man as a central character, there was a bit of a backlash before it even started," recalls Doon Mackichan, who plays Fein's personal assistant Sondra. "So when people judge something before they've seen it, I think that's crazy."
"As the older woman in the room, I was very aware of the tone, so I was watching and being very aware of how we were playing it.
"For all his monstrous behaviour, [Weinstein] has kicked off a fabulous movement which is changing things for women across the board. So we're at a really good point for this to be aired and talked about. And Mamet has done it super quickly. We need some stories about the victims, some women's sides of the stories."
Malkovich reasons: "No matter what you did, there'd be outrage anyway. But I wouldn't say it's about Harvey Weinstein, he's at best a kind of stand-in. I think David [Mamet] has probably said what he has to say, people can like that or lump it. Better if they write their own plays."
Bitter Wheat is playing at London's Garrick Theatre until 21 September.
Harvey Weinstein guilty over sexual assaults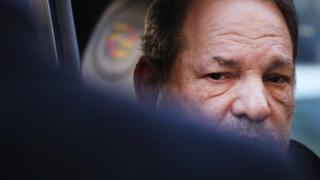 Harvey Weinstein has been found guilty of sexual assault, capping a stunning downfall for the former Hollywood mogul and a victory for the #MeToo movement against harassment.
Weinstein, 67, was convicted in New York City of third-degree rape and first-degree criminal sexual act.
But he was cleared of the most serious count of predatory sexual assault. He faces up to 25 years in prison.
He still faces charges in Los Angeles of assaulting two women in 2013.
At least 80 women had accused him of sexual misconduct stretching back decades, including actresses Gwyneth Paltrow, Uma Thurman and Salma Hayek.
The allegations were at the centre of the #MeToo movement that inspired women to go public with misconduct allegations against powerful men.
The movie executive enjoyed phenomenal success with Oscar winners such Pulp Fiction, Good Will Hunting, The King's Speech and Shakespeare in Love.
What happened in the New York court?
The jury of seven men and five women reached their verdict on Monday morning, the fifth day of deliberations.
Weinstein – who denied all charges – was convicted of sexually assaulting former production assistant Mimi Haleyi in 2006 and raping Jessica Mann, a former aspiring actress, in 2013.
How Harvey Weinstein faced his reckoning
But the jury acquitted him on two counts of predatory sexual assault, which carried a potential life sentence, and first-degree rape of Mann.
In the minutes after the verdict, Weinstein showed no emotion as he talked to his lead lawyer Donna Rotunno.
But the judge ordered him to be sent to jail immediately. He was surrounded by court officers, handcuffed and led from the courtroom. He will be sentenced on 11 March.
How the Harvey Weinstein scandal unfolded
Weinstein turned up before the verdict wearing a navy blue suit and leaning on a walking frame.
What were the allegations?
Ms Haleyi, who had worked on one of Weinstein's television productions, said she was assaulted by the producer after he invited her to his Lower Manhattan home.
She testified that he backed her into a bedroom, held her down on the bed and forced himself on her.
Ms Mann said that she found herself in an "extremely degrading" relationship with him that did not involve intercourse until he raped her in a New York City hotel room in 2013.
She said he was a "Jekyll and Hyde" figure who could be charming in public but showed his dark side when they were alone.
Another one of Weinstein's accusers, Sopranos actress Annabella Sciorra, told jurors he raped her in her apartment one night in the mid-1990s.
Her allegation was too old to be charged as a separate crime, but prosecutors used it in an attempt to demonstrate that the accused was a repeat sexual offender.
As part of prosecutors' efforts to show a pattern of predatory behaviour, three other women testified they were lured to apparent work meetings with Weinstein, then sexually assaulted.
How did the trial play out?
During the trial, prosecutors portrayed Weinstein as a serial predator who had used his position of power in Hollywood to manipulate and violently attack women.
Manhattan Assistant District Attorney Meghan Hast said during opening arguments: "The man seated right there was not just a titan in Hollywood, he was a rapist."
But the defence team said the producer's accusers had had consensual sex with the movie executive to advance their careers, and the allegations amounted to "regret renamed as rape".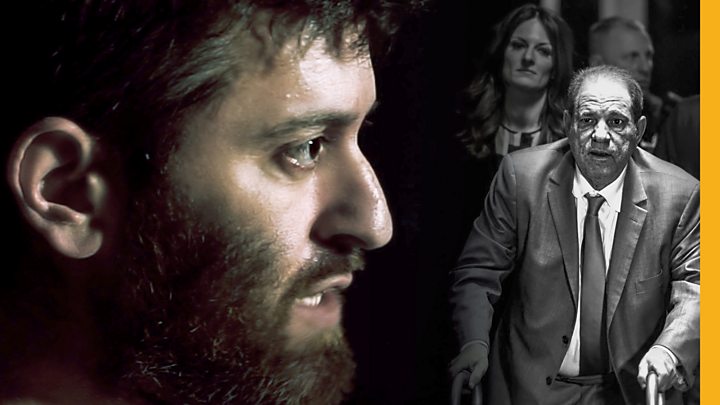 They pointed out that two of the accusers had kept in contact with Weinstein, exchanged flirty emails with him and had sex with him after he had supposedly attacked them.
Weinstein's lawyer, Donna Rotunno, told jurors in closing arguments they were "the last line of defence" against an "overzealous" prosecution.
How did we get here?
Weinstein was once one of the most powerful figures in Hollywood, with dozens of Academy Award wins for his films.
Allegations started to emerge about him in October 2017. The story was broken by the New York Times, which published details of decades of alleged incidents of harassment.
Weinstein issued an apology acknowledging he had "caused a lot of pain", but disputed the allegations.
Over the coming weeks, dozens more allegations emerged and Weinstein was sacked by the board of his company.
Despite continuing to deny all allegations of non-consensual sex, he was all but banished from Hollywood.
Allegations against him helped drive the #MeToo campaign against sexual misconduct, where victims shared their experiences of assault and harassment.
Some criminal investigations were launched but he was not charged until May 2018, when he turned himself in to police in New York.
What will happen now?
Weinstein still has to face charges in Los Angeles, which were announced on the first day he appeared in court in New York.
The Los Angeles County district attorney's office said the charges relate to the alleged rape of one woman and sexual assault of another over two days in 2013.
District Attorney Jackie Lacey, when announcing the charges, said other cases were also still under review.
Mr Weinstein could be extradited to LA or surrender himself voluntarily dependant on the outcome of the New York case, Ms Lacey added at the time.
Further investigations into Weinstein's conduct are still possible, while there is also ongoing civil complaints against him too.
In December 2019, lawyers said they had agreed a tentative deal with some accusers, which would pay out $25m (£19m) to nearly 30 actresses and ex-employees.
The deal, which would not see Weinstein admit wrongdoing, still needs to be signed off by a court. Some plaintiffs and lawyers have expressed anger over its terms.
Peter Kay announces comeback with charity Dance for Life shows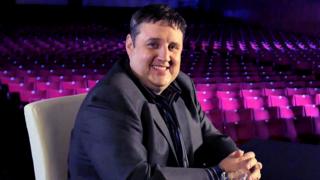 Comedian Peter Kay has announced his return to the live stage, with a Dance for Life charity show tour this spring.
In late 2017, Kay cancelled all future work projects due to "unforeseen family circumstances".
He returned the year after with the finale of his BBC TV show Car Share, but has not appeared live since.
The six dance-a-thon shows, which raise money for Cancer Research UK, will take place in Liverpool, London and Manchester in April and May.
Kay previously hosted 14 of his three-hour Dance for Life events across the UK before taking time out.
"I've honestly never had so much fun as I had working on Dance For Life" said Kay, in a statement.
Peter Kay cancels comeback tour
"The atmosphere was so happy and positive; it really is a great way to raise money for the worthiest of causes."
He added: "All people have to do is turn up and dance."
The shows see ticket holders take to the dance floor with Kay, 46, on the decks as "DJ PK".
He last appeared live during the We Are Manchester charity concert in September 2017, which officially re-opened the Manchester Arena in the wake of the terror attack that killed 22 people.
He was due to host a number of his dance-a-thon events in early 2018 in Coventry, Liverpool and Manchester but they were called off in December 2017 along with his other future commitments.
This time around, the Dance for Life tour will visit Liverpool's Space by M&S Bank Arena and London's Alexandra Palace, as well as Manchester Central.
---
Follow us on Facebook or on Twitter @BBCNewsEnts. If you have a story suggestion email entertainment.news@bbc.co.uk.
Love Island: Tributes paid to Caroline Flack as winners are crowned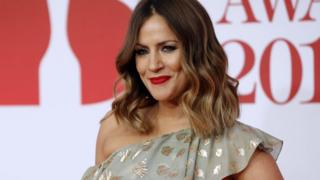 Love Island paid tribute to Caroline Flack as its first winter series drew to a close on Sunday night.
The former host of the show was found dead in her London flat last weekend.
"The past week has been extremely difficult, coming to terms with the loss of our friend and colleague, Caroline," presenter Laura Whitmore told viewers of the ITV2 programme.
"Caroline loved Love Island. She loved love, and that's why tonight's final is dedicated to her."
She added: "We're thinking of her family and everyone who knew her at this time."
The programme then showed a montage of some of Flack's memorable moments from the series in recent years.
The islanders were told about Flack's death off-camera on Saturday, an ITV spokesman confirmed.
Finley Tapp and Paige Turley were crowned the winners of the series as the finale drew to a close.
Two episodes of this series were pulled from the schedules last weekend after Flack was found dead.
The show returned the following Monday with a tribute to Flack from the show's narrator Iain Stirling.
This has been the first series of the show to take place in winter and be filmed in South Africa.
Previous seasons have been filmed on the Spanish island of Mallorca over the summer.
Overall, the winter series has been a ratings hit for ITV2, albeit not as successful as previous summer series.
This series has been attracting around three million viewers per episode, including via catch-up services, compared with the 4.5 million the last summer series generally attracted.
Laura Whitmore is the show's current presenter. She joined the show after Flack was charged with assaulting her boyfriend.
Tapp and Turley were crowned the winners of this series on Sunday night, winning the £50,000 prize, which they chose to share between them.
In a twist that occurs in every series, Turley was given the chance to "steal" the full prize money before she decided to split it evenly.
"It's been such an amazing experience," Turley said earlier in the episode. "It's been filled with challenges, but it's been amazing."
Asked what first attracted him to Turley, Tapp said: "I loved how outgoing she was. I wasn't wrong in picking her because I thought she'd make me laugh and smile all day long. She's made me very happy."
Earlier this series, they became the first pair to become an official couple in the villa.
Turley attracted headlines when the series launched in January because she is the ex-girlfriend of singer Lewis Capaldi.
The Scottish star referred to her while accepting the Brit Award for best single earlier this month, for his song Someone You Loved.
"A lot of people think this song is about my ex-girlfriend, who you can now see every night on Love Island," he said.
"But it's actually about my grandmother, who sadly passed away a few years ago. I hope ITV don't contact her to be a on a reality dating show."
During the finale, Whitmore confirmed the show would return to Mallorca for a new series this summer.
---
Follow us on Facebook or on Twitter @BBCNewsEnts. If you have a story suggestion email entertainment.news@bbc.co.uk.