John Lennon's sunglasses sell for £137,000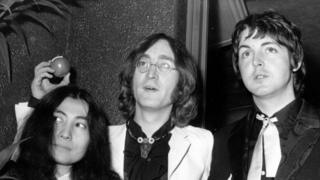 A pair of John Lennon's sunglasses have sold for £137,500.
The Beatles star left the round-rimmed glasses in the back of Ringo Starr's Mercedes in the summer of 1968.
Former chauffeur Alan Herring, who sold them at auction at Sotheby's in London, said he noticed at the time that they were damaged.
"I asked John if he'd like me to get them fixed for him. He told me not to worry they were just for the look," he said.
Mr Herring said he never did get them fixed. They were sold to an unnamed bidder on Friday.
The sale included other Beatles' memorabilia, including a necklace with cowbells worn by George Harrison, which sold for £10,000.
"For my family's sake, it makes sense for me to say goodbye to my collection now while I can still tell all the stories behind everything," he said.
Coronavirus: Mission Impossible filming halted over health fears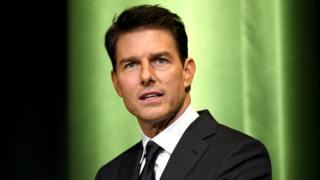 Filming on the latest Mission: Impossible movie in Italy has been paused due to concerns about the outbreak of coronavirus in the country.
Shooting on the seventh film in the series was due to take place in Venice over the coming weeks.
But Paramount has halted production after Italy recorded the worst outbreak of coronavirus in Europe.
There have been more than 200 cases in the country so far, including seven deaths.
The number of cases makes Italy the third worst-hit country in the world after China and South Korea.
Tom Cruise was not in Italy for the shoot, according to The Hollywood Reporter., but the production crew were sent home.
"Out of an abundance of caution for the safety and well-being of our cast and crew, and efforts of the local Venetian government to halt public gatherings in response to the threat of coronavirus, we are altering the production plan for our three-week shoot in Venice," Paramount said in a statement.
"During this hiatus we want to be mindful of the concerns of the crew and are allowing them to return home until production starts. We will continue to monitor this situation, and work alongside health and government officials as it evolves."
This isn't the first time the Mission: Impossible franchise has been hit by difficulties.
Mission Impossible: Delays and difficulties
During promotion for Mission: Impossible III, an advertising firm placed digital devices in 4,500 newspaper vending boxes in Los Angeles, which played the movie's theme tune aloud whenever the door was opened. But some members of the public mistook the devices for bombs and reported them to police, who in turn detonated several of the news stands. An LA hospital was even evacuated for 90 minutes because of the apparent threat.
One scene in the first movie was shot outside the Lichtenstein Palace in Prague, but it turned out to be a far more expensive location than originally thought. Authorities initially quoted the filmmakers $2,000 (£1,540) per day, but when they turned up to shoot on the day the team was told the new price would be $23,200 (£17,860) per day.
Cruise has performed many of his own stunts during filming, but he's occasionally been injured in the process. The actor cracked a couple of ribs while shooting Mission: Impossible 3, and in 2018 he broke his ankle jumping between buildings while shooting the sixth film, the footage of which was seen on The Graham Norton Show.
The third movie suffered a delay of a year after its director Joe Carnahan exited the project because of "creative differences". Cruise was able to shoot an entire film (War of the Worlds) in the time it took for a new director to be appointed.
In 2015, Disney announced the title of Rogue One: A Star Wars Story, but Paramount felt this clashed too much with their fast-approaching fifth Mission Impossible film, Rogue Nation. Disney kept their title but agreed to hold off on promoting the film until the fifth M:I had been released.
Mission: Impossible 2, which was about the outbreak of a deadly virus, came up against horrible weather, logistical problems during city shoots and the defection of cinematographer Andrew Lesnie to the Lord of the Rings franchise. "This is one of the most difficult movies I've ever made," director John Woo said at the time. "But we overcame. We kept fighting."
---
Follow us on Facebook or on Twitter @BBCNewsEnts. If you have a story suggestion email entertainment.news@bbc.co.uk.
Singer Duffy 'drugged, raped and held captive'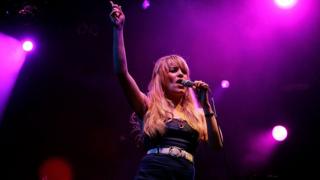 Grammy award-winning singer Duffy has revealed she was drugged and raped after being held captive by an attacker.
The 35-year-old Welsh star posted on her verified Instagram account that her "recovery took time".
The performer, who had a UK number one single Mercy in 2008, wrote to her 33,000 followers: "The truth is, and please trust me I am OK and safe now."
"I was raped and drugged and held captive over some days," she wrote.
Duffy, whose debut album Rockferry went seven times platinum as it went to number one in six countries, won three Brit Awards and a Grammy following her breakthrough.
"You can only imagine the amount of times I thought about writing this," she wrote on Instagram.
A biography of Duffy
Listen to Duffy on the BBC
"Well, not entirely sure why now is the right time, and what it is that feels exciting and liberating for me to talk.
"I cannot explain it. Many of you wonder what happened to me, where did I disappear to and why. A journalist contacted me, he found a way to reach me and I told him everything this past summer. He was kind and it felt so amazing to finally speak.
"The truth is, and please trust me I am OK and safe now, I was raped and drugged and held captive over some days. Of course I survived. The recovery took time. There's no light way to say it. But I can tell you in the last decade, the thousands and thousands of days I committed to wanting to feel the sunshine in my heart again, the sun does now shine."
'Sadness in my eyes'
Duffy – whose real name is Aimee Anne Duffy – went to number one in 12 countries with Mercy, which was the UK's third-best-selling single of 2008 with sales of more than 500,000 copies.
The singer, from Nefyn in Gwynedd, then enjoyed success with her first album Rockferry as it became the UK's biggest selling album of 2008.
"You wonder why I did not choose to use my voice to express my pain? I did not want to show the world the sadness in my eyes," she added.
"I asked myself, how can I sing from the heart if it is broken?
"And slowly it unbroke. In the following weeks I will be posting a spoken interview.
"If you have any questions I would like to answer them, in the spoken interview, if I can. I have a sacred love and sincere appreciation for your kindness over the years. You have been friends. I want to thank you for that. x Duffy.
"Please respect this is a gentle move for me to make, for myself, and I do not want any intrusion to my family. Please support me to make this a positive experience."
The BBC attempted to contact Duffy to verify her account.
'Deontay Wilder's costume didn't make an ounce of difference'
The designer of Tyson Fury's boxing outfits has told BBC Radio 5 Live that Deontay Wilder's ring-walk costume wouldn't have impacted the result of the fight.
Melissa Anglesea is the creative director of Lancashire-based Suzi Wong. The company has made Tyson Fury's shorts and robes since the start of his boxing career.
Wilder told US media that Fury didn't actually hurt him, but he lost because his costume was too heavy meaning his legs were "shot" from the beginning of the fight.
Anglesea dismissed Wilder's claim and said the costume worn by the American made "absolutely no ounce of difference".
For more reaction to the fight, listen to 5 Live Boxing with Costello & Bunce on BBC Sounds.