John Barrowman: Shows cancelled due to 'severe neck injury'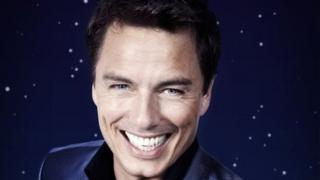 John Barrowman has been forced to cancel shows at the start of a UK tour after suffering "a severe neck injury".
The star of Doctor Who and Torchwood was due to begin his eight-date "Fabulous Christmas Tour" at the Bristol Hippodrome on Saturday.
But in a tweet he said he had been rushed to hospital with a neck injury that made it "impossible to sing and move".
Performances are still scheduled for next week.
The 52-year-old entertainer later tweeted that he was having an MRI scan on his neck.
He said it was a "very difficult decision" to "cancel my performances", adding: "I am so disappointed and upset as I was looking forward to seeing you all.
"I feel I am letting everyone down, but it's simply not possible for me to do the show in my current condition."
Ticket holders for the Bristol performance have been told they can receive a refund or transfer to the performance in Oxford on December 14.
A performance at the SEC Armadillo in Glasgow on December 1 has been postponed to December 3.
Coronavirus: The Archers to reflect global outbreak in May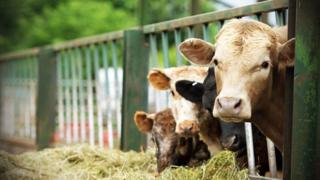 The BBC has revealed that its long-running BBC Radio 4 soap The Archers will have its first coronavirus-related storyline in early May.
Recording is typically done weeks in advance of broadcast, meaning writers have so far been unable to reflect the rapidly evolving pandemic on the show.
Producers said they wanted listeners to be able "to go to Ambridge in the usual way for as long as possible" .
Episodes from 4 May will reflect the coronavirus outbreak in Ambridge.
Producers said the soap will feature fewer interacting characters "sharing more of their private thoughts with the listener" – a reflection of the social distancing taking place across the UK.
Tough measures to tackle the spread of coronavirus across the UK, including a ban on public gatherings of more than two people and the closure of shops selling non-essential goods, were introduced last week.
The number of people who have died with the virus in the UK has reached 1,228 – an increase of 209 since Saturday.
Temporary changes to The Archers will see the show cut back to four episodes a week and a shorter weekend omnibus.
Voice actors will record the forthcoming episodes from their homes, rather than busy studios, in order to protect the numerous cast and crew.
Jeremy Howe, editor of The Archers – which has been running for 70 years – said the production team had "worked tirelessly" to keep the show on air and reflect the current global crisis.
He added: "Whilst coronavirus might be coming to Borsetshire, listeners can still expect The Archers to be an escape, and the residents to be bickering and as playful and witty as ever.
"The Archers will sound different and will be simpler, but I think keeping the show running and giving us all an opportunity to hear from beloved characters will be a treat loyal listeners will want and need."
Coronavirus: YouTube stars urge fans to stay at home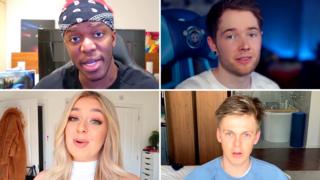 More than 100 YouTube stars have recorded a video message urging their fans to "stay home" during the coronavirus outbreak.
The video is introduced by entertainer JJ Olatunji, known online as KSI, who has more than 21 million subscribers on the video clip platform.
"We're here looking to spread awareness on the UK government's current advice to stay at home," he says.
The 20-minute video will be posted on YouTube at 16:00 BST.
As well as YouTube stars, footballer Rio Ferdinand, singer Jess Glynne, and Love Island narrator Iain Stirling are among well-known faces to appear.
The idea for the montage came from the Sidemen, a group of British video-makers, which KSI is part of.
Their joint channel has 7.6 million subscribers on YouTube.
The group says any advertising revenue earned from the video will be "donated to the NHS".
'Memes should be archived in a museum'
Internet memes are being widely circulated as people around the world are staying indoors.
Memes, a type of media that spreads and goes viral online, are often amusing but could they have broader cultural significance?
Should an image of a woman shouting at a cat or a hefty sheep be archived in a museum? Arran Rees from the University of Leeds thinks so.
Produced and edited: Ian Casey
Camera: James Wignall