Joaquin Phoenix credits his late brother River for his career in an emotional speech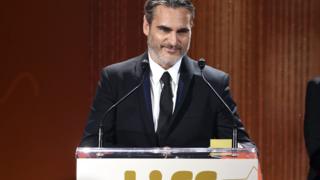 Joaquin Phoenix paid tribute to his late brother, River Phoenix, as he accepted an acting award at the Toronto International Film Festival.
In an emotional speech, he said River helped him rediscover his love of acting after early experiences as a child actor left him disillusioned.
"He said: 'You're going to start acting again,'" recalled the 44-year-old.
"He didn't ask me, he told me. And I am indebted to him for that because acting has given me such an incredible life."
The star, who is generating Oscar buzz for his menacing, psychologically dark portrayal of comic book character The Joker, was speaking after being presented with the TIFF Tribute Actor Award.
He described how, when he was 15, River "made me watch" a VHS copy of the Martin Scorsese / Robert DeNiro classic Raging Bull in an attempt to rekindle his love of acting.
"And the next day he woke me up, and he made me watch it again. And he said, 'You're going to start acting again, this is what you're going to do'.
'Daring' or 'garbage'? Joker film divides critics
River Phoenix died of a drug overdose in 1993, aged 23.
The brothers had acted together when Joaquin was eight years old, in a TV adaptation of Seven Brides of Seven Brothers.
Phoenix accepted his award from fellow actor Willem Dafoe, joking he had no idea what it was for.
"My publicist said, 'Someone wants to give you an award' and I said, 'I'm in'."
After being shown a montage of clips from his career, the actor – who has been Oscar-nominated for previous roles in Walk The Line, The Master and Gladiator – paid tribute to his family's impact on his career.
"I feel overwhelmed with emotion, because I'm just thinking about all the people that had such a profound influence on me," he said.
"When I was watching those clips, I thought about my family. My sisters Rain and Liberty and Summer, who are still my best friends."
He joked: "I don't talk to them or see them".
Phoenix closed his speech with an oblique reference to his girlfriend, actress Rooney Mara, who starred in The Girl with the Dragon Tattoo, and who was present for the ceremony.
"One last thing," he said, "Somewhere here, I don't know where, is a filthy dragon, and I want to rip its wings off and fasten a blanket and sleep with it forever. I love you. Thank you."
Over the years, the actor has cultivated a reputation for the unexpected, most notably his bizarre interview with David Letterman in 2009, where he appeared heavily bearded, dishevelled and replied to the host in monosyllables.
"We're having fun," chided Letterman, "I'll come to your house and chew gum."
It transpired Phoenix was working on a mockumentary called I'm Still Here about his supposed retirement from acting and aspirations to become a hip-hop artist.
He appeared on the show again to apologise for, and explain, his strange behaviour a year later.
Letterman appeared to get back at Phoenix by telling him his network's lawyers had confirmed he could sue for using the show's footage in the film
"You and Casey (director Casey Affleck) get together and come up with a million, that's all I'm asking."
"Can we talk about it privately," said Phoenix.
"Yeah, we'll go to one of your screenings," replied the veteran host.
Pop Smoke: Rapper shot dead in apparent robbery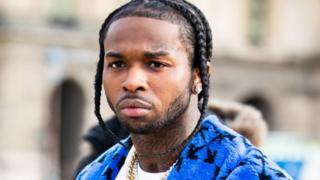 The US rapper Pop Smoke has been killed, after an apparent armed robbery.
Los Angeles Police told Radio 1 Newsbeat a man was shot at his home and later pronounced dead, although didn't confirm his identity.
But his label Republic Records says it's "devastated by the unexpected and tragic loss of Pop Smoke".
Police responded to reports of a robbery – and man was then taken to hospital and later pronounced dead.
Officers confirmed that an unknown number of suspects entered a property in West Hollywood.
They got a call about a robbery at 04:55 PST and were at the scene six minutes later.
Police say no suspects have been identified and no arrests have been made.
They also denied reports that a man was held at the scene but say one suspect is thought to have had a handgun.
Pop Smoke was signed to Republic Records which has said in a statement "our prayers and thoughts go out to his family, friends and fans, as we mourn this loss together."
When reports first appeared in the US tributes began flooding in for Pop Smoke, real name Bashar Barakah Jackson – including from friends.
Pop Smoke had a breakout hit with Welcome to the Party in 2019 – which led to him being singled out as an artist to watch this year by BBC Radio 1Xtra, on the station's Hot For 2020 list.
The station said he "possessed the air and cadence of a rapper who has been in the game for a decade or two longer than his actual age".
The track ended up being remixed by both Nicki Minaj and Skepta.
Just last week Pop Smoke was a guest on DJ Target's show on 1Xtra.
He was in the middle of several US tour dates and was due to come to the UK in April – with shows scheduled in London, Manchester and Birmingham.
50 Cent was one of many rappers, DJs and producers that paid tribute on social media, as did rapper Quavo, who Pop Smoke had collaborated with.
Last year he spoke about wanting to make music that inspires children who are growing up in poverty.
He told The Face: "I make music for that kid in the hood that's gotta share a bedroom with like four kids – the young kids growing up in poverty.
"I make music for kids like that who know they just gotta keep going, that there's a better way. That's who I really make it for."
Follow Newsbeat on Instagram, Facebook, Twitter and YouTube.
Listen to Newsbeat live at 12:45 and 17:45 weekdays – or listen back here.
Jimmy Tarbuck: Comedian reveals prostate cancer diagnosis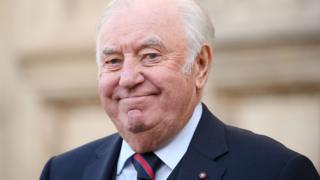 Comedian Jimmy Tarbuck has revealed he has been diagnosed with prostate cancer.
The veteran Liverpudlian comic told ITV's Good Morning Britain he would "try and beat it".
Tarbuck said he received the diagnosis the day after his 80th birthday earlier this month.
"Right now I feel great. I'm on the telly and I'm having a good time," he said, adding that the cancer had not spread.
He was inspired to get checked by Sir Rod Stewart, who announced in September that he had received treatment for prostate cancer.
"All men out there watching, and all wives, get your husbands to go for the tests. I think after 50, just have a test, let them have a look at you," Tarbuck said.
"You will be relieved and be with your families for extra years."
He said men can be too "shy" to get tested, but urged them not to put it off. "Boys, go. It is embarrassing. Especially when the fella said to me 'We're going to give you the thumbs up'. I said 'I hope not'. He roared laughing."
Speaking about his treatment, he added: "I'm having injections and taking tablets and then I take a yearly cycle."
Tarbuck, who rose to fame in the 1960s and was known for hosting variety shows including Sunday Night At The London Palladium and Live From Her Majesty's, is now planning to go on tour.
Follow us on Facebook, or on Twitter @BBCNewsEnts. If you have a story suggestion email entertainment.news@bbc.co.uk.
Brits 2020: Pop meets politics


Highlights from this year's ceremony included performances from Billie Eilish, Dave, Lizzo and Stormzy.



Source link