Jo Brand battery acid joke 'went too far', BBC rules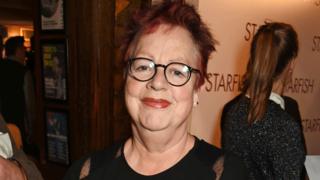 Jo Brand's controversial joke about throwing battery acid "went beyond what was appropriate" for a Radio 4 comedy show, the BBC has ruled.
The corporation has partially upheld complaints about the quip made by the comedian on Radio 4's Heresy in June.
Referring to political figures who had been hit by milkshakes, she said: "I'm thinking, why bother with a milkshake when you could get some battery acid?"
But the BBC dismissed complaints that her remark amounted to incitement.
Following the broadcast, Brexit Party leader Nigel Farage, who had a milkshake thrown at him by protesters several weeks earlier, accused Brand of "inciting violence".
The corporation's Executive Complaints Unit [ECU] said it disagreed because "it has considered the context in which the words were spoken".
A summary of the findings continued: "Whilst the ECU recognised that the wider message from this episode is an argument for more civility in political discourse, not less, and Ms Brand's contribution is not intended to be taken as face value, the ECU felt that it went beyond what was appropriate for the show.
"So it was partially upheld against generally accepted standards of BBC output. The ECU also noted that in the right context and with the right treatment, there is no subject matter which should be beyond the scope of comedy."
Media regulator Ofcom only considers complaints about BBC programmes if they have been through the BBC complaints process first. On Thursday, Ofcom said it had received 444 complaints about Brand's joke, including one that had been through the BBC process.
"We are assessing the complaint against our broadcasting rules, but are yet to decide whether or not to investigate," an Ofcom spokesperson added.
In the programme, after making the battery acid remark, Brand continued: "I'm not going to do it, it's purely a fantasy. But I think milkshakes are pathetic."
At the time, the BBC said panellists on Heresy – a long-running comedy programme – often said things which were "deliberately provocative and go against societal norms but are not intended to be taken seriously."
However, after the broadcast, the corporation removed the joke from the catch-up version of the show and said "comedy will always push boundaries" but that it regretted "any offence we have caused".
The comic later reportedly admitted that it was "a somewhat crass and an ill-judged joke".
Prime Minister Theresa May's spokesman said the BBC should explain why the joke was "appropriate content" for broadcast. The Metropolitan Police said it would not take action.
Following the complaints unit's ruling, a BBC spokesperson said: "We note the findings and that the BBC's ECU concluded the comments did not condone violence and that no subject matter should be beyond the scope of comedy."
Follow us on Facebook, on Twitter @BBCNewsEnts, or on Instagram at bbcnewsents. If you have a story suggestion email entertainment.news@bbc.co.uk.
Cinema signs become a creative canvas in pandemic times
Normally a space for displaying film times, cinema signs have seen a wave of creativity in the United States during the coronavirus pandemic.
Witty customised signage has appeared reflecting the cinema owners love of films, their humour and concerns.
Talking Movies' Tom Brook reports.
Talking Movies can be seen on BBC World News
Actor Michael Angelis dies aged 76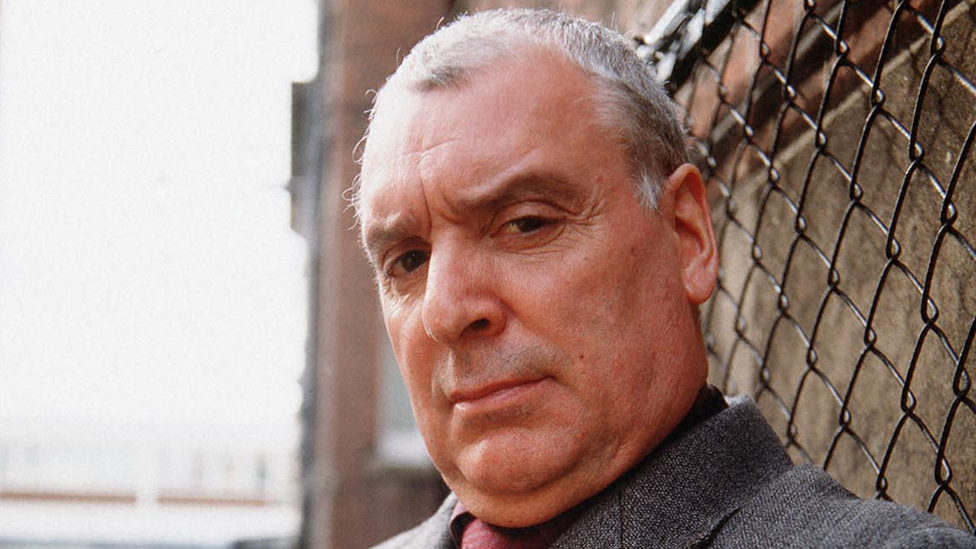 Actor Michael Angelis, known for his role in TV dramas such as Boys from the Blackstuff, and for narrating Thomas The Tank Engine, has died at the age of 76.
He died suddenly while at home with his wife on Saturday, his agent said.
The Liverpool-born actor lent his voice to children's favourite Thomas and Friends for 13 series after taking over from Beatle star Ringo Starr in 1991.
He also appeared as Mickey Startup in Auf Wiedersehen, Pet.
He starred alongside Bernard Hill and Julie Walters in the Bafta-winning 1980s series Boys From The Blackstuff, which highlighted the hardships of unemployment.
Angelis also had roles in Minder, The Liver Birds, Z Cars and Good Cop.
He was married to Coronation Street actress Helen Worth, who plays Gail Platt, from 1991 to 2001, and later married Jennifer Khalastchi.
Paying tribute to him on social media, comedian Matt Lucas described Angelis as "one of the greatest TV actors I've ever seen".
Lucas said: "His work with (screenwriter) Alan Bleasdale was tremendous. What a loss."
Coronavirus: The self-isolation choir with worldwide members
We've all missed being with friends, families and colleagues over the last few weeks, but the two million people in the UK who belong to choirs have missed the experience of singing together.
This weekend thousands of them will gather online for a singalong of Handel's Messiah, which lasts hours.