Jeremy Kyle: MP calls for ITV show to be axed for good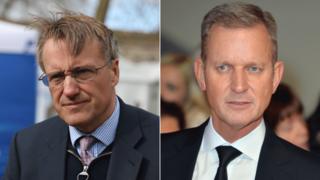 An MP who has spoken openly about his own mental health issues has urged ITV to axe The Jeremy Kyle show for good.
Charles Walker MP, who has previously spoken about having OCD, said it would be "extremely sensible" if ITV said "this has gone far enough".
Mr Walker spoke to the BBC after the ITV show was suspended following the death of a guest shortly after filming.
Newspapers have named him as Steve Dymond. Reports say his friends fear he took his own life earlier this month.
The recording Mr Dymond took part in was based on the subject of infidelity.
'Watershed moment'
ITV said everyone at the show is "shocked and saddened" and "thoughts are with the family and friends".
It will not screen the episode and said both filming and broadcasting were suspended with "immediate effect".
All previous episodes of the show have also been taken down from the channel's catch-up service, ITV Hub. Episodes will also not air on ITV2.
Mr Walker, Conservative MP for Broxbourne and a member of the all-party parliamentary group on suicide and self-harm prevention, told the BBC that guests on the Jeremy Kyle show are "not really guests, they're victims" and described the tragedy as "a watershed moment".
'Enough cruelty'
"I don't want to pile in on Jeremy Kyle because he probably feels bad enough, although obviously not as bad as the family… and this is a shared responsibility," Mr Walker said.
"None of this stuff would be made if nobody watched it."
Mr Walker said: "It's mental health awareness week and I have experience with mental health – I think it would be extremely sensible for ITV to say this has gone far enough, this is a great tragedy, we're not going to broadcast this show any longer, it's not fit for purpose in 2019 and we feel it's part of our corporate responsibility."
He added: "Jeremy Kyle is a talented man who can do other things and go on to make other TV shows. The Jeremy Kyle show will become just a memory.
"Societally, we have a responsibility for why this TV is made, it's a reflection of ourselves that it has been made and so many people watch it.
"It's cruel and there's enough cruelty in the world without showing it on TV."
Damian Collins, chair of the Digital, Culture, Media and Sport select committee, told the BBC: "TV companies have a clear duty of care towards the people who appear on these programmes. My concern about shows like Jeremy Kyle's is that they can put vulnerable people in very exposed positions.
"We need to know what support participants are offered during the making of these programme and afterwards. I believe that Ofcom should conduct an independent review of the duty of care policies in place around the Jeremy Kyle show and other similar programmes."
A spokesperson for media watchdog Ofcom said: "This is clearly a very distressing case. Although we can only assess content that has been broadcast, we are discussing this programme with ITV as a priority to understand what took place."
ITV said in a statement: "The Jeremy Kyle Show has significant and detailed duty of care processes in place for contributors pre, during and post show which have been built up over 14 years, and there have been numerous positive outcomes from this, including parties who have resolved complex and long-standing personal problems."
The show has been broadcast in its mid-morning slot since 2005. Its guests discuss relationship issues and conflicts with each other in front of Kyle's studio audience.
It is well-known for its often heated debates, with Kyle mediating between guests.
Follow us on Facebook, on Twitter @BBCNewsEnts, or on Instagram at bbcnewsents. If you have a story suggestion email entertainment.news@bbc.co.uk.
Walkout as Polanksi wins 'best director' at Césars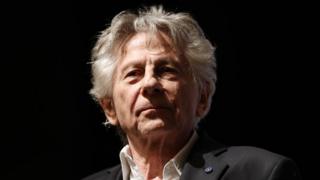 Several actresses have walked out of the César awards ceremony in Paris after Roman Polanski, who was convicted of the statutory rape of a 13 year old in 1977, won best director.
The awards – France's equivalent of the Oscars – have been mired in controversy after Polanksi's An Officer and a Spy received 12 nominations.
The Polish-French director fled the US after his rape conviction in the 1970s.
He has since faced other accusations of sexual assault.
Polanski, whose film won a total of three awards, did not attend the event, saying he feared for his safety.
The decision to honour Polanski at this year's awards had angered feminist groups and led to calls for a boycott.
The César's entire board resigned earlier this month amid the backlash.
This is not the first time the César awards have faced controversy because of Polanski. In 2017, he was picked to head the award's jury, but later stepped down after the move sparked outrage.
Prince Harry meets Jon Bon Jovi at Abbey Road Studios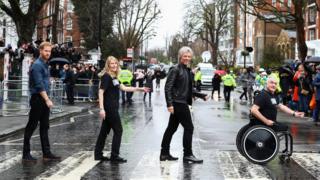 Rock royalty met the Royal Family when the Duke of Sussex got behind a microphone with Jon Bon Jovi.
They met at Abbey Road Studios, where the US rocker is re-recording his song Unbroken with the Invictus Games Choir.
The prince – who will step down as a working royal at the end of March – posted a video of both men in a recording booth.
Bon Jovi said he looked forward to working with the "artist formerly known as prince".
Both men greeted each other warmly on the steps of the world-famous London studio synonymous with the Beatles.
They were then ushered inside to the control room overlooking Studio 2 – where Fab Four recorded during the 1960s.
A video filmed during the duke's visit showed the prince and the popstar wearing headphones.
The footage ends just as the pair are about to break into song.
Before entering the studio, the duke was heard to joke that the pair had "been gargling next door, so we're ready to go", according to the Press Association.
Bon Jovi said he had sent the song to Harry, who had sent a "very nice letter" in return which said he would "love to include it in something to do with the Invictus Games".
Speaking before the recording, he said: "In light of what has come, you know, with his leaving the monarchy, as it were, I didn't plan on any of this.
"But he said: 'Not only am I going to come back [to England], you know, but I want to be there when you do it'.
"And to do it at Abbey Road, of course where the Beatles once were; and to do it with the "artist formerly known as Prince", I think it's gonna be an incredible, moving moment."
You may also be interested in:
Prince Harry founded the Invictus Games in 2014 as a way of using sport to create a positive impact on the lives of injured service personnel and veterans.
Jon Bon Jovi has a close link with the military as both his parents served in the US Marine Corps.
The charity single version of Unbroken, featuring the Invictus Games Choir, will be released in March.
Paris Fashion Week: Facemasks on show amid coronavirus concern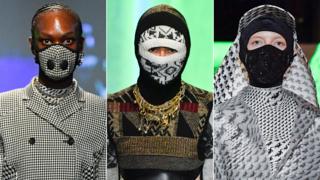 One show at Paris Fashion Week proved to be unintentionally timely as models wore a range of outfits complete with matching facemasks.
The outfits were shown earlier this week by French designer Marine Serre.
The catwalk show took place amid rising concern about the outbreak of coronavirus, which caused markets to fall around the world on Friday.
But Serre's collection was designed before the outbreak, and she has used facemasks in her collections before.
Her previous show in September also saw models cover their faces with veils or facemasks as part of the designer's spring/summer collection.
The masks Serre uses have previously been described by her fashion house as "anti-pollution masks".
The 28-year-old has been praised in the fashion press for the practicality of many of her designs.
"Serre's energy has dynamised the fashion industry," Vogue said last year. "Her hybrid garments, each a radical cocktail of century-flitting references, utilitarian practicalities, plus a sporting streak, are never so complicated as to miss the contemporary mark."
At her showcase this week, Serre also showed a range of outfits which went further than facemasks in obscuring models' faces.
But in addition to the designs appearing as part of Paris Fashion Week shows, facemasks were also being worn by some audience members at catwalk shows.
Several people attending Dries Van Noten's autumn/winter collection showcase this week were seen wearing facemasks.
The entertainment industry has been significantly affected by coronavirus, with several events and tours being postponed or cancelled.
On Thursday, Green Day announced they would postpone their forthcoming Asian tour "due to the health and travel concerns with coronavirus".
"We know it sucks, as we were looking forward to seeing you all, but hold on to your tickets we'll be announcing the new dates very soon," the band added in their statement.
Korean pop group BTS cancelled several live shows due to take place in April at the Olympic Stadium in Seoul amid health concerns.
"It is unavoidable that the concert must be cancelled without further delay," said a statement, originally written in Korean, which was posted on the group's mobile fan platform.
"Please understand that this decision was made after extensive and careful consideration."
South Korea has been heavily impacted by coronavirus – the country has more than 2,300 confirmed cases so far, making it the biggest outbreak outside of China.
Other artists who have cancelled tour dates in Asia include UK grime star Stormzy, R&B singer Khalid. and a-ha, who have cancelled their show in Singapore.
Earlier this week, Brit Award-winning singer Mabel cancelled a scheduled show in Milan after a wider coronavirus outbreak in Italy.
Follow us on Facebook, or on Twitter @BBCNewsEnts. If you have a story suggestion email entertainment.news@bbc.co.uk.