I'm A Celebrity: ITV ends 'bushtucker trials' that include eating live bugs
Live insects will not be eaten in this year's I'm A Celebrity, in a "permanent" change to the reality TV show.
I'm A Celebrity has previously been criticised for using live bugs in its 'bushtucker trials'.
Some tasks on the ITV show have included insects being eaten alive or dumped onto contestants.
The stars could still be covered in bugs during filming in Australia but any eaten will already be dead.
"Producers have taken a look at the trials and decided that no live critters would be eaten in the trials this year," BBC Radio 1 Newsbeat has been told.
An ITV source said: "They have been planning this for some time and actually last year beach worms were the only critters eaten live but this time around they've decided to implement the change fully and permanently."
This year's line-up includes former Girls Aloud singer Nadine Coyle, ex-footballer and broadcaster Ian Wright and Radio 1 DJ Adele Roberts.
'Eating live invertebrates was abuse'
The move has been welcomed by wildlife presenter Chris Packham, who says he's "very pleased" at ITV's decision, but describes it as "a first step."
"I hope this is the start of some significant change," he told BBC Radio 5 Live.
"What's long concerned me about the programme is that is portrays animals in the wrong way.
"There was never any ambiguity that eating live invertebrates was abuse and also exploitation for entertainment."
Chris also criticised the show for stereotyping animals like rats and snakes as "bad organism."
He also said he thought ITV's decision was part of a change in global thinking due to the current climate crisis.
"We're going to have to make changes," he added.
"That means you and I making changes in our lives, that means TV producers making changes in the way they make their programmes."
I'm A Celebrity starts on ITV on Sunday evening.
Follow Newsbeat on Instagram, Facebook, Twitter and YouTube.
Listen to Newsbeat live at 12:45 and 17:45 weekdays – or listen back here.
Neville Buswell: Coronation Street pays tribute to former soap star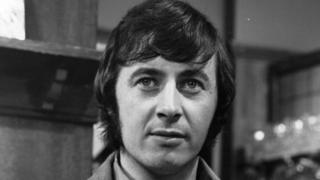 Coronation Street has paid tribute to actor Neville Buswell, who played womaniser Ray Langton in the ITV soap in the 1960s and 70s.
Buswell, who has died at the age of 77, starred as Deirdre Barlow's first husband and the father of her troubled daughter Tracy.
He joined Corrie in 1966 and was a regular on the cast before being written out in 1978.
A statement from the show said they were "saddened" to hear of his death.
The news was first reported in an obituary by a funeral home in Las Vegas. He had moved to the US city after leaving the cobbles.
Buswell made a cameo appearance as Ray in the one-off Coronation Street special Viva Las Vegas in 1997.
He then returned for a six-week stint in 2005, which ended with his character dying of lung cancer at Deirdre and Ken's second wedding.
A Coronation Street spokeswoman said: "His portrayal of Deirdre's first husband Ray Langton in the 1970s made him a part of Coronation Street history.
"We were delighted when he returned to the role in 1997 for a special DVD set in Vegas and again back in 2005 when Ray turned up on the cobbles to visit Deirdre and his daughter Tracy.
"We would like to extend our sympathies to his family and friends at this sad time."
According to the Palm Eastern Mortuary & Cemetery, he died on Christmas Day and the funeral was held on 3 January. The cause of death is unknown.
Buswell was first seen in Corrie in 1966 and began a 10-year run on the soap from 1968.
His character had many affairs during his time on the Street, but it was his fling with waitress Janice Stubbs that finally killed his marriage.
Ray wanted to start afresh in Amsterdam with his wife and daughter, but Deirdre decided to stay in Weatherfield.
In 2012, in real life, Buswell faced allegations of sexually assaulting a 12-year-old girl in his dressing room in the 1960s.
Buswell denied the claims as "not true" and said he had never met or heard of the woman behind them.
Buswell was born in 1943 in Chapel-en-le-Frith, Derbyshire, and began his acting career on the stage, performing in Gilbert and Sullivan operettas and plays.
After leaving Coronation Street, he moved to the US, where he worked in the casino business before becoming a mortgage broker.
Follow us on Facebook, or on Twitter @BBCNewsEnts. If you have a story suggestion email entertainment.news@bbc.co.uk.
Sir Philip Pullman calls for 50p boycott over Oxford comma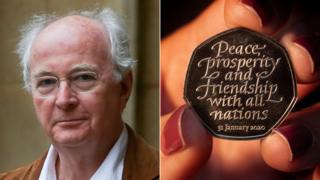 Author Sir Philip Pullman has declared war on the new Brexit 50p – but it's nothing to do with politics.
Sir Philip has taken umbrage because the Oxford comma is missing from the coin's wording: "Peace, prosperity and friendship with all nations."
The Oxford comma is included before the final "and" in lists but it is not used universally and is often a topic of debate for grammar enthusiasts.
The coin will come into circulation on 31 January, when the UK leaves the EU.
Stig Abell, editor of the Times Literary Supplement, agreed with Pullman, tweeting: "The lack of a comma after 'prosperity' is killing me."
But Susie Dent, from Countdown's Dictionary Corner, said the Oxford comma was optional.
"Yes it is optional: it clarifies things quite often though, and I just find it easier and more consistent to use it all the time," she tweeted.
And broadcaster Joan Bakewell tweeted that she was taught that it was wrong to use the comma in such circumstances.
The new coin was unveiled by Chancellor Sajid Javid at the weekend.
Mr Javid had first ordered production of the coins in advance of the UK's original 31 October departure date from the EU.
But the Brexit delay meant about a million coins had to be melted down and the metal put aside until a new exit date was confirmed.
On Sunday, Tony Blair's former spin doctor Alastair Campbell said he would be asking shopkeepers for "two 20p pieces and a 10" rather than accept the new 50p coin.
Follow us on Facebook, or on Twitter @BBCNewsEnts. If you have a story suggestion email entertainment.news@bbc.co.uk.
Gary Lineker calls for 'voluntary' licence fee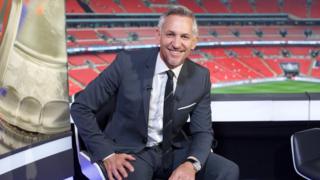 Gary Lineker, one of the BBC's highest paid presenters, has called for the TV licence fee to be voluntary.
In an interview with The Guardian, the former footballer and Match of the Day presenter said the annual charge was the BBC's "fundamental problem".
"You're forced to pay it if you want a TV, and therefore it's a tax," he is quoted as saying. "The public pay our salaries, so everyone is a target."
His comments come amid mounting debate on the future of the licence fee.
Last week culture secretary Baroness Morgan told the BBC the subject was "coming up more and more on the doorstep".
Morgan warns BBC over licence fee 'concern'
Lineker said he had "always said for a long time" the £154.50 annual charge should be voluntary while admitting he did not know "the logistics of how it would work".
"You would lose some people, but at the same time you'd up the price a bit", said the presenter, whose BBC salary was between £1,750,000 and £1,754,999 in 2018-19.
"[The licence fee] is the price of a cup of coffee a week at the moment," he continued. "If you put it up you could help older people, or those that can't afford it."
Last year the BBC said it was scrapping free TV licences for all over-75s and would limit the provision to low-income households where one person receives the pension credit benefit.
The online publication of The Guardian's interview saw Lineker receive praise from ITV presenter Piers Morgan, usually Lineker's sparring partner, for making "a sensible point".
The drip, drip, drip of smaller events…
It's September 2020. The new director-general is in No 10 for her or his first meeting with Boris Johnson since getting the job.
"Look, prime minister," the BBC's new DG says. "I know this seems radical. I believe there is a case not only for keeping the compulsory licence fee – but raising it".
A door slams open. Dominic Cummings bursts in.
"What?!" says Mr Cummings. "But how can you argue that, when even your highest-paid star – your most famous face – agrees with us it should be voluntary?!"
Gary Lineker may or may not be right. The fact is, his intervention has weakened the negotiating position of the next DG, even if just marginally.
Big social and political changes never happen suddenly. They follow the drip, drip, drip of smaller events that made the final change inevitable.
Right now, the idea that the BBC should become a subscription service is mainstream Conservative thinking. A prominent Remainer at the BBC has just reinforced it.
Many of the BBC's most loyal audiences are about to lose a benefit – in free TV licences for the over-75s – that they want.
Decriminalisation of the licence fee looks likely, which could cost the BBC a couple of hundred million pounds.
A huge re-organisation of BBC News will cost many jobs, demoralising some staff, and leading to sharp cuts in some programme budgets.
Every day, streaming giants pour more dollars into high-value productions that lure eyeballs away from the BBC.
Every day, the bond between the BBC and young audiences weakens – to the point that it is becoming close to non-existent for many.
Then Gary Lineker says the licence fee should go.
Anybody fancy being DG?
Follow us on Facebook, or on Twitter @BBCNewsEnts. If you have a story suggestion email entertainment.news@bbc.co.uk.