I'm A Celebrity: Inside the world of Jane McDonald fandom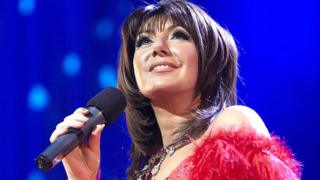 When Radio 1's Adele Roberts revealed that the one "luxury item" she'd brought into the I'm A Celebrity camp was a picture of Jane McDonald, it wasn't just her other campmates who were staring blank-faced.
As Adele proudly held up a framed picture of the former Loose Woman star on Monday night – me, my mates and it seemed every other I'm A Celeb fan on my social media, picked up our phones and searched "Who is Jane McDonald?"
I quickly realised that the singer and TV personality has a dedicated, some might say cult-like following, is hailed as a bit of an icon by the LGBT community and has hundreds of thousands of followers on social media.
So, in a bid to find out more about the TV star hailed by Adele as a "national treasure", I've been speaking to those inside her devoted fan base.
In her own words, Jane says she's "been on telly quite a bit".
She got her break back in 1998 on the BBC's documentary series The Cruise – which attracted over 10 million viewers – and turned Jane from a cruise ship entertainer into a celebrity. Since then, she's appeared on ITV makeover show, Star Treatment, and was a Loose Woman from 2004 until 2014.
She has also had a number one self-titled album, and won a BAFTA for her Channel 5 series Cruising with Jane McDonald which sees her travel the world in a series of seriously bouji cruise ships.
So far I've found out that Jane has been famous for basically my whole life. I'm impressed.
She tells Radio 1 Newsbeat that her popularity among younger fans has risen recently.
"I've been in the background for quite a while, which is fine, but all of a sudden I don't know what's happened", she said.
"I'm so thrilled… I'm a little bit speechless."
It seems Jane was almost as baffled as me when she saw Adele hanging up a printed picture of her like a shrine.
"When I saw it, I nearly died," she says.
Still curious what it is about this particular TV personality that inspires such hero worship in fans of all ages, I asked some super fans to explain the magic of Jane.
'A gay icon'
"I don't know if you've been at house party when someone puts on Jane McDonald's Disco Medley," says fan Mark Harrop, 30.
I haven't.
"Madness ensues. It's horrendously camp… people putting on a pair of heels and a bit of sparkles and even pretending they're her."
He says Jane has become a gay icon, and brings fun to what can sometimes be a "gloomy world".
"She's someone you want to go and have a bottle of wine with… you can imagine her being one of your mum's friends."
Team Jane
Katie and Jolie, who now run the twitter account Team Jane McDonald, met through their love of Jane.
Jolie says at the age of 13 she was being home-schooled and would watch Jane speak openly about bullying on Loose Women, when her mum had it on.
As a teenager who had few friends, this resonated with her. She says it made her feel less alone.
Jolie's fascination with Jane increased after she watched her videos on YouTube, and now at the age of 22 she's met her and seen her perform countless times.
She even has a tattoo of the lyrics to Jane's song, The Rose, written in the singer's handwriting on her left rib cage.
"She didn't want to do it at first, it took a lot of persuading," Jolie tells Newsbeat.
A recurring theme when I spoke to both Jolie and Mark was the notion that Jane is hard-working and came from humble beginnings. They say it's a quality that makes her more relatable and endearing.
"She's a proper northern lass who has worked so hard," Mark says.
Jolie agrees: "She's so ambitious, us young people love seeing that."
Follow Newsbeat on Instagram, Facebook, Twitter and YouTube.
Listen to Newsbeat live at 12:45 and 17:45 weekdays – or listen back here.
BBC director general Tony Hall: 'Nicholas Parsons was a legend'
The BBC's director general Tony Hall has paid tribute to the broadcaster Nicholas Parsons who has died at the age of 96.
Parsons, who hosted Radio 4's Just A Minute since its inception in 1967, died after a short illness.
Speaking to BBC Media Editor Amol Rajan, Mr Hall said he was "immensely saddened" at the loss of Parsons, who he described as a "wonderful, charming, witty, warm man".
Read more: 'Broadcasting legend' dies aged 96 after short illness
Neville Buswell: Coronation Street pays tribute to former soap star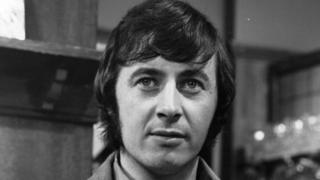 Coronation Street has paid tribute to actor Neville Buswell, who played womaniser Ray Langton in the ITV soap in the 1960s and 70s.
Buswell, who has died at the age of 77, starred as Deirdre Barlow's first husband and the father of her troubled daughter Tracy.
He joined Corrie in 1966 and was a regular on the cast before being written out in 1978.
A statement from the show said they were "saddened" to hear of his death.
The news was first reported in an obituary by a funeral home in Las Vegas. He had moved to the US city after leaving the cobbles.
Buswell made a cameo appearance as Ray in the one-off Coronation Street special Viva Las Vegas in 1997.
He then returned for a six-week stint in 2005, which ended with his character dying of lung cancer at Deirdre and Ken's second wedding.
A Coronation Street spokeswoman said: "His portrayal of Deirdre's first husband Ray Langton in the 1970s made him a part of Coronation Street history.
"We were delighted when he returned to the role in 1997 for a special DVD set in Vegas and again back in 2005 when Ray turned up on the cobbles to visit Deirdre and his daughter Tracy.
"We would like to extend our sympathies to his family and friends at this sad time."
According to the Palm Eastern Mortuary & Cemetery, he died on Christmas Day and the funeral was held on 3 January. The cause of death is unknown.
Buswell was first seen in Corrie in 1966 and began a 10-year run on the soap from 1968.
His character had many affairs during his time on the Street, but it was his fling with waitress Janice Stubbs that finally killed his marriage.
Ray wanted to start afresh in Amsterdam with his wife and daughter, but Deirdre decided to stay in Weatherfield.
In 2012, in real life, Buswell faced allegations of sexually assaulting a 12-year-old girl in his dressing room in the 1960s.
Buswell denied the claims as "not true" and said he had never met or heard of the woman behind them.
Buswell was born in 1943 in Chapel-en-le-Frith, Derbyshire, and began his acting career on the stage, performing in Gilbert and Sullivan operettas and plays.
After leaving Coronation Street, he moved to the US, where he worked in the casino business before becoming a mortgage broker.
Follow us on Facebook, or on Twitter @BBCNewsEnts. If you have a story suggestion email entertainment.news@bbc.co.uk.
Sir Philip Pullman calls for 50p boycott over Oxford comma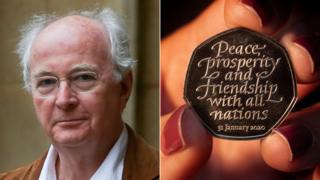 Author Sir Philip Pullman has declared war on the new Brexit 50p – but it's nothing to do with politics.
Sir Philip has taken umbrage because the Oxford comma is missing from the coin's wording: "Peace, prosperity and friendship with all nations."
The Oxford comma is included before the final "and" in lists but it is not used universally and is often a topic of debate for grammar enthusiasts.
The coin will come into circulation on 31 January, when the UK leaves the EU.
Stig Abell, editor of the Times Literary Supplement, agreed with Pullman, tweeting: "The lack of a comma after 'prosperity' is killing me."
But Susie Dent, from Countdown's Dictionary Corner, said the Oxford comma was optional.
"Yes it is optional: it clarifies things quite often though, and I just find it easier and more consistent to use it all the time," she tweeted.
And broadcaster Joan Bakewell tweeted that she was taught that it was wrong to use the comma in such circumstances.
The new coin was unveiled by Chancellor Sajid Javid at the weekend.
Mr Javid had first ordered production of the coins in advance of the UK's original 31 October departure date from the EU.
But the Brexit delay meant about a million coins had to be melted down and the metal put aside until a new exit date was confirmed.
On Sunday, Tony Blair's former spin doctor Alastair Campbell said he would be asking shopkeepers for "two 20p pieces and a 10" rather than accept the new 50p coin.
Follow us on Facebook, or on Twitter @BBCNewsEnts. If you have a story suggestion email entertainment.news@bbc.co.uk.