'If all freelancers walked out, the TV industry would stop'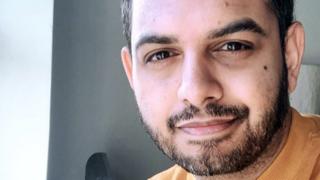 Four years ago, freelance television producer Adeel Amini suffered a mental breakdown, forcing him to temporarily leave the job he loves.
The 34-year-old, who works on high-profile comedy and entertainment shows, was diagnosed with having borderline personality disorder.
He believes the condition, which can leave him feeling anxious, depressed and lonely, was "exacerbated" by a lack of care in the cut-throat and often uncertain world of TV.
"It's definitely not a fun industry to be in if you have a lot of those issues," he tells the BBC. "The fleeting, sporadic nature of the work, and the constant questioning of your self-esteem because the phone isn't ringing.
"Even if you think you're still on top of your game, a few months of that can completely knock you sideways."
'Why should I stop doing what I love?'
Amini, from Bradford, says he "almost didn't come back" to TV after the breakdown, but ultimately decided he would not allow himself to be driven out of the career he'd spent the best part of a decade building up.
"I just thought no, why should I? Why should I stop doing what I love?"
He's now urging broadcasters to make more effort to consider the pressures they are putting on people, and to make the industry a more welcoming place.
"I don't think I'd be exaggerating if I said if all the freelancers in the industry stood up and walked out, the industry would 100% stop running," states Amini.
"I'm from a Muslim family, and there are different minorities like LGBT, and people from lower socio-economic backgrounds. I wouldn't want any of those people to think that the industry is not open for them or that it's too difficult, because it is a wonderful place to be."
'Need for real change'
His comments come as the Film + TV Charity announces a £3m mental health taskforce, known as The Whole Picture Programme – backed by broadcasters including ITV, Sky and Channel 4 – which will launch in April.
In a survey carried out by the charity, 87% of the 9,000 film and TV workers who responded said they had experienced a mental health problem.
Charity chief executive Alex Pumfrey said the "the suicide of a well-loved colleague from the film community in 2017 was the catalyst" for them setting up an initial support line.
She believes the industry "can no longer shy away from the need for real change".
"I'm pleased to be working with the members of the new Film and TV Taskforce on Mental Health to spearhead a movement for change," she said. "Devastating though the findings from our research are, we firmly believe there is cause for optimism."
After 11 years in the industry, Amini welcomes the proposed changes but admits he's "not surprised" by the findings of the survey.
"I've been one of the lucky ones in that I experienced a breakdown and I was able to talk about my issues, but when I did I realised that a lot of people don't do the same thing," he says.
"The problem is that so many of us are freelance that none of us feel like we can talk about it openly. There's always this pressure to maintain a pristine exterior and not be seen as a liability if you want to continue working and get your next job.
"There's no support for us either," he adds. "So even if I did acknowledge what I was going through, there's no-one for us. It's not like a regular job where you might have workplace care or counselling available."
'Acting in isolation'
As a result he has started putting on wellness mornings for fellow freelancers. "The response was so ridiculously high," he says. "I realised that there is a clear need for something in this industry."
The sessions were also prompted by the debate about the standard, or lack of, after-care for TV guests on shows such as Love Island and The Jeremy Kyle Show.
MPs slate ITV 'failure' over Jeremy Kyle aftercare
He thinks that if after-care is available for people in front of the camera, "as it should be", then "there should also be something available for the people on this side".
He explains: "There's a lot of intensity that goes on for the shows that we do, we get roped in and we work extremely long hours for no extra-pay.
"There's a lot of stuff that we have to deal with, and we're not trained mental health professionals."
Channel 4 said it was supporting the taskforce "to provide better mental health care and support for our people".
"An industry's culture cannot be changed by one organisation acting in isolation, so by working together, we are sending a clear message to employees, freelancers and the next generation that their mental health and wellbeing are our priority," chief operating officer Jonathan Allan said.
ITV is also on board, and ITV Studios managing director Julian Bellamy said: "We support this initiative which brings the industry together to reiterate and say to our teams, we are there to support you."
'A compelling case for investment'
Other participants include production company Endemol Shine, who make Peaky Blinders and Pointless, and Sky.
Sky managing director of content Zai Bennett said the plan would "allow us to enhance the support available to our own employees and extend valuable services into the freelance community and across the industry".
The BBC hasn't signed up yet but said it supports the charity's efforts "to raise awareness of this important issue".
A BBC statement said the corporation had used a "wide range" of internal campaigns, training and other initiatives to "ensure that the corporation is an inclusive, welcoming and open environment for all staff".
Amini hopes they are all true to their word over the coming months and years in order to prevent the producers of the future going through what he's been through.
"At the end of the day we're all still in it [TV] for a reason, and that's because we absolutely love what we do," he says.
---
Follow us on Facebook or on Twitter @BBCNewsEnts. If you have a story suggestion email entertainment.news@bbc.co.uk.
Paris Fashion Week: Facemasks on show amid coronavirus concern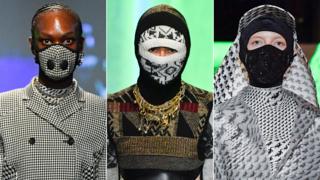 One show at Paris Fashion Week proved to be unintentionally timely as models wore a range of outfits complete with matching facemasks.
The outfits were shown earlier this week by French designer Marine Serre.
The catwalk show took place amid rising concern about the outbreak of coronavirus, which caused markets to fall around the world on Friday.
But Serre's collection was designed before the outbreak, and she has used facemasks in her collections before.
Her previous show in September also saw models cover their faces with veils or facemasks as part of the designer's spring/summer collection.
The masks Serre uses have previously been described by her fashion house as "anti-pollution masks".
The 28-year-old has been praised in the fashion press for the practicality of many of her designs.
"Serre's energy has dynamised the fashion industry," Vogue said last year. "Her hybrid garments, each a radical cocktail of century-flitting references, utilitarian practicalities, plus a sporting streak, are never so complicated as to miss the contemporary mark."
At her showcase this week, Serre also showed a range of outfits which went further than facemasks in obscuring models' faces.
But in addition to the designs appearing as part of Paris Fashion Week shows, facemasks were also being worn by some audience members at catwalk shows.
Several people attending Dries Van Noten's autumn/winter collection showcase this week were seen wearing facemasks.
The entertainment industry has been significantly affected by coronavirus, with several events and tours being postponed or cancelled.
On Thursday, Green Day announced they would postpone their forthcoming Asian tour "due to the health and travel concerns with coronavirus".
"We know it sucks, as we were looking forward to seeing you all, but hold on to your tickets we'll be announcing the new dates very soon," the band added in their statement.
Korean pop group BTS cancelled several live shows due to take place in April at the Olympic Stadium in Seoul amid health concerns.
"It is unavoidable that the concert must be cancelled without further delay," said a statement, originally written in Korean, which was posted on the group's mobile fan platform.
"Please understand that this decision was made after extensive and careful consideration."
South Korea has been heavily impacted by coronavirus – the country has more than 2,300 confirmed cases so far, making it the biggest outbreak outside of China.
Other artists who have cancelled tour dates in Asia include UK grime star Stormzy, R&B singer Khalid. and a-ha, who have cancelled their show in Singapore.
Earlier this week, Brit Award-winning singer Mabel cancelled a scheduled show in Milan after a wider coronavirus outbreak in Italy.
Follow us on Facebook, or on Twitter @BBCNewsEnts. If you have a story suggestion email entertainment.news@bbc.co.uk.
Taylor Swift literally plays The Man in new video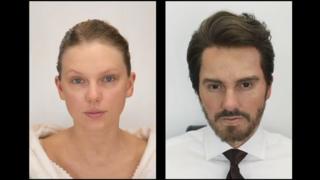 Taylor Swift plays a man-spreading, cigar smoking, strip-club-going male business executive in the new video for her track, The Man.
The song is taken from her seventh studio album, Lover, the first new music released since her departure from Big Machine Records.
It takes aim at male music executives – in particular Scooter Braun, who purchased her back catalogue last year.
The credits stress the video was directed, produced and owned by Swift.
In the video, the lead character, in heavy prosthetics, stops to relieve himself against an underground wall which has been graffitied with the name of Swift's first six albums – all of which are owned by the Big Machine label.
Pinned to the wall is a poster reading: "Missing. If found return to Taylor Swift". Beside that is a "no scooters" sign.
It's the latest shot fired in her war with Braun, who she accused of attempting to "dismantle" her "musical legacy" after he bought Big Machine for $300m (£237m) last June.
In November, Swift claimed Braun and Big Machine founder Scott Borchetta had prevented her from performing a medley of her old hits at the American Music Awards.
They denied the claims, and the performance went ahead as originally planned.
Braun later pleaded with her to stop the public campaign against him, saying his family had received death threats.
The singer made a subtle nod to their spat while performing at the AMAs, where she won six awards including artist of the decade.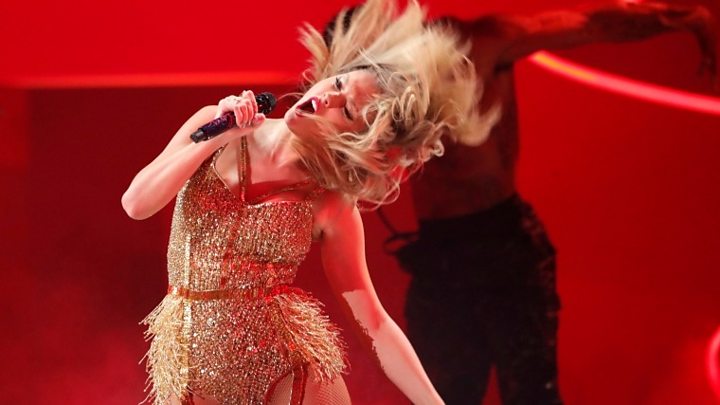 She took to the stage wearing a prison-style white shirt stencilled with the names of the albums in question, while performing new and old songs.
While receiving another artist of the decade award at the Billboard Awards, Swift called out Braun directly, saying her treatment had been "the definition of the toxic male privilege".
"The man" in the video bears more than a passing resemblance to Leonardo DiCaprio's character in The Wolf of Wall Street (the song references DiCaprio's playboy lifestyle), as he's congratulated for his business and sporting achievements and being the "greatest dad in the world", all while getting up to no good.
It's a thinly-veiled attack on the disparity between how men and women in the same roles are viewed by society.
The lyrics include the words: "I'm so sick of running as fast as I can / Wondering if I'd get there quicker if I was a man / And I'm so sick of them coming at me again / 'Cause if I was a man, then I'd be the man"
At the end of the music video, the director, real-life Taylor Swift, asks her male counterpart – voiced by Dwayne "The Rock" Johnson – if he could do it all again but this time make it "sexier".
Swift is likely to play the song when she headlines Glastonbury later this year.
---
Follow us on Facebook or on Twitter @BBCNewsEnts. If you have a story suggestion email entertainment.news@bbc.co.uk.
How does the UK's Eurovision entry stack up against the competition?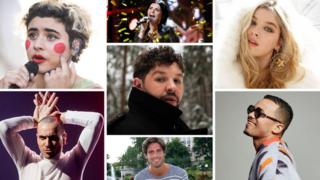 James Newman has produced the UK's best Eurovision entry in years – but will that be enough?
The 31-year-old, whose younger brother is Brit Award nominee John Newman, has already written for Ed Sheeran, Jess Glynne, Calvin Harris and Little Mix.
He got a Brit Award and a Grammy nomination for his work on Rudimental's song Waiting All Night. On the other hand, he co-wrote Ireland's 2017 Eurovision entry, Dying To Try, and got knocked out in the semi-finals.
In May, he'll head to Rotterdam as a solo artist with a mid-tempo banger called My Last Breath. It's short and direct, with the sort of "woah-oh" hook that would make Chris Martin envious.
"That was definitely intentional," says the singer, who wrote the song in January. "We wanted to create an anthemic post-chorus that makes everyone feel involved."
"Can you imagine 20,000 people in the arena going 'woah-oh-ohhh'? It's something you can sing along to without knowing the lyrics."
Newman's selection comes after a dismal run for the UK at Eurovision. Last year, Michael Rice's Bigger Than Us came last, scoring just 11 points.
As a result, the BBC scrapped the public's role in the selection process and invited music company BMG to help it find this year's entrant.
"We started with the sole aim of changing the perception of the contest," said Alistair Norbury, the company's president of repertoire for the UK.
That's all well and good – but the perennial argument is that Eurovision's voting system is broken, with the UK being "punished" for everything from the Iraq war to Brexit.
Yet over the years, several academic studies have looked into political voting, and found little evidence that it affects anything beyond the mid-table results.
Countries do vote for their neighbours and allies – but the winner needs pan-continental support to rise above the pack. Songs that come last tend to be boring, unconvincing or poorly-performed.
So how does My Last Breath compare with the competition?
Here's a quick guide to some of the contenders – with the caveat that some of Eurovision's big hitters, including Sweden and Russia, are yet to reveal their entries.
Lithuania: The Roop – On Fire
An early favourite with fans, On Fire is essentially a trance remix of Billie Eilish's Bad Guy, performed by Right Said Fred.
It's better than that makes it sound, though, with a catchy chorus and squiggly synth line that quickly lodge in your head.
The choreography is weirdly compelling, too: Singer Vaidotas Valiukevičius looks like he's been allowed to watch all the Fortnite dances once, then tried to recreate them from memory. Voters will lap it up.
Can James Newman beat them? He has the better song, but The Roop are classic Eurovision crowd-pleasers.
Albania: Arilena Ara – Shaj
Eurovision wouldn't be Eurovision without a windswept ballad or 12, preferably sung at top volume by a woman with too much hair.
On that front, Arilena Ara more than delivers. Her song is literally called "scream" and she belts out the high notes with all the subtlety of a klaxon in an elevator shaft.
But the song's cleverly constructed around those big moments, breaking down to a quiet string section in the mid-section before ramping to the final chorus.
Arilena has the experience to pull it off, too. Since winning The X Factor Albania in 2013, she's become one of the country's biggest stars, with more than 1.1 million followers on Instagram. Her single Nentori has also been a hit in Russia and Romania, which means she'll be familiar to voters there.
Can James Newman beat her? No. Shaj is an early favourite amongst Eurovision-watchers, and looks set for a top five finish.
Latvia: Samanta Tina – Still Breathing
Samanta Tina has been chosen as Latvia's Eurovision contestant on her fifth attempt; and heads to Rotterdam with a strident hymn to female empowerment.
It starts well. Tina's vocals sizzle with attitude and she seems to be building to a killer chorus. But then she deploys the "pop drop" – swapping out the melody for a distorted, heavily-filtered synth.
It's a technique that arrived, peaked and outstayed its welcome in the space of about six months in 2015; and completely kills the momentum of this Gaga-indebted bop.
Her rap in the middle-eight doesn't improve matters; and the whole enterprise eventually collapses like a soufflé that's been poked by Paul Hollywood.
Can James Newman beat her? If there's any justice, yes.
Australia: Montaigne – Don't Break Me
Australia take Eurovision very seriously – ending up in the Top 10 four times in the last five years – and this year is no exception.
Their entrant is Aria Award-winner Montaigne whose song, Don't Break Me, is a dramatically-spun story of tortured love. Driven by pounding drums and soaring chorus ("You thought I was elastic / But maybe I'm just made of glass") the track sounds distinctly like the work of another Australian pop star, Sia.
The singer's stage presence is as striking as her song. She wears Elizabethan ruffles in reference to the humanist philosopher Michel de Montaigne (after whom she's named), while her complex choreography will keep Eurovision's camera crews on their toes.
Can James Newman beat her? Unlikely.
France: Tom Leeb – The Best In Me
France hasn't won Eurovision since 1977 and Tom Leeb's not about to change that fact.
Best In Me is as grey and uninspiring as dishwater, with an insipid lyric about someone being the "air I breathe".
It even won the disapproval of France's culture minister, Franck Riester, who criticised the song's English-language chorus for damaging the country's "pride".
"It broke my ears," he told parliament earlier this month.
Can James Newman beat him? Yes, but maybe he should sing the bridge in French.
Czech Republic: Benny Cristo – Kemama
Professional jiu-jitsu competitor Benny Cristo has a successful sideline as a musician in the Czech Republic, scoring four number one singles and selling out Prague's O2 arena since he emerged in 2009.
His entry, Kemama, is a joyous celebration of life, even in the face of prejudice. "I don't care if they don't like me, I just came to dance," he sings over a funky pulse of Afrobeat.
But Cristo, whose father is Angolan, admitted the song had made him the target of further abuse. "Racism is far from over even when you try to represent the country you were born in," he wrote on Instagram, while announcing he intended to re-record Kemama in Kenya "to take the song to the next level".
It could definitely do with some work. The current version just sits in the same groove for three minutes, bubbling along pleasantly without any real breakout moments.
Can James Newman beat him? Both songs feel destined for the bottom half of the results table, but James's track still has the edge.
Belgium: Hooverphonic – Release Me
This could be the contest's dark horse. Hooverphonic are one of Belgium's biggest bands, scoring nine top 10 albums since they emerged as part of the trip-hop scene in 1995.
Release Me has the sound of a vintage Bond theme, all sultry strings and descending chord sequences, as singer Luka Cruysberghs moodily pleads to be cut loose from a doomed relationship.
"It's not right to make me stay," she sings. "All the lies and all the pain / Only you can make them go away."
It's almost too good for Eurovision, which probably means it's doomed.
Can James Newman beat them? In a perfect world, no. At Eurovision, yes.
Norway: Ulrikke Brandstorp – Attention
Ulrikke Brandstorp had to fight 24 other contestants to be selected as Norway's Eurovision entry – and her progress through the competition was wrought by controversy after the voting system crashed, leaving a back-up jury to decide who made it through to the final.
But the bumpy journey will stand her in good stead when it comes to Rotterdam, as will her TV experience from the Norwegian versions of Pop Idol and The Voice.
Her song is another lovestruck ballad, but it takes a quiet approach – with Brandstorp conveying delicate vulnerability as her vocals flutter up the octaves.
It's not as immediate as some of the other songs, but could easily pick up fans during the semi-final stages.
Can James Newman beat her? Probably not – but as one of the co-writers is Christian Ingebrigtsen of the British boyband A1, we could claim it as a partial victory.
Follow us on Facebook, or on Twitter @BBCNewsEnts. If you have a story suggestion email entertainment.news@bbc.co.uk.